FujiLovers, we are coming back to New York City! Following the great success of the first edition of FujiLove LIVE back in 2017, we are throwing this amazing event again.
On the weekend of October 12-13, 2019, we are organising the second edition of FujiLove LIVE. It is a two-day-long event consisting of several Fujifilm-related presentations and mini-workshops prepared exclusively for us by some of the most respected Fujifilm photographers out there.
And I couldn't be more happy with the photographers line-up of the 2019 FujiLove LIVE.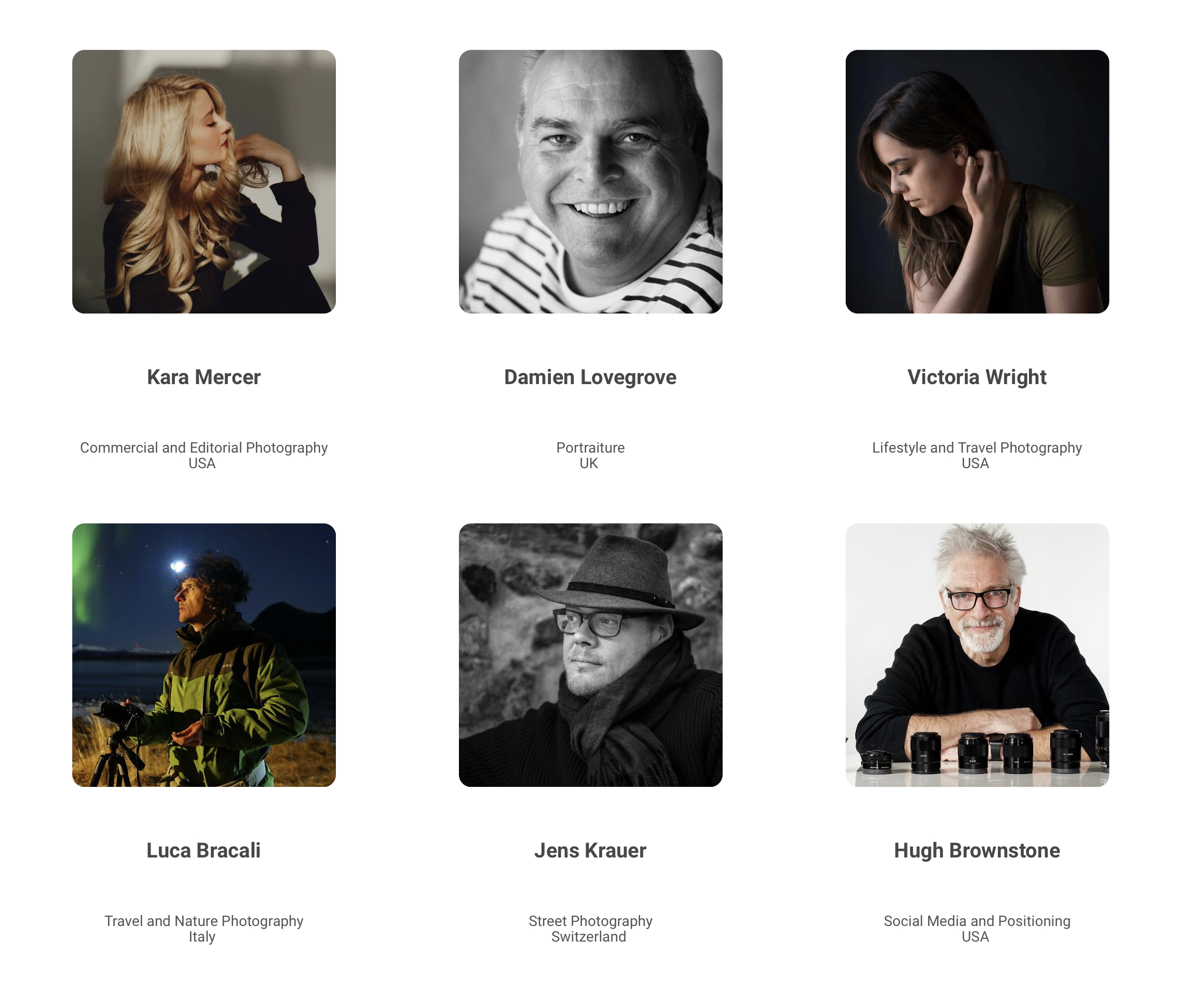 FujiLove LIVE 2019 Presenters
Kara Mercer (USA) – a commercial and editorial photographer and art director based in Seattle, Washington. She specializes in developing content for fashion, travel, and lifestyle brands. Known for her use of light and her eye for creative direction, Kara believes every image should stand strongly on its own while also contributing a unique yet complementary voice when serving as part of a collection. Her work is influenced as much by minimalism and thought-provoking conversations as it is by contemporary studies in human psychology and the emotive, sometimes ethereal feel of romanticism. With these influences, she seamlessly combines playful narratives with a timeless aesthetic for commercial media campaigns (print and digital) and editorial work.
Victoria Wright (USA) – a lifestyle and travel photographer. In addition to her commercial work, she seamlessly blends social media campaigns with thoughtful, personal glimpses into her everyday life, resulting in a collection of photos that resonate with a unique approachability. Victoria helps global brands — including REI, AMEX, and The Wall Street Journal — tell compelling stories through photography. Born in Lithuania and raised in Eastern Washington, Victoria finally found home in Seattle in 2007 where she currently lives with her husband, Joel, and their pup, Ruby.
Damien Lovegrove (UK) – considered by many to be one of the worlds most influential contemporary photographers. In recent years he is best known for creating portraits that make women look fabulous. Damien Lovegrove's lighting style is legendary and his picture composition, sublime. Damien left his role as a cameraman and lighting director at the BBC back in 1998 after 14 successful years to create the renowned Lovegrove Weddings partnership with his wife Julie. Together they shot over 400 top weddings for discerning clients worldwide. In 2008 Damien turned his hand to shooting beauty and portraiture and has since amassed a dedicated following for his distinctive art. Damien is now in the process of reinventing himself as a travel and landscape photographer. Described as a living legend Damien is on a roll with the best of his work yet to come.
Luca Bracali (Italy) – He has travelled to 142 countries, is author of 13 books and winner of 13 prizes in International photo contests. Since 2008 he is a member of Apecs (Association of Polar Early Career Scientists) for his contributions about environment published in the media. In 2009 he was the only reporter to reach the geographic North Pole on skis. In 2010 Bracali debuted in the world of fine-art photography and his pictures have been on show, as solo exhibitions, in 50 museums and galleries in Rome, Sofia, Kiev, Odessa, Copenaghen, Montreal and New York. Tv director of Rai 1 since 2011 and documentary-maker for Rai 2 and Rai 3, Bracali published 15 reportages on Nation­al Geographic. From 2017 he became ambassador of the non-profit organization "Save the Planet". The Minor Planet Center in Cambridge has entitled in his name the 198.616th asteroid discovered.
Jens Krauer (Switzerland) – "You don't become a street photographer, you realize you are one". Jens realized it around late 2012. Finding pictures on the street, documenting life and humans, was growing into becoming his passion. The pleasure of finding and capturing truly candid moments and emotions trough to an image is what drives him to wander cities day and night in search of what life would have to offer to him and his camera. Today, the passion still grows stronger day by day. So much to be captured, so many moments to be recorded, the next image might be just around the corner. Fascinated by candid street photography, photo journalism as well as social documentary Jens is still developing and finding new challenges as he progresses. His background in urban culture and painting now seamlessly ties into his photography. Too many subjects, not enough time.
Hugh Brownstone (USA) – filmmaker, author, optioned screenwriter, photographer, YouTuber, consultant. 30 years' experience across the large corporate, consulting and start-up worlds in the U.S. and Europe. At one time or another he has worked in most functional areas in the healthcare informatics, financial services, consumer products, and digital media spaces. His current preoccupation is vlogging and documentary filmmaking. He loves writing. Writing is the art of thinking, and rewriting is the art of thinking more deeply. He also enjoys consulting. The goal is pure: solve the problem. And he loves filmmaking, a beautiful confluence of left and right brain function, logic and creativity.
FujiLove LIVE Schedule
During the entire weekend you will participate in eight photography presentations prepared for us by all of the above speakers. Highly inspiring stories, Q&A sessions and (needless to say) beautifully presented photographs (projected on a big screen) will give you a condensed and extremely valuable dose of new Fujifilm photography skills and inspiration.
We will be covering topics like:
commercial and editorial photography
portraiture
lifestyle and travel photography
nature photography
street photography
social media for photographers.
We will be starting the first session on Saturday, October 12th, at 9 a.m. and the entire event will end on Sunday, October 13th, around 6 p.m.
Fujifilm North America will be there with us as well!
Our friends from Fujifilm North America will join us with the Clean & Check corner (you will have a chance to have your Fujifilm checked by the members of Fujifilm tech&support team). You will also have a possibility of checking out the entire Fujifilm X and GFX line-up of cameras and lenses!
Location: Bathhouse Studios
FujiLove LIVE 2019 will take place at the wonderful Bathhouse Studios located in the middle of the East Village district of New York City.
Early Bird Tickets Available NOW
You can grab your FujiLove LIVE 2019 Full-Access-Pass for a discounted rate of 349 USD (you save 50 USD) until August 15th. The Full-Access-Pass will grant you admission to all of the FujiLove LIVE sessions.
If you have not been with us two years ago, make sure you don't miss this year's event! FujiLove LIVE is one of a kind gathering of Fujifilm aficionados. If you are a FujiLove Magazine subscriber, or maybe an active FujiLove Readers' Group member, you will most likely meet some of the people you know from the internet right there, in person!!
Combined with a wonderful set of highly inspiring Fujifilm photography sessions and meetings with some of the most excellent Fujifilm photographers makes FujiLove LIVE an unforgettable experience.
It would be wonderful to see you in New York.
Give your photography passion a wonderful gift. Join us on in October. You will love this event, guaranteed.
Make sure you purchase your ticket now as we have space for 120 people only!
If you buy it until August 15th, you will pay 349 USD for the entire event and save 50 USD.
Click here to buy your FujiLove LIVE 2019 Full-Access-Ticket.
About Author