"When I first heard about the new X-30, I was a bit hesitant. Did I want to review it? When I finally got my hands on it, I liked it immediately. It wasn't about image size or if it had an optical or electronic viewfinder. It was about how it felt in my hands. This camera makes you want to shoot with it, period. It feels like a compact X100 series camera with a zoom. Its solid build quality and ergonomics makes me want to run out and start taking pictures immediately." – Take Kayo, 25 October 2014
The last time I reviewed the X30 was back in the fall of 2014. At that time, the point-and-shoot market was still popular but it was evolving quickly. Since the first iPhone was launched back in 2007, people were transitioning towards smartphone photography instead of buying a dedicated digital point-and-shoot camera. The entry-level point-and-shoot camera pricing was dropping, while the more premium ones with larger sensors were priced closer to entry-level DSLRs. The Fujifilm X30 was sandwiched between these categories in terms of sensor size and price point. For example, the popular Canon Powershot S200 with a 1/1.7" sensor was selling for $250 USD, while the newly announced Panasonic Lumix LX100 with a cropped M43 sensor was selling for $900 USD. The Fujifilm X30 with a 2/3" sensor was launched at $600 USD. Although this popular series from Fujifilm was on its third generation, the X30 did not survive this quickly changing and highly competitive (yet shrinking) market.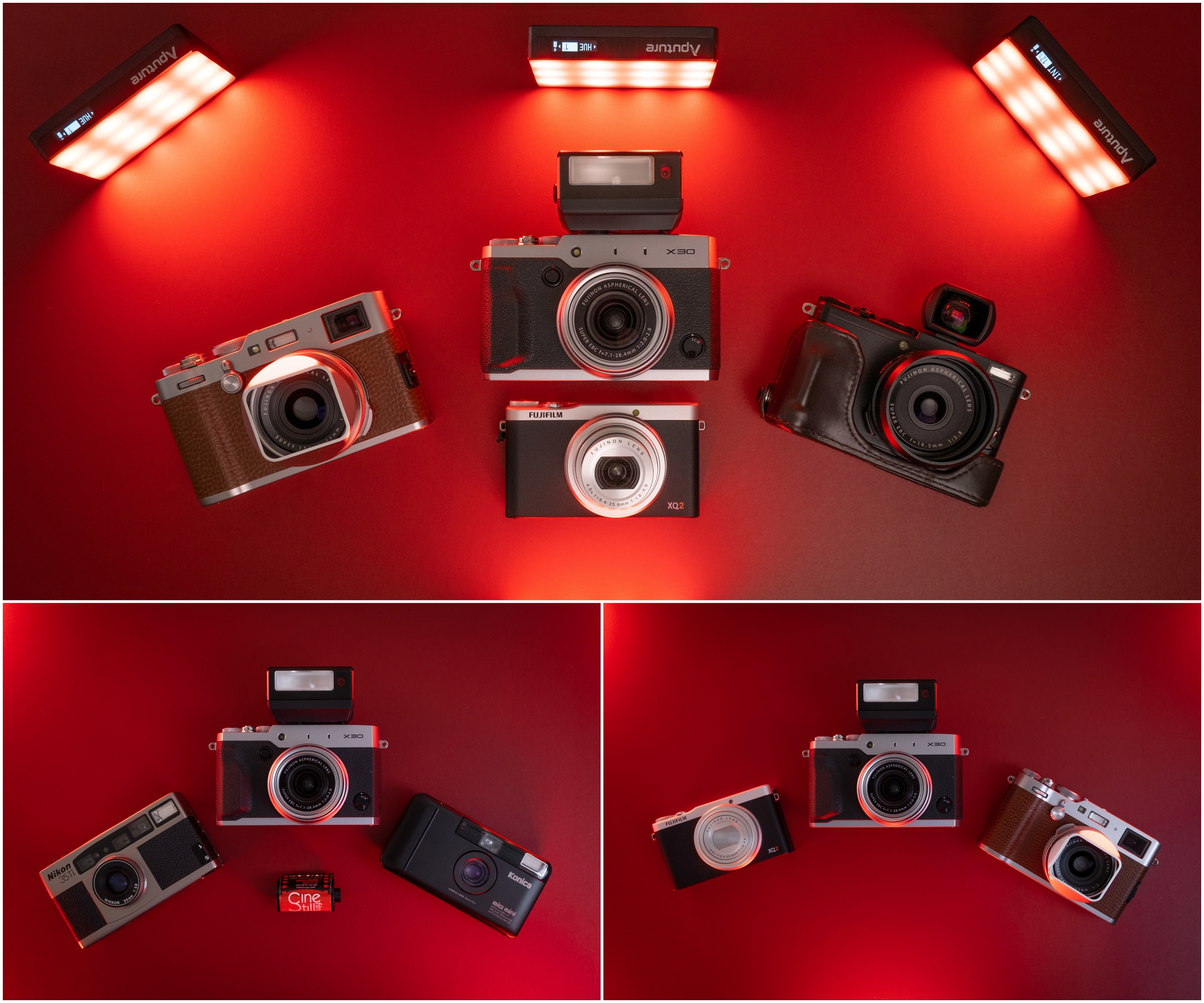 What was wrong with the X30 and the rest of Fujifilm's point and shoot line-up? Absolutely nothing. Although Fujifilm made great cameras, the point-and-shoot market was fickle. In its heyday (this period goes all the way back to the 1990s) there was a point-and-shoot camera for everyone at every price point. Fujifilm experimented with different sizes, form factors and segments of the point-and-shoot market, but none of them captured the attention of the general consumer, who was looking for either value or top-end features. Enthusiasts loved the X30 but Fujifilm needed more than enthusiasts to keep the camera in the line-up. Although the X30 was one of the most balanced point-and-shoot cameras on the market, I knew it would not survive unless Fujifilm used a larger sensor. When the X30 launched in September of 2014, Panasonic also announced the LX100, while the Sony RX100 series was on its third iteration. Have you noticed how both the RX100 and LX100 series are still around today? The biggest differentiator between those cameras and the X30 was sensor size.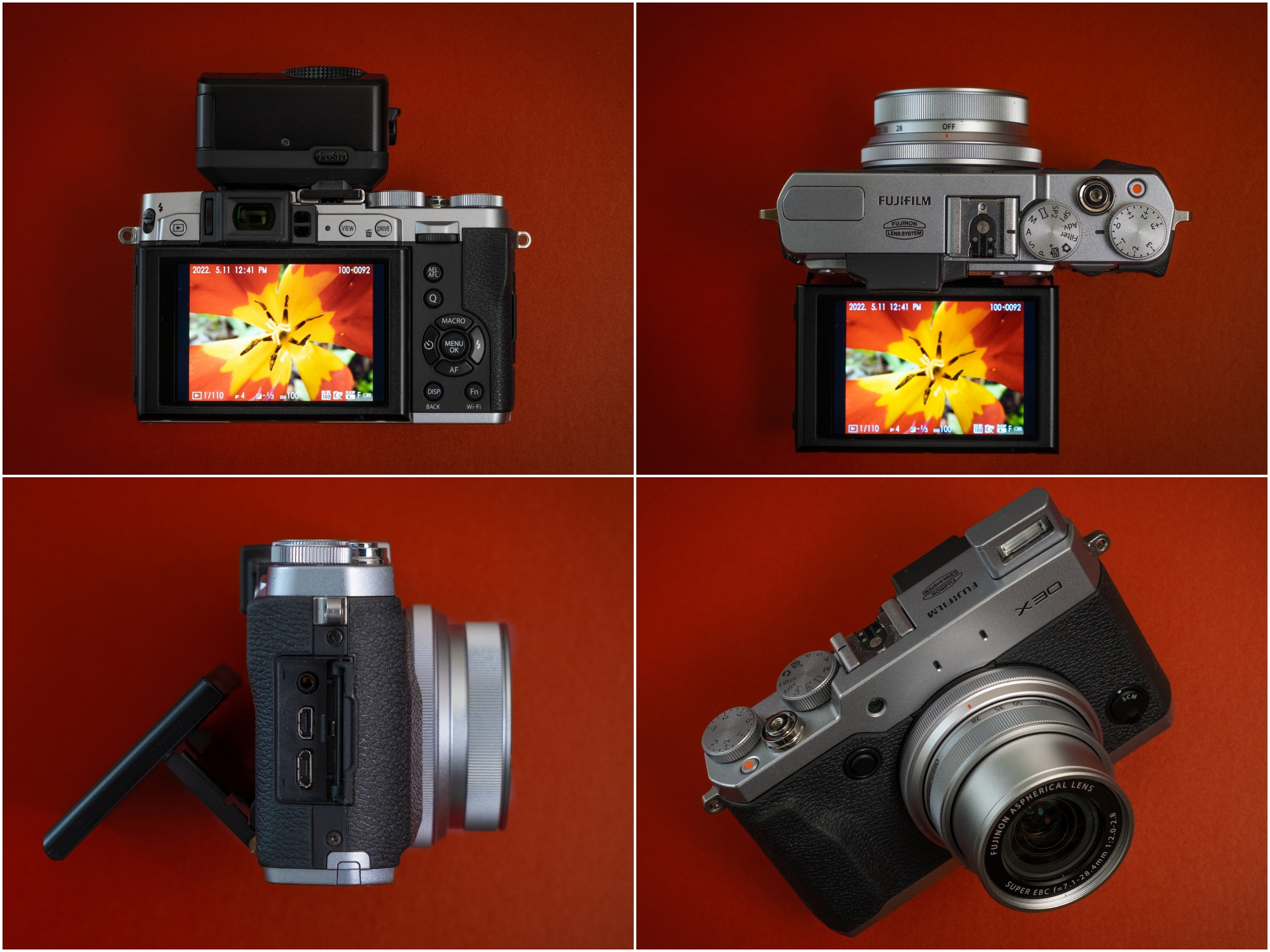 Although the X30 and the series itself are no more, I still have a soft spot for this camera. It captured a specific era in Fujifilm's point-and-shoot camera history. Recently I revisited the X30, shooting with it for a few months while embedding it into my daily photographic ecosystem. I had so much fun with this camera that ultimately I decided to do a retrospective review. Do I still think this camera is a capable camera? How well did this point and shoot age over the past eight years? Finally, if it existed today, what features would I expect it to have to remain competitive? To begin, let's take a look at the main features of the Fujifilm X30:
Announced August 26th, 2014
MSRP $599 USD available in black and silver/black finish
2/3" X-Trans CMOS sensor (8.8mm x 6.6mm) with BSI construction for phase-detect AF
12MP (4000 x 3000) 4:3 aspect ratio
7.1-28.4mm zoom lens ( or 28-112mm in 35mm equivalent) f/2-2.8 zoom lens
Super EBC lens coating with three aspherical and two extra-low dispersion elements
EXR Processor II (same processor in X100T, X-T1, X-E2)
2.36Mil-dot 0.65x EVF with diopter, 920K 3" tilting LCD
4 stops OIS system with custom settings (continuous, motion, shooting only)
hybrid focus system (contrast + phase) with focus peaking
macro focus down to 1cm (0.39")
Face Detect, electronic level, live histogram, interval timer, motion panorama
multi bracketing (AE, ISO Sensitivity, Dynamic Range Film Simulation and White Balance)
30 sec-1/4000th sec mechanical leaf shutter
12 FPS burst mode
ISO 100-3200
built-in pop-up flash 7M GN with hotshoe
up to Full HD 60fps H.264 video with stereo audio
USB Micro 2.0 in body charging, micro HDMI, 2.5mm mic/remote input
Wifi in collaboration with Cam Remote App and Geotagging
NP-95 battery 470 shots CIPA
423g

Pros
What made the X30 such a great camera back then? From the original X10, X20, and finally the X30, Fujifilm made Kaizen improvements in both hardware and firmware to refine the shooting experience. Let's list the main PROs of the X30:
retro styling, functionality, and ergonomics (similar to the X100 and X-Pro series)

good combination of buttons and dials
dedicated focus mode select dial
threaded shutter release button
customizable control ring around the lens
labelled video record button (but customizable)

usable EVF (same resolution and magnification in X-E2)
sharp all-glass optical design with 3 Asph and 2 extra-low dispersion elements
manual zoom ring
leaf shutter design
great focal range from 28mm to 112mm (4x zoom)
same processor as X100T and X-T1
first X Series camera to have Classic Chrome (announced with X100T)
first X Series camera to have a customizable Q menu set-up
solid build quality (magnesium alloy body with rubberized wrap + grip)
standard flash hotshoe (unlike many point-and-shoot cameras)
6 customizable Fn buttons
rear control dial with push-in feature
in-camera RAW processing
still works with the current Cam Remote mobile app
in-body USB micro charging
fun to use!
Cons
sensor size (even at that time) compared to RX100 (1") and LX100 (M43 cropped)

a larger sensor may have saved this almost perfect P&S camera

4:3 aspect ratio (same as most smartphones) 1" sensor is 3:2

with a 3:2 crop the image is 4000 x 2664 or 11MP image

no electronic shutter or built-in ND filter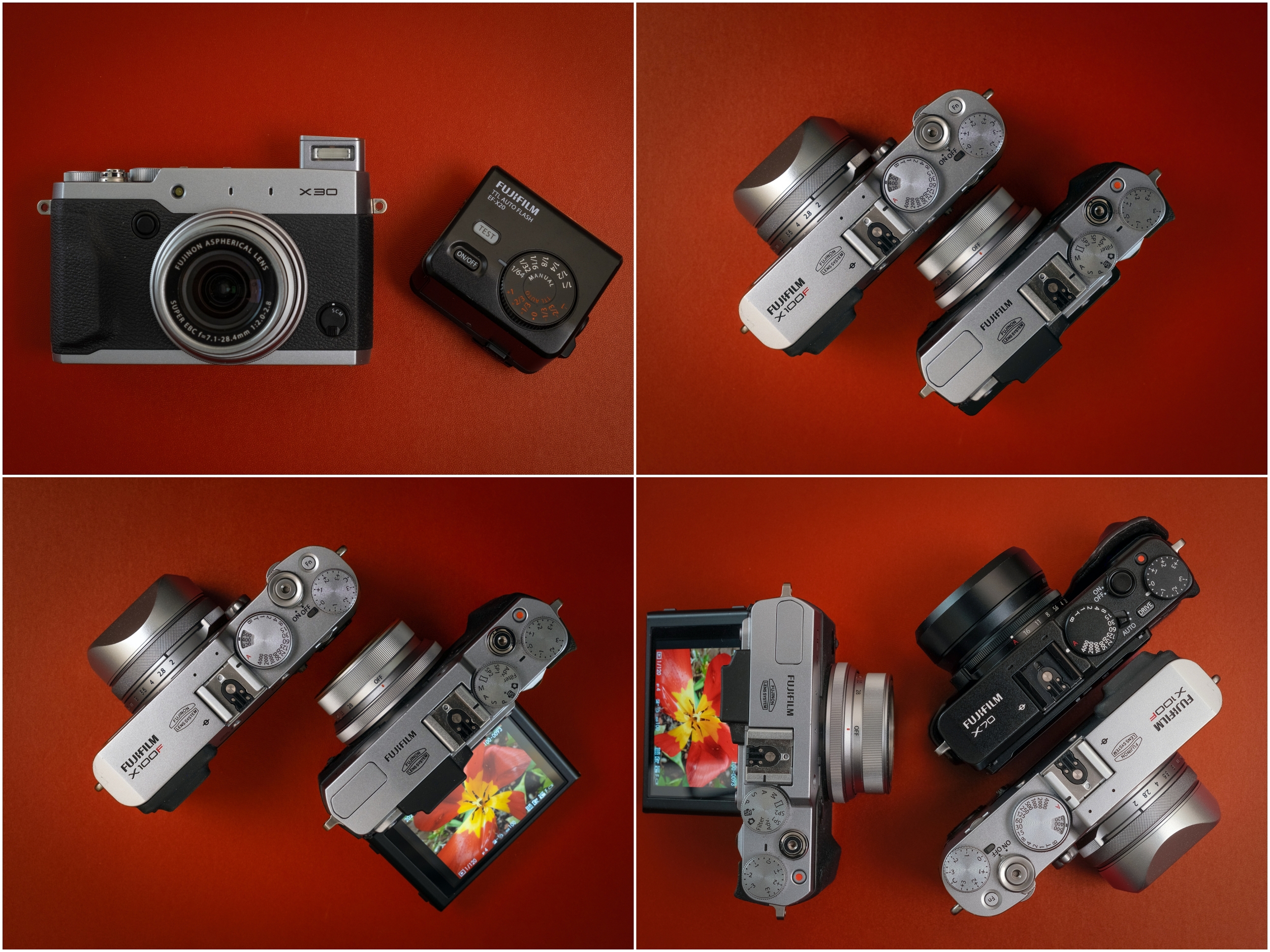 Review
As I quoted myself in the introduction to this article, the most endearing and enduring quality of the X30 is that it's a fun camera to shoot with. It was the same for me today as it was back in 2014. The build quality is equal to the X100 series with a full magnesium alloy body and a nice rubberized mid section and grip. For such a compact camera, the X30 has enough dials and buttons to shoot like a much larger camera. A proper manually controlled zoom lens is much better than a step zoom lens via a toggle. Having a dedicated EVF is better than relying on an LCD screen or a pop-up EVF. Even the retro styling of this camera is a feature. I enjoyed having this camera with me at all times – around my neck, in my camera bag or on the table while having lunch. And although it's only slightly smaller than the X100T, the X30 has an articulating screen and a proper zoom lens. For an everyday compact point-and-shoot camera, this felt like the perfect camera.
Even though the X30 is already eight years old, it felt like a modern Fujifilm X Series camera. This is because the X30 had some decent features for 2014. For instance, the X30 has WiFi, so it still works with the most recent Cam Remote app. It's simple enough to connect and transfer images from the X30 to my iPhone or iPad while I was out and about. It also has USB charging via a USB mini connection, so I could quickly charge the camera without having to take the battery out. The X30 has four stops of OIS, so I could confidently shoot in low-lighting situations and not worry about my shutter speeds. It has in-camera RAW processing, so I could shoot in RAW and apply any of the film simulations immediately, including the then-new Classic Chrome film simulation. In fact, the X30 was the first camera to get Classic Chrome simulation (just before the X100T). The X30 was also the first Fujifilm camera to have a customizable Q menu, so I could set the camera up the way I wanted to access my menu items, in addition to six Fn buttons. Finally, unlike some recent X Series camera bodies, this tiny X30 still has a D-Pad, focus select dial, view mode button, rear control dial with a push-in feature and a dedicated exposure compensation dial. Moreover, the X30's ergonomics and functions mirrored the larger X Mount cameras of its time, and it was the most advanced X Series camera when it was first launched, including the firmware.
If the X30 was so great, why was it discontinued? One word: size. Not the camera, but the sensor. Even though the X30 had a lot to offer, it had an ageing Toshiba-built Fujifilm spec'd 2/3" (8.8mm x 6.6mm) sensor. Yes, it had an X-Trans colour filter array with no low-pass filter, but at 12MP (4000 x 3000), it was starting to show its age for 2014. Sony's RX100 series and Canon's G7X were using a much larger 1" sensor with 20MP resolution. The Panasonic LX100 was using an unusual cropped M43 sensor and the Canon G1X had an unusually large 1.5" (18.7 x 14mm) sensor. As mentioned at the beginning of this article, the X30's market position and pricing landed in the middle of the pack, neither high-end nor low-end. The features that made the X30 stand out from the competition (usable EVF, manual zoom lens, proper hotshoe, solid build quality) weren't features that the majority of point-and-shoot consumers were looking for. The X30 was a miniature version of a full-featured digital ILC camera with a proper all-glass zoom lens. This was exciting for enthusiasts but the small sensor was its Achilles' heel for most consumers.
Conclusion
I tested the X30 as my everyday carry for a few months and my conclusion is that this compact camera is still a competent image-making tool, even by today's standards. In terms of features, it has everything I need in a daily carry compact camera. I took the X30 with me on the streets, on my walks and on vacation, as well as to some serious shooting sessions. The zoom range of 28-112mm equivalent is perfect for most of my photography, the ISO range is sufficient (up to ISO 800), 4 stops of OIS is appreciated, and having the ability to shoot RAW and apply Fujifilm's film-like simulations either in-camera or in Lightroom matched my preferred Fujifilm editing workflow. It honestly didn't feel like I was using an outdated camera at all. What I lost in resolution, I gained with a great zoom lens and deep depth-of-field due to the smaller sensor. I love shooting at f/8 on the streets with my APS-C X Series cameras, which I could achieve by shooting f/2.8 on the X30. For some, that's a minus, but for many street photographers, it's actually a plus.
In addition, when it comes to resolution, for many 12MP is actually good enough for most applications. Instagram's maximum image size is 1080 x 1350 (or 1.46MP) and a 12MP sensor (4000 x 3000) can easily print to 11" x 14". The Fujifilm colours are beautiful, the lens is sharp and the X-Trans sensor squeezes out as much detail as it can from the 2/3" sensor. If you look at the images I was able to capture with the X30, I think you'll agree this little camera is still able to take amazing images, even by today's standards.
Imagine for a moment that Fujifilm hadn't discontinued the X30 and had made the X40 based on their fourth-generation sensor and processor technology. What would a modern X40 look like? First of all, Fujifilm would eventually use Sony's 1" sensor with 20MP of resolution. Because of the larger sensor, the lens and zoom range would have to be either narrowed or the camera would have to become larger. I think Fujifilm would have opted for a shorter zoom range, perhaps 24-85mm f/2-2.8. Like the X100 series, it would have a touch screen, built-in ND filter, electronic shutter, 4K video, USB-C and Bluetooth. To have mass-market appeal, Fujifilm would add a fully articulating screen for selfies and vlogging, but they would also get rid of the D-Pad and install a joystick instead. Since the lens sticks out anyway, Fujifilm would add a deeper hand grip and use the larger NP-W126S battery. How many of you would buy a compact Fujifilm point-and-shoot with a 1" 20MP X-Trans CMOS BSI sensor with a mechanical zoom lens, OIS, with the X-Processor 4 that's capable of 4K video? It would basically be a mini X100V but with a zoom lens.
In conclusion, I enjoyed shooting with the X30 and I wish Fujifilm's compact point-and-shoots weren't a thing of the past. I love the size, the design, the build quality and the way it feels in my hands. Internally, it was the most advanced Fujifilm X Series camera when it was first released in the early fall of 2014. It was the first camera to offer Fujifilm shooters with the Classic Chrome film simulation and a customizable Q menu. For such a compact camera, it still used the same processor found in the X-T1, X100T and X-E2. It truly was an over-built, compact X100T but with a zoom lens. If Fujifilm decided to go with a 1" sensor, I truly believe this compact series would still exist today as a fifth-generation product. If you currently look at the used price for the X30, people are still asking for decent money for this eight-year-old camera. It's a great piece of Fujifilm's X Series history, but I don't think this type of camera will ever find its way back into the line-up. If you own the X30, cherish it. If you want to buy one, get it while you still can. If you like these retrospective reviews, let me know if you want a re-review of the X70 or XF10. If you own the X10, X20 or X30, let me know what your thoughts are on this camera. Even better, share your photos below. Thanks for reading and happy shooting!
About Author