Welcome to this week's FujiLove News Digest where you will find the Fujifilm X-T3, your guide to everything Fujifilm is doing at Photokina, the most recent edition of FujiLove Magazine and something special at Fujifilm Square. Let's start off with the biggest news item and one that we have been waiting for!
FujiLove Weekly News Digest is brought to you by Exposure X3 from Alien Skin Software, the advanced RAW photo editor that provides unmatched creative tools and Fujifilm RAF processing. Exposure is FujiLove's photo editor of choice.
Fujifilm X-T3
The news broke on Thursday morning about the incoming update to what is seen by many as a classic and workhorse of the Fujifilm range. The X-T3 looks impressive, powerful and just what we were all asking for. We are told that the camera will go on sale on the 20th of September 2018.
(Featured image above: courtesy of Jonas Rask)
X-T3: Main features
Use of the series' fourth-generation devices, new sensor 'X-Trans CMOS 4' and new processor 'X-Processor 4' for the highest image resolving performance, color reproducibility and fastest processing in the history of the X Series.
Use of the new devices and improved algorithm for significant improvement in AF performance in low light and when tracking a moving subject.
Enhanced viewfinder performance improving the ability to track a moving subject.
The X-T3 inherits the X-T2's popular design features such as the positioning of dials on the top panel, central viewfinder style for an added sense of stability and excellent grip design for comfort. The silver color is as standard, which features a more classical tone compared with graphite silver limited edition for previous models. Its styling reminds you of traditional film cameras and is combined with outstanding practicality, making it photographic equipment that is a pleasure to own for many years to come.
Enhanced video performance – this is the world's first mirrorless digital camera capable of internal SD card recording 4K/60P 4:2:0 10bit. It is also the world's first mirrorless digital camera with APS-C or larger sensor capable of 4K/60P 4:2:2 10bit HDMI output. Supported video formats include the widely-used H.264/MPEG-4 AVC as well as H.265/HEVC for greater data compression. This enables the use of high 200Mbps bitrate in a recording of 4K/60P 4:2:0 10bit, as well as simultaneous HDMI output while recording. Video compression options available are ALL-Intra (*6) and Long GOP. When using ALL-Intra, video is recorded at 400Mbps.
---
Photokina (26th-29th September)
Photokina has so much to see and do that we wanted to make sure Fujifilm has a dedicated mini-website all about the event and day by day break down of all the speakers as well as all the info about what to expect on the Fujifilm stand. The following info is taken from the Fujifilm site:
Touch & Try
Get your hands on the very latest range of FUJIFILM X/GFX cameras including the latest X-T3. There will be plenty of things to shoot, so come along and see what's new. There will be plenty of English and German-speaking members of staff on hand to answer any questions you have about the range.
Quick Maintenance Service
Fujifilm will hold a maintenance service counter for X Series /GFX cameras and lenses at the Fujifilm stand. The service will include sensor cleaning, exterior cleaning, brief operation check and firmware update.
Loan Program
Fujifilm will hold a camera/lens loan service at Fujifilm stand for test shooting for visitors considering purchasing our products.
Live Talks
Professional photographers from around the globe will be sharing their own personal and professional experiences of using the FUJIFILM X / GFX System. Covering a wide range of photographic subjects and with talks in both English and German, there will be something for everyone.
Gallery
Come along and see for yourself enlarged prints that highlight the outstanding image quality, color reproduction and power of expression for which the X Series/GFX cameras are renowned. There will also be the special exhibition of the FUJIFILM & Magnum Photos collaborative project 'HOME', which has been touring around the world since March this year. Gallery talk will also be hosted by Magnum Photos members.
Click here for all the fine detail and the dedicated website setup.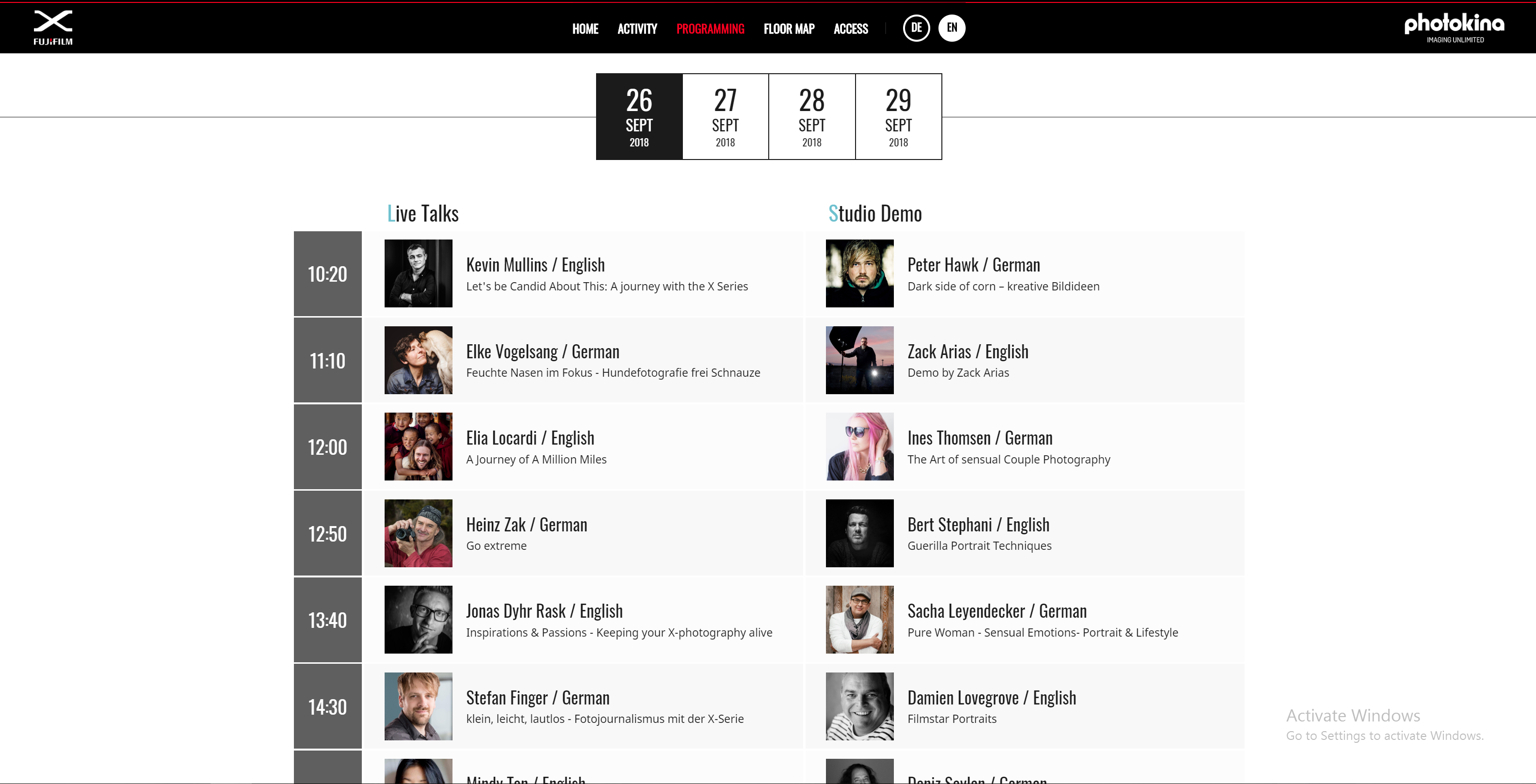 Touch and Try Days
All around the world there will be stores local to you ready to announce touch and try days. These days are where you can turn up and have a close-up look at all the cameras in the GFX & X-Series range, including the X-T3.  For example, Wilkinson's cameras in the UK have Fujifilm imaging expert John Dallas on hand to answer all your questions and let you try out the X-T3, as well as a huge lineup of XF lenses, including the latest XF 8-16mm. Just call in any time between 10 am and 4 pm in the following stores:
As per usual, Jessops have also announced a huge range of days up and down the UK.
We checked in with Cambrian Camera and they will have an event on the 6th of October. Keep an eye on their events page for the announcement. They will also be doing a Double Cash Back bonus – make sure you check the site for more info.
These stores and shops are only just a few across the world that will be making sure everyone who wants to can have hands-on time with the cameras. Contact your local store and let us know if they are having an event in the comment sections.
Fujifilm has a website page in which they post all the events and tradeshows that they attend – it is worth checking each one as to the nature of the event, as not all of them are strictly linked to photography.
---
Cactus Kickstarter
Personally, I was a big fan of the Cactus system and I was privileged to actually have a play with a pre-production IQ250. Earlier this year, I was asked to showcase it for the UK Photography Show so it's sad news we report that it might never make it into production. Cactus posted the following to the Cactus Facebook page on 5th August 2018.
To all Kickstarter backers and Cactus fans,
We would like to extend a big THANK YOU for showing your genuine support to the RQ250 Wireless Monolight project, but at the same time, we are sorry to let you know that the project was not successfully funded.
Despite Cactus has been in the wireless flash trigger market for nearly a decade, the RQ250 is actually our first attempt at designing a wireless monolight from the ground up, which is also the main reason for using Kickstarter as a launch pad. At over 70% funded in 30 days, more than 90 people pledged with an average amount of over US$800 per backer, there are plenty of you. But, it still wasn't enough to bring the project to life.
Since the launch of the Kickstarter campaign, we received numerous comments on the pricing of the RQ250. We appreciate all the advice and rest assured that they were taken seriously. However, given the high performance and compact design, the value of the RQ250 is truly reflected on the current price tag, not to mention the cost of the after-sales customer service and international warranty covered by Cactus, its distributors and dealers worldwide.
We, therefore, with a heavy heart, have to announce that the RQ250 project is now suspended.
We are truly grateful to everyone who helped us develop the RQ250 up to this stage and provided supports all through. We still believe the RQ250 is the answer to the ever-growing need of location shooting and it is worth every penny of the cost. It is the most versatile and portable solution to shape the light in different situations. Even though the project did not reach completion, it is the journey that counts.
But the adventure does not end here. Now it's time for us to focus on other projects on hand. As always, if you have any ideas and suggestions please do not hesitate in sending them to us.
Thank you!
With warmest regards,
The Cactus Team
---
FujiLove News and Updates
There are always lots of things happening at FujiLove. This week we have a new issue of FujiLove Magazine, as well as an announcement about the webinars.
If you are not a subscriber yet, make sure you join the thousands of Fujifilm X photographers from around the globe and get access not only to monthly editions of FujiLove Magazine but also to LIVE photography webinars, Fujifilm X Series support line, monthly FujiLove PDF Handouts and more.
FujiLove Power Sessions
Later this month FujiLove will be launching FUJILOVE POWER SESSIONS – an unprecedented series of five 90-minute webinars with one of the most respected and widely followed Fujifilm X-Photographers, joined by a few special guests. We will be covering the entire Fujifilm X ecosystem, talking to Fujifilm employees themselves, sharing post-processing techniques and diving into camera settings specific to different genres of photography. It will be 7.5+ hours of the most comprehensive Fujifilm photography training that has ever existed, with special bonuses both for subscribers and non-subscribers of FujiLove Magazine. Stay tuned. We will be sharing the exact schedule and opening the sign-ups very soon.
FujiLove Magazine
Our cover contributor for this month's issue of FujiLove Magazine is Take Kayo, who explains how his initial fear of photographing strangers on the streets many years ago led to the creation of a new photographic genre for him. Similar to 'Tableau Vivant', he mixes posed models with his candid approach to street photography, resulting in some truly interesting street imagery that often has a cinematic feel. João Carlos, Jeff Carter, Stephanie Baxter, Jonas Rask, Olaf Sztaba, Jens Krauer, plus myself (Dave Kai-Piper) are this month's contributors, covering a wide range of topics from interesting lighting styles to street photography. In this month's interview, we're talking to Pete Reed OBE, triple Olympic Champion and five-times World Champion in rowing, officer in the Royal Navy, and keen photographer and user of the Fujifilm X Series.
Tomash adds, "We will be soon offering the option of on-demand purchases of single issues of FujiLove Magazine, both digital versions and printed replicas of the magazine." Stay tuned for more information!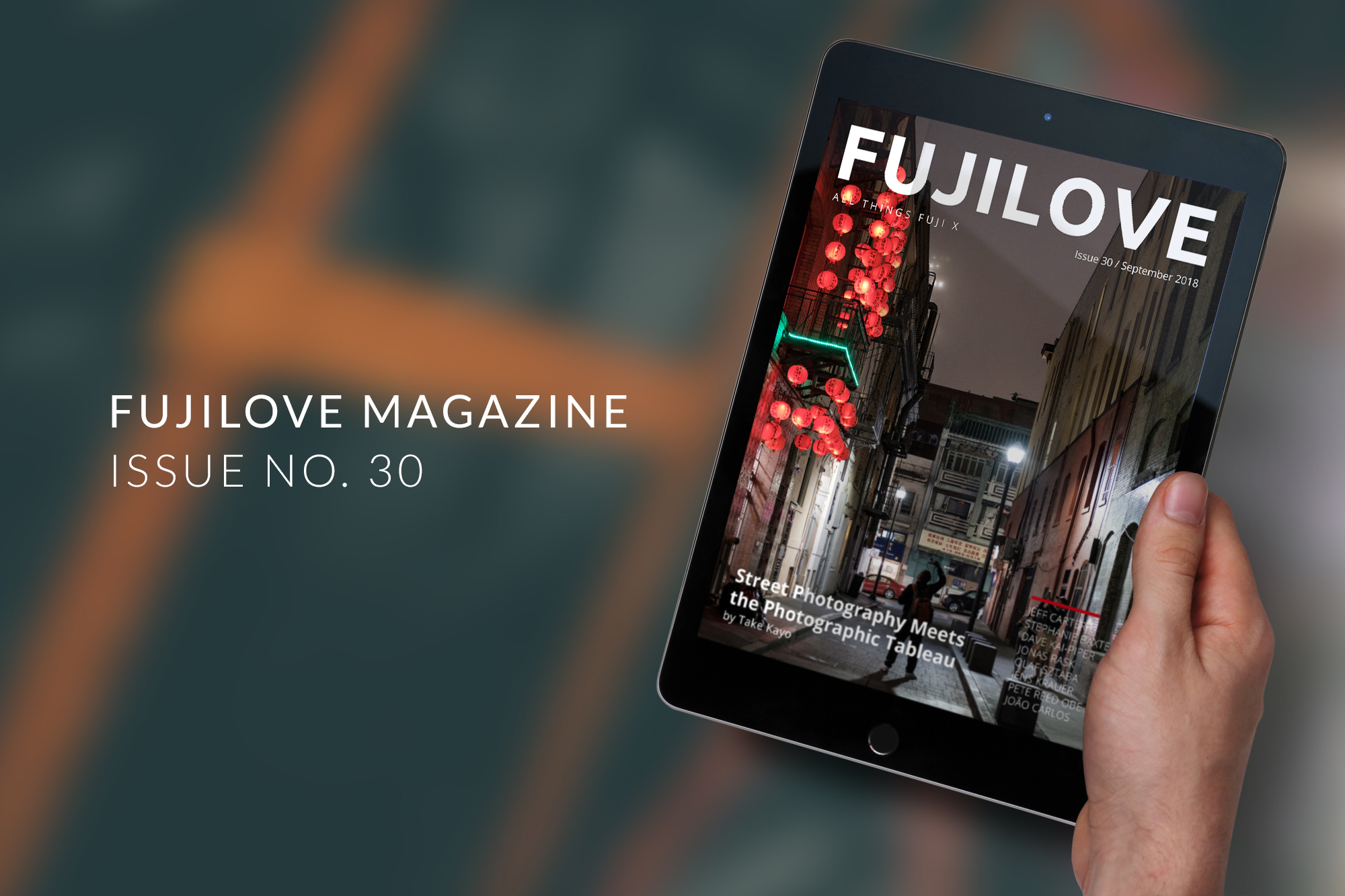 ---
Event of the Week: Haruo Tomiyama Exhibition
The Photo History Museum at FUJIFILM SQUARE is pleased to present an exhibition of the works of Haruo Tomiyama, a photographer who depicted his times over many years through photographs that transcended words. The exhibition runs from August 1 to October 31, 2018.
Gendai gokan and Haruo Tomiyama, a photographer who transcended language
Date: Wednesday August 1, 2018 — Wednesday October 31, 2018
The 1960s were a turning point for Japan that determined the country's course thereafter. At a time when publication of new weekly magazines was booming and journalism was in its heyday, Haruo Tomiyama was one of the photographers on the front lines. He worked on the Gendai gokan [The linguistic sense of our times] series in the Asahi Journal magazine, which started during the boom in 1964 with Tomiyama's photograph on the theme "overcrowding." ….
After teaching himself photography, Tomiyama worked as a commissioned photographer for the magazine Josei Jishin and the photography department of Asahi Shimbun Publications Inc., where he distinguished himself through the Gendai gokan series. This was a social commentary comprising photographs and essays by different individuals on the themes of various Japanese words that appeared frequently in the mass media of the day, such as "overcrowding," "togetherness," or "tolerance." Responsibility for the photographs in the series was shared among members of the Asahi Shimbun photography department, while the essays were penned by well-known writers such as Tadasu Iizawa and Kenzaburo Oe. The series became a hit for its shrewd satire of social conditions in Japan as the country was in the midst of rapid economic growth and standing on the brink of a revolution in values. Tomiyama's photographs, in particular, stood out for their distinctive interpretations of the words and their capacity for humorous expression, which made a huge impression on the magazine's readers. Tomiyama subsequently made this series his lifework and spent around 40 years taking photographs that depicted his times and popular words, publishing his works intermittently in a number of magazines under the Gendai gokan title.
The exhibition will display original prints selected and reproduced in 1998 by Haruo Tomiyama from the Gendai gokan series with which he is synonymous. Tomiyama described himself as a craftsman and expressed his own unique view of his profession in writing with the words, "There's no business like photography." Drawing on an idiosyncratic esthetic to capture a clear-eyed view of the times, Tomiyama's photographs remind us of photography's versatility as a medium that transcends words. In the present day, as we prepare to transition from Heisei into a new imperial era, revisiting these photographs that offer figurative depictions of the Showa Era (1926-1989) provides the perfect opportunity to look back at the progress Japan has made. Come and immerse yourself in Haruo Tomiyama's world of photographs that transcend words.
Click here for more information.
---
Links to official Fujifilm events around the world:
---
Want to get in touch? Email us at newsroom@fujilove.com.
About Author