As the news of the launch and announcement of the X-T3 start settling down a little, we will be soon able to start observing how well the orders of the new camera are doing. Make sure you have a read the review and insights that Jeff Carter provided during his hands-on look at the X-T3 in his article about using it for sports photography. I have to wait a few more days before getting to test-drive an X-T3 myself, but I am very excited about seeing how much more refined the camera seems to be. Have you put a pre-oder in or are you waiting to have a look first? Let us know in the comments! 
FujiLove Weekly News Digest is brought to you by Exposure X3 from Alien Skin Software, the advanced RAW photo editor that provides unmatched creative tools and Fujifilm RAF processing. Exposure is FujiLove's photo editor of choice.
Last week we mentioned that Photokina is getting closer and closer. We are very excited to see that many FujiLove contributors and guest writers are going to be running their talks and presentations for Fujifilm. FujiLove asked the Fujifilm UK Marketing Manager Andreas Georghiades about some of the highlights and interesting points about the show.
Photokina is a huge event, is it something Fujifilm is looking forward to?
Andreas Georghiades: We all love Photokina at Fujifilm, even if it means lots more work attending and organizing the stand. We live to put our cameras into people's hands to demonstrate them and inspire people through talks and stunning images on display.
Fujifilm always has amazing photographers on the stands at the big events. Who should we be looking forward to seeing this year at Photokina? Have a look at the full details of all the talks on the Fujifilm Stand at Photokina 2018.
What is the one thing we should check out at Photokina this year, aside from the Fujifilm stand of course! The Cologne Cathedral is one of the most amazing buildings, especially at night!
Fujifilm Ambassador Kevin Mullins will be giving a few talks at Photokina as well. Kevin says: 'I'm really excited to be returning to Photokina. It promises to be a great year with the launch of the X-T3 sure to bring many people to the stand'.
Elinchrom + Skyport.
Over the years I have used and loved Elinchrom. A wonderful company making excellent products. I am excited to let you all know that around mid-September we will have our own Skyport. I believe it to be around the 18th of September. More information at the Elinchrom website.
'For all Fujifilm users, the Transmitter PRO for Fujifilm cameras is available mid of September. It provides full compatibility with Elinchrom flash units and includes TTL functionality for the latest ELB 500 TTL. 
With Fujifilm integrated into the Skyport protocol, Hi-Sync, HSS and TTL are now available to almost every photographer.'
The Elinchrom Transmitter PRO is well known by Nikon, Canon, Sony, Olympus and Panasonic users. It is highly anticipated by the Fujifilm community. They will now have the ability to bring TTL, HSS or Hi-Sync to their Elinchrom setup. All the latest features are now available with the Transmitter PRO for Fujifilm.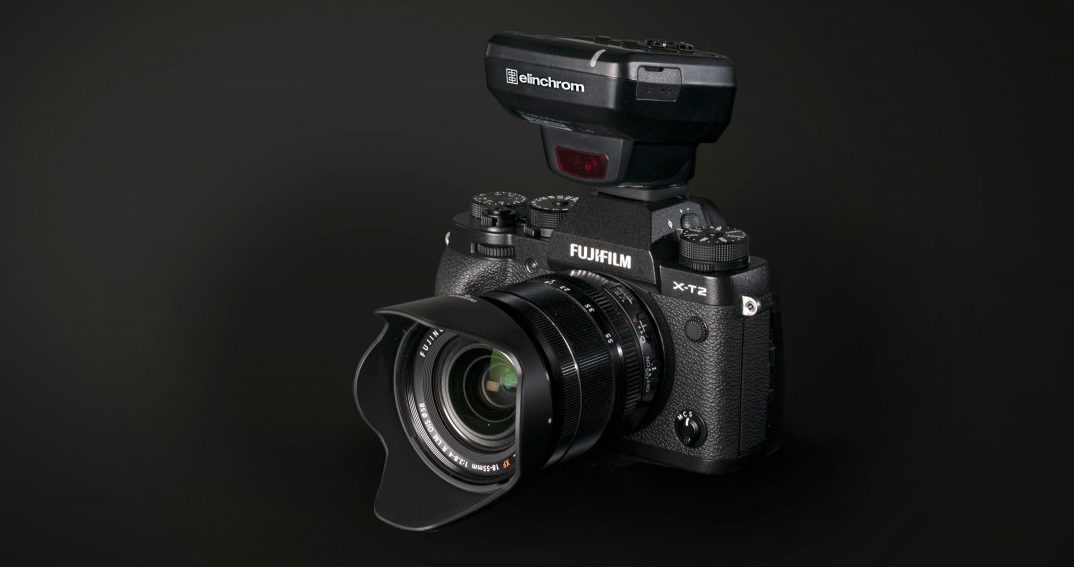 ---
FujiLove Power Sessions.
FujiLove proudly presents FujiLove Power Sessions – a new way to learn even more about the camera system we all love.
Personally speaking, I am convinced the FujiLove Power Sessions are going to be awesome. I have had the pleasure of knowing Damien Lovegrove and Paul Sanders for years, I have also been lucky enough to witness how well they structure educational content. Jeff Carter is going to also be on hand for one of the sessions to provide some amazing insight into the Fujifilm system as well (3rd of November – a date not to be missed.)
FujiLove is excited to also announce that, in collaboration with Fujifilm UK, product specialist Carl Hare will be part of the panel for two of the LIVE webinars. Carl knows his stuff and will provide a concrete base of knowledge – feel free to test him and quiz him with anything Fujifilm related at the interactive Q&A element at the conclusion of those session.
These sessions are live & interactive. Each one of five 1.5-hour-long webinars (plus an extra bonus session) will cover different aspects of the Fujifilm camera system. The first session will be streaming live on the 22nd of September and it will be an overview of the entire Fujifilm camera ecosystem. The rest of the sessions topics are planned out as follows:
1. X Series / GFX System – overview of the entire Fujifilm camera ecosystem.
2. Lenses – in-depth comparison of all Fujinon XF and GF lenses.
3. Settings – specific in-camera settings recommendations based on different genres of photography and styles of shooting.
4. Post-processing – working on Fujifilm RAF and JPG files in different photo editing applications.
5. Vision – translating your knowledge of the Fujifilm X Series system into your own photographic ideas.
Bouns session – an extra session planned for mid 2019.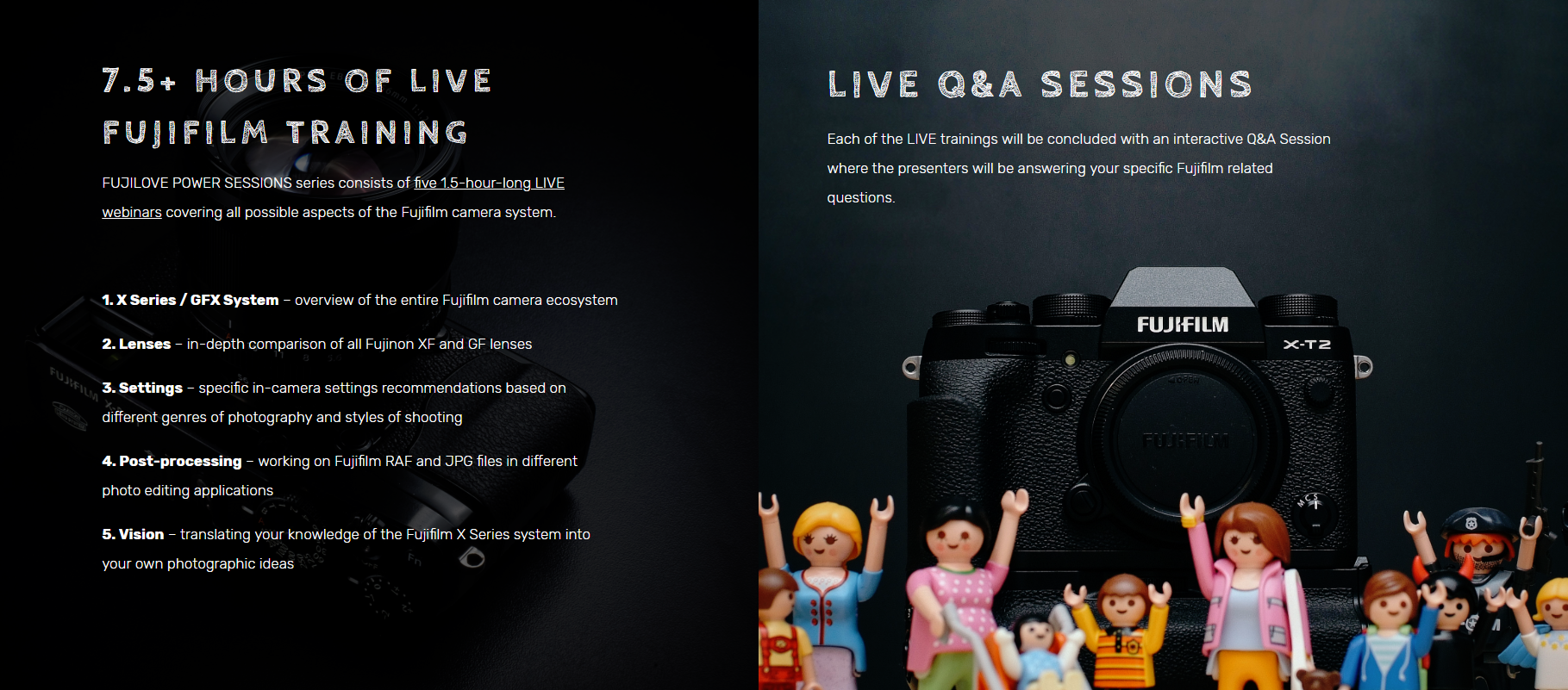 ---
KAGE Collective – Dominique Shaw
As a fan of photography rooted in story, depth, and character I have been following the work of the KAGE collective for a while. A few days ago they made an announcement about the Fujifilm photographer and winner of the 'Most Innovative Wedding Photography & Videography Studio 2018' award, Dominique Shaw is going to joining the collective. We got in touch with the KAGE COLLECTIVE & Official Fujifilm X-Photographer Patrick La Roque and asked him to shed some more light on the Collective and Dominique's addition.
"Launched in 2012, KAGE is a photography collective exploring the medium in all its forms, through member essays, thought pieces, articles, books and curation. Our focus on visual storytelling aims to encompass all genres, from pure documentary reportage to personal and impressionistic imagery, without pre-conceived notions or restrictions in terms of form or subject matter. It's an ongoing personal exploration really, from each individual member. 
Last year two of our members left to pursue other avenues and Jonas Rask joined our ranks. This year we're thrilled to announce that Dominique Shaw is also joining the project. I met her in the UK last June and this started a conversation that developed over the summer. We're all very eager to see her input and vision becoming an essential part of our group dynamic.
The collective is currently in the midst of a 90-day project entitled Chronicle 90, so Dominique's stories and essays will make their debut once this is over—around mid-October. In the meantime, her new profile is available here: https://www.kagecollective.com/shawportfolio "
Although Patrick stops short of saying that KAGE and Fujifilm are directly linked, you only have to have a look at the current roster of photographers and the brand of camera they use to see a link. If you are looking to find a group of people using the Fujifilm cameras on the highest level, you can see this displayed diligently in the work the collective produces. Many of the current and past members have frequently contributed to FujiLove as well.
FujiLove got in touch with Dominique to ask about her relationship with Fujifilm.
'My first introduction to Fujifilm was probably in the form of a roll of Superia 200 or Neopan 1600 – pretty much my go-to film choices when I started out developing my own prints in dusty dark rooms or the poorly ventilated attic of my parent's house. After moving to digital though and years of lugging around a pair of cumbersome DSLR's and heavy primes both at weddings and on the street my reintroduction to Fujifilm (aside from a brief flirtation with an X-100 that sadly didn't belong to me) came at some trade show or other when I first picked up the X-T1. I bought it that same day and, whilst I bought it very much as a camera I could just carry around with me all the time for shooting some personal and street work, I gradually found myself reaching more and more for it at weddings where I wanted to blend in a little more. Not so long later, with the release of the X-Pro 2 happening to coincide with a planned street trip to Cuba, we bought one to test out as a discrete street camera. A month later we owned four of them and a month after that the DSLR's were permanently retired as our primary wedding cameras. I've used cameras of every shape and size over the years but the X Series was the first to really bring a smile to my face and feel like more than just a tool. It's fair to say I haven't looked back and the X-Pro2 has been the perfect companion in helping me to refine my style and enable me to shoot the way I've always wanted without compromise.'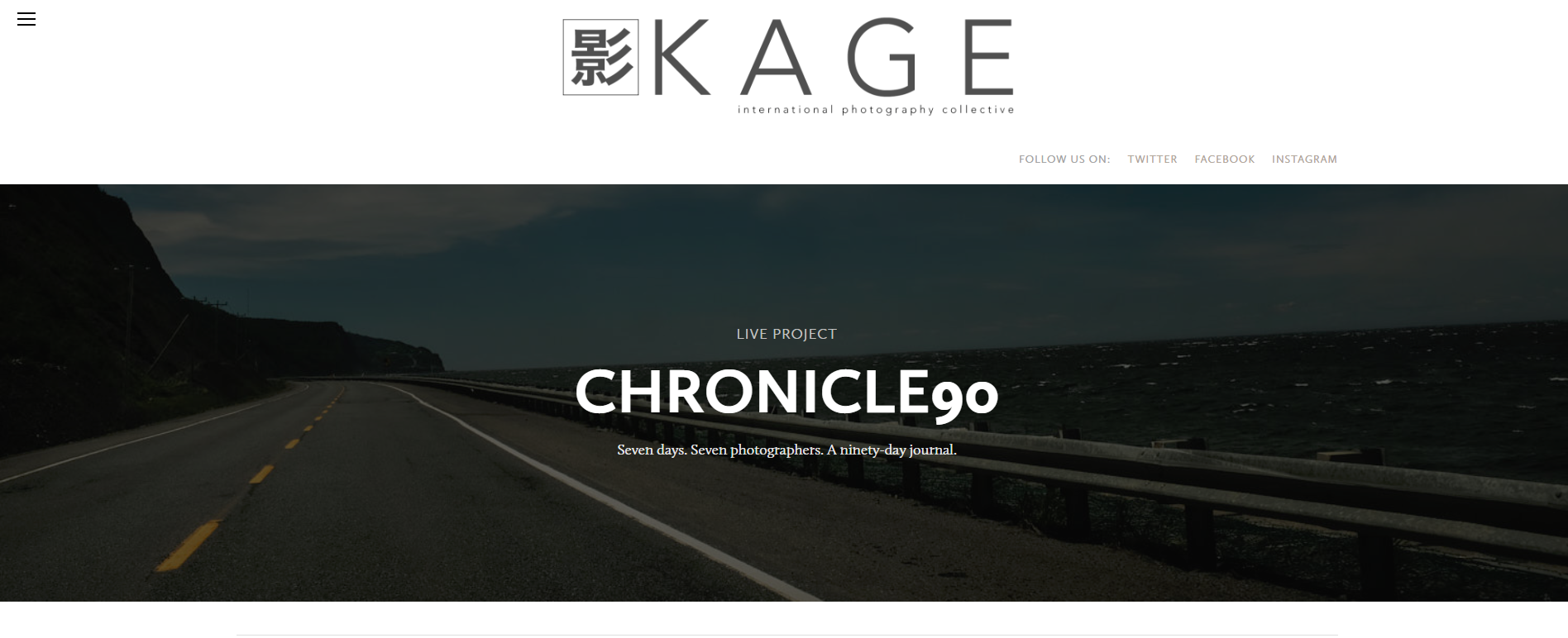 ---
Event of the Week: TOKYOGRAPHIE
Fujifilm Square is an exhibition and event space dedicated to sharing the very best of photography – past and present. It will be running the TOKYOGRAPHIE starting October 26th 2018.
The website says they are 'Expanding the rich culture of photography and creating new worlds for a more colorful daily life in the future.' 
We are pleased to present four separate photo exhibitions being held at FUJIFILM SQUARE as the opening event of the TOKYOGRAPHIE pop up event in conjunction with the KYOTOGRAPHIE Kyoto International Photo Festival. The four exhibitions are: "Playing with Lifelike Colors" by Masahisa Fukase; "Hodophylax: The Guardian of the Path" by Michiko Hayashi; "GOKAB: Young People in Bhutan Captivated by Hip Hop" by Kensaku Seki; and "Which Way is Up?" — Winner of the KYOTOGRAPHIE Children's Photo Contest 2018. The exhibition will run from October 26 — November 8, 2018.
---
Links to official Fujifilm events around the world
Fujifilm North America: https://fujifilmxgfx.com/fujifilm-focus/events/
Fujifilm South Africa: http://fujifilmxperience.co.za/event/
Fujifilm UK: fujifilm-x.com/uk/whats-on/
Fujifilm X-Photographers: http://fujifilm-x.com/photographers/
Want to get in touch? Email us at newsroom@fujilove.com.
About Author