I currently have on loan Fujifilm's OG digital medium format camera, the GFX 50S. I'm reviewing the new GF 45-100mm zoom lens, but I am just as excited having the GFX 50S in my possession again.
After reviewing consecutive X Series cameras one after another (X-Pro3, X100V, X-T4) it was nice to shoot with a medium format camera once again. For my April 1st article I decided to use both the GFX 50S and the X-H1 while taking pictures from inside my car.
I enjoyed jumping between these two sensor formats, and in the end I think I caught the medium format bug once again. On my most recent trip to Hong Kong I brought with me the Fujifilm GA645zi, Fuji's flagship autofocus medium format camera back in the film days. Although one only gets 16 frames with 120 film, it was nice seeing those huge 60mm x 45mm film negatives (I know there's a slight crop). Although 35mm film suited the needs for my analogue projects, it was still nice having the option to get extra resolution for some of my images.
Was it worth travelling half way around the world with an extra camera just so I could grab a handful of medium format images? For me, the answer was yes. Then I started thinking about my current digital camera ecosystem. Are there times I wish I had a high resolution digital medium format camera? Again, the answer is yes. Is it finally time for me to upgrade to Fujifilm's GFX system? Well, let's talk about it.
Back in the fall of 2017 I was in Hong Kong for work and brought with me the Fujifilm X-E3 and GFX 50S. It was interesting shooting with the smallest and lightest premium X Series body versus the biggest and heaviest Fujfilm digital camera. I even wrote an article about it here.
Did I need to have both cameras? No. Technically I could have done everything on the X-E3, but the reverse wasn't true. I couldn't vlog with the GFX 50S, nor could I depend on it for video BROLL or talking head pieces. However, I did attempt street photography with the GFX 50S and GF 45mm. It was more of an exercise than a necessity, but I did enjoy the images I was able to capture.
Although I took less photos with the GFX 50S, I did prefer the images more for whatever reason. As much as I enjoyed the shooting experience,  I knew it was not time to upgrade to medium format. The following year in 2018 both the X-H1 and X-T3 were released. These cameras were perfect for my photography and videography, so for that year I never thought much about the GFX system.
In 2019 Fujifilm released the much anticipated GFX 50R. It was a rangefinder styled medium format camera, much like the X-E3, just bigger. The price, size and weight was similar to a high-end 35mm DSLR, so I was looking forward to testing it.
Although I was impressed with the look of the camera, I was not impressed with the ergonomics (lack of grip) or the weight distribution (left-side heavy). The image quality was the same as the GFX 50S, so the camera could take awesome photographs. However, I had hoped Fujifilm would address some of performance issues found on the GFX 50S on the newer model, but in many ways it went the other way. In the end the GFX 50R was not going to replace the versatility, ergonomics, or lens selection of my main X Series camera, which at the time was the X-H1 with the XF10-24mm lens. Again, I was not ready for the GFX system. More accurately, the GFX was not ready for me.
Finally in the summer of 2019 Fujifilm released their most ambitious medium format camera, the mighty GFX 100. It was every medium format photographer's dream set-up. 100 megapixels, sensor based image stabilization, phase detect autofocus with continuous tracking, 4K video, 5.76 million dot OLED EVF, the list goes on.
For many top end commercial photographers who were either using Phase One medium format cameras or top end 35mm DSLRs, the new GFX 100 was the  perfect upgrade. I had the opportunity to test it and it is definitely the best IQ and highest resolution digital camera I had ever used. Match that up with top quality GF lenses, and I was extremely happy with the results. However, would I buy the GFX 100? Even if I could afford the $10,000 USD price, the GFX 100 is too much camera for me. It's too big, too heavy, and the files are too huge for my current digital workflow to handle. Basically I would need to upgrade all my memory cards, computer and external hard drives to complement the upgrade. As awesome as the GFX 100 was, this new medium format camera was not right for me.
As 2019 began to close I had the opportunity to review the controversial X-Pro3. I loved everything about it. The ergonomics, the unusual reverse LCD screen, the improved hybrid viewfinder, the premium titanium top and bottom plate. I loved it so much that I ended up purchasing one (Dura Black model).
Then in 2020 Fujifilm released the X100V and the X-T4, two more great X Series cameras. Although I decided not to buy the X100V, I did pre-order the X-T4. It was exactly what I needed for my work. Looking back at the last three X Series camera releases, I realize I currently have no need to upgrade to medium format. Although I could benefit from the higher resolution, improved micro contrast, better dynamic range and higher ISO performance of the GFX system; the X Series wins out for what I need in my digital interchangeable lens ecosystem.
The X Series is relatively small, light, fast, powerful for both stills and video, feature rich (especially on the video side), and more economically viable for most photographers. Perhaps the word 'upgrade' isn't the right term since the X Series is not a downgrade system whatsoever. For many hybrid content creators like myself, the X Series has a variety of cameras and lenses for both photographers and videographers alike.
However, the current used price of the GFX 50S and one of the standard primes (GF 45mm, GF 50mm, GF 63mm) is very tempting. I am also aware that there is much talk about upcoming GFX cameras and lenses that will be priced even more aggressively to compete against 35mm mirrorless cameras. Although I would never abandon my X Series cameras to go fully into digital medium format, I would consider having one for specific personal projects if the price and features were what I wanted.
For example, imagine the GFX 50S with an upgraded BSI sensor, upgraded contrast and phase detect autofocus, IBIS, the new X Processor IV with all the performance upgrades that go with it. I would even consider a used GFX 50S, but I would like a decent firmware update with the latest menu system and film simulations. With a used GFX 50S, I would use it to mount some of my unique Leica and Minolta lenses, just to see what I would get. Fujifilm X Photographer Jonas Rask has written a few articles on adapting unique vintage glass on his GFX 50S. This would be something I would be interested in doing with all that extra resolution and experiment with different lens and film simulation combinations (Leica glass with Fujifilm colour).
To conclude, the X Series system is the perfect ecosystem for many photographers, including myself. Fujifilm made the right decision to skip 35mm and stick with APS-C when it came to the X Series cameras. It stays true to the philosophy and lineage of the original X100 and X-Pro1. As you can see by the prolific list of Fujifilm X Photographer ambassadors, none of them are handicapped due to the APS-C sensor. For most photographers, including professionals, the Fujifilm X Series provides the right balance of image quality, performance, size, weight and price. For those who feel they need higher resolution or a larger format, they can skip the competition's 35mm cameras and move into the 1.7x larger sensored GFX system (compared to full-frame).
Fujifilm photographers have the option to jump from the ultra compact yet powerful X100V to the mighty GFX 100, all while using familiar controls, menu systems, and film profiles. I am currently happy using my X-Pro3 for my street photography and photo projects, while using my X-H1 for my videos and product photography. One day I will add a GFX camera to my eco-system, but not right now. Thanks for reading and happy shooting!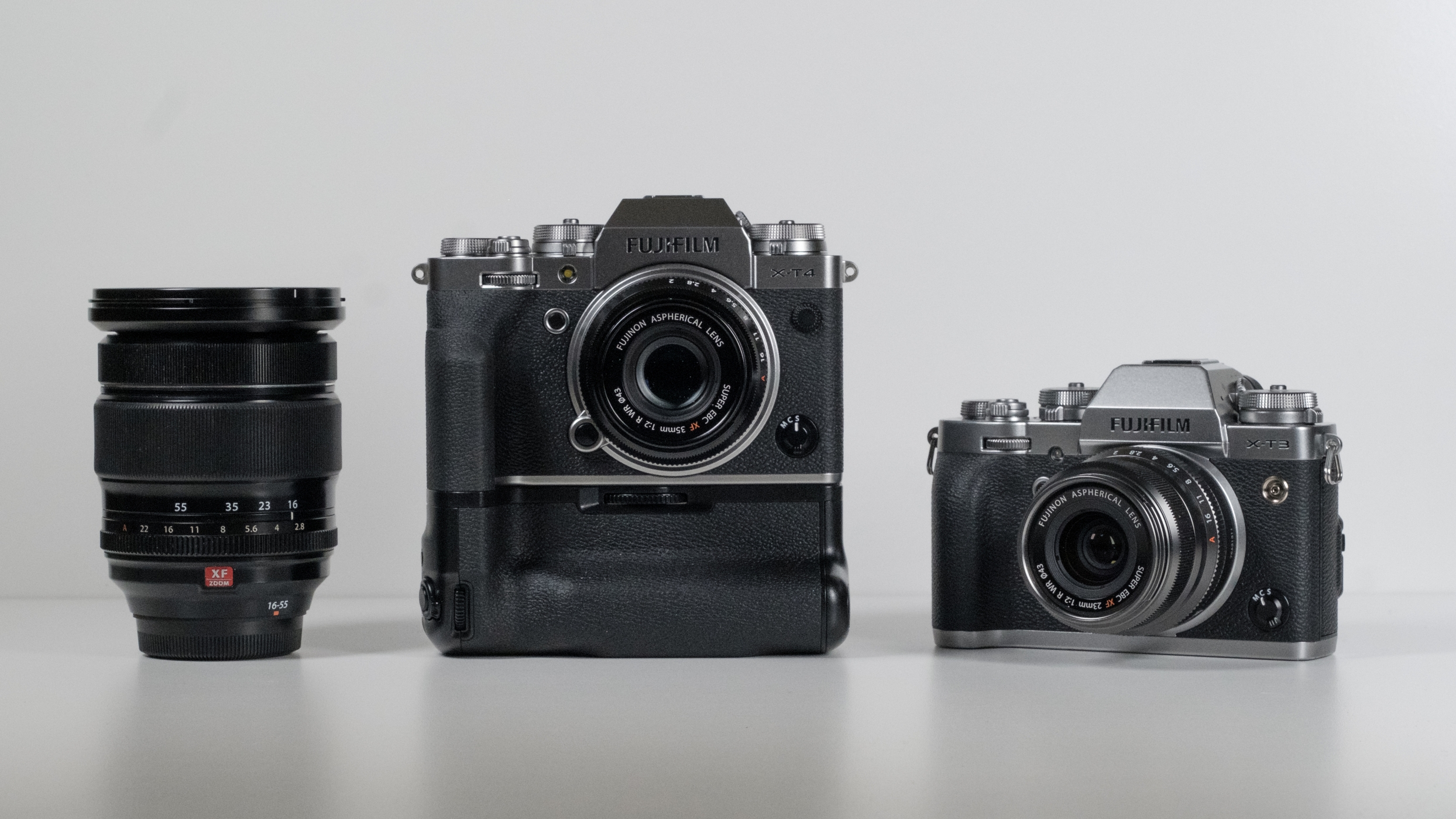 About Author