If you were stuck on a deserted island what camera kit would you bring? This hypothetical situation isn't about the most exotic camera kit, but the one you can depend on to get the images you want, based on your needs and limitations. For myself, I need a camera kit that allows me to capture both stills and video equally well, but without the size or bulk. Because I like to hustle from place to place when I shoot, having a compact and light kit is just as important as having high specifications on my camera and lenses. This automatically removes digital full-frame and medium format from the equation, even though I can potentially get 'better' images from these larger formats. Although I shoot 35mm and medium format when it comes to my film cameras, when it comes to digital, the APS-C format is the way to go for the best balance of IQ, size and weight.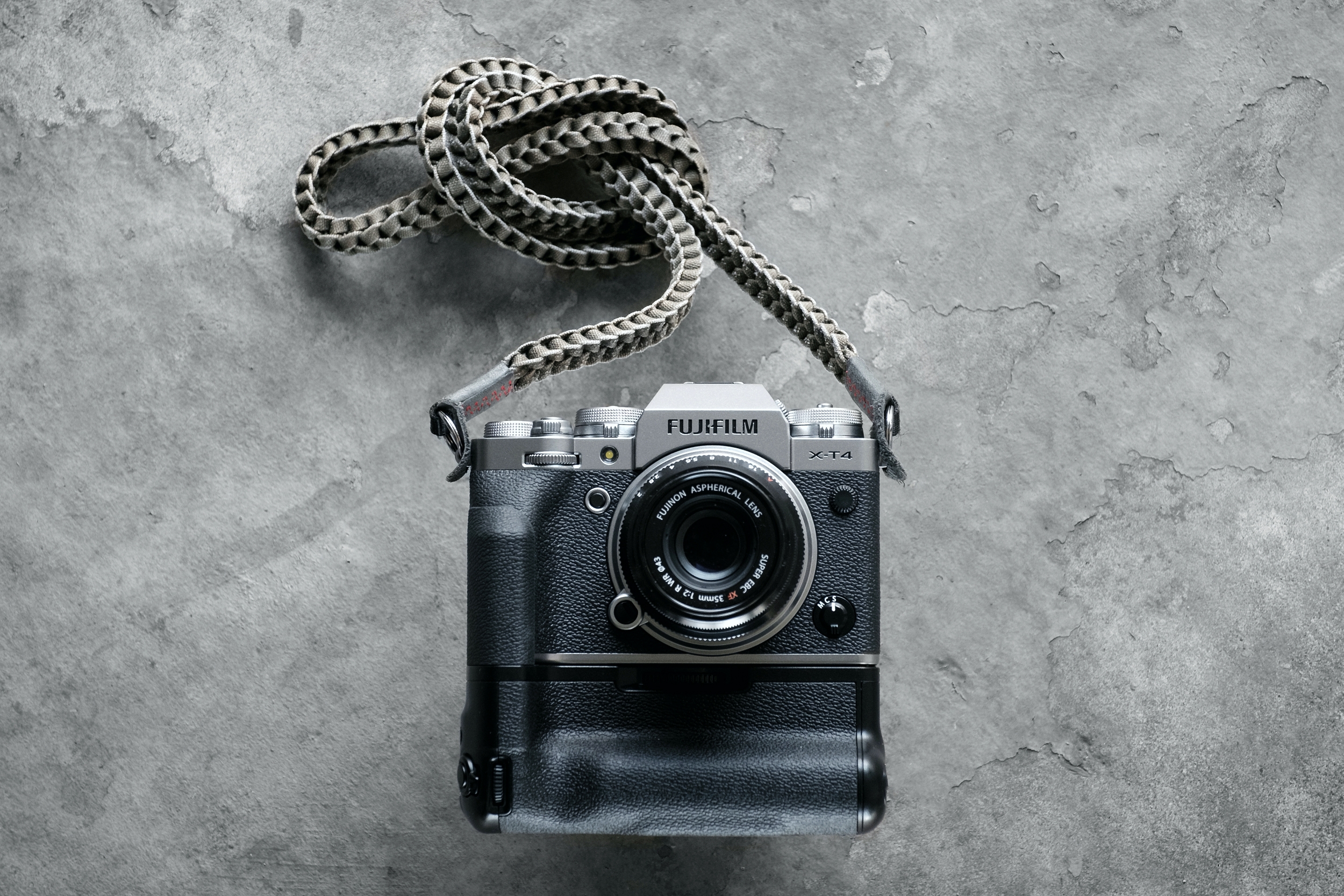 For this reason the new Fujifilm X-T4 is the best camera body for my potential needs. It ticks all the boxes that I'm looking for, capable of handling the daily rigours of professional use in a variety of situations. As much as I love the X-Pro3 as my daily stills camera, it was never designed nor optimal for recording video (no HDMI output, IBIS, nor optional battery grip). I also love the X-H1, but the older generation X-Processor Pro can't keep up with modern video requirements (4K 60, H265 10bit internal, larger capacity battery). The X-T3 is still a great option for many of us, but remember this is a deserted island scenario. If you can get IBIS, a new higher capacity battery, an improved menu system and dial set-up, why not right? So the X-T4 is my selection for the best deserted island scenario digital camera body for both video and stills. The bigger controversy will be in my lens selection. I'll insert a comparison chart with my selection of lenses versus a 'no compromise' exotic and professional lens kit option. Let's discuss: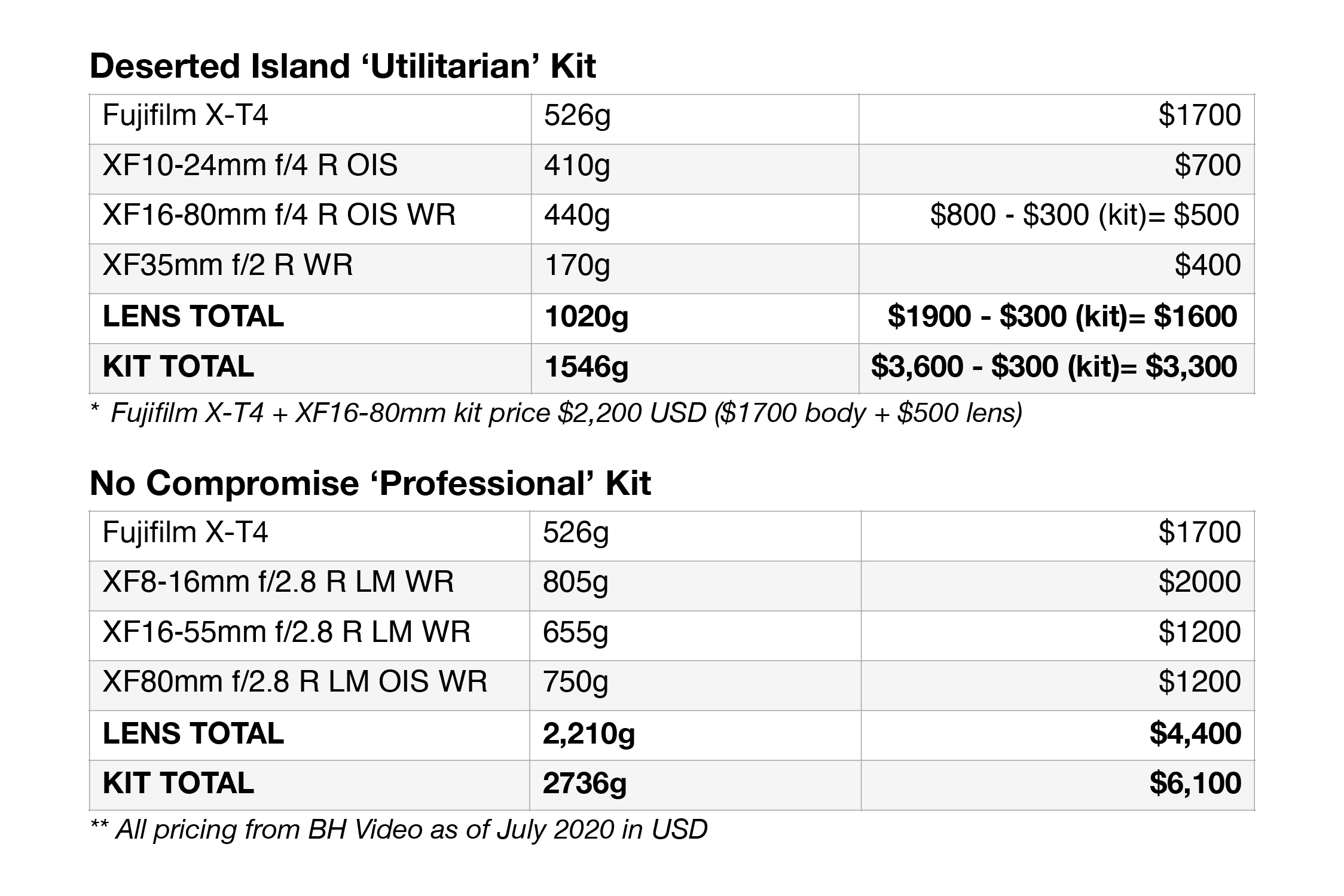 I decided to keep the kit to only 3 lenses, since that's about the limit of how many lenses I would want to carry around with me at one time. As you can see by my selection, there's absolutely nothing exotic about my 'dream' kit. This is a pragmatic, utilitarian and sensible selection based on at least two considerations: weight and price. Although a deserted island scenario really shouldn't take into consideration the price (we hope that whoever is posing this question is offering to hypothetically pay for it too), I do feel this camera kit does have real world application for current Fujifilm X Series photographers and videographers. Allow me to use myself as an example.
For my daily midrange zoom lens, many might have assumed I would choose the pro spec'd XF 16-55mm f/2.8 R WR lens versus the more consumer orientated XF 16-80mm f/4 R OIS WR. Although the XF 16-55mm doesn't have OIS, the X-T4's IBIS would be good enough to stabilize this lens in real world use. I have reviewed and used this lens on many occasions, but it's too big and heavy for me to carry around all day. For an extra stop of speed, I have to carry around another lens' worth of weight (all the Fujicrons are 200g or less), and still have less range and close focus ability. I've tested the XF 16-55mm f/2.8 at 55mm f/2.8 versus the XF 16-80mm f/4 at 80mm f/4 for both portraiture and product photography, and I prefer the 80mm at f/4. The bokeh is nicer and the extra compression and close focus ability is useful to me.
Finally, if I chose the XF 16-55mm over the XF16-80mm, I would have to supplement that lens kit with the XF 80mm f/2.8 R LM OIS WR macro lens as my portraiture and product photography lens. This is another excellent lens, albeit huge, heavy and expensive. Since the XF 80mm f/2.8 is a very limited use prime for me, I would rarely carry it around with me. Although it would be nice to have a constant f/2.8 from 16mm to 80mm, the cost of having to carry around two huge lenses with me would not work for me.
The XF 16-80mm f/4 R OIS WR is only one stop slower than the two lens combination, but it can do most of what the other two lenses can do at 1/3 the weight and 1/5 the price. Some might wonder how much of a difference there is at 80mm between f/2.8 and f/4. I've attached samples of the XF 16-80mm f/4 at 80mm f/4. For product photography, you'll notice f/4 is too shallow depth-of-field. I had to stop down to f/8.0 to get the lens and camera body in focus. For nature and portraiture, 80mm f/4 gives decent compression and background blur. Again, the XF 16-80mm f/4 isn't exotic, but it gets the job done. That's what I need from my midrange zoom lens. I need a Ford, not a Ferrari.
Another important category of lens is having an ultra wide zoom lens. As a Youtuber, I need a decent vlogging lens and the XF 10-24mm f/4 OIS is almost perfect. It's not too big, it's not too heavy, and the range is just right. My only wish is that the lens was weather-sealed. Even if you don't shoot video, the ultra wide zoom lens is perfect for street photography in crowded and dense cities like Hong Kong, Tokyo, New York, etc. I've been promoting the use of the XF 10-24mm as a street photography lens for many years. It adds a certain look that makes your images stand out from the crowd of regular street photos taken with standard focal lengths. It's a difficult lens to master for street, but once you get it, you'll appreciate what this lens can do for you.
Many might complain about the not-so-fast f/4 aperture, and that's where the XF 8-16mm f/2.8 R LM WR comes into the picture. To create an ultra wide lens with a constant f/2.8 aperture, you get the beastly XF 8-16mm. The front element is so big and bulbous that Fujifilm couldn't build a filter thread to the front of the lens. It's also twice the weight and three times the price of the XF10-24mm, for just an extra stop of speed. Although you gain an extra 2mm on the wide end, you lose 8mm on the long end. This lens is not practical for vlogging nor as a walk around lens. Even if we could afford to buy this beautiful piece of glass, the dream of owning a constant f/2.8 ultra wide zoom lens would quickly turn into a nightmare for most of us. Again, like the XF 16-80mm, even though the XF 10-24mm isn't sexy, it's the best choice for most photographers and videographers, myself included. In fact, this is my favourite single lens in the entire Fujifilm lens line-up. If I could only have one lens, this would be it.
My final lens for my deserted island kit is the original Fujicron, the XF 35mm f/2 R WR. Since it's release, I've consistently praised this lens as a great all around lens for street photography. Although it's a repeat focal length found on the XF 16-80mm lens, sometimes you need a compact and fast prime lens. On my last trip to Hong Kong I used this lens for most of my street work with the X-Pro3 and the new Classic Neg. film profile. Yes the XF 35mm f/1.4 is sexier, but the autofocus is mediocre and noisy, and the lens is not weather-sealed. If you want to go light and compact, it's hard to beat this lens on any X Series body. However, for this 3 lens kit, I know everyone has different photographic or video needs. Some might choose the XF 23mm f/2 R WR or the XF 50mm f/2 R WR as their prime lens choice. For those that capture mostly portraiture, the XF 56mm f/1.2 R is also a good option. However, since this is my dream kit, I choose the trusty XF 35mm f/2 R WR.
As I justify my camera choice and lens selection for my desert island scenario, I have something to admit. This hypothetical camera kit is not just some mental exercise for me to ponder over, it's my actual current camera kit. Yes, over the past few years I've been slowly figuring out exactly what I need for my minimal camera kit as a photographer and video creator. This desert island scenario kit is actually the perfect camera kit for me at this time. I already had the XF 10-24mm and XF 35mm f/2 for a few years, and the X-T4 + XF 16-80mm f/4 just arrived to finally complete the kit.
If you've been following my travels for the past few years, you know I've been using my two lens kit for the past few years as my primary travel kit. However, I've always felt I needed a mid range zoom or a short telephoto to make it complete. I've travelled with both the XF 18-55mm f/2.8-4 and the XF 16-55mm f/2.8, but they both have their inherent drawbacks for me. Moreover, the XF 16-80mm does what both the XF 16-55mm f/2.8 and XF 80mm f/2.8M would do for me. As a bonus, both the XF 10-24mm and XF 16-80mm have a 72mm filter thread, allowing me to share filters without the need for adapters (variable ND filters and polarizers are important for video and vlogging). In addition, by purchasing the XF 16-80mm as a bundled kit with the X-T4, you also save $300, another bonus.
In conclusion, whenever the global pandemic normalizes and I'm ready to travel again, my new dream kit is now complete: the X-T4, XF 10-24mm f/4, XF 16-80mm f/4 and XF 35mm f/2. No, it's not the sexiest kit out there, but it's the best balance of range, speed, size, weight and price. I know exactly what I need from my photographic tools when I'm in my studio, when I'm running around town, or when I'm traveling half way around the world. This current kit fulfills all my photographic and video needs without the panache. Yes I want utility over luxury if I'm stuck on a deserted island, even if there's nothing or no one to photograph. Thanks for reading and happy shooting!
About Author