Cappadocia is an amazing place at any time, and when covered in snow it becomes a photographers dream.
It was around 6-years ago that I first visited Cappadocia in central Turkey. I'd heard tell and seen pictures of the place many times; a Hobbit like landscape of fairy chimney rock formations with ancient and sometimes still inhabited cave dwellings inside them, much like a set from Star Wars.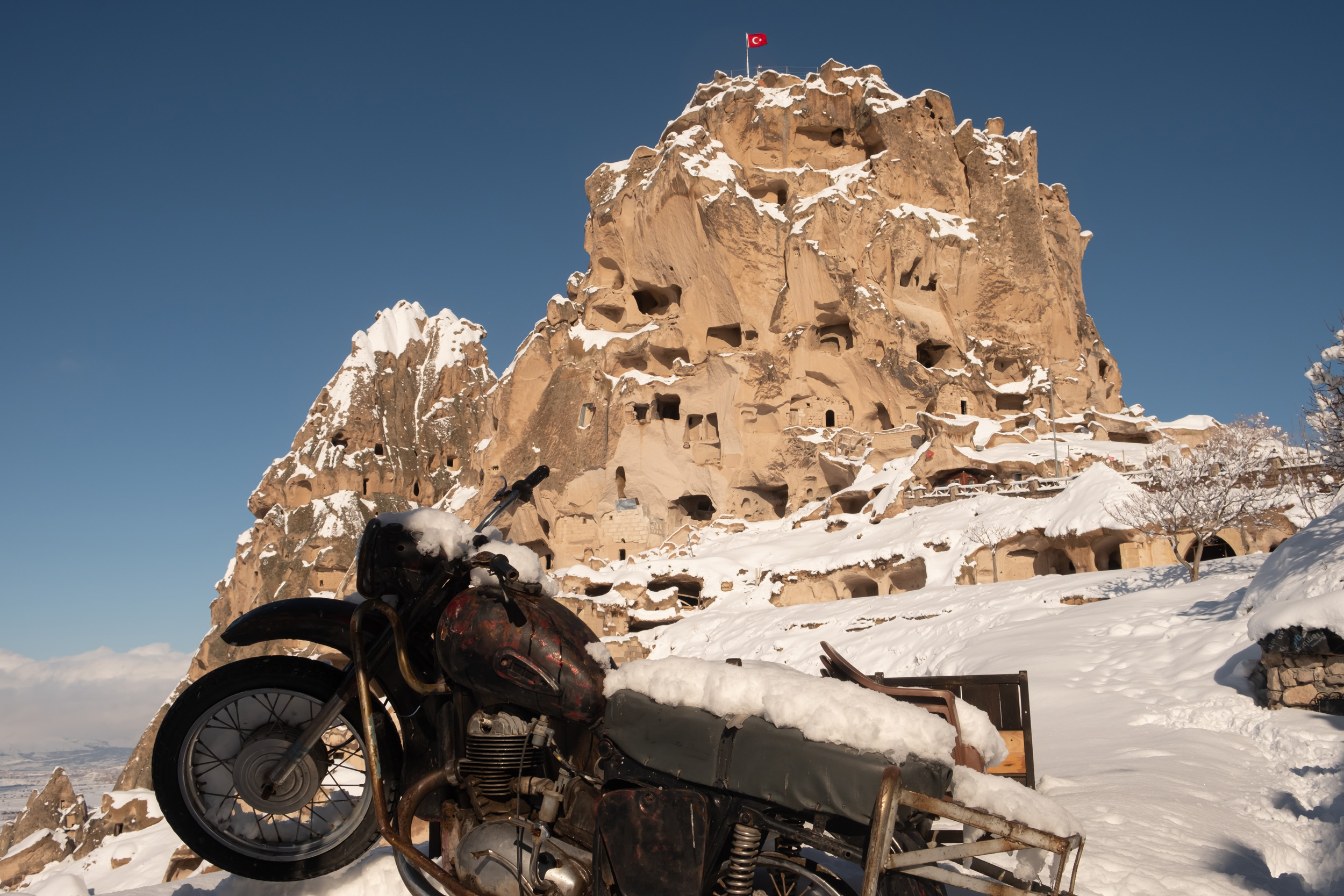 That first trip was a weeklong mountain biking sortie, to shoot a magazine feature – on my then relatively new X-T1. It really was love at first sight; I'd never seen such a place in all of my years of travelling and shooting the world, and ever since I've returned as often as I can to simply wander through the many valleys that characterise the area, and often for weeks on end.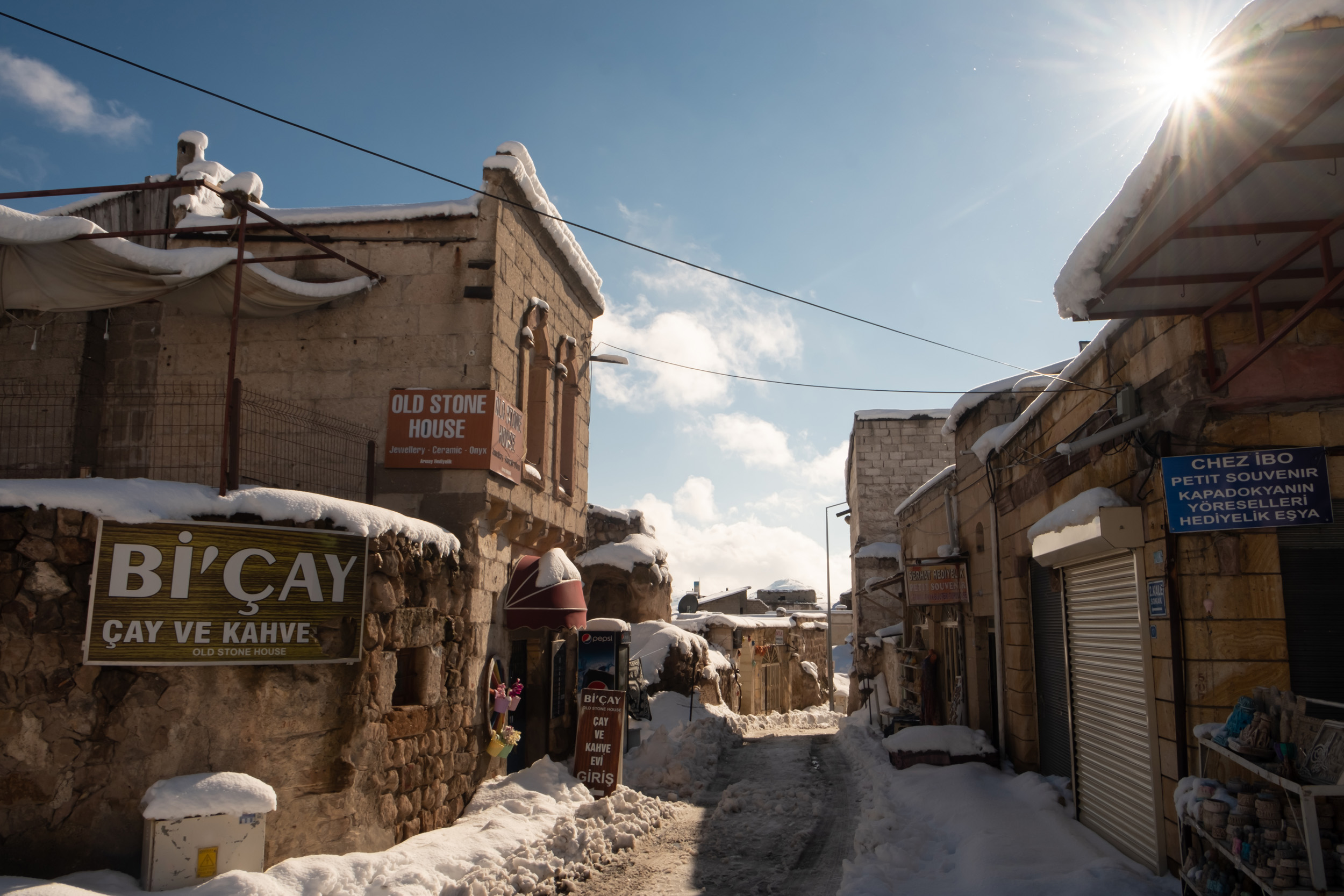 Spring and autumn are fresh and vibrant here, while summers can be intensely hot and dry. Although I'd visited in February before I'd not seen anything more that a light and fast melting dusting of snow scattered over this arid landscape. In recent years snow has become something of a rarity in the region, usually only lasting for a couple of days or so, making it almost impossible to make a dedicated trip to shoot in when sweetly sugar coated. This time around I struck lucky.
Stepping of the plane to be greeted by a minus 8 degree morning wind was a shock to the system, especially as I did not have a jacket on and had come from 34 degrees of sultry Thai heat.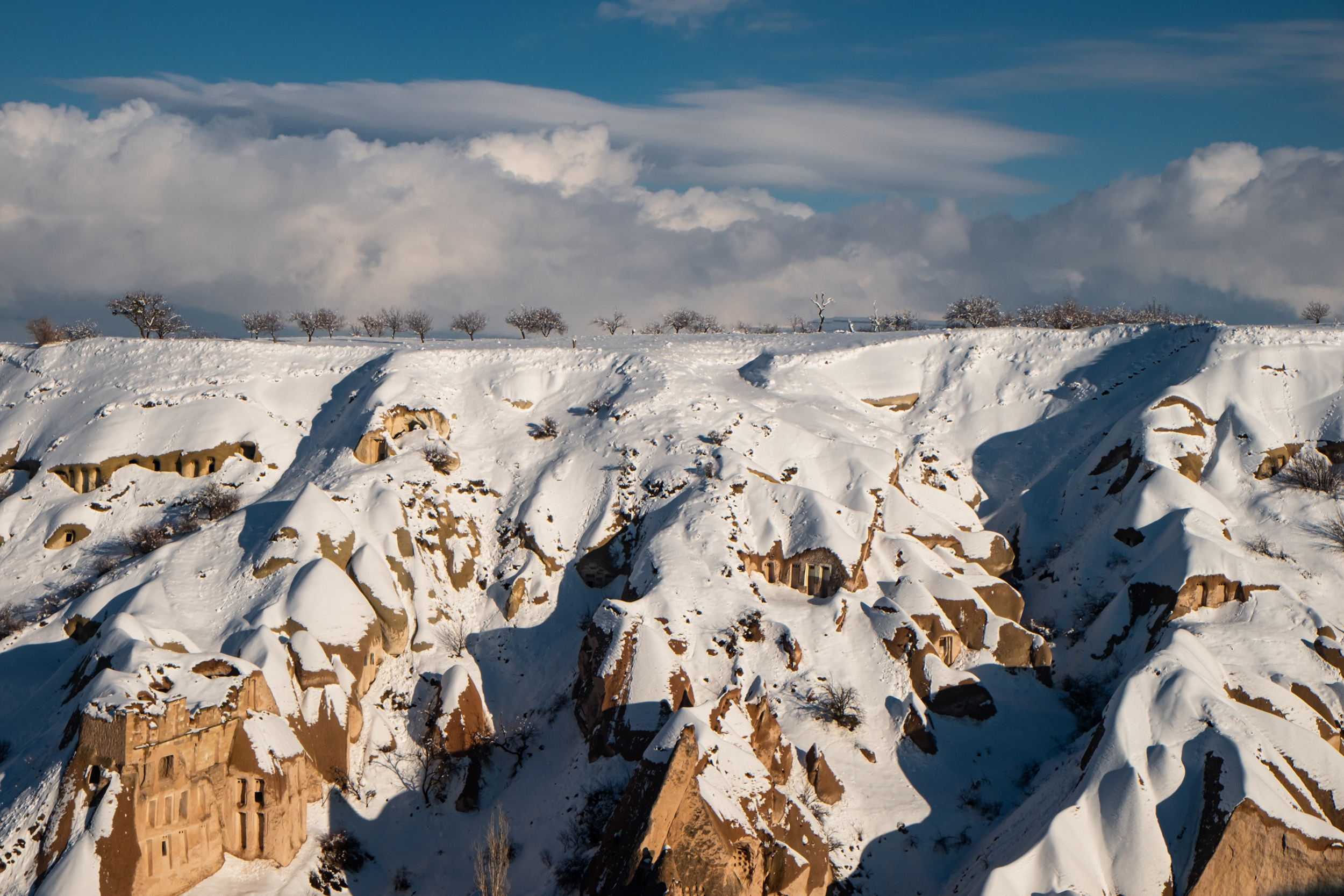 Throughout the drive to the hilltop town of Uchisar (my base) I just gazed in total awe at the sight of this powder coated desert. This was what I'd wanted so much to witness ever since watching Michael Palin on TV visiting Cappadocia in winter.
This was serious snow, and it was to fall and top up by many centimetres on several occasions during my weeklong stay. The sight was breath taking in so many ways, but I soon realized that my plans of making all day treks through the valleys may prove impossible due to the heavy snow, which was not only glazed and icy but also masks obstacles and trail lines when fresh.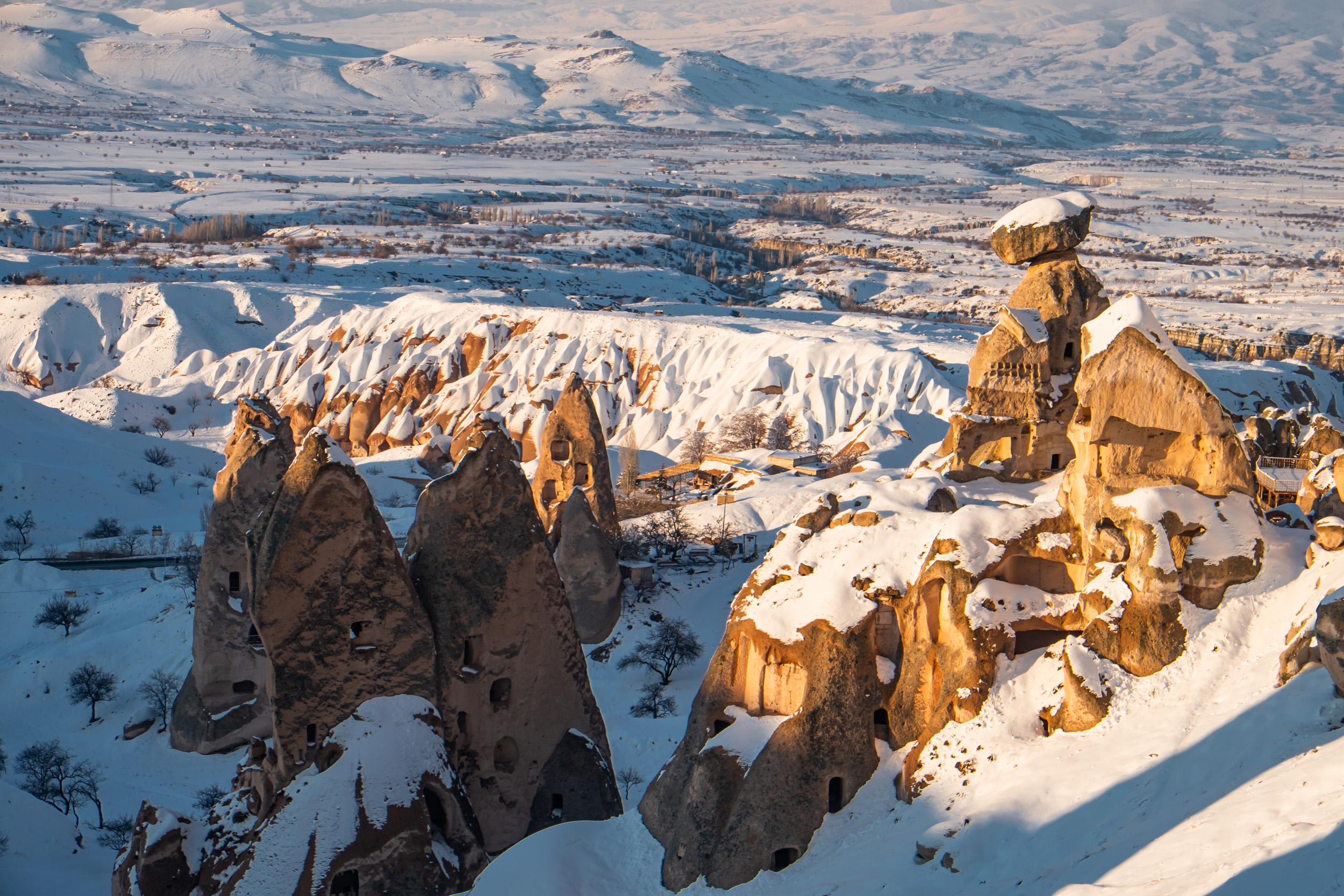 On past visits Id taken hot air balloon rides here too, which at sunrise make for great experience for a photographer. This time I'd also booked a flight, but was suffering sinus issues from the drastic temperature change, and flying high into the morning chill seemed like a bad idea, especially during this current time, and so I stuck to the ground and slipped out onto the trails.
Hiking down into Pigeon Valley I wasn't really sure what to expect, and wisdom nibbled at my chilled ear and told me not to go too far into the valley. Strangely enough the wind chill was so much that I didn't quite hear that warning.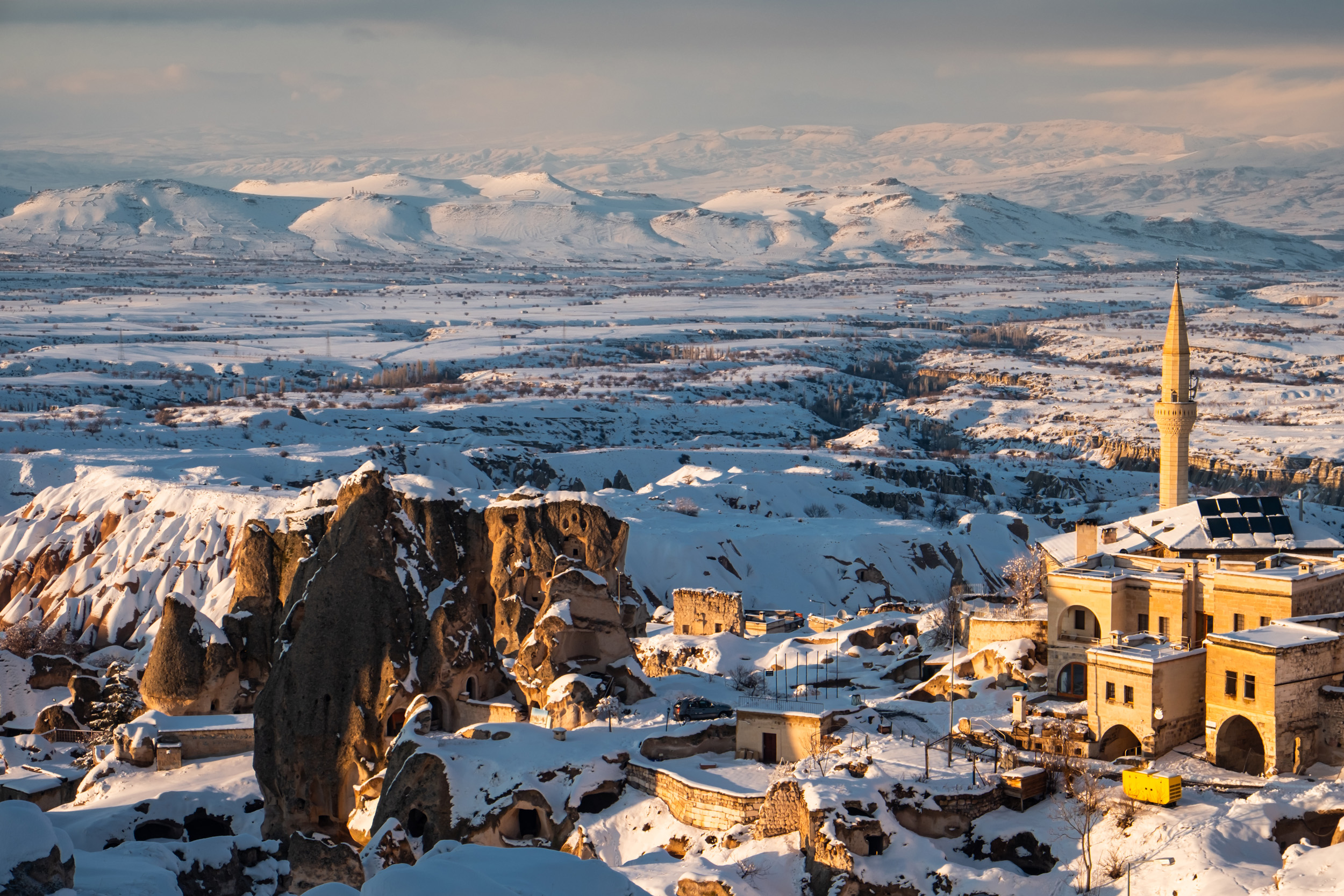 Wanting to keep things light and basic I opted for the minimalist approach of an X-T2 with the 18-55mm lens and a stash of spare batteries. In truth I had only figured on being able to take the easier paved pathways above the valley, much as I had done on the previous days.
However, the sun was out the sky was blue and the wind was resting; thus I decided to venture a little further. The views back over towards the rocky castle of Uchisar were like I'd never seen it before. It really could not be more "picture perfect". Al that was missing was a little soft evening light, which I could not afford to risk hanging around for as the weather could change at any moment.

I followed a double track trail down into the valley, which was covered in around 15cm of fresh snow. After a few steps the other footprints in the snow disappeared and there was just one set of boot marks. These most probably belonged to a local farmer, they often grow fruit and vegetables in the valleys.
Walking further and I was surrounded familiar cave buildings and the fairy chimneys and castle of Uchisar, all trimmed with snow; it was beyond anything I'd hoped for.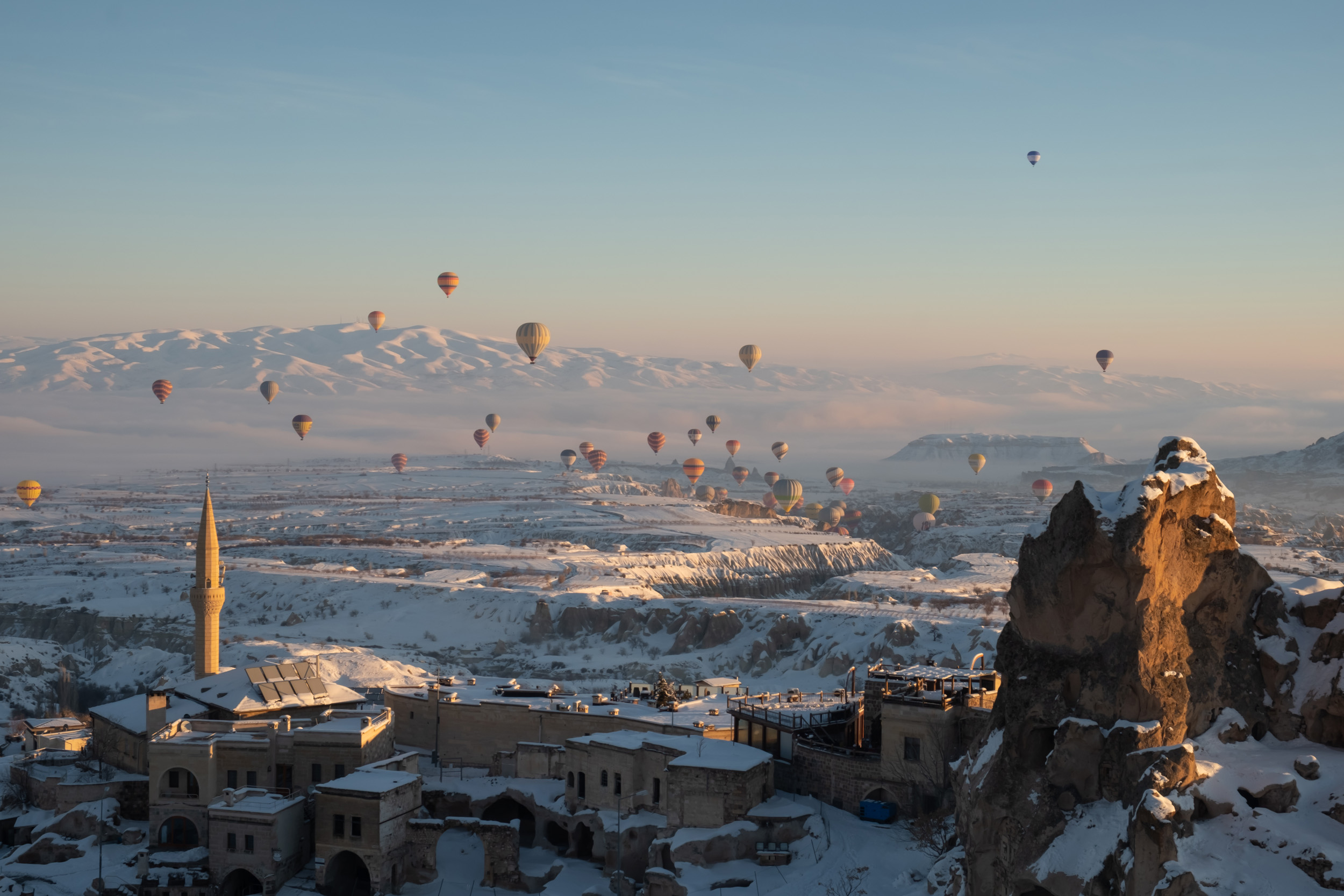 At times I was wishing I'd had the 10-24mm lens with me, although knowing that I had a tough snowy trek back out I figured I'd made the right call. On the odd occasion where a panoramic shot was needed I shot had held, but I have not had chance to stich the images yet. This approach obviously is not ideal, but it does usually work to a reasonable degree. With such brightness I was shooting mostly between f/11-f16 at ISO200, all hand held.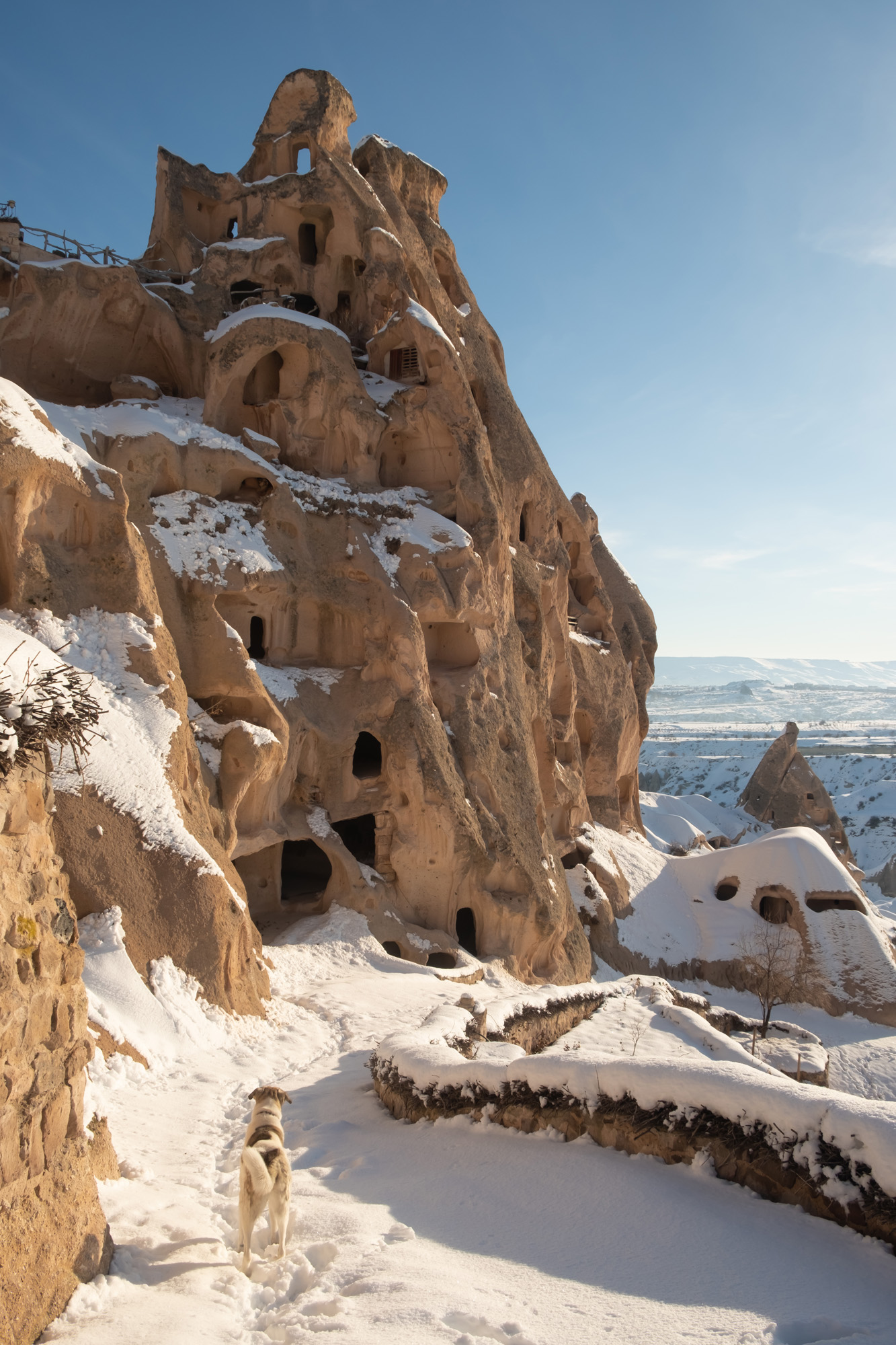 Knowing these trails so well I also knew that I should turn around and follow the tracks back out again. Also knowing that there was another pretty and deserted valley further down I decided to continue when the other footprints stopped.
At times it was slippery, and the slog back out was a tad hairy and also physically tough given the fresh snow, but it made for some great images and a micro adventure, one which I almost didn't go for.
The days content haul was pretty good, and a huge "to shoot" bucket list headliner was ticked off. I'd highly recommend visiting Cappadocia at any time of the year, but do be sure to allow a little longer that you may think, you will not be disappointed.
Useful links
For any ground arrangements or balloon flights I can fully recommend www.argeus.com.
Kale Konak in Uchisar (www.kalekonak.com) is an amazing cave hotel, where I've stayed numerous times and it makes a great base for any visit.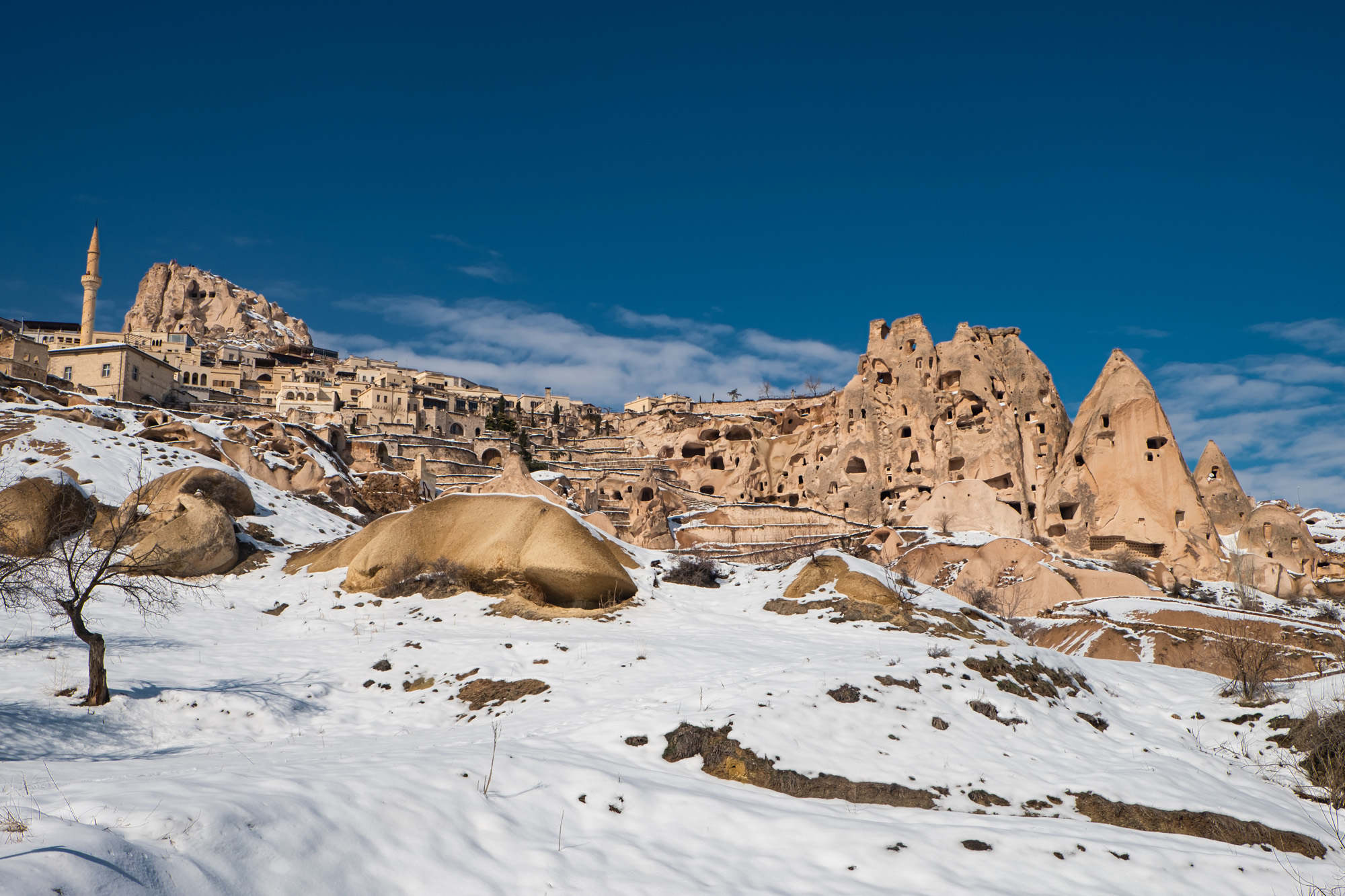 About Author