Armed with an X-T2 and two telephoto lenses, Steve Thomas takes to the skies above Cappadocia in Turkey.
It was a wet and gloomy autumnal 5am in Urgup, one of the bigger towns in Cappadocia, which is an amazingly scenic and historical region of central Turkey, and a place that I've spent many months in over the past few years.
The night was still in the last throws of its slumber and the moon was not visible. With this came an indication of low cloud cover and I didn't hold out much hope of the region's famed hot air balloons being able to fly that morning, meaning that the ariel shoot I was waiting for looked to be in doubt.
Over the years I've made the sunrise balloon flight here a couple of times and have also had it pulled at the last minute due to the weather conditions. Having flown in the past it wasn't such a huge deal photographically for me if things didn't happen on this occasion, and given that it would most likely be gloomy and overcast if we did take flight, I was less than enthusiastic, especially given that on previous occasions I'd been granted perfectly clear skies and vistas, which tend to the norm for much of the time here.
On the flip side of this was that this trip was a 'second homecoming' of sorts for me, in that it was the first time I'd been able to travel since COVID struck, which kicked in at a time when I was also in Cappadocia. Due to this, a return to these familiar skies did hold something of a personal significance beyond taking pictures, even if it was a grim outlook on the flight front.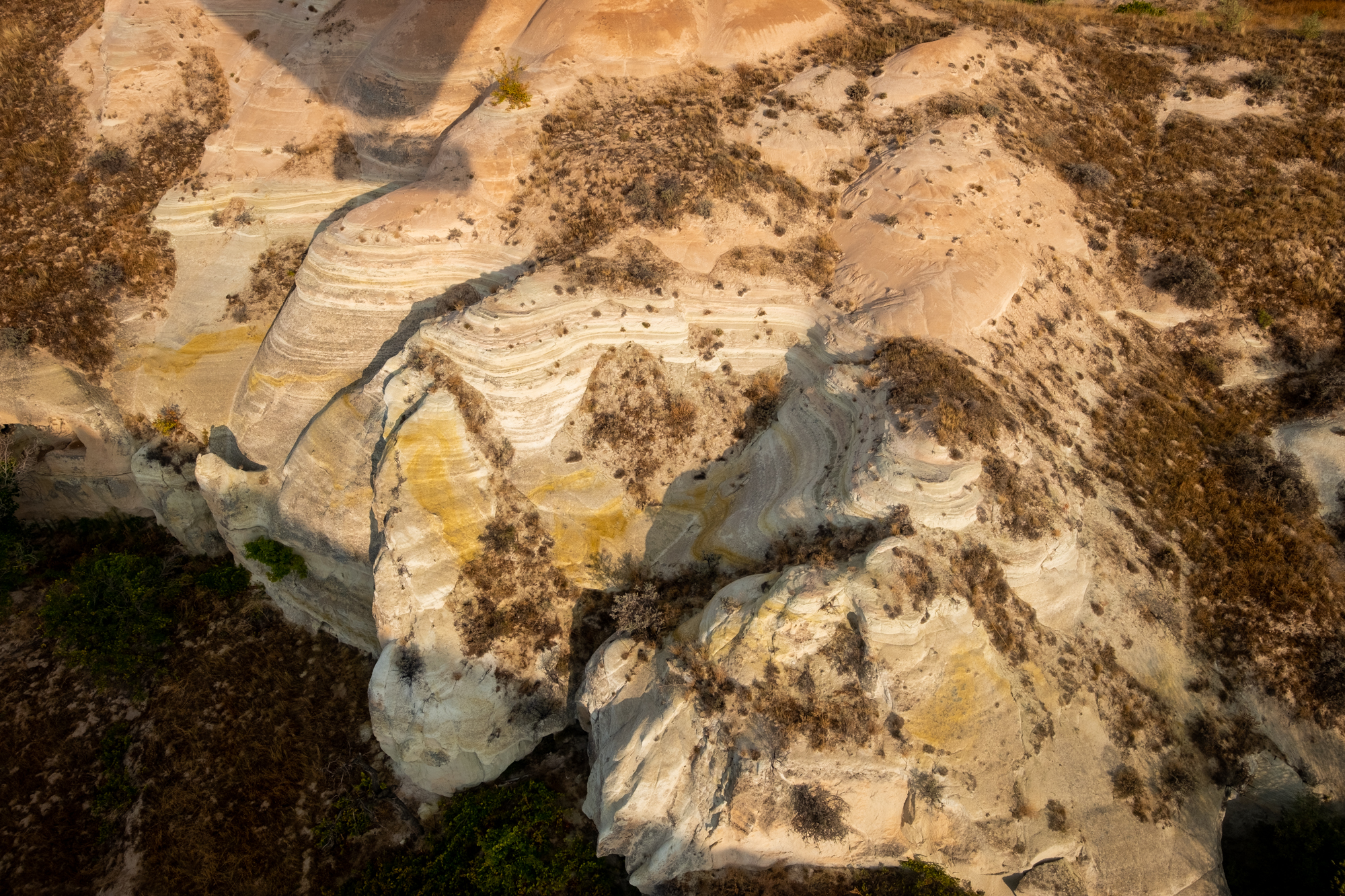 Although mass tourism had all but ground to a halt here during the past two and a half years, Turkey did stay open for much of the pandemic, and countless YouTubers and influencers made the most of the opportunity to visit Cappadocia; of course, the balloons were their go-to shot of choice.
This attention has resulted in almost every hotel and restaurant in the region opening a highly Instagramable rooftop terrace, which you've most probably seen images or videos of online – those of picture-perfect influencers in long, flowing dresses sipping wine and sitting on cushions beneath the balloons, even though it's sunrise (a classic Instagram vs reality scenario, I guess).
Anyway, back to the morning gloom and things were not looking favourable, but in hope of some improvement and getting clearance to fly from the aviation authorities, the balloon operators decided to wait on standby and, sure enough, they were right; the skies did start to clear.
Unfortunately, the classic Cappadocia sunrise had passed by in just a few seconds, only peering fleetingly through the mist and drizzle. This was in total contrast to my previous flights. On a positive note, I stood to shoot something completely different for me – Cappadocia in the morning mist, something I hadn't often seen, and certainly not something gracing many Instagram feeds.
Things have become extremely busy here since the world eased travel restrictions, meaning that it's not that easy to get a place in one of the hundreds of balloons that fly each morning (weather permitting), so if you are planning on visiting here then I would not hesitate to book a flight. It truly is one of life's great experiences and viewing this surreal landscape from above is well worth it, no matter what the weather is like.
Should the flights be cancelled due to the weather then you usually get first option of a flight the following day (or get your money back), so it's a win-win scenario.
On average there are between 20-40 passengers in each balloon basket and they are split into segments with around three people in each slot. The ground staff allocate these spaces in order to balance out the weight out and, luckily, I managed to score a corner slot, which offers the best photo opportunities.
On previous flights the standing space had been limited, so it had only been possible to take on board what you could carry in your hand (no big camera bags), although this time there was more room and so I could have perhaps got away with a small sling-style camera bag, meaning that I could have taken an extra lens – a long lens (for just a couple of close up images, which is probably not worth it anyway).
As it was, I had an X-T2, three batteries, the XF18-55mmF2.8-4 and the XF10-24mmF4; I swapped the lenses a couple times during the flight (by facing inwards to avoid dropping them) and then I stored them in my jacket pockets. This is the focal length range I that would recommend having for shooting from balloons, with the wider lens only really being useful for shooting the close-up balloon and in-basket shots. Most of the images I shot this time (and others) came from the mid-range 18-55mm zoom.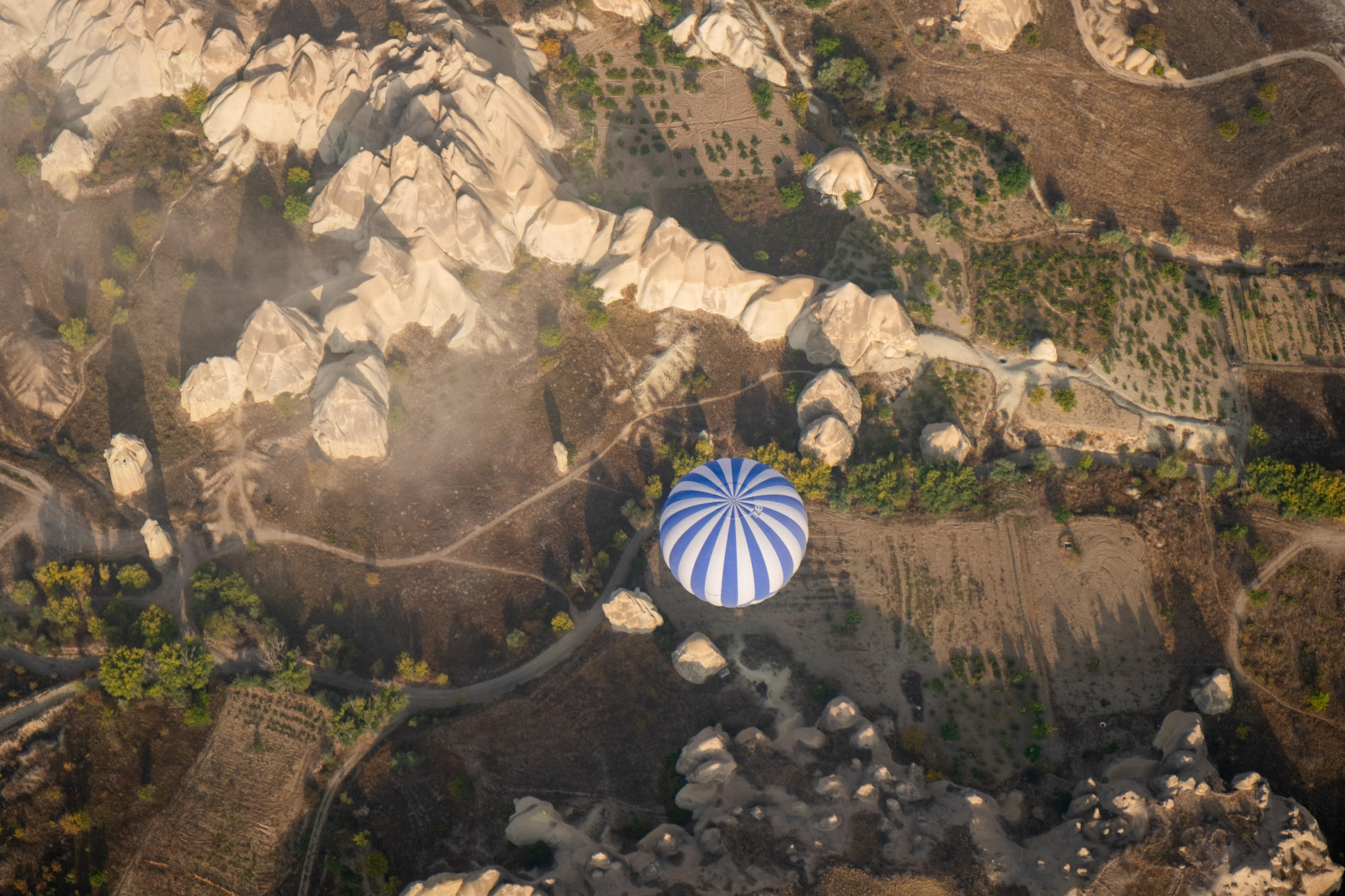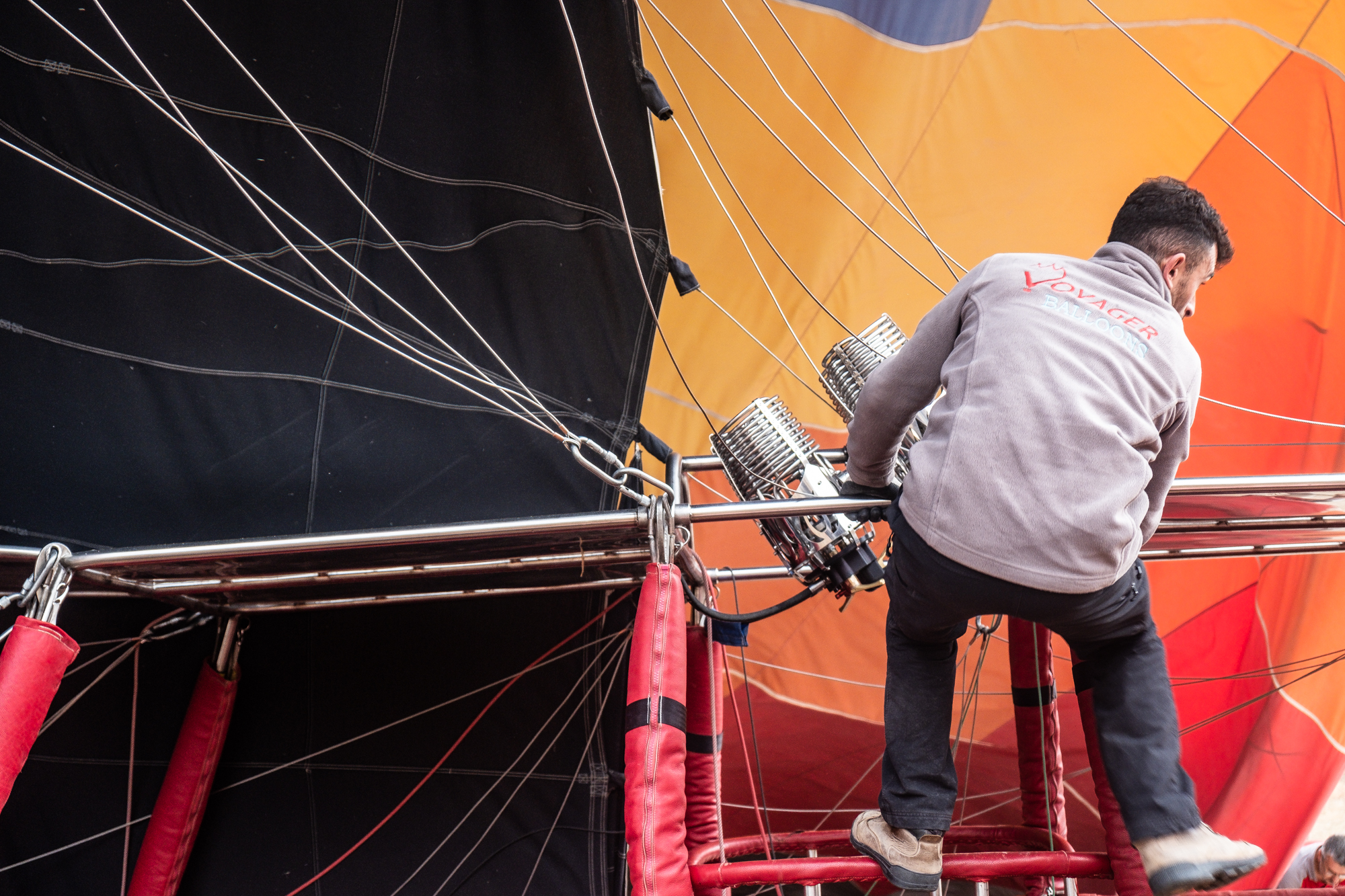 On average a flight lasts for around an hour and the balloons move slowly into, through and above the valleys, with the basket turning around gently so that everyone gets a similar experience and photo opportunities.
As the weather needs to be good in order to fly, it usually means that light is also quite good overall, so you can afford to use lower ISOs and narrower apertures than you might expect (as the balloon is very stable), unlike with most fixed lens/aperture drones, although if you are shooting straight down then it's much like shooting an uneven wall, hence harder to show much depth of field.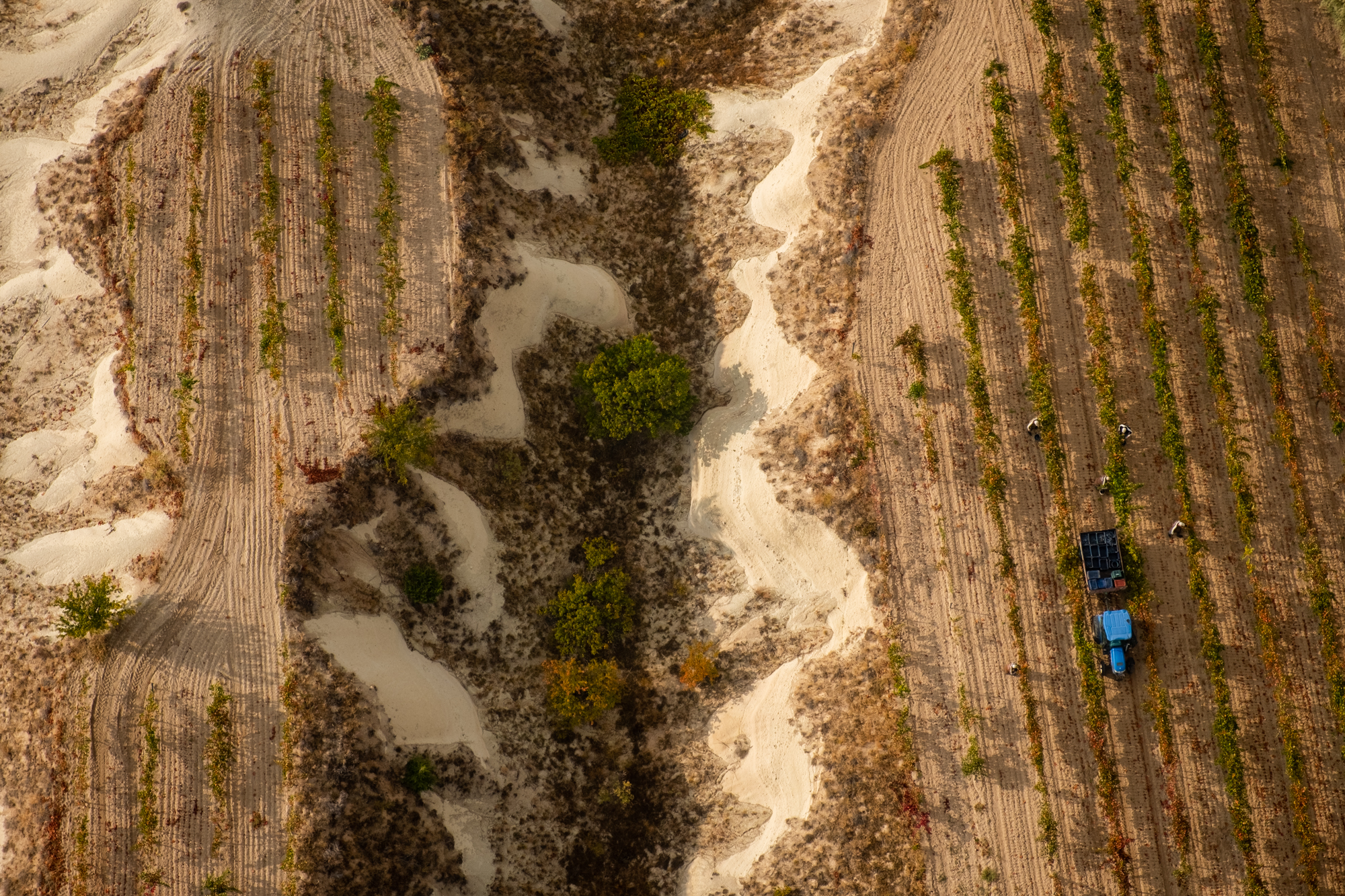 This time around I was unable to get that sweet, orange morning glow and long shadows over the fairy chimneys and valleys, but the mist covering provided a different outlook and gave me images that were very different than I'd anticipated. This lighting also lured me into shooting straight down more than I would have had there been a perfect sunrise to distract my attention, which was good.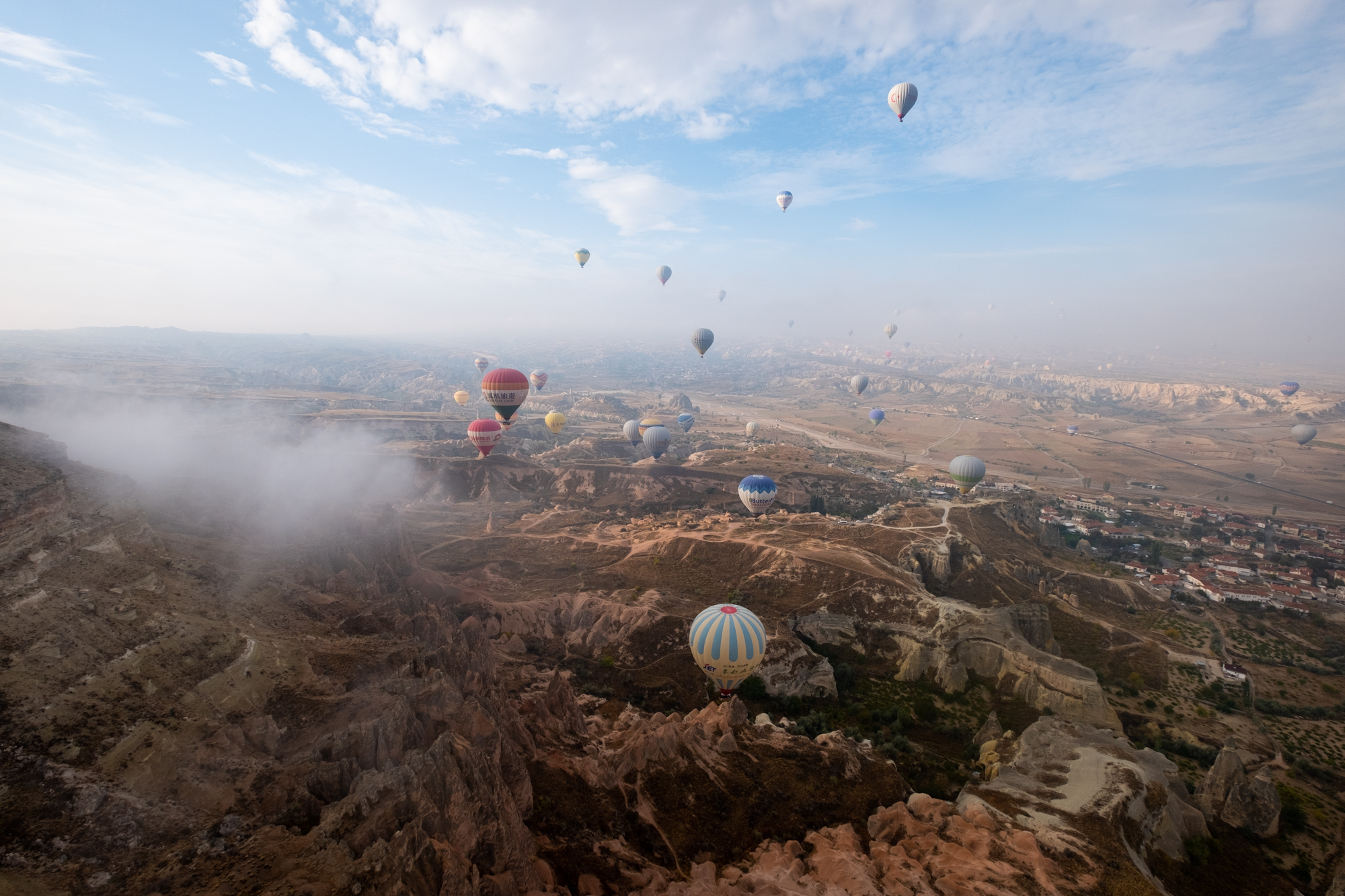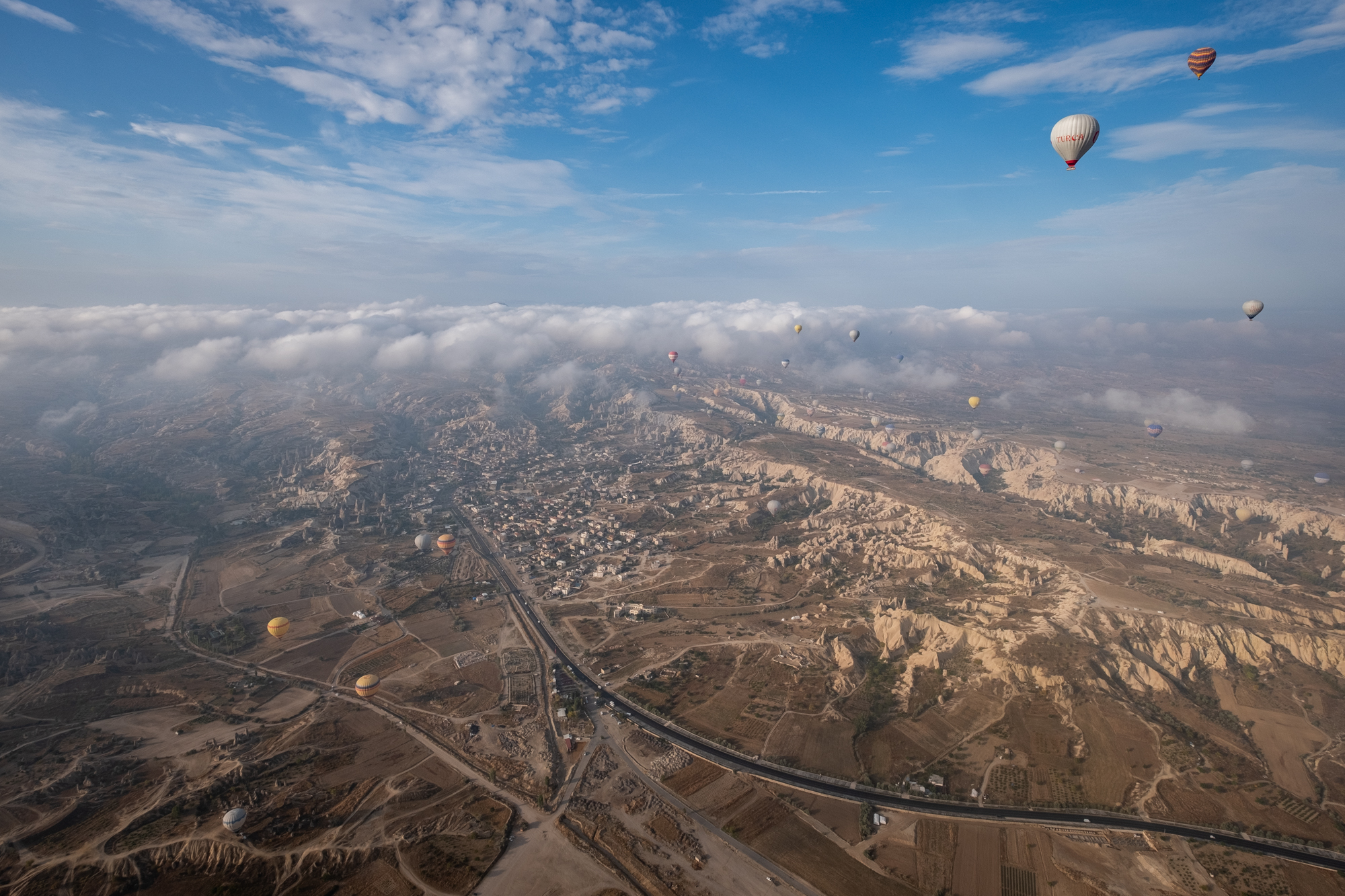 It could be easy to assume that you need to be in the air to get those iconic hot air balloon images and yet the best balloon images (in my opinion) come from the ground. Over the years, some of my personal favourite travel images have been shot here at sunrise and from the ground. Even so, shooting from a hot air balloon is a great experience and will give you images and personal satisfaction that no drone could ever match.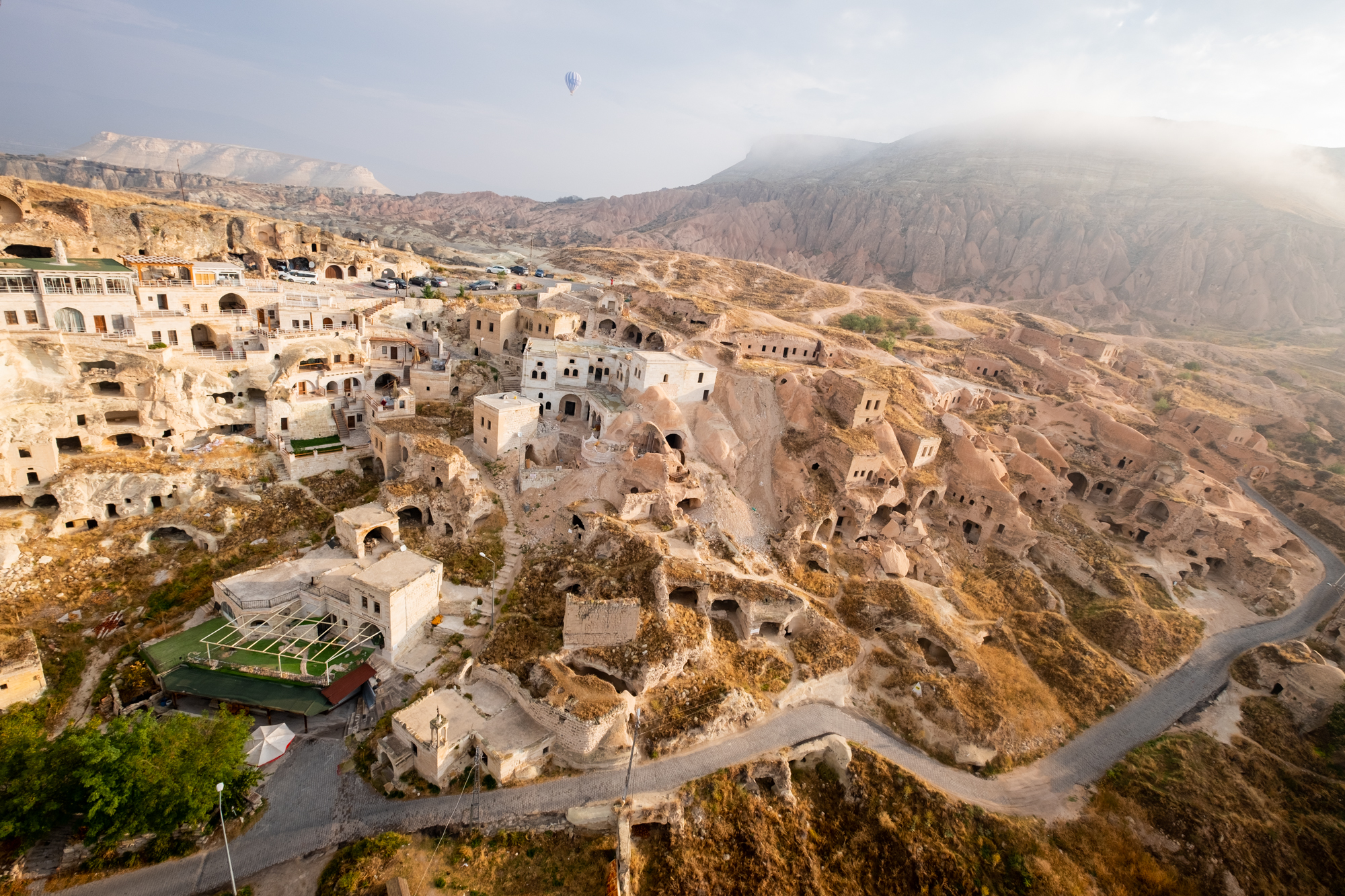 For details on hot air balloon flights and all things Cappadocia, check out www.argeus.com.