We have some more good news from Fujifilm for you today – it seems like the company is on fire again. Let's dive straight in!
Firmware updates for the X-T3
A new X-T3 firmware version 3.00 will be available in April 2019. It will bring us the following improvements:
Strengthened the accuracy of face / eye detection AF performance: The AF algorithm has been improved along with the accuracy of face / eye detection AF. The ability to detect faces in the distance has been enhanced by approximately 30% and AF tracking is now more stable, even when an obstacle appears in the way. The improvements in AF are applicable to both still photos and video recording.
New Face Select function: The Face Select function has been introduced to provide priority auto-focus, tracking and exposure on a selected subject when multiple faces have been detected. The priority face can be selected by using the touch screen or focus lever.
Faster AF speed for subjects at a distance: Thanks to the improved AF algorithm, faster AF speed is achieved when shooting from short to long distances (or vice versa).
Intuitive operation of touch screen: A Double Tap Setting and Touch Function has been added to the touch screen settings. The two settings must be set to OFF to provide a better touch screen response. These new settings allow a more intuitive touch operation when shooting, AF and focus area select.
Firmware Updates for the X-T100 and X-A5
Firmware ver. 2.00 is available for download for both the X-T100 and the X-A5 as of today. It brings us the following improvements:
NEW "Bright Mode": The new "Bright Mode" gives a brighter and more vivid image when using the "Advanced SR Auto" mode. The "Bright Mode" can be turned ON / OFF easily with a single tap on the LCD touch-screen.
5 step adjustment for "Portrait Enhancer" Mode: You are now able to customize the skin tones by 5 different levels when using the "Portrait Enhancer" mode.
NEW "Night+" setting: The "Night+" mode automatically adjusts the ISO, brightness and vividness of the picture for better pictures in poor light situations. This can also be used when shooting Night Portraits.
Download the X-T100 firmware ver. 2.00 here.
Download the X-A5 firmware ver. 2.00 here.
New Version of the Fujifilm Camera Remote App
Fujifilm will launch the new version 4.0 of their mobile Camera Remote App for iOS (end of March 2019) and for Android (end of May 2019).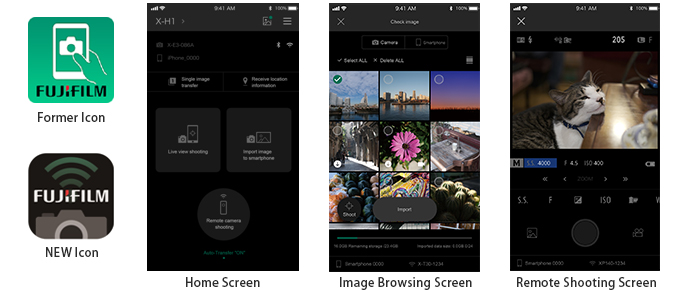 According to Fujifilm: "the pairing process is now easier thanks to the newly designed interface in Ver. 4.0. It also includes an "Album" function that allows you to browse only the images imported from the camera.
Features of the FUJIFILM Camera Remote
1. Transferring images and videos to a smartphone or tablet
2. Browsing the images and videos on the camera from a smartphone or tablet
3. Downloading Location Data from a smartphone
4. Shooting images remotely
5. Downloading and checking the latest firmware for the camera (Bluetooth enabled cameras only)
Improvements
1. Newly designed interface to operate the app easily
2. "Album" function to allow you to browse images only imported from camera
3. More stable connection between the camera and smart device, even when switching menus within the application
About Author