It's been a busy few months reviewing some amazing gear from both Fujifilm and Leica. The GFX 50S, GFX100S, the Leica SL2, Q2, and Q2 Monochrom. After returning all these fancy-pants cameras, I was left staring at my 'normal' gear. Which of these cameras would I take with me as I go about my everyday life? Recently someone asked me if the four-year-old X100F was 'still enough?' My answer was that it depended on their photographic needs, but the premise of the question really bothered me. Do people think that a four-year-old camera is no longer relevant? In turn, since I get to review the latest and greatest cameras, would I still be happy with a four year old camera? At that moment I decided to challenge myself. I would use the X100F as my EDC (Every Day Carry) for the next couple of weeks.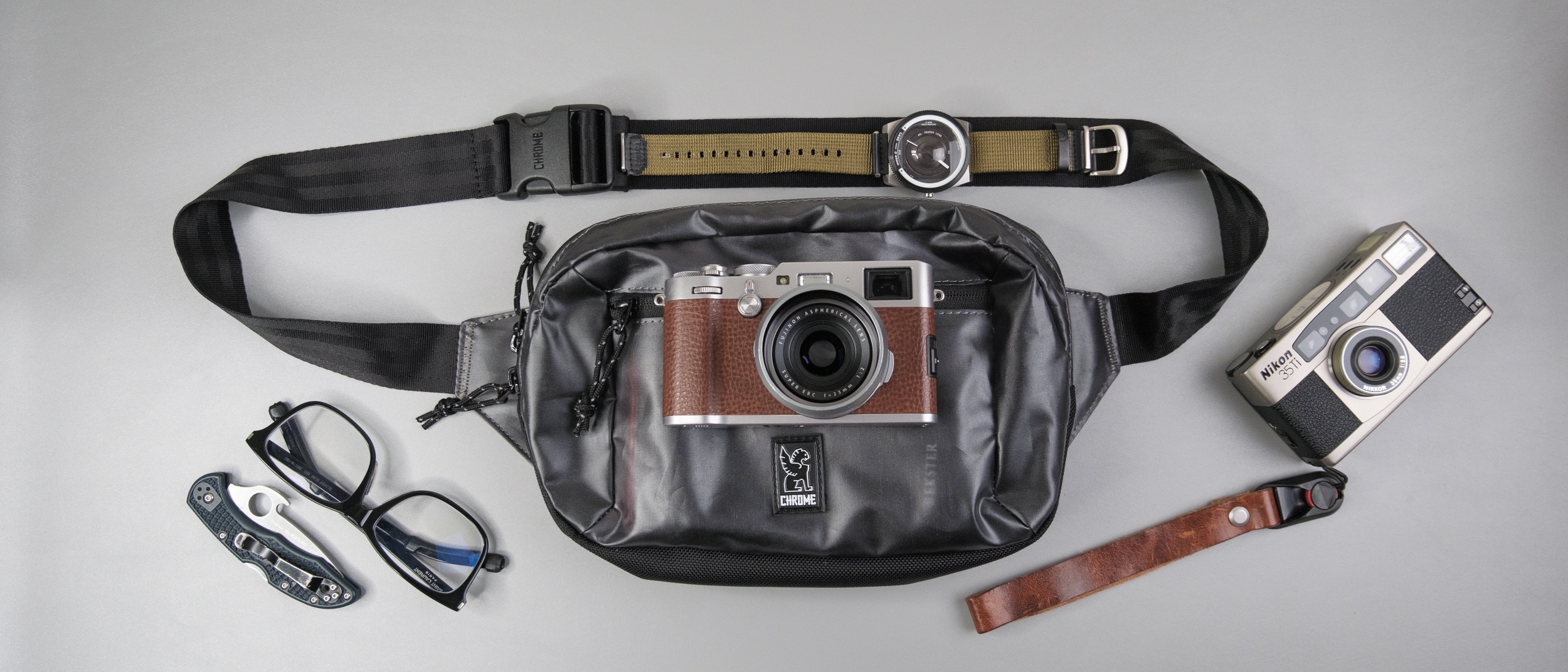 What would I consider as an EDC camera? It's any camera we're willing to take with us everywhere we go, even when we're not necessarily planning to take pictures. If, for you, that's the GFX100S, then go for it. For me, it has to be small enough to fit into a sling bag, or at least a camera that I'm willing to have around my neck all day and not bother me. Yes, I have my smartphone for mundane snapshots of price tags and grocery items to send to my wife, but I'm also a photographer. I want a camera with full control and dedicated features for creating images. The X100 series has always been great as an EDC camera. However, it's also great as a casual camera, vacation camera, backup camera and, in a pinch, a serious photographic tool.
On my days off with my wife, I usually carry one film and one digital camera. I love the simplicity of a film point-and-shoot, and I equally appreciate the simplicity of the X100F when I want it to be just a point-and-shoot. The built-in flash with TTL control is great for daylight fill, and having a leaf shutter lens allows me to flash sync to maximum shutter speed. The leaf shutter is also quiet, something I appreciate about the entire X100 series of cameras. It's perfect for discrete street photography. At the same time, the X100F is such a pretty camera that it can also be a great conversation starter. I've always said that I've gotten more attention from curious strangers when I have an X100 around my neck than any other camera I've reviewed, including Leica cameras.
I also took the X100F along my regular walking route through the Strathcona neighbourhood in East Vancouver. I love this area of Vancouver for my street photography. I always find interesting people, vehicles and homes while I'm out wandering through the backstreets and back lanes. I sometimes see regulars or I meet new people, but I rarely go out and not talk to anyone. For these impromptu meetings, the X100F is a great camera to pull out. It's unobtrusive, quiet to work with and intuitive once you set it up to your liking.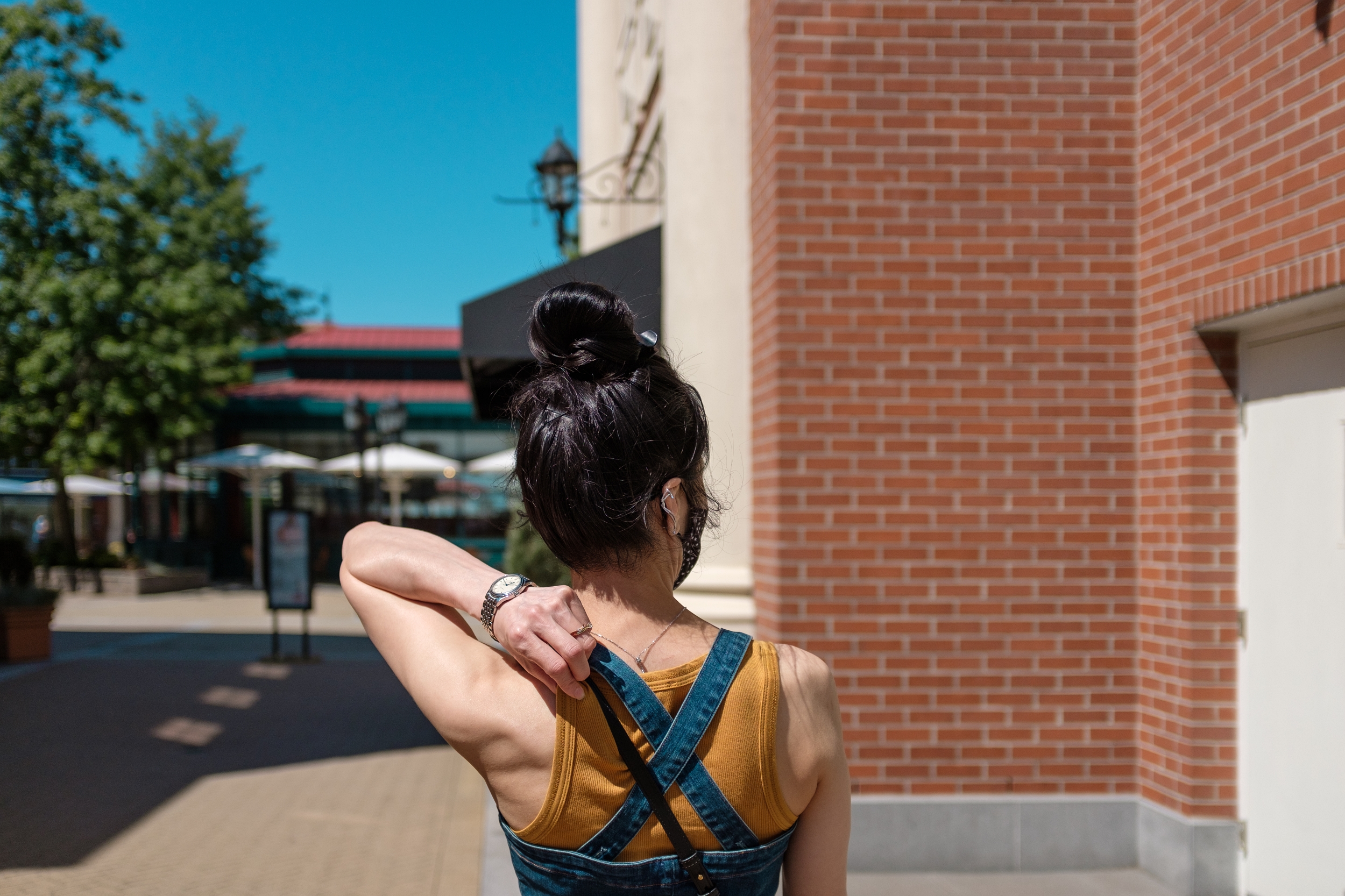 In terms of ergonomics, having the D-Pad for quick access to custom functions is awesome, while still having the focus lever aka 'joystick' to manoeuvre the focus points. I always set the D-Pad left button for my film simulations, right as White Balance, bottom for Face Detect and the top button is set for DRIVE mode. I also set the top Fn button as my flash control settings, the front viewfinder switch-button to ND filter control and the rear dial-button for magnification. Overall, the button-dial layout and options on the X100F is superior to the newer X100V.
There were a few annoyances with the X100F. I don't like that you can't add new folders in-camera (you have to do it from your computer). I also find the switch between EVF and LCD slower than the X100V, most likely due to the older and slower processor. The menu system also feels dated compared to the newer cameras, but I don't think Fujifilm is willing to update the firmware on a discontinued four-year-old camera. This includes adding newer film simulations on these older cameras. After shooting with the new lens on the X100V, I really noticed the softness of the 23mm f/2 lens, especially close up and wide open. Remember to stop down to at least f/4 if you want edge-to-edge sharpness. However, when taking portraits, f/2 is fine as long as your subject is centered.
Moreover, I've enjoyed shooting with the X100F as my EDC and primary camera over the past two weeks. My belief that this four-year-old camera is 'still enough' in 2021 is now qualified with real-world use and images. I enjoy the look and feel of the camera, it's the right size and weight to carry around with me everywhere, and it easily fits inside any of my compact sling bags. In a previous article, I shared my story on how I ended up with the X100F in limited edition brown. For that same reason, I still have my trusty X100F and it's why I haven't sold it.
The X100V is the 'better' camera in many ways (articulating screen, newer sensor + processor, latest firmware, and film simulations), but it's not worth twice as much. You can easily find the X100F used in the $600-700 USD range, while the X100V is $1400 USD new. I also prefer the button and dial layout of the older X100F, specifically having both the D-Pad and focus lever. I don't find the touch screen with swipe Fn functions on the X100V and the other newer cameras as useful as physical custom buttons and dials as found on the older X Series cameras. In conclusion, the X100F is still a competent camera and I highly recommend it as an EDC photographic tool. Let me know if you're still shooting with the X100F and if it's 'still enough' for you. Thanks for reading and happy shooting!
About Author