The point that really got me this week is how far Fujifilm has brought the X Series since its inception. It seems to echo the idea that they never fail in pushing forwards, which is evident in their new 'Never Stop' campaign that is being rolled out over the coming weeks.
In light of the new campaign and Fujifilm's nostalgic tweet (more on that later), I have been looking back to when I first started using the system. I wanted to find the first images I had taken with the X-Pro1 but as much as I looked, I could not find them. It's both a blessing and a curse, as I am sure the images would have been awful anyway! While looking for them, though, it did take me on a little journey down memory lane. Shooting with the Fujifilm system has taught me a great deal about photography and helped shape how I see it. I wonder if the system is still doing the same for photographers who are just getting into the system today.
Weekly News Digest is brought to you by the new Exposure X4 from Alien Skin Software. Exposure is the award-winning photo editor and organizer that provides unmatched creative tools and special effects, fast layering and retouching, and outstanding Fujifilm RAF processing quality. Exposure X4 features improved shadows and highlights, smart collections, perspective correction, a Lightroom migration tool, freely moveable light effects and more. Exposure is FujiLove's photo editor of choice. We invite you to try it free today.
---
Fujifilm Group new global branding campaign: NEVER STOP
According to the Fujifilm press release on 15th October:
FUJIFILM Holdings Corporation (President: Kenji Sukeno) is today launching its "NEVER STOP" global branding campaign to communicate its diverse array of business operations, as well as its corporate mindset, continuing to take on new challenges.  The campaign begins today in Japan and the U.S., and will continue to roll-out at later dates in Europe, China and Southeast Asia. The NEVER STOP campaign's core message aims to highlight Fujifilm's firm and unwavering commitment to achieving continued corporate growth and never stop building on our innovations and expertise. The campaign represents Fujifilm's success in transitioning itself from a company focused on photographic film to a company providing new value across a wide range of different fields, contributing to the resolution of various societal issues, while also affirming Fujifilm's commitment to continual innovation and growth. 
As demand for traditional photographic film declined dramatically from the year 2000 onwards, Fujifilm took the bold decision to launch the "Second Foundation" of the company, greatly transforming the company's business structure. Following its successful reinvention, FUJIFILM Holdings is active not only in the field of photography, but also in a wide range of fields including the healthcare business, which incorporates medical devices, pharmaceuticals, regenerative medicine, cosmetics and other products, the highly functional materials business, which produces various materials including display materials, and the document business, which provides a wide range of solutions and services linking with multifunction devices and printers. In the healthcare industry in particular, Fujifilm is aiming to become a total healthcare company that covers all aspects of healthcare ranging from products focusing on prevention, including cosmetics and dietary supplements, through to products focusing on diagnosis, particularly diagnostic imaging, and products focusing on treatment such as pharmaceuticals and regenerative medicine products. Fujifilm continues to boldly take on new challenges in these areas.
To learn more about this new campaign, check out the new website.
---
Venus Optics
During Photokina, Venus Optics announced that one of the new ranges of lenses will provide the widest native lens option for the GFX.  It will be a 17mmF4 lens. I have to admit, Laowa was not a name that I knew before finding this info, but I will make contact with the company and make some investigations as to their link to and future ranges for Fujifilm, and support of the X Mount and the G Mount. From what I can tell via the website and social media, they do have some pretty interesting lenses and a good customer base. If you have used one of these lenses, please do get in touch. I would love to know more via dave@fujilove.com.
"As the widest available native lens option for Fujifilm G Mount cameras, our coming 17mmF4 Zero-D GFX has a field of view equivalent to 13mm in 35mm format (113°). Featuring a close-to-zero distortion and 86mm filter thread, this lens is ideally suited for landscape, architecture & interior photography.
'We currently design, manufacture, market and distribute camera lenses under the brand name of 'LAOWA'. Represented by renowned distribution partners in more than 40 countries in America, Europe, Asia, and Africa, we are hoping to spread our passion for photography to people from around the world."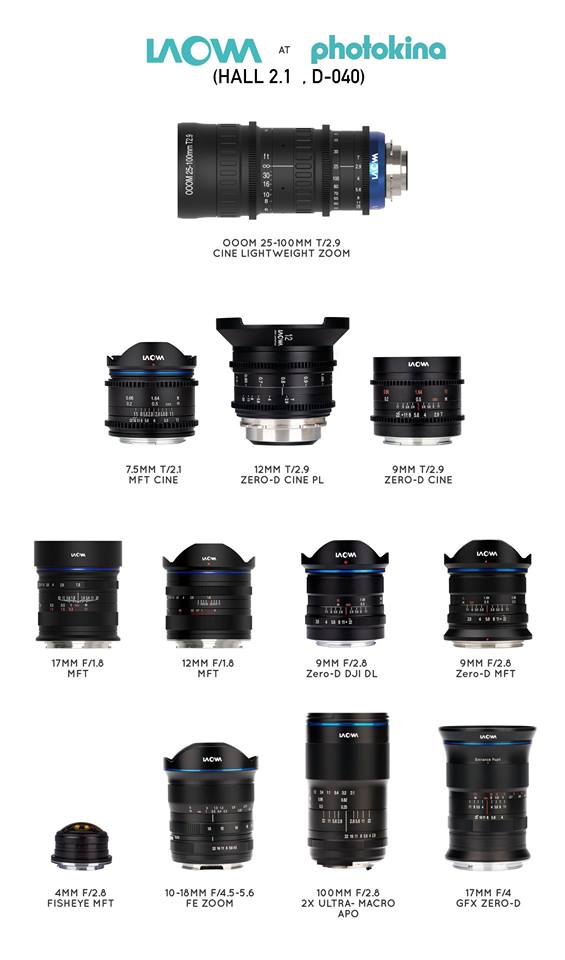 ---
Adobe support for the X-T3
Just slightly ahead of Adobe's awesome Adobe MAX Conference, the update to ACR (Adobe Camera Raw) was released. This means that alongside Depth Range masking and a single-step HDR-Pano merge, we have support for Fujifilm's X-T3. There is no word on whether this update will support the incoming GFX 50R in time for release, though. My thoughts are that it will, as the hardware is in line with the GFX 50S. 
Just use your Creative Cloud app to download the new updates. Remember to update any other apps you use, such as Photoshop.
Check out this link to see whats new in Lightroom CC from Adobe Creative Resident Laura Zalenga.
---
Apple update for X RAW STUDIO
There is a new update for Fujifilm's X Raw Studio program. Download it here. For people not aware of the program, the software is free. 
FUJIFILM X RAW STUDIO enables photographers to quickly and easily convert RAW files with outstanding image quality, once a camera is connected to a Mac or PC via USB cable. Exceptional image quality is retained, as the FUJIFILM X RAW STUDIO system utilizes the X Processor Pro in the camera instead of the CPU in the computer.
Click here to learn which cameras are compatible and for more details about previous updates.
---
'A Different Beyond' movie
I love seeing the constant push forward that photographers are being enabled to do though Fujifilm's rapid growth. Check out this trailer from Matthew Libatique (known for his work on Black Swan, Requiem for a Dream and Pi). Five years ago, I would have found it hard to think that someone like Matthew would be creating full feature film in 4k using a Fujifilm camera. Awesome stuff.
In a blog article for FDT, Matthew says: "I wanted to put the Fujifilm X-T3 camera to the test—to see how it acts in low light, bright light, as to color and saturation and put it through the same process I do to test any camera. I think that F-Log is one of the camera's greatest achievements. Having this kind of dynamic range and latitude is something we need to make films. I like the X-T3's film simulation and the choices of Eterna look, Velvia, Chrome, and so on. This is especially good for filmmakers because that's how we see things—like film."
Fujifilm presents a Chromista and Protozoa production. A Matthew Libatique film Written by Jay Zaretsky Cinematography by Matthew Libatique, ASC Film shot 4K on X-T3.
---
FujiLove news
Jens is back with another episode of the FujiLove Podcast with Take Kayo, one of the most beloved FujiLove contributors. Check it out here.
The very first in-house FujiLove eBook publication, 'Flash & Fujifilm', prepared exclusively for you by Dylan Goldby, has just been announced. Check it out here.
---
London fun for Instax
Instax is enjoying some fun times with growing popularity around the world. London's iconic billboard in Picadilly Circus was host to a huge advert to celebrate this, which prompted a fun little exchange on Twitter with the Fuji Guys.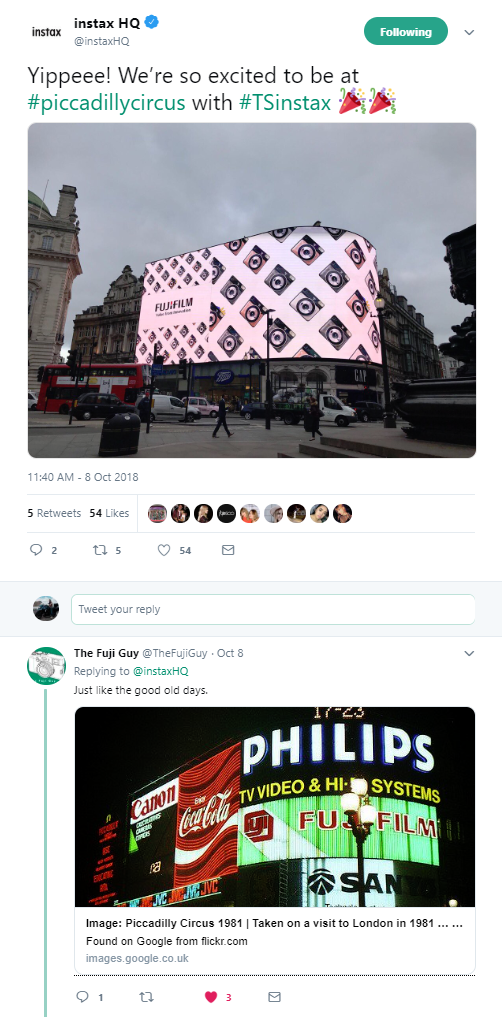 After a quick look on Google, I found this image from 1976. I thought sharing this image was fun and in keeping with the new image and linking back to the new 'Never Stop' campaign launched this week. What is the earliest advert you have seen from Fujifilm?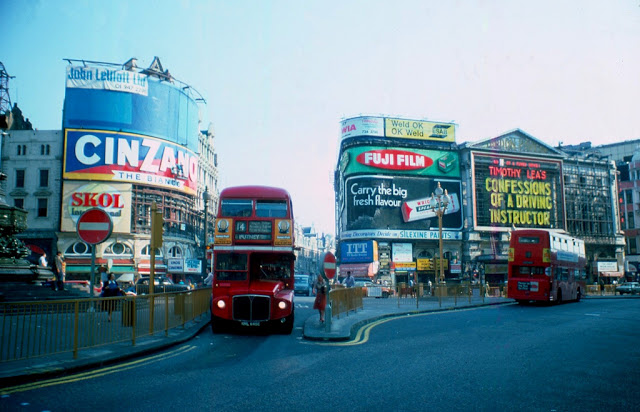 Image Credit:  SOURCE VINTAG // Piccadilly Circus, 1976
---
Business news
Fujifilm wins an appeal in battle with Xerox over the aborted merger.
TOKYO (Reuters): Japan's Fujifilm Holdings Corp has won an appeal in its legal battles with Xerox Corp, with a New York court overturning preliminary injunctions requested by an activist investor that had blocked their planned merger.
To read more about this story, head over to the Reuters website.
---
Fujifilm events around the world
From Fujifilm USA: Over 13,000 printed photos from everyday life are on display at the FUJIFILM Print Life Photo Exhibition in Vanderbilt Hall, Grand Central Terminal. 
(Image from the Fujifilm US twitter feed.)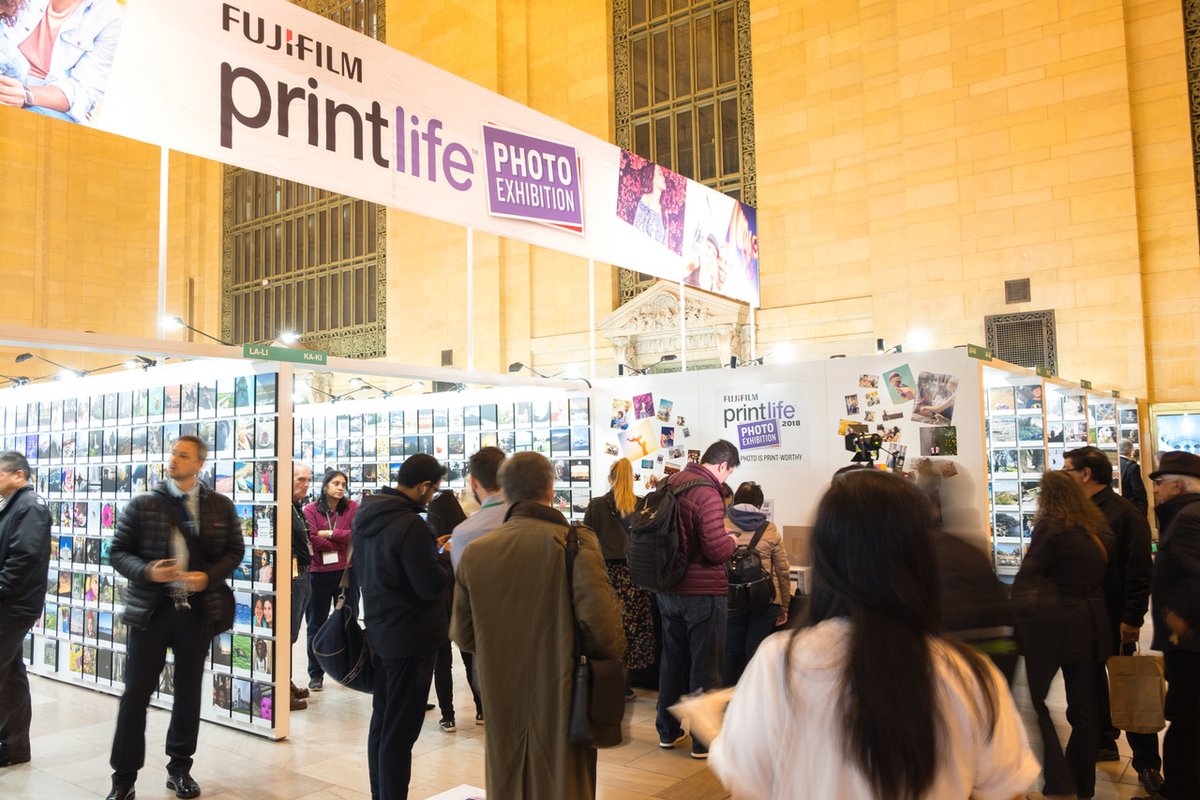 Starting October 17-20, FUJIFILM North America Corporation will host the first 2018 FUJIFILM Print Life Photo Exhibition in Vanderbilt Hall, at Grand Central Terminal. This is the first time in the U.S. that thousands of people had the opportunity to upload their images to the FUJIFILM Print Life Photo Exhibition website, during a nationwide photo exhibition call for entries that took place from July-August, 2018. Fujifilm believes that every photo is print-worthy and the exhibition will include over 13,000 pictures.
This effort is based on the "PHOTO IS 50,000-person Photo Exhibition" which was introduced in Japan in 2006 and has grown every year into what is now Japan's largest photo exhibit. This success has led to a global initiative that included the United States, Canada, Europe, Thailand, and Malaysia.
"In the US, there are billions of photos taken every day and unlike the film photography era, images are shared through social media quickly and easily instead of being printed," said Ken Sugiyama, President of FUJIFILM Holdings America Corporation and President and CEO of FUJIFILM North America Corporation. "Fujifilm strongly believes in the power of the printed picture. The 13,600 printed photos that will be on display carry the power to tell a story of their own. They are different from photos taken by professional photographers, but are personal and beautiful their own way."
To view the online gallery of all submissions, please visit www.printlifeexhibition.com. 
It looks like all the different Fujifilm regions are having an update on the event pages. Make sure you check out your local news. Most of the bigger regions in the world have their own page on which details are updated.
---
Want to get in touch? Email us at newsroom@fujilove.com.