Fujifilm has just announced their newest products: the Fujifilm X-T30 mirrorless camera and the new Fujinon XF16mm f/2.8 R WR lens.
Fujifilm X-T30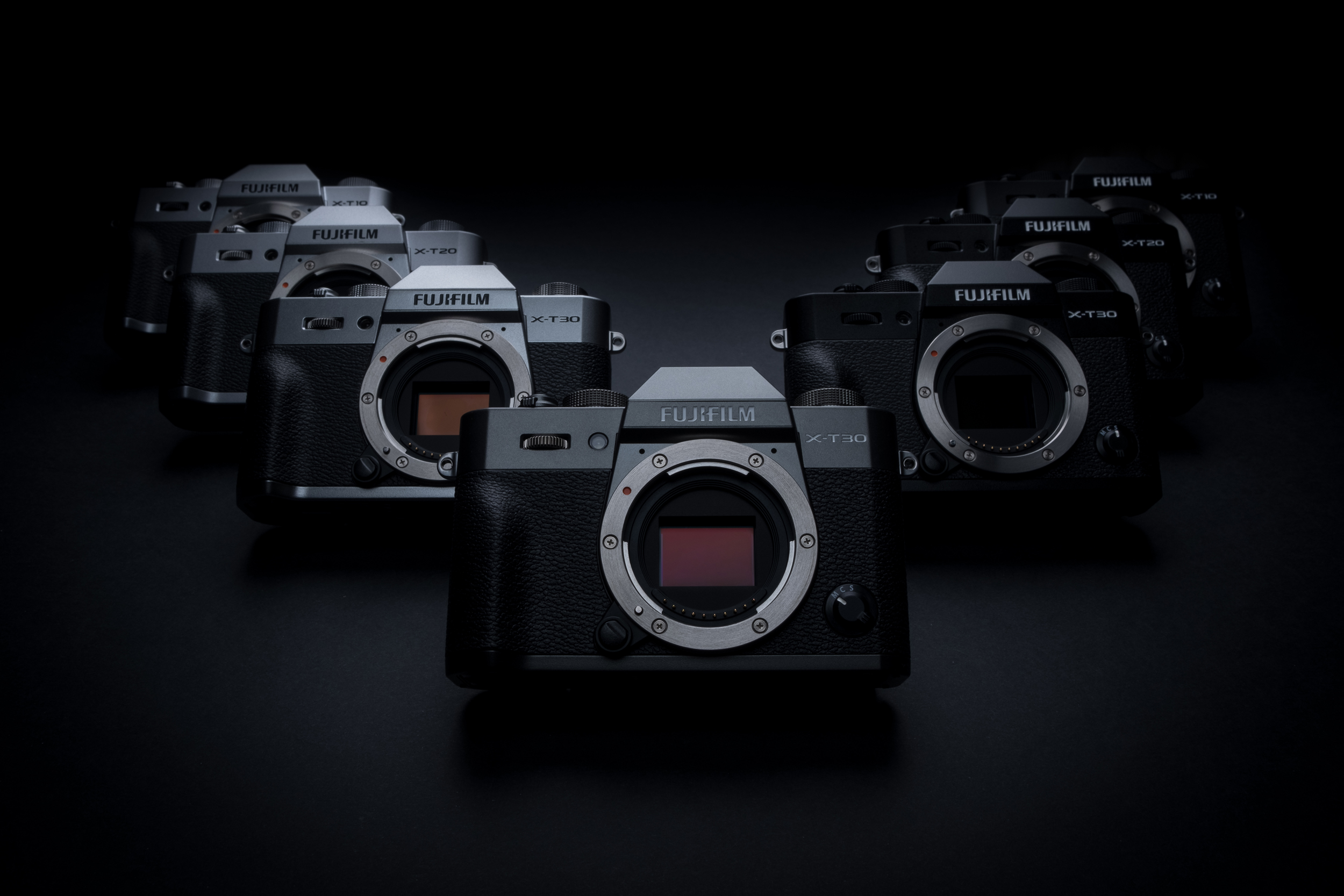 Make sure you read our X-T30 review prepared for you exclusively by Take Kayo >>>
From the official Fujifilm press-release:
The X-T30 is equipped with a host of new functions, making it a small yet powerful companion for any photographer.  It offers outstanding performance, utilizing the 4th Generation image sensor and processor which also includes 26.1 megapixel resolution and fast high-performance AF.  In addition, phase detection pixels are now across the entire frame (100%). Other advanced features include a Focus Lever for shifting a focus point easily, a new intuitive touch-screen panel with improved response, and an improved body design that has offers better holding stability to ensure comfortable shooting even with larger lenses.
The AF algorithm has been improved from that used in the renowned FUJIFILM X-T3 to deliver even more advanced AF-tracking performance. This includes enhanced accuracy in face / eye detection and the introduction of a Face Select function to provide priority auto-focus on a selected subject.
This evolution of AF performance is available not only with still photos but also during video filming. Improved exposure stability during face / eye AF and face recognition in the AF-C (continuous AF) mode adds to ease of use. Video performance itself has also been enhanced, offering high-resolution audio recording and smooth 4K/30P video recording.
As a result of the above developments, the camera appeals to a broader range of users from professional photographers to first time beginners, by being always able to deliver premium quality pictures with ease, regardless of experience.
Main X-T30 Features
1. Compact and lightweight camera body, designed for comfort with advanced handling
― The compact and lightweight camera body, weighing just 383g, is designed for enhanced stability when holding the camera. The use of the Focus Lever, replacing the Selector Buttons, allows for extra grip space at the rear for added comfort.
― The rear LCD monitor is thinner by 1.3mm and offers improved touchscreen response. It complements the Focus Lever to achieve faster and more intuitive camera operation.
― The X-T30 is available in the popular black, premium silver and a new color, charcoal silver. The charcoal silver will be launched on May, two months after the launch of black and silver.
2. The X-T30 features the 4th generation image sensor, X Trans CMOS 4, and image processing engine, X Processor 4, to deliver the still photographing performance equivalent to that of the FUJIFILM X-T3.
― Despite its compact and lightweight body, the camera has 26.1 megapixel resolution, one of the highest among APS-C sensor digital cameras, as well as exceptional low noise performance and outstanding color reproduction. 
― The lowest native sensitivity is ISO 160, previously only available as extended ISO, is now available when shooting RAW.
― FUJIFILM's exclusive Film Simulations now include ETERNA mode. This camera also incorporates numerous shooting functions that broaden your ability to customize your pictures, such as "monochrome adjustments" available for ACROS and Monochrome, and "Color Chrome" effect that produces deeper colors and gradations.
3. New AF system that is great in low light conditions and when tracking fast-moving subjects
― The number of phase detection pixels on the X-Trans CMOS 4 image sensor has been increased to 2.16 million, about 4 times that of X-Trans CMOS 3 models. The on-sensor phase detection AF area now covers the entire frame (approx. 100%), making it possible to quickly and accurately focus on a subject anywhere in the frame.
― The low light limit for phase detection AF has been expanded from +0.5EV to -3EV, making it possible to autofocus in very poor lighting such as at night or under dim light, such as candles.
― Combined with the X-T3, X-T30 boasts the best AF performance and functionality of any X Series camera, combining fast image processing with the X-Processor 4 engine and AF algorithm enhancement to boost accuracy in face / eye detection. The Face Select function has been also introduced to provide priority autofocus on a selected person when multiple faces have been detected within a frame.
The performance of the Advanced SR Auto mode has been improved in line with the enhancement of the camera's AF performance. In this mode, the camera automatically chooses the optimum shooting settings for a given scene from 58 presets, so you can achieve the best image quality without having to worry about any of the settings.
4. Enhanced video functionality
― The X-T30 has more advanced 4K/30P video functionality, ability to record high resolution audio without requiring additional equipment and eye tracking functionality during video recording.
― The X-T30 records in 6K (6240×3510) to produce stunning quality in 4K (3810×2160). The camera also supports the DCI format (17:9), which gives an even more cinematic look to your videos.
― The Film Simulation modes can be applied not only when shooting stills but also while recording video, including the "ETERNA" motion picture emulator.
― 4K/30P video can be recorded at 4:2:0 8bit to an SD card. F-log recording and 4:2:2 10bit via the HDMI port capabilities means the camera can record video suitable for more serious videographers
The Fujifilm X-T30 will be available for 899 USD.
Fujinon XF16mm f/2.8 R WR
Fujifilm announced that it will release the new Fujinon XF16mm f/2.8 R WR in late March 2019. This lens features a focal length equivalent to 24mm (in the 35mm format) and has a maximum aperture of F2.8.

According to Fujifilm "The "FUJINON XF16mmF2.8R WR" helps to deliver the best results from Fujifilm's unique X-TRANS CMOS sensors. Small and lightweight, the lens offers very high resolution performance due to the optical design. The XF16mmF2.8 R WR lens adopts an inner focusing system driven by a stepping motor for faster and quieter auto-focusing. Metal parts are used extensively on the exterior providing a premium yet robust feel, while the aperture and focusing rings have been designed to be comfortable and easy to use. The lens is also weather and dust resistant, and operates in temperatures as low as -10°C,making it ideal for shooting in a variety of conditions.
Main lens features
(1) High resolution performance
The lens features 10lens elements in 8groups including two asphericalelements. Optimal arrangement of aspherical lenses suppress spherical aberrations and field curvature while maintaining high  performance from the center of the screen to every corner.
(2) Compact, lightweight and stylish design
The lens weighs just 155g and is 45.4mm in length.It is the widest lens of the compact prime lens series. The aperture and focusing rings feature precise click stops and smooth damping for enhanced operation. The metal exterior uses the same design style as XF23mmF2 R WR, XF35mmF2 R WR, and XF50mmF2 WRfor a robust, premium feel.
(3) Fast and silent autofocus
The inner focusing AF system uses a stepping motor to drive lightweight focusing elements for a fast, silent autofocus performance.
(4) Weather and dust resistant, capable of operating in temperatures as low as -10°C
The lens is weather-sealed at ninepoints around the barrel making it weather and dust resistant. It is designed to operate in temperatures as low as -10°C. Used with the weather and dust-resistant FUJIFILM X-Pro2 or X-T1/T2/T3, and X-H1 bodies means users can shoot confidently in light rain or dusty environments without worrying about the conditions.
The FUJIFILM FUJINON LENS XF16mmF2.8R WR will be available in silver and black and will be available from March and May/June 2019 with an RRP of 399.99 USD.
About Author