Fujifilm today announced the launch of the FUJINON XF10-24mmF4 R OIS WR Lens, the 36th interchangeable lens designed for Fujifilm's X Series digital camera system. The lens, an update to the current FUJINON XF10-24mmF4 R OIS Lens, also features significant design and usability updates. 
The new XF10-24mmF4 R OIS WR Lens is an ultra-wide zoom lens covering focal lengths from 10mm to 24mm (equivalent to 15mm – 36mm in the 35mm format). "XF10-24mmF4 R OIS WR packs many updated features including an f-stop scale on its aperture ring, an Auto-position lock, and a new weather-resistant design," said Victor Ha, senior director of marketing and product development for FUJIFILM North America Corporation. "We're confident that this lens will be a top choice among landscape and nature photographers who need an ultra-wide angle zoom lens designed to withstand the elements." 
Additionally, the internal structure has been redesigned to make the focus and zoom rings slimmer, giving the XF10-24mmF4 R OIS WR lens a lower overall weight than its predecessor by 25g (.88 oz). Also, Optical Image Stabilization has been extended in the new version by 1 stop, bringing the total stabilization effect of the new lens to 3.5 stops. 
The new lens utilizes the same optical design from the original XF10-24mm OIS Lens to provide similar image-resolving performance and also has a maximum aperture of F4.0 across the zoom lens' entire focal length range.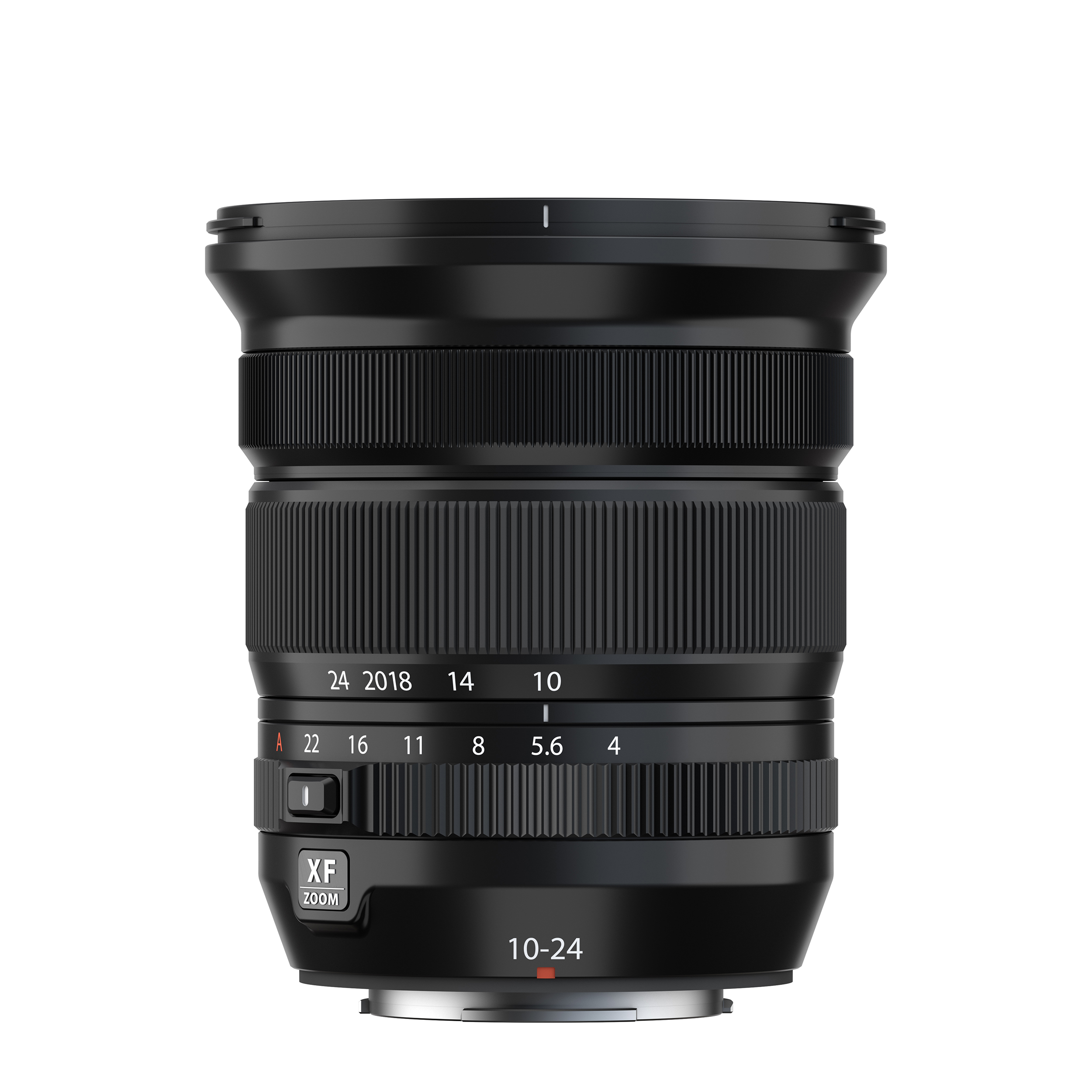 Main XF10-24mm F4 R OIS WR Features
A new, weather-resistant design and usability updates 
Updated aperture ring with f-stop scale and Auto-position lock 
The aperture ring of the new XF10-24mmF4 R OIS WR lens has been updated with an f-stop scale to allow photographers to visually check what aperture the lens is set to, eliminating the need to check through the camera's EVF or LCD Display. The ring also features an Auto-position lock, similar to that found on Fujifilm's GF lenses, which is designed to prevent unexpected aperture ring movements, and ultimately ensure the photographer's shooting efficiency. 
Added weather-resistance features 
This new lens is both dust and moisture resistant, is able to operate in temperatures as low as 14°F (-10° C) and weighs 0.88 ounces (25 grams) less than the previous model, despite the addition of the weather resistant features. 
Improved optical image stabilization 
A new, sophisticated gyro sensor used in this lens improves image stabilization by 1.0 stop from the previous model, to 3.5 stops. When used with a new X Series camera, like 
FUJIFILM X-T4, the lens and camera work together to achieve approximately 6.5 stops of 5-axis image stabilization. 
Optical design that delivers advanced image resolving performance 
The new lens consists of 14 lens elements, including four aspherical elements and four extra-low dispersion elements, in 10 groups. The aspherical elements are designed to minimize spherical aberration, field curvature and distortion, while the extra-low dispersion elements are designed to correct chromatic aberration, delivering crisp, edge-to-edge sharpness. Despite its compact form factor, the lens can maintain the maximum aperture of F4.0 across its focal length range from the ultra-wide angle 10mm to wide angle 24mm (equivalent to 15mm – 36mm in the 35mm format), while still allowing users to keep a constant f-stop value at any focal length. 
The front lens element is carefully coated to minimize ghosting, which tends to occur with the extremely concave elements normally found on an ultra-wide angle zoom lens, to give a high level of image sharpness and clarity. 
With a minimum working distance of just 24cm (9.5in), the lens is also suitable for macro-style photography. Use the lens to close in on a subject while also taking in the background at the same time, thereby creating powerful images that take maximum advantage of the available ultra-wide angle focal lengths. 
Fast and near-silent autofocus (AF) 
The use of lightweight focusing elements and a high-precision motor allows for fast and near-silent AF, even when using it with an X Series cameras' Face / Eye AF functions. 
Pricing and Availability 
The new FUJINON XF10-24mmF4 R OIS Lens is expected to be available in the U.S. and Canada markets commencing November 2020. Pricing for the lens will be at a manufacturer's suggested retail price of $999.95 USD and $1,349.99 CAD. 
For more information on the new lens, please visit the dedicated page on the Fujifilm website.