The Fujifilm X series cameras make for excellent travel cameras. Their compact size, fantastic image quality, colour rendition, and an array of high-quality lenses put them in a league of their own as creative tools while traveling. When I go on a trip, I'll typically take a few prime lenses, a few spare batteries, and some extra memory in my kit. On top of that, I like to take a few accessories to make photography along the way possible. All of this goes into a simple shoulder bag so I can move about easily. Here are five of my favourite accessories and a couple of extras that I consider necessary while I'm on the road.
USB Charger / Solar Panel
One of the things we constantly have to deal with in digital photography, especially with mirrorless cameras, is battery life. If I'm traveling to remote areas, as I often do, I'll usually take 6 or more batteries in total, just in case I can't charge for a few days. When the sun is shining, however, I have my Anker PowerPort Solar with me. This handy foldable solar panel generates enough electricity in bright sun to power two 2.1 amp USB ports. This allows me to charge 4 Fujifilm NP-W126 batteries using Wasabi Power's dual chargers. I can, of course, charge my power bank as well, which in turn will charge more batteries for me at night. I have also made sure that the rest of my kit (backup devices, etc.) are also USB chargeable so that I never have to find mains power.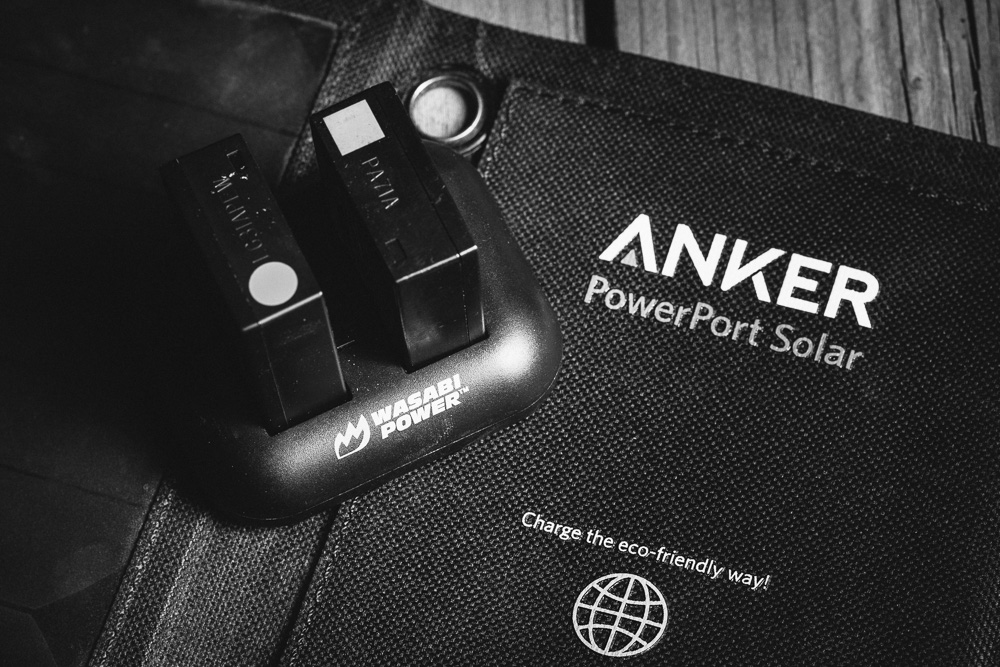 SSD / Gnarbox
If there's one thing I cannot stress enough, it is that disciplined backup of your images is the key to not ruining a great trip. For this, I usually use a Samsung T3 SSD for short trips where the environment isn't too harsh. When I know I'm headed out to some rugged areas, I will take my CalDigit TUFF SSD as it is practically indestructible. I use SSDs because they're a little more resistant to day to day shaking – like bus rides or hiking and in the case of the T3, really don't add anything to the weight or size of my kit.
I back up at the end of every day and unless I'm on a really long trip, I don't like to take my laptop. So, I take my Gnarbox for copying files simply and browsing what I've shot. This great little device gives me the ability to one-touch copy everything that I haven't copied yet and make sure everything is backed up. I can also browse my files on the device and make quick edits to the raw files from my phone if I want to share something. Its internal battery gives about 3-4 hours of copy time and can be charged via USB.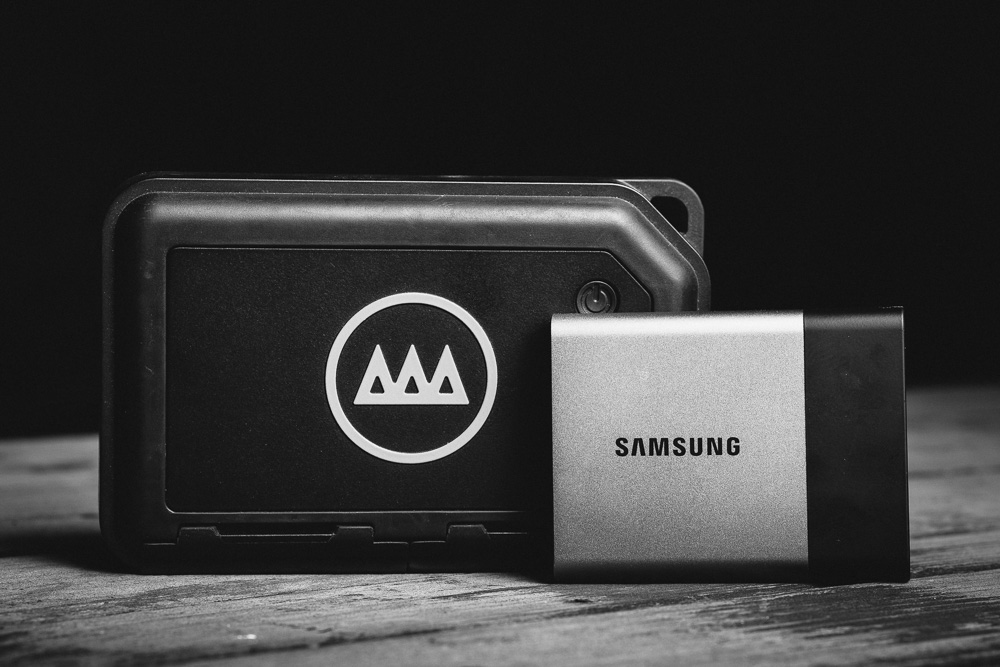 Wrist Strap
This may seem like an obvious accessory, but I really love to have a wrist strap with me. This is especially true in cities where your camera might get stolen, and there's nothing that screams "rob me" like dangling that camera around your neck with the brand emblazoned on it. A low-profile wrist strap like the BlackRapid Breathe is a great accessory. It also allows you to use a Manfrotto 200PL tripod plate to connect the strap, which means you can switch from handheld to tripod without having to swap anything.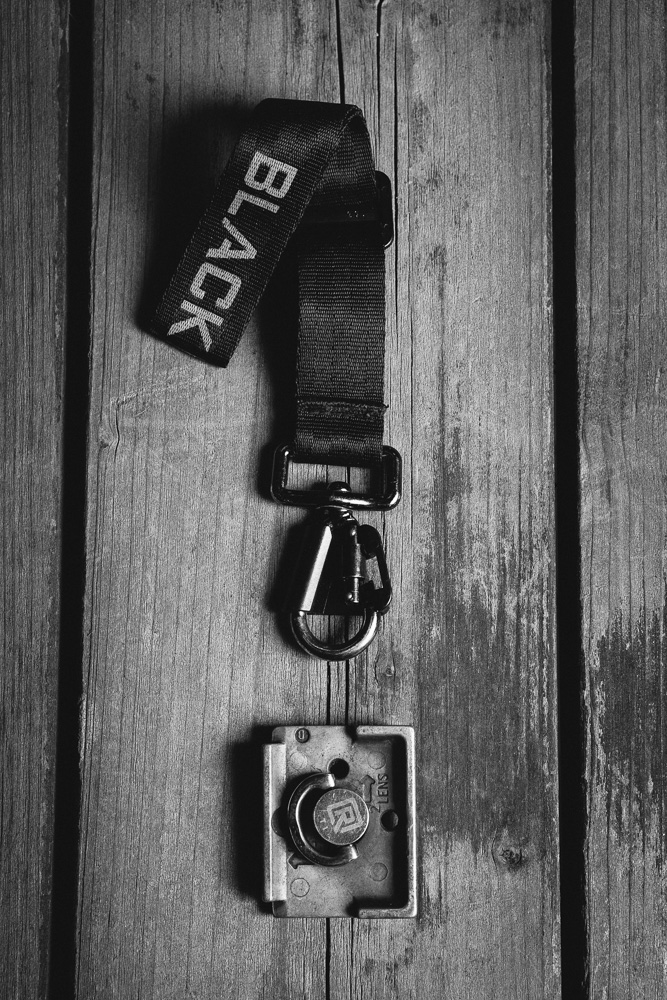 Manfrotto Pocket Tripod
One indispensable piece of kit that I've picked up recently is the Manfrotto Large Pocket Tripod. This little guy folds up and slips straight into your pocket. As long as you have a coin on you, you can tighten the screw at the bottom and place your camera just about anywhere. Of course, it's not much use with something like the 50-140mm lens, but we're not traveling with that, are we? On top of this, I'll also travel with my Manfrotto BeFree Travel Tripod, but there are some days that I don't take it out with me, and this little pocket tripod becomes a great addition to the bag. It's also really great for low angles.
Godox TT350 Speedlight
You may or may not have noticed that I love to use flash in my photography. On larger, dedicated photography trips, I will take my Godox AD200, or even two of them. However, if I'm traveling for pleasure, that's usually overkill and a speedlight will do the trick. Godox released their TT350 flash for Fujifilm earlier this year and I pre-ordered. This tiny lightweight speedlight takes only two AA batteries and can put out almost as much light as a full-sized speedlight. Coupled with the X1-T trigger and a small double-fold umbrella, I have a wireless lighting kit that weighs around 700 grams. At that weight, it doesn't matter if I use it or not!
Bonus – Blower / Toothbrush
In my experience, I have found the Fujifilm cameras to be dust magnets beyond anything I have used to date. To keep them clean, I always pack a rocket blower. Not only is this useful for cleaning dust off the lenses, but off the sensor as well. Invariably, dust will get in when you change lenses, and it's much easier to clean it off then and there rather than spending your time cloning later. The toothbrush is in addition to the one I use for my own oral hygiene, it is for the stubborn dust that gets in between the dials and into the hotshoe. A good hard-bristled brush is great for this (you can even snag the one from your hotel if you like!).
To Wrap Up
These are the simply accessories that I take with me on every trip. If you'd like to see how I pack for a longer trip, you can check out my video on packing for the Tattoos of Asia project. So, what's your favourite travel accessory for the X series cameras? Is there something you simply can't do without? Something that makes your life that much easier? I'd love to get some tips from you guys as well!