As winter looms, the weather is changing. There's a sharp nip in the air that makes the hairs stand up on the back of your neck. You can see plumes of smoke coming out of your mouth, and it's so cold you can't feel your fingers. You know that inevitably at some point snow will fall, and as photographers, we feel a strong urge to try and capture some of that magic, but how?
Snow is eternally romantic, isn't it?  I just love how it can change the landscape of cities, change the light, and even change the mood. When it's a true winter wonderland, it makes you do a double-take to make sure you are on the right Street, Ulitsa, Straße, Strada etc.
As a street photographer, I have traveled a lot around the world, and especially in fantastic places like Russia, and in particular bustling metropolises cities like Moscow and the beautiful city of Saint Petersburg, where we have extreme weather every year.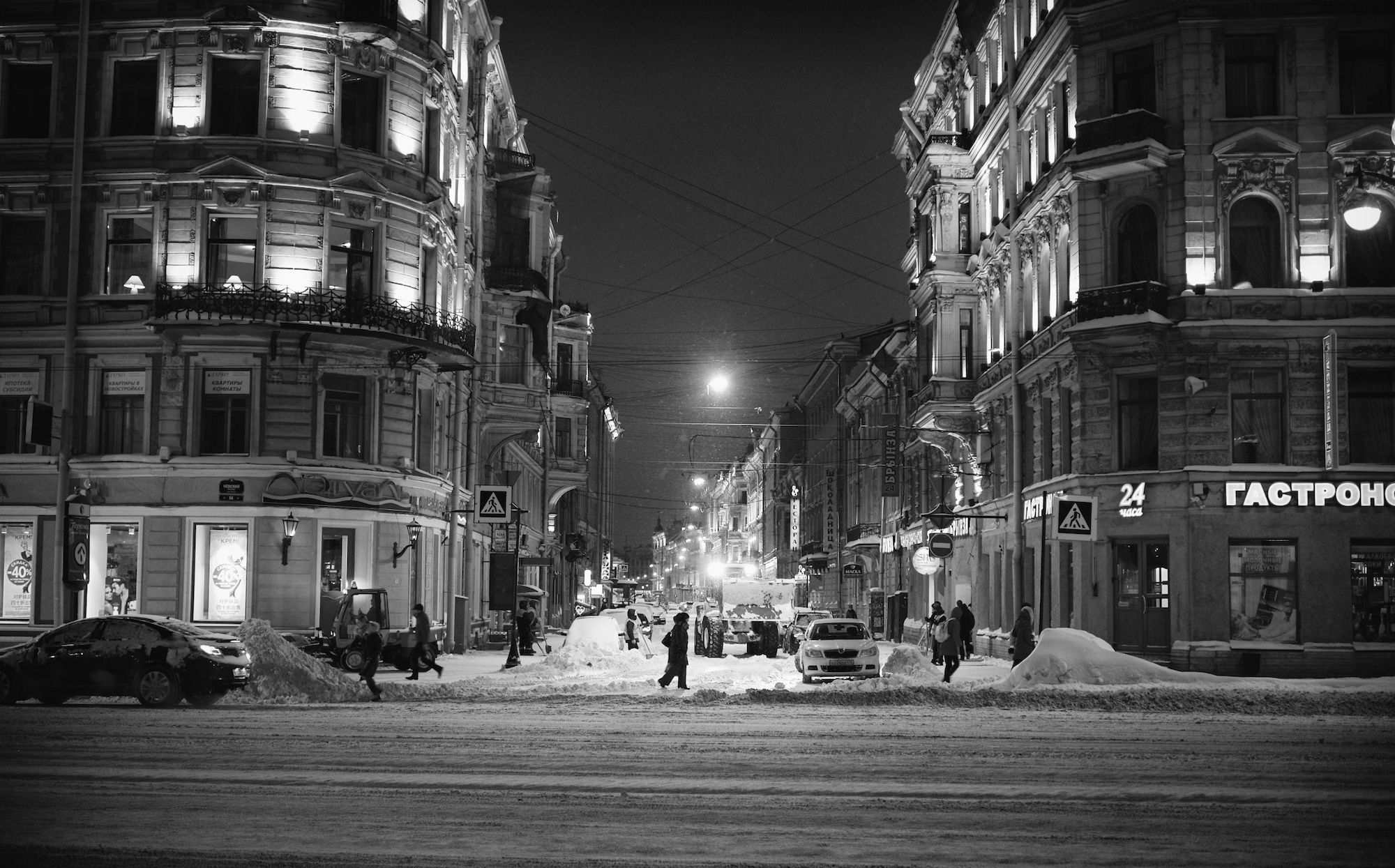 And on my travels, when it snows, I make a point of getting geared up, and getting out there in all weathers and at all times, to make sure I get the best chance of coming home with something half decent that I'm happy with, or at the very least, images that make the cut.
We all know that feeling when you've come home from a long day's shoot, only to feel deflated that you haven't captured any good images.
But tomorrow's another day, and when it comes to extreme shoots, perseverance is the key.
This year, the winter came unusually early in Saint Petersburg, and we were blessed with heavy snow in early November, which was highly unusual, but wonderful for me, as I love shooting in the snow.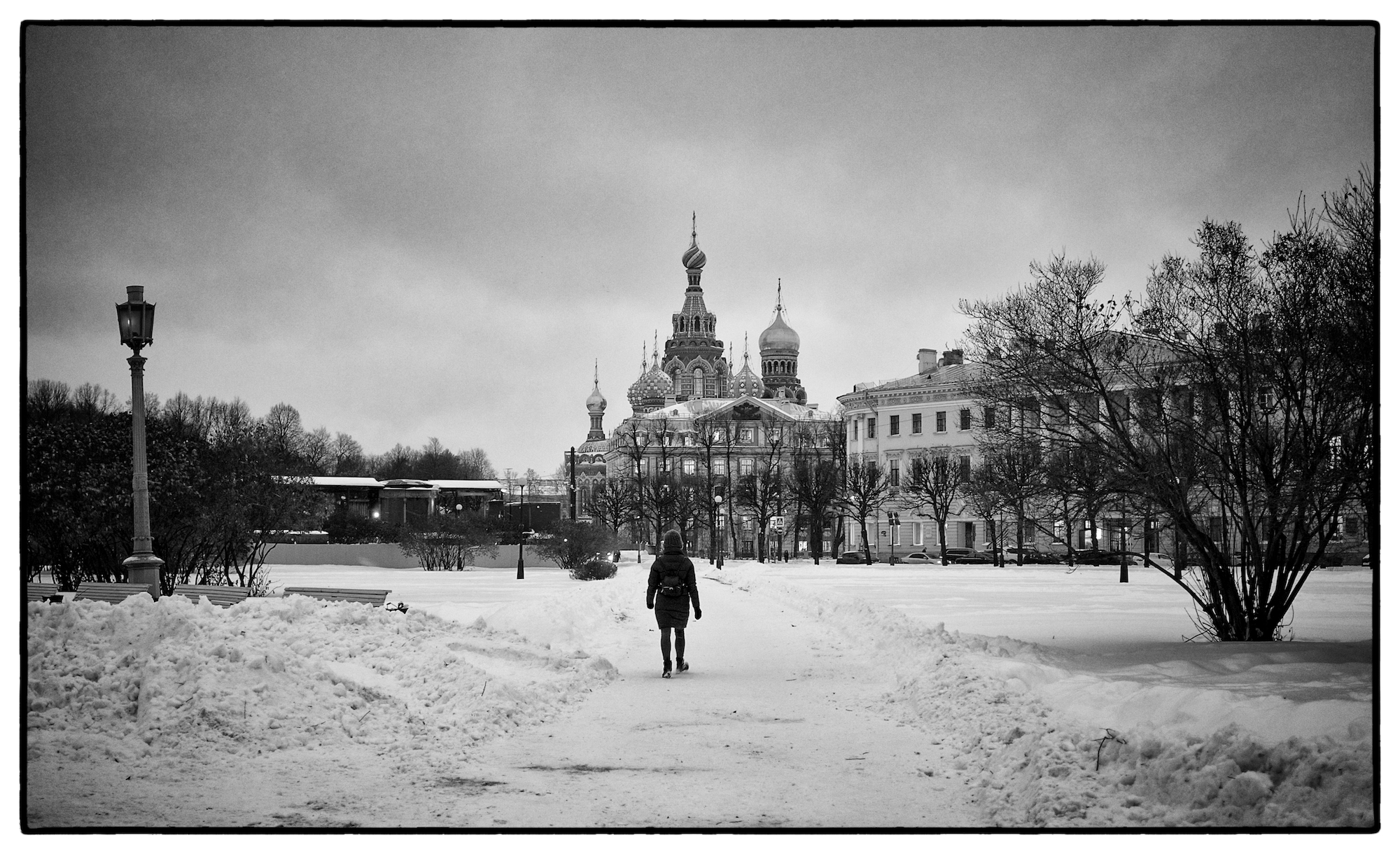 Of course we have all seen a whole plethora of winter wonderland photographs, but for me I love being in a real grade 5 white-out of a snowstorm, as it tests my skills to the maximum, all of my training, everything I have learnt over the years in street photography is put to the test.
Extreme.
And as it can be very treacherous, you have to have your wits about you at all times. To be able to do street photography when it's -22c in a complete white-out blizzard really is something else.
It really pushes all your skills to a whole new level, and makes it both very challenging and yet most rewarding when you get it right.
This is extreme street photography, and it's not for the faint hearted.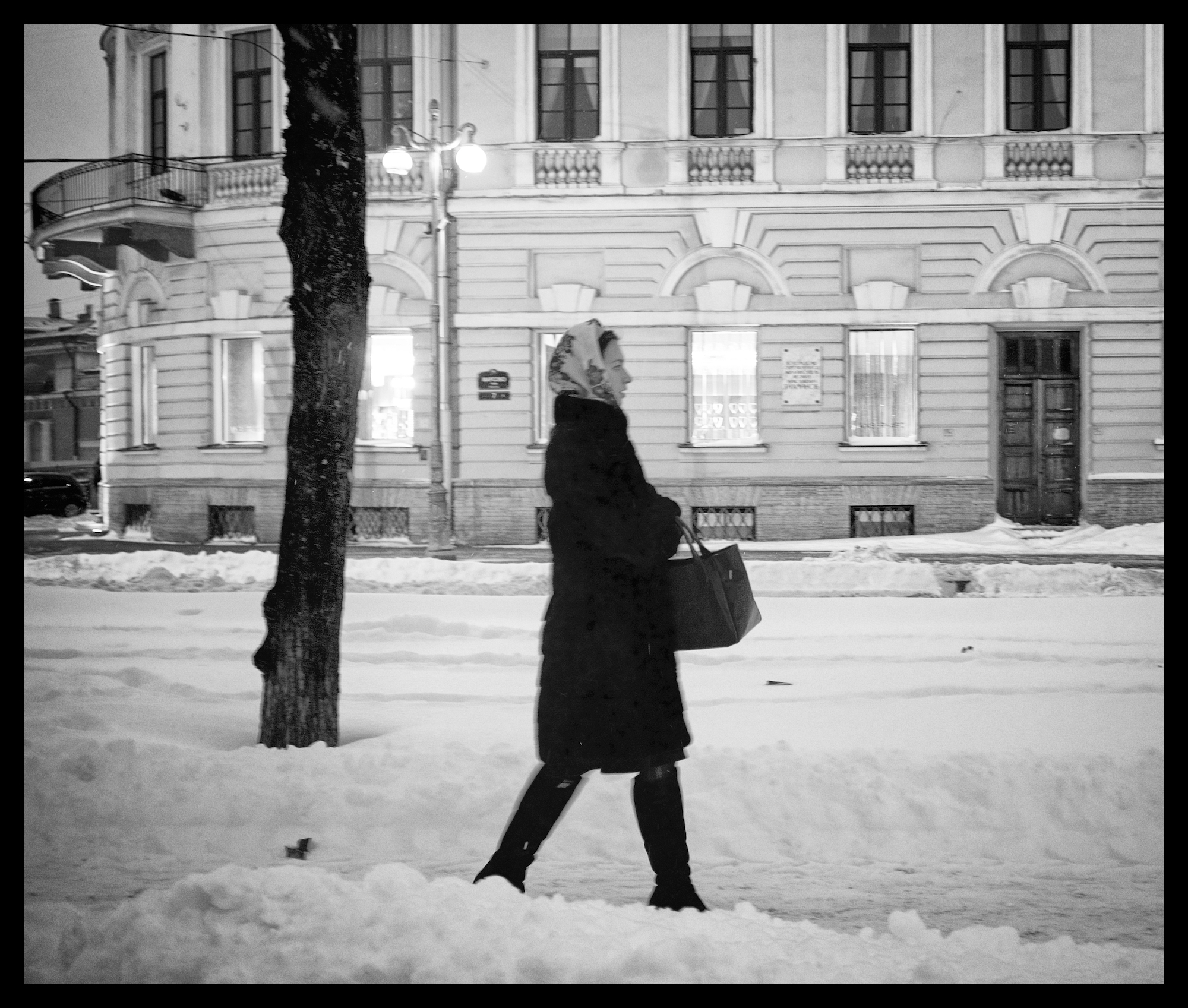 So here's what I have learnt from taking photos in extreme conditions from my travels around various Russian cities in deep winter :
1. Having the right gear
This may sound obvious, but in deep winter, you need to have all the right gear, as if it's going to snow, it's going to be very cold, so you need to be a good boy scout here and be prepared and have all the right gear for the job. If you don't, both you and your shoot will be very miserable.
In Russia it has the uncanny knack of being able to snow heavily with blizzard conditions, even when way below sub-zero temperatures, so keeping yourself insulated is a very good idea.
So let's start with the basics; Large down-filled wind-proof parka? check, winter-woolies and thermals? check, fur lined boots? check, camera charged and extra batteries? check, battery pack for your smartphone? check. Some food and water? Check.
Time to suit-up and go to work then.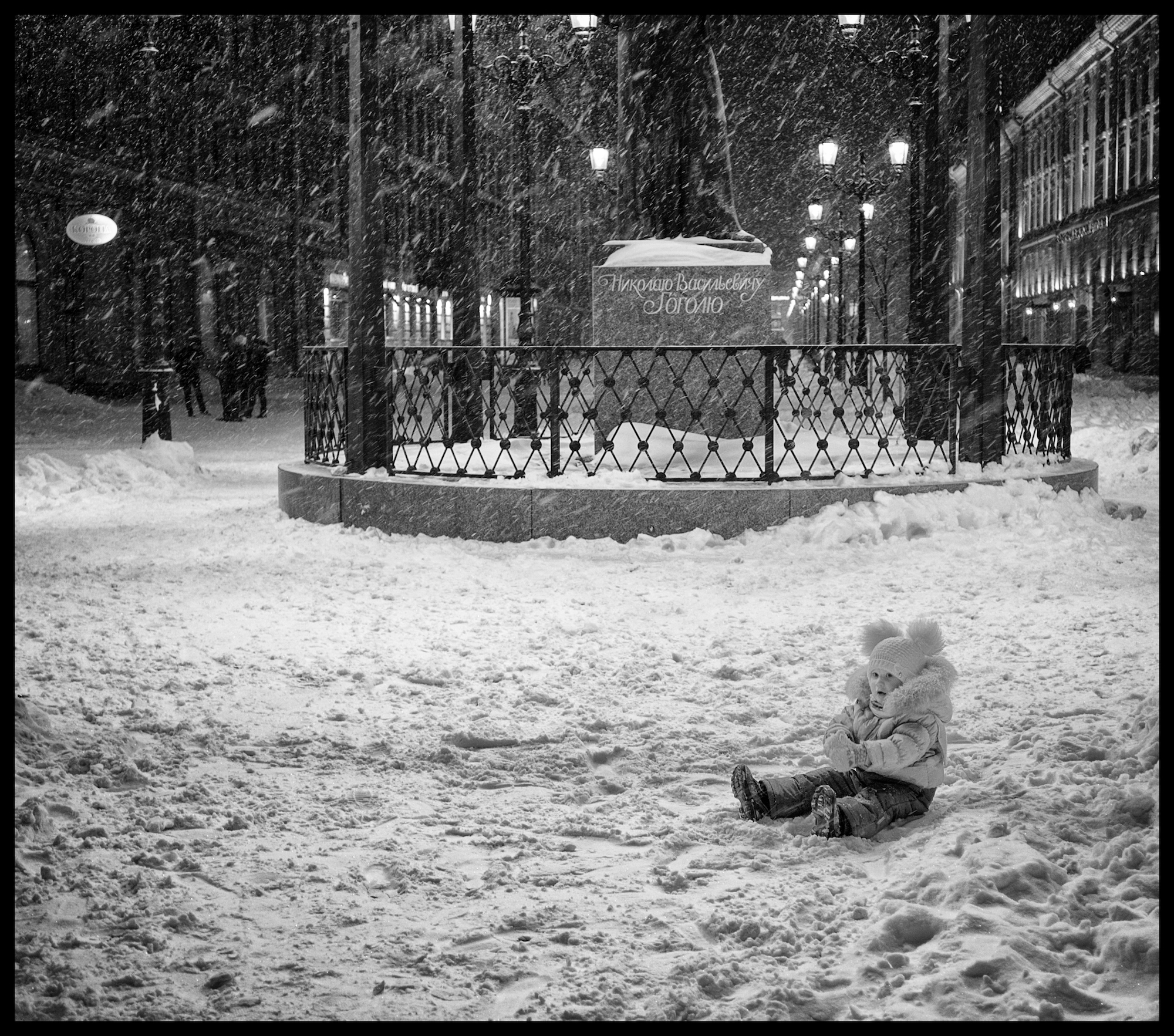 2. Timing
Depending on where you are in the world, it gets dark early in the winter.
So it depends whether you want to savor the daylight hours, which in winter are just too short, or whether you wish to brave the elements and go out in the middle of the night in a snowstorm (which is my favourite). It is your call.
Nighttime gives you really nice light, and if it's a blizzard, gives excellent opportunities to be sneaky and capture those candid moments that you might not be able to get away with otherwise.
I travel a lot around Russia, so we are at least +2 hours ahead of Europe, and we get a lot a snow, every year, sometimes extreme amounts even very early on, which makes it ideal to do a shoot.
For photography, first snow is best, as it hasn't been turned into a grey mush yet by all the schlepping, and hasn't been cleared by the massive trucks and sweepers yet, making it more picturesque.
So If you can muster it, go out in the middle of the night in a blizzard, as that's when you will be mostly alone, just you and the snow clearers, and that's when you can really hone your skills and get the most out of the shoot, the light, the mood and more.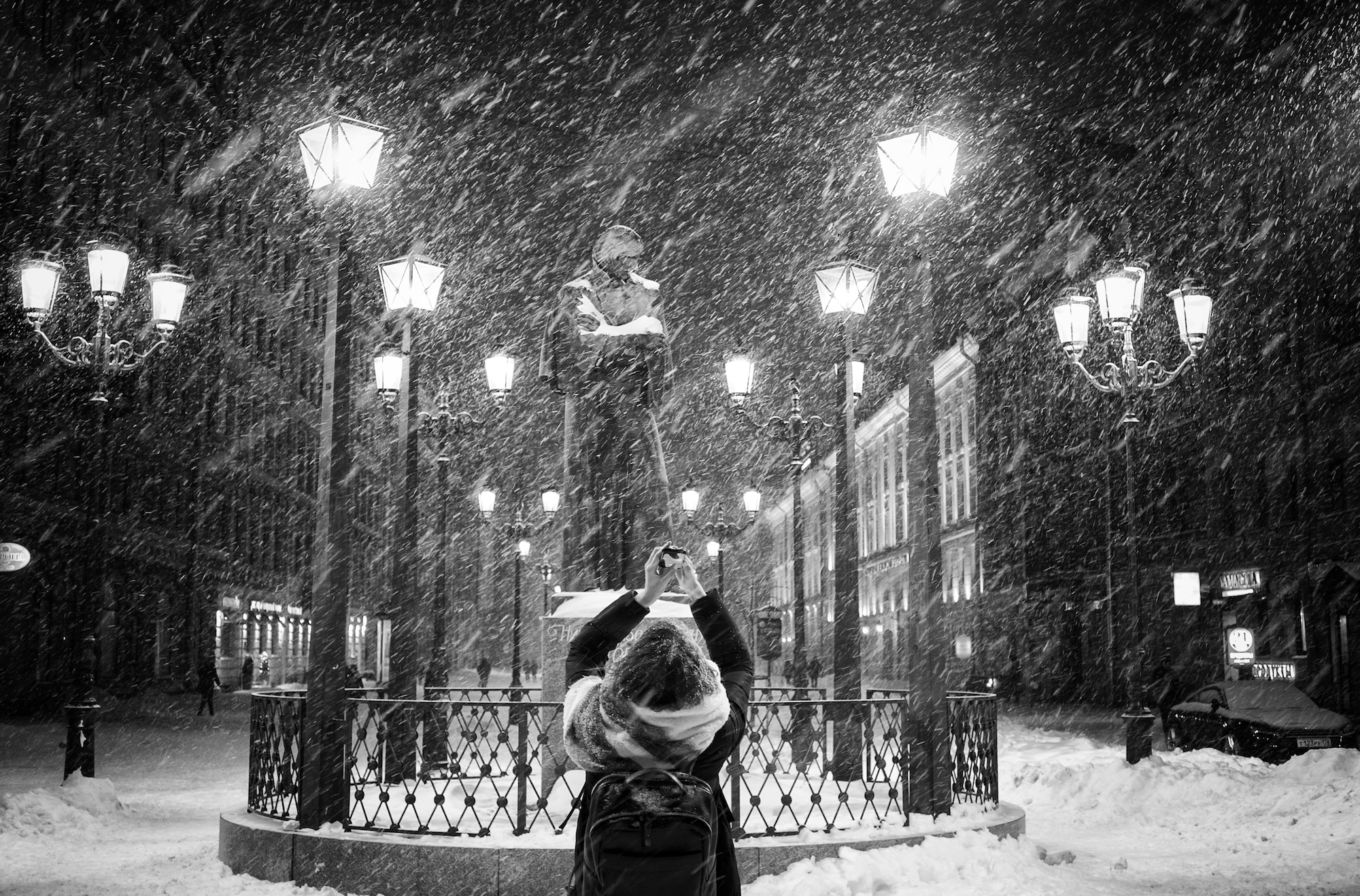 The best shoots are when the snow is coming down heavily, I mean complete white-out grade 5 can-hardly-see my hands kinda blizzard.
It's not for the faint hearted, as its cold, slippery and a little tricky to get right.
But when you do, we'll, it's just magical.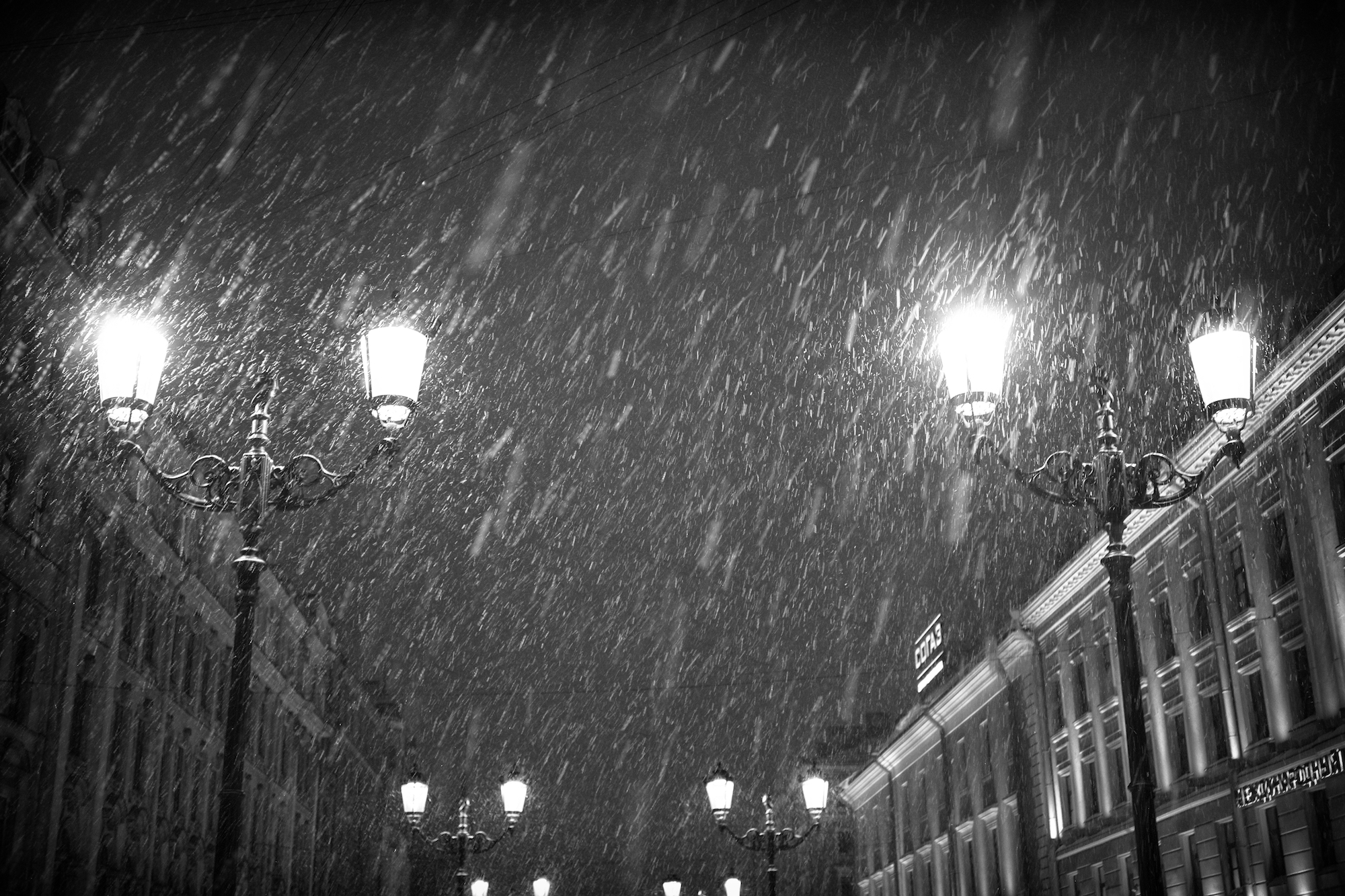 3. Master your camera
This one takes a bit of practice, and depends on the time of your shoot also.
If your camera isn't weather sealed (like my trusty little Fujifilm X-T10) then a bit of snow isn't going to hurt it too much, but be careful not to get too much moisture into it though.
If you have a larger weather sealed camera and lenses, then these are ideal for extreme weather use, but don't let that put you off, any camera can be used, as long as you get to know it well.
One thing to note with the smaller mirrorless cameras is that they can get quite cold, so a case is a good idea, or if your camera is small enough, you can even put it in your skyrocket to shelter it from the elements.
Practice with various ISO settings as well, so depending on the shoot and how much light is available in your location, and adjust it manually to get the right feel.
For daytime, or dusk, it all depends on how gloomy the day is and how much natural light there is.
I usually go some where between 600 – 800 ISO as a starting point at night, but you can push it further, depends on how much light is emitted by the streets, shops etc.
Pushing the ISO up at night can sometimes be a really good thing, if you want to get a noisy retro film kinda feel to the image.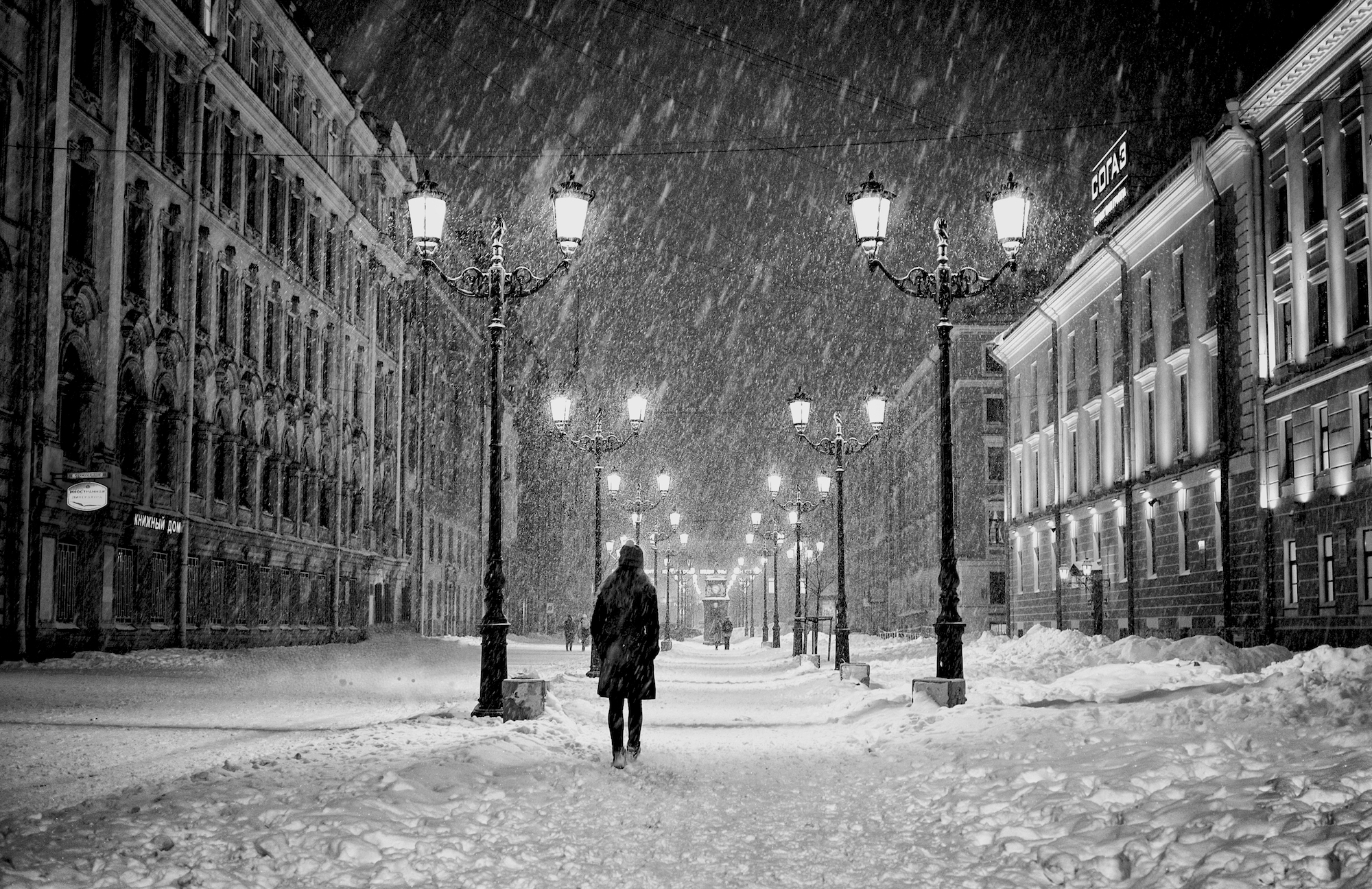 If it's snowing heavily, then ideally you want to 'freeze' the snow, to transport the viewer right their to that time and place, so a high shutter speed is best for this. But experiment of course.
Having a fixed 'prime' lenses are best for snow here, so take your pick, anything ranging from 28mm up to 50mm or round about is the optimum focal length, but use the available equipment to hand of course.
I just feel that if you have a prime lens, you can really get quicker shots that a zoom, as you get to know your focal lengths, and get to know where you should be standing to best optimize your footwork.
All this shooting will definitely make your hands cold, so you might want to get some warm gloves so you can operate the camera without too many glove changes.
Another point that I try and stress is to be hyper-aware of where you are, and look at your surroundings, the light, the time of day and position yourself correctly.
Just experiment and get used to putting yourself into a position where you can safely operate, whilst keeping a good eye out for cars, snow clearers and pedestrians alike.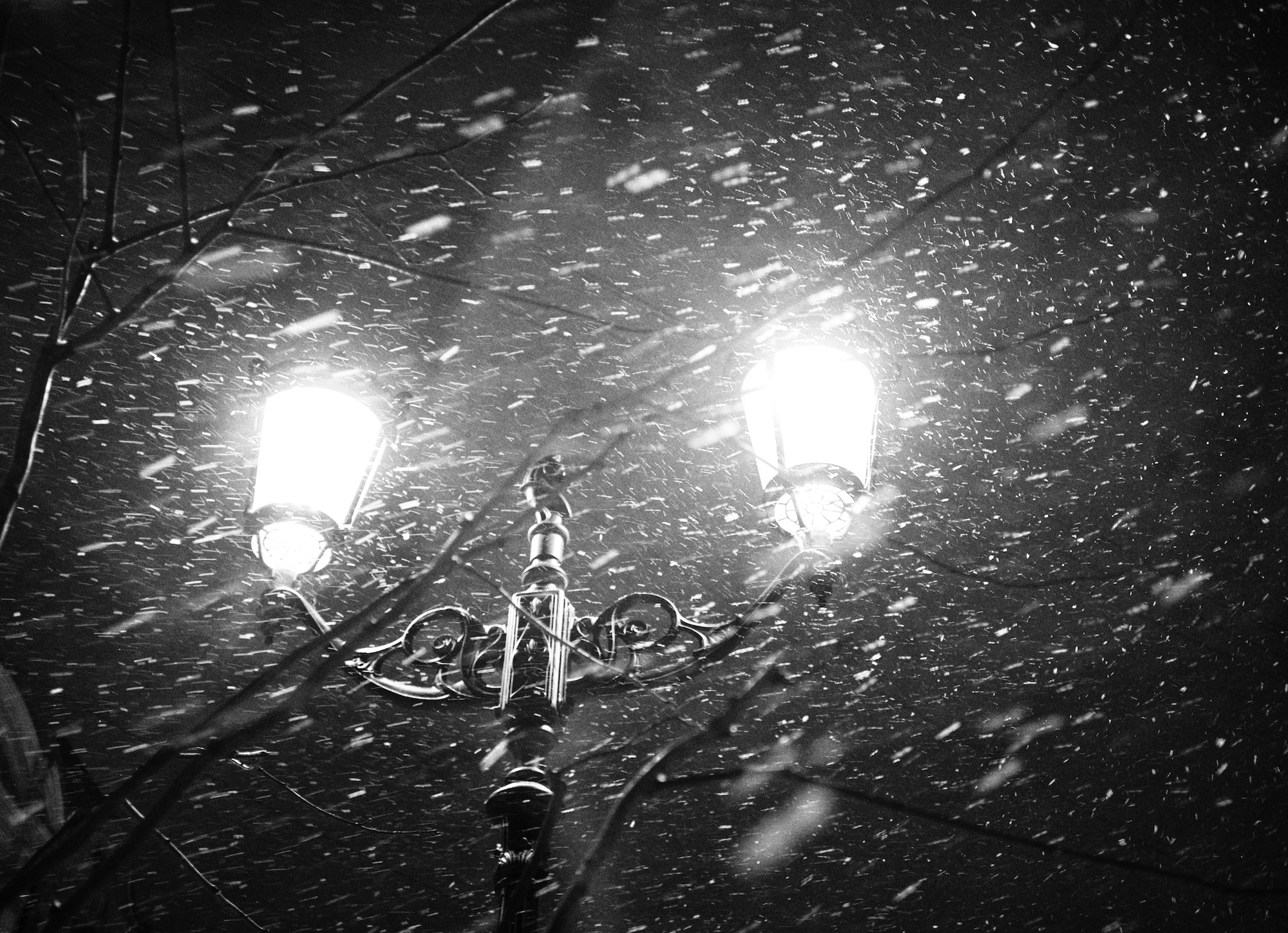 Practice composition, and making photographs / images that have visual narrative, and you will develop some great images along the way for sure.
And if at first you don't succeed, try, try, try again and practice. Things take time, just keep on keepin on, and don't get too disheartened. Tomorrow is another day.
Image wise, snow looks good both in color and also in black and white, where you can accentuate the structure to enhance the end result in post production, so keep both, and come back to your photos a few days later for perspective.
Just have fun, stay safe, stay warm, and know when to call it a day. Also don't get disheartened if you didn't get the results first time, it takes practice, you will get there.
Let it snow, let it snow, let it snow 🙂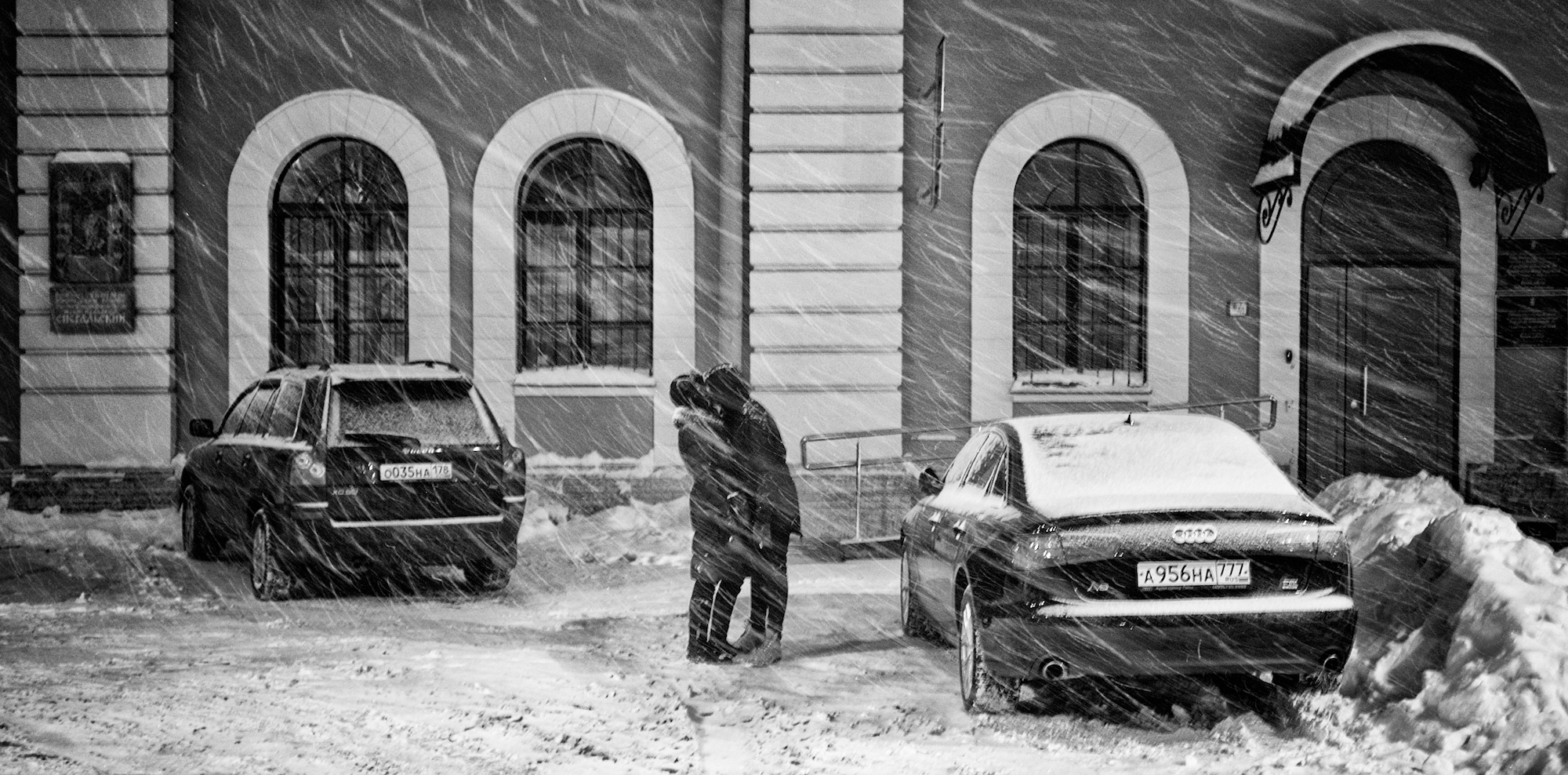 About Author