Yesterday I did something I rarely do: photograph on a Saturday afternoon. On the weekends it's busy along my regular walking route, but I decided to join the rest of my fellow weekend warriors and shoot on the streets of Vancouver. You see, I'm typically a weekday or night photographer, unless I have a deadline or a specific project. It's also uncommon for me to wrap up a photo project in one day, let alone within an afternoon. I'm usually testing a new lens or a camera and it takes at least a week or two to gather a variety of images for a thorough review. However, this Saturday was going to be different. I decided to photograph for just the afternoon, edit and process the images at night, and finally write this article by the following evening. Yes, this weekend was going to be different.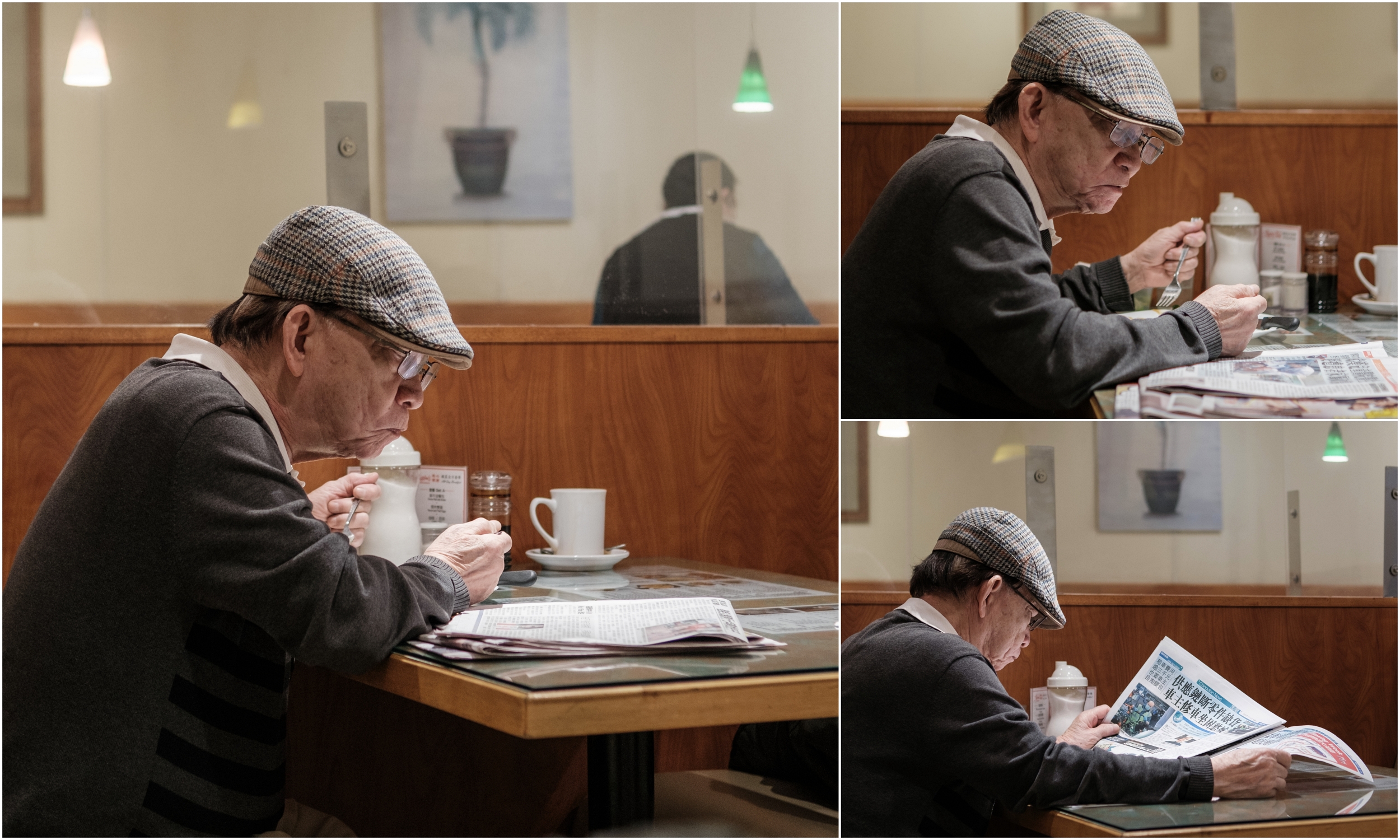 To begin, I made my way down to my second office, Maxims Restaurant and Bakery in Chinatown Vancouver. I got to sit at my favourite back booth (thanks Michelle) and had a quick lunch by myself. Actually, I wasn't really by myself. I had my trusty Fujifilm X-Pro3 and another camera from the brand with the red dot. The reason I came down was to show my other camera-nerdy friends the latest Leica M11, and so I used it as an excuse to come down and take my own photographs. Even though I had other fancier gear, including the GFX50S II, I decided to only use the X-Pro3 and the Viltrox AF33mmF1.4 XF. I used the X-Pro3 because it's my favourite X Series camera body and I used the Viltrox 33mm lens because it's my least favourite focal length for street photography. I prefer the 28mm equivalent field of view for street photography, but I know there are things I can do with the 50mm equivalent that's unique to this 'standard' perspective. Moreover, I wanted to push myself, and I was going to do it with this 33mm lens.
Taking pictures with the X-Pro3 around my neck felt refreshingly comfortable. I've been shooting and testing plenty of Leica gear for the past couple of months, so I was a bit rusty when it came to my X-Pro3. In addition, for work, I'm always using my powerful and functional X-T4, so I don't get to use my X-Pro3 or X100F very often. I typically only use the X-Pro3 for personal work or when I want to keep things compact and light. For street photography, I prefer shooting with a rangefinder camera, so the X-Pro3 is right up there with the Leica M system for my style of photography.
I know the current X-Pro3 has been polarizing for many Fujilovers and X-Pro fans. Most of the controversy has to do with the reverse articulating screen, but I think that's the X-Pro3's secret weapon. When I don't have a screen starring back at me, I can focus on my photography. I can also be less gentle with the X-Pro3 when using it since the rear LCD screen is covered and protected. However, when I do need it, especially for waist-level shooting, the X-Pro3's articulating screen is quick to use and has the best viewing angles. The only negative I found with the LCD screen is that it does not work very well while attached to a tripod unless you're shooting it as an overhead camera with the screen flipped up. For this Saturday afternoon, I kept the LCD screen hidden and used the hybrid viewfinder for the majority of my photographs. Is it wrong to also like the way the X-Pro3 looks, especially the titanium top plate with the Dura Black finish?
I also enjoy shooting with the Viltrox AF33mmF1.4 XF lens. When this lens first came out, Fujifilm only had the XF35mmF2 R WR and XF35mmF1.4 R. The Viltrox's performance landed somewhere between the two Fujifilm lenses but was priced far below both of them. In fact, I sold my XF35mmF2 R WR since I never used it after getting the Viltrox. Optically it can't compete with Fujifilm's new XF33mmF1.4 R LM WR, nor the older XF35mmF1.4 R. It's soft wide open at close focus and there's purple fringing until at least f/2.8. I'm also not a fan of the click-less electronically controlled aperture ring. However, the build quality is solid, the autofocus is quick and accurate, the lens communicates with the body and stopped down this lens is very sharp. Finally, for $279 USD this lens is a serious bargain. If you need a fast focusing and fast aperture 50mm equivalent lens for your Fujifilm X system, consider giving this lens a try.
As you look through these images, you will notice plenty of impromptu street portraits. Many of the people I met were for the very first time, and they were all generous enough to pose for me. You will also notice many Leica cameras, which wasn't a surprise. I see more Leica and Fujifilm cameras when I'm out for casual and street photography than any other camera brand. I feel privileged to work directly with both manufacturers, and I'm happy to have both X mount and M mount systems to use for my photography. Having the Viltrox 33mm was also great for street portraiture, although I did find myself taking a few steps back to get the framing right. I also found I misjudged the depth of field a few times so I had to remember to stop down to f/2.8-4 to make sure every element in the frame that I wanted to be in focus would be in focus.
When it came to my film simulations, I decided to stick mostly with Classic Neg. I shoot both JPEG and RAW, so I see everything as Classic Neg while shooting as my visual template. I love how the reds pop in this film simulation, and it really does remind me of shooting with film. However, like real film, Classic Neg. changes depending on the lighting situation. I'm constantly adjusting the white balance as the lightning changes. I actually think it looks great on cloudy grey days like this. One tip I give for adjusting auto white balance is minus one magenta and plus one blue. Classic Neg is not the most versatile film simulation, so I do use it sparingly, depending on what I'm photographing. I usually switch between Classic Chrome, Classic Neg, ACROS and sometimes Pro Neg Standard based on the lighting situation and subject matter.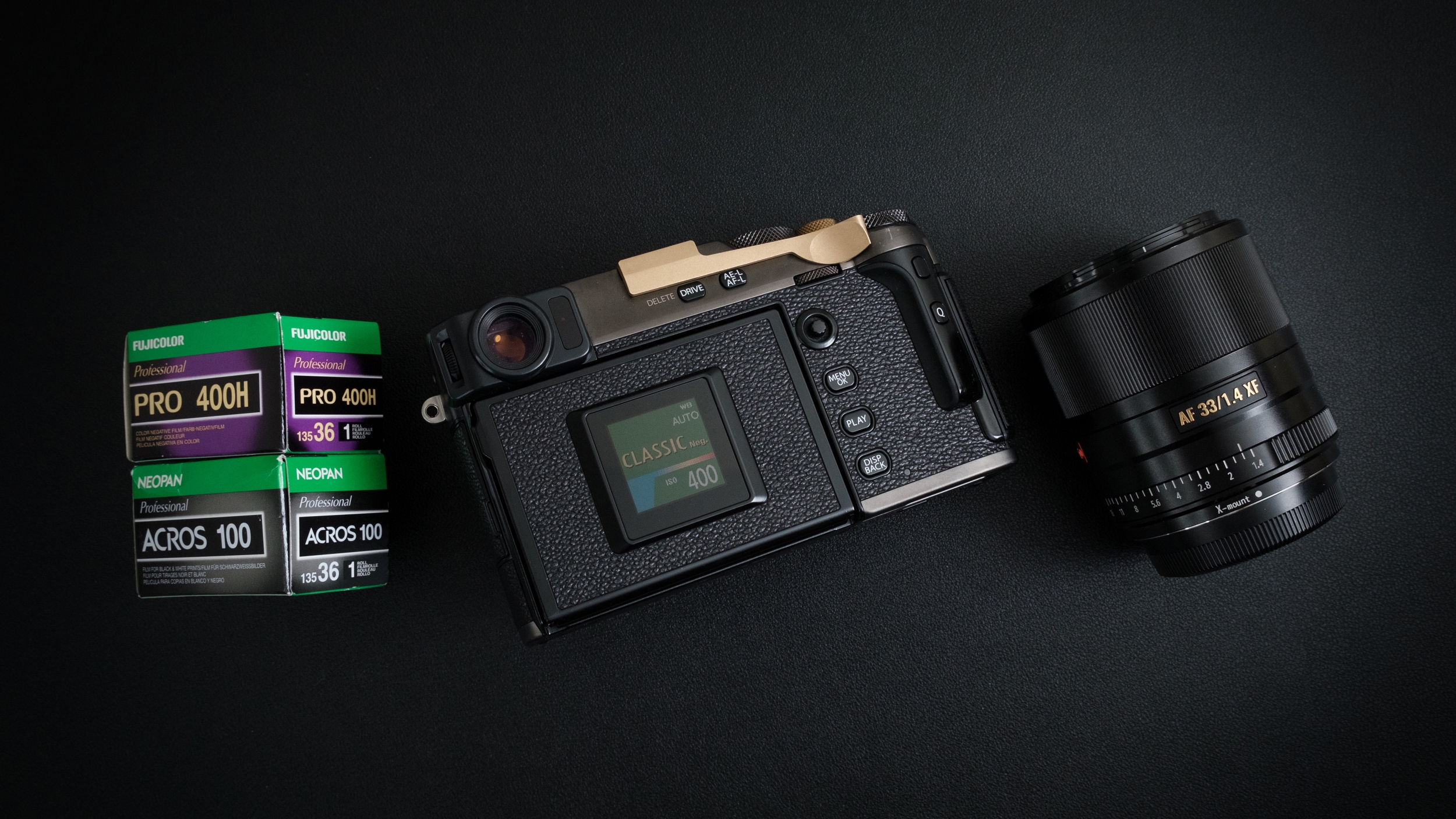 In conclusion, I had a great time shooting on a regular Saturday afternoon on the streets of Vancouver. It was nice seeing fellow street photographers out and about enjoying the weekend while taking photographs. Although I've enjoyed testing some exotic and expensive cameras the past few months, it was nice to get back to shooting with my X-Pro3. I love the hybrid viewfinder, the flip-down articulating screen, and I feel comfortable with the rangefinder ergonomics for casual photography. It was also fun pushing myself to use a focal length I'm not comfortable with for street photography. It's easy to make the mistake of always shooting at f/1.4, and then finding out that many elements in the photo you wanted in focus ends up being blurry. I still prefer the 28mm equivalent field of view (or 18mm on the X Series) for street photography because it allows me to work closer with my subject, and I'd rather take a step closer versus having to take a step back.
If you enjoy taking pictures on the weekend with your family, friends or even alone, let me know what gear you like to use. Do you enjoy the discipline of using a prime or do you prefer the versatility of a zoom lens? Do you like using a powerful camera like the X-T4, X-T3, X-H1, or a compact body like the X-Pro series, X100 series or one of Fujifilm's classic prosumer cameras? No matter what camera or lens you enjoy using, as long as you're having fun, that's all that matters. Digital or film, Leica or Fujifilm (or even Sony), just keep clicking. If you enjoyed this photo series, maybe I can do another one in the near future. Any suggestions for camera and lens combinations? Thanks for reading and happy shooting!
About Author