I, like many other photographers I know, have a little bit of a habit when it comes to camera bags. Couple that with the fact that I made the complete switch from Nikon to Fuji this year and you have a recipe for an ever growing collection of bags. There's a bag for large kits, a bag for minimal kits, a bag deep enough to fit my laptop as well when I need it. Each and every bag has it's purpose in my shooting. But, I've been looking for a bag that was really designed with the size of mirrorless cameras in mind from the outset for a while now. After several different options, I think I've found the one I love. It is the Think Tank Photo Retrospective 6.Flat, not Deep
One of the things that separates mirrorless systems from slr systems is the size of the lenses. Especially with APS-C mirrorless like Fuji, the lenses don't need to be particularly long. I have found that bags designed for DSLR systems tend to have very deep pockets for the lenses and body.
When it comes to the Fujifilm X Series, I tend to shoot mainly with a few select primes. These are generally a mix of the 16mm f/1.4, either of the 23mm lenses, either of the 35mm lenses, the 50mm f/2, and the 56mm f/1.2. In previous bags, I've had to wrap lenses in cloths and stack them on top of one another. This makes them difficult to get to quickly.
The Think Tank has a broad, shallow design. This allows the lenses to be spread out across a flat surface and gives you access to as many as you would ever need. With two bodies, you can also put 4 primes into the bag. With only one body, 6 will fit just fine.
The dividers are just the right to contain most of the Fuji primes without them bumping into each other, but leave just enough space on top in case you want to lie some additional equipment on top (like a flash in a pouch).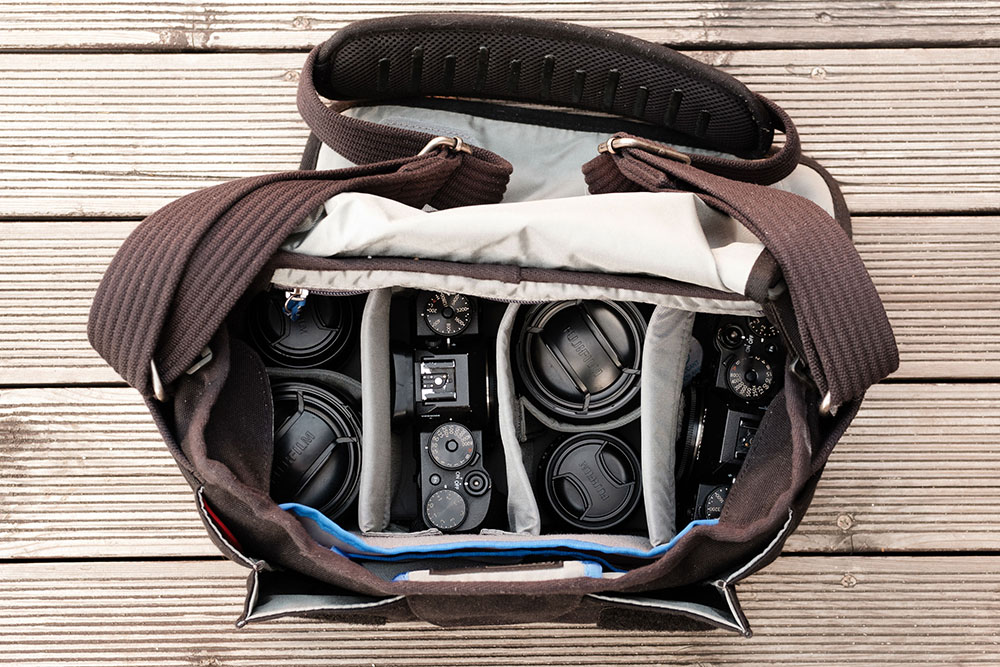 External and Internal Pockets
The pockets on this bag are varied and extremely useful. There is one large, extremely flexible pocket on the outside and under the main flap as is typical of Think Tank shoulder bags. The side pockets are more rigid, but still useful for storing extra batteries or other small accessories. The two internal pockets are have zips to keep things inside and are sized so that an 8" tablet will fit inside. Both of the front pockets also have straps with clips on the end to attach a memory card or battery bag.
The Strap
One of my favourite things about this bag is the strap. It seems strange to say that, but I've had so many bags with awful straps over the years. The shoulder pad has excellent grip, so it doesn't slip around on your shoulder. It's length is adjustable, and Think Tank's excellent metal adjusters keep the strap at the length you set no matter how much weight is in the bag. The best thing, however, is the ways it can be worn. Most shoulder bags make extremely uncomfortable messenger bags and vice versa. Not this one. It's comfortable both ways.
Sound Silencers
This is common on a lot of Think Tank bags, and it's genius. The main flap is secured with strong velcro, which also happens to be extremely noisy every time you open it. This is fine for some applications, but if you're shooting a wedding or a speech and you need to change lenses, the whole world will know you opened your bag. Thankfully, the flap has double folding covers for the velcro that allow you to cover it up. This means the flap can open and close freely, so you need to be careful, but it does make it absolutely silent.
The Cons
No bag is perfect, right? There are a few cons to this lovely little piece of gear that has won my heart.
Firstly, it has no laptop slot. Of course by adding this, the bag would become so much larger vertically. Having said this, a small tablet or foldable Bluetooth keyboard will fit just fine, so you have a couple of options if you need something larger to work on.
One other thing is that because of its shallow design, it doesn't accommodate the 90mm f/2 or the larger zooms. These need to be placed in a pouch and laid over the top if you want to carry them in this bag. This is no big issue for me, but perhaps if you're a 16-55 or 50-140 you may want to look somewhere else. You would have to significantly redesign the dividers or carry them on top of other lenses.
The final improvement I would like to see is a little extra padding on the bottom. This is the one bag I own where I feel conscious of exactly how slowly I lower it to the ground. And extra little bit of padding for peace of mind would be great.
In Conclusion
If you're a Fujifilm X Series prime shooter, this is definitely a bag I would look into to see if it fits your needs. For me, it's been an almost perfect fit for every situation and I can't recommend it enough. How about our FujiLovers? What's your go to bag?
About Author