Back in 1992, Konica released a quirky 35mm film camera called the Hexar. It was an all-in-one non-interchangeable lens point-and-shoot, but it wasn't compact, and it wasn't meant for beginners. Many magazine editors and reviewers argued that even though the lens wasn't interchangeable, it didn't automatically make it a point-and-shoot camera. The Konica Hexar was a controversial camera for its time but within the premium point-and-shoot camera category, it held its own against cameras like the Contax T2, Minolta TC-1 and Nikon 35ti. What does this have to do with the Fujifilm X100V? Unlike the Hexar, the X100 series has been universally loved by most gear reviewers and photographers alike since its launch back in 2011. However, when it comes to categorizing the X100 series, like the Hexar, it's hard to compare it with any other camera on the market. It's similar to the Leica Q because it's a large sensor non-interchangeable prime lens leaf-shutter equipped camera, but so is the Ricoh GRIII. Is it a good thing that the X100 series is difficult to categorize, even within the Fujifilm ecosystem? In addition, because the X100 series has always been so different, is that one of the reasons for its success? Finally, as we look forward to the sixth generation X100 series camera sometime within the next two years, how can Fujifilm engineers improve on this almost 'perfect' camera?
First of all, looking back at all the point-and-shoot cameras available back in 2011, including Fujifilm's own lineup, I wouldn't have imagined the X100 series would be on its fifth iteration 11 years later. Canon, Olympus, Panasonic, Sony and Nikon all had great compact point-and-shoots, but most of these camera lines are gone, never to return. Even Fujifilm has discontinued its fair share of point-and-shoot cameras, including the XF1, XQ2, X30, X70 and XF10. What is it about the X100 series that made it so different? Sensor size is one reason but it's not the only one. Design language is one of Fujifilm's biggest strengths and the X100 series has always stayed true to its film-like design and control features. By including a traditional aperture ring, manual focus ring, front filter thread, shutter speed dial and embedded ISO dial (since the X100F) Fujifilm applied 50-60 years of tried and tested camera functionality to a modern digital camera. In a sea of digital cameras with mostly menu- and often cluttered button-driven controls, Fujifilm decided that photographers were looking for a more tactile experience while interacting with their digital cameras. Creating useful film simulations that Fujifilm still made (at least at the time) added to this film-like experience for photographers.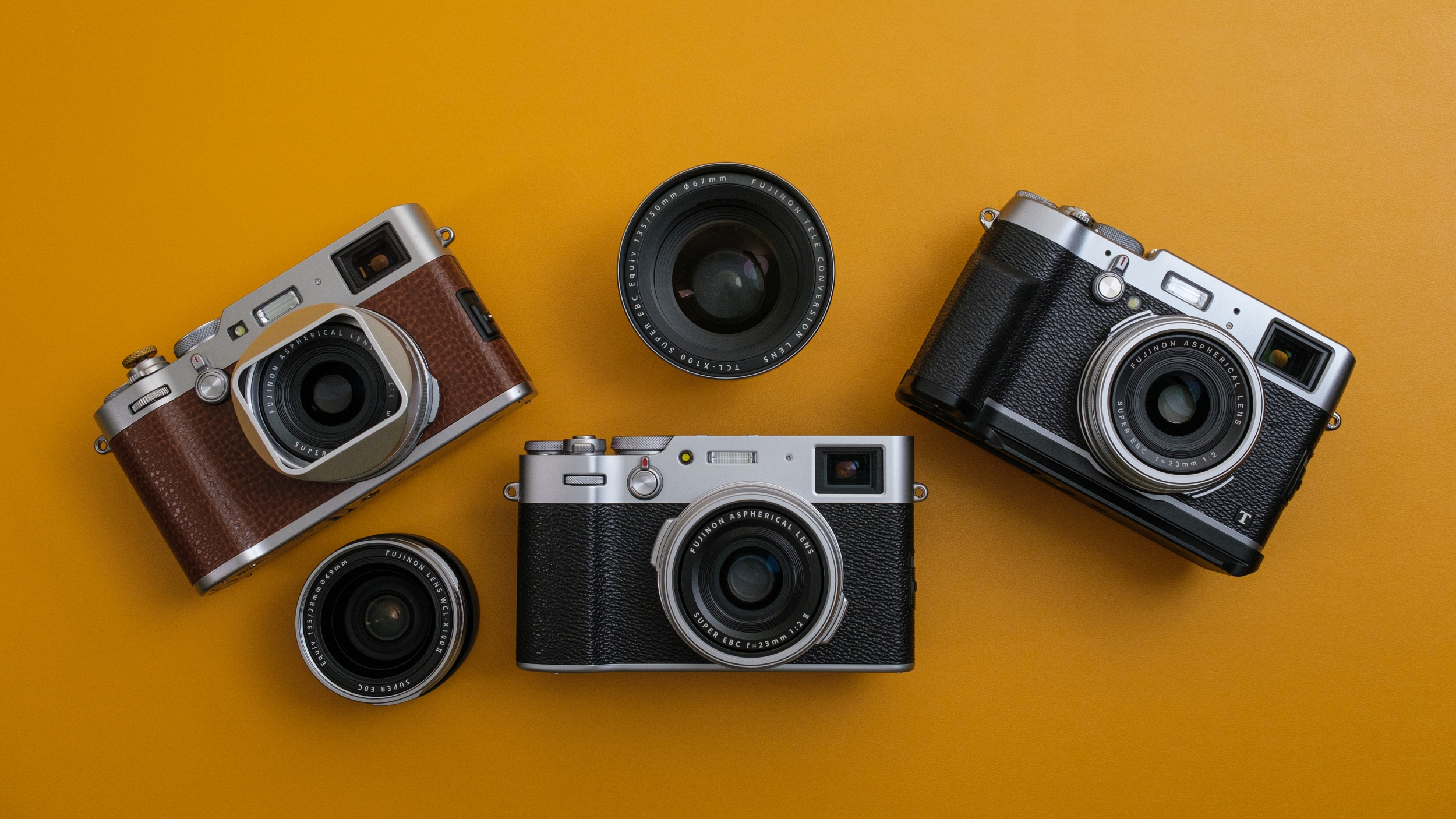 However, Fujifilm couldn't ride on the wave of nostalgia forever with the X100 series. Over each generation, Fujifilm improved the camera's autofocus system, processor, metering, battery, the hybrid optical and electronic viewfinder, video features, menus, film simulations, accessories, etc. Although the new X100V looks similar to the very first X100, these are almost completely different cameras. The new X100V has reliable autofocus, a powerful processor, 4K video capabilities, an articulating LCD screen, a high-resolution EVF + LCD and is finally weather-sealed (with the addition of an adapter + lens filter). How popular is the new X100V? It's been out for two years and it's still difficult to find new in some regions (B&H is currently out of stock as I type this).
When the X100V first came out in February of 2020 I wrote an article on Fujilove about the divergence of the X100 series design from the X-Pro series. Although I loved all the updates to the new X100V, I decided to keep my older X100F and went with the X-Pro3 instead. Since then, I tested the X100V on and off for the next two years but I could never fully get into it. On a recent trip to Germany back in November, I took the Leica Q2, Ricoh GRIII and X100V with me to see which of the three cameras I would use the most. Of all these cameras, the X100V was the most well-rounded camera, with strong stills and video capabilities. However, the test wasn't fair since I also brought the new iPhone 13 Pro and GoPro Hero 10, negating the need for the X100V's video capabilities. In the end, I didn't shoot a single frame with the X100V while in Germany. I preferred the full-frame sensor and wider field of view of the Leica Q2 or the super-compact and stealthy GRIII, with both cameras having some sort of internal stabilization. However, my cousin loved the X100V, carrying it with her for the next two weeks while we traveled all over Germany. Yes, many non-Fujifilm shooters love the X100V (my cousin produces TV shows and uses all Canon gear for work).
A few months ago I decided to give the X100V one last try as my do-everything EDC (everyday carry) camera. Over the past 30 years, I've always kept a camera on me at all times, usually a compact point and shoot. These were always capable cameras but not necessarily flexible enough to fulfil all of my photographic needs.  The X100V would be different, as it could pretty much do everything I needed. I would use it for my street photography, client work, portraiture, video work, as well as my primary vacation camera. I've embedded enough photos in this article to give you a good idea of what you can do with this powerful little camera. After a few months with this unique camera, including my recent vacation to Whistler, here are my pros, cons and my wish list for the next iteration of the X100 series.
Pros
well designed and functional photo-centric camera
not pocketable, but small enough to carry around all-day
unique hybrid optical and electronic viewfinder system
unique combination of features and functions with no direct competition
sharp 23mm f/2.0 lens (35mm equiv.) with leaf-shutter design (quiet with high flash sync)
physical dials and buttons, including front and rear control dials with push-in feature
proper aperture and focus ring on a pancake-like lens design
built-in 4-stop ND filter plus effective electronic shutter for shooting lens wide open
threaded shutter release with integrated on-off dial
adapter to add filters, lens hoods and two converter lenses (WCL-X100, TCL-X100)
flush articulating screen to keep the body design slim
mostly weather-sealed design (add optional adapter and filter to front lens for full WR)
decent video capabilities (DCI 4K 30fps 200Mbps, F-Log, HDMI output, microphone input)
webcam capabilities with X Webcam V.2.0 support
Made in Japan (premium line)
Cons
autofocus is not as fast as X-Mount camera bodies and lenses
lens is still a bit noisy while autofocusing
too much delay between shots in single-frame mode, most likely due to UHS-I card slot speed
battery and card slot share the same bottom door
only single card slot
Q-button is too small
lack of proper thumb grip and shallow-slippery front grip
I/O is on the wrong side (grip-side) of camera
AEL-AFL button is too small
diopter does not lock
tripod thread not centred to the lens (for stitching, access to battery compartment)
Wish list (for next generation)
IBIS (it's possible with further miniaturization)
update to NP-W235 battery (there's enough room, I've checked)
fully weather-sealed lens without the need for an adapter + filter
deeper front grip and rear thumb rest (similar to X-Pro3)
dual card slot on the side (UHS-II please)
18mm or 35mm version
 limited-edition titanium finish
don't remove any more buttons or dials!
return the D-Pad (won't happen)
move I/O compartment to the left side (is it possible with internal architecture?)
New converters: WCL (16mm?) and TCL (27mm?)
bring back EF-X20 flash or another matching compact flash
After shooting with the X100V for the past few months, my thoughts have not changed. This is one of the most enjoyable and capable photo-centric cameras on the market. Unlike a systems camera, any photographer using any other system can easily justify and incorporate the X100V into their ecosystem. I know many Sony and Canon ILC photographers and videographers who have the X100V as part of their kit for vacations, snapshots or, if needs be, for serious photography. As mentioned above, the camera isn't perfect, but with each new iteration, Fujifilm has made significant improvements. For the next generation, IBIS will be important (the Leica Q2 and Ricoh GRIII already have internal stabilization), as will WR and an updated battery. I would love to see a titanium version, dual card slots, improved ergonomics and updated converter lenses. However, even in its current state, the X100V is a great value proposition while having no real competition. It's unique, stylish and powerful, and there's no other camera quite like it. Let me know down below your thoughts on the X100V or any X100 series camera. Are you from another camera system but still own the X100V? Do you own both an X-Pro and an X100 series camera? Do you use the X100V as a vacation camera, a backup camera or is it your main photographic tool? What do you hope to see in the next iteration? Thanks for reading and happy shooting!
About Author