Back in the obscure era of DSLRs I wouldn't have even thought about acquiring such a thing as a half case for my camera. I was not even aware such thing existed. My Nikons and Canons were so big that adding an additional layer around them didn't seem like being a good idea. The cameras also felt sturdy enough, ready to take the hardest hits. Since my switch to mirrorless and to Fuji X system, using half cases for my cameras has become the most natural thing I can think of. The cameras are smaller, more fragile. They need a warm coat and – let's be honest – they look much more sexy in those elegant leather cases. Today I want to tell you about one of them – the X-E1/X-E2 half case by the Portuguese manufacturer Nucis Leather.
I got aware of Nucis Leather (www.nucisleather.com) a couple of months ago, when I noticed somebody posting an image of one of their products in a Facebook group. As I was on a search for a nice case for my X-E2, I decided to give their products a closer look. I contacted the owner of Nucis Leather, Fernando da Silva and asked what he could offer me for my X-E2. Fernando, being himself a photographer and knowing very well what it means to hold and operate a Fuji camera in all possible conditions, turned out to be a really friendly guy. He sent me a pre-production copy of the X-E1/X-E2 leather half case he was at that time working on.
After a couple of days the case arrived at my place. After putting it on my X-E2 I immediately noticed that the right back side of the case was obstructing the right cursor button of the camera, making it really difficult to press. I wrote Fernando about it. In a couple of days I received another copy – the problem didn't exist anymore.
Nucis Leather X-E1/X-E2 half case is a beautiful, elegant product. Made of genuine leather chosen from certified Portuguese providers and sewed by hand with the water resistant waxed line, the case looks (and smells!) really good.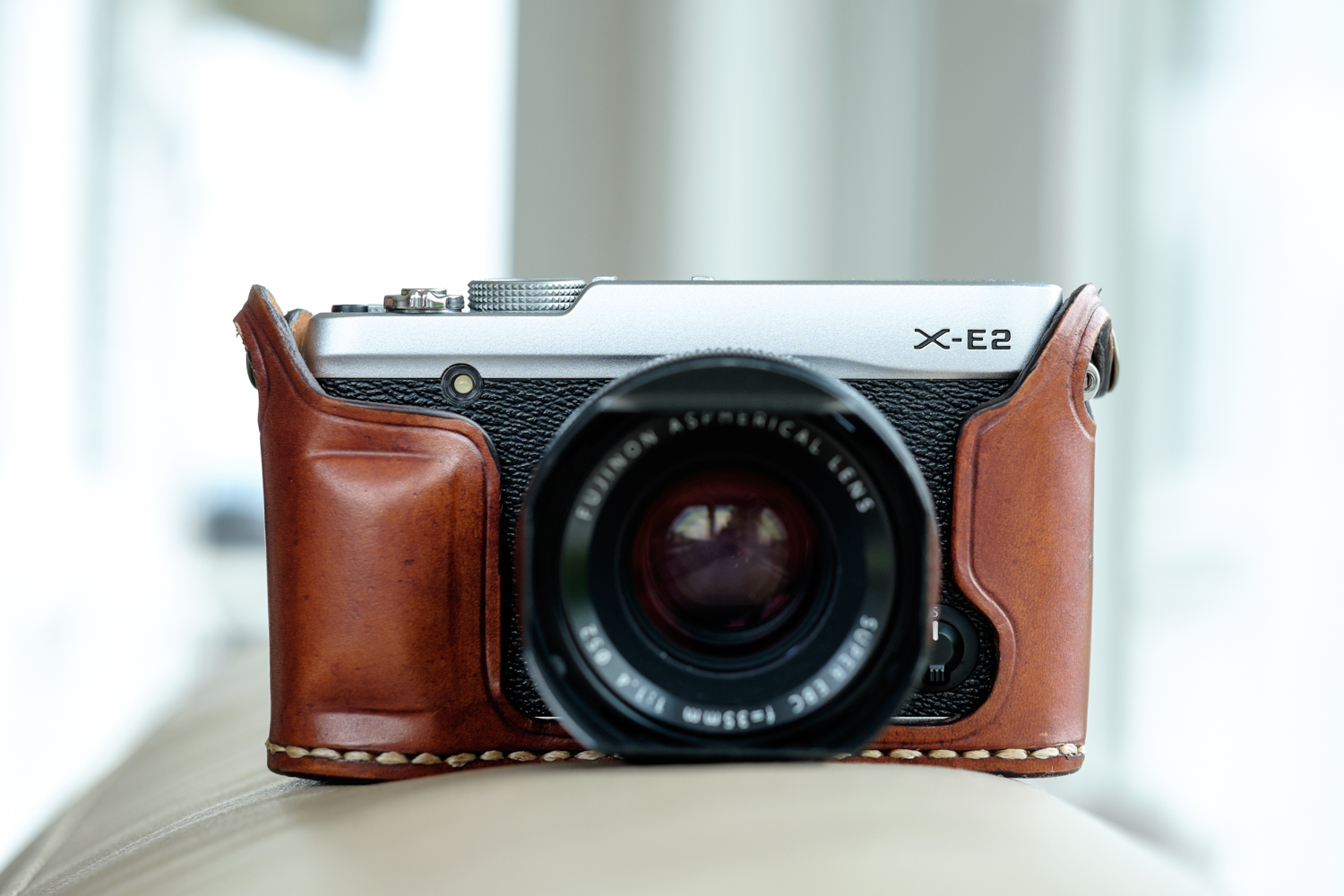 The case fits the camera body perfectly. At first I thought that it was a little bit on a loose side and I was a bit afraid that it would slip out of the camera. During four weeks of having the case on my X-E2 it did not happen even one single time. No worries here.
You have a comfortable access to all the buttons and switches on the top, front and back of the camera. Also the bottom side of the case allows you an unobstructed access to the battery/memory card compartment, as well as to the tripod mount screw.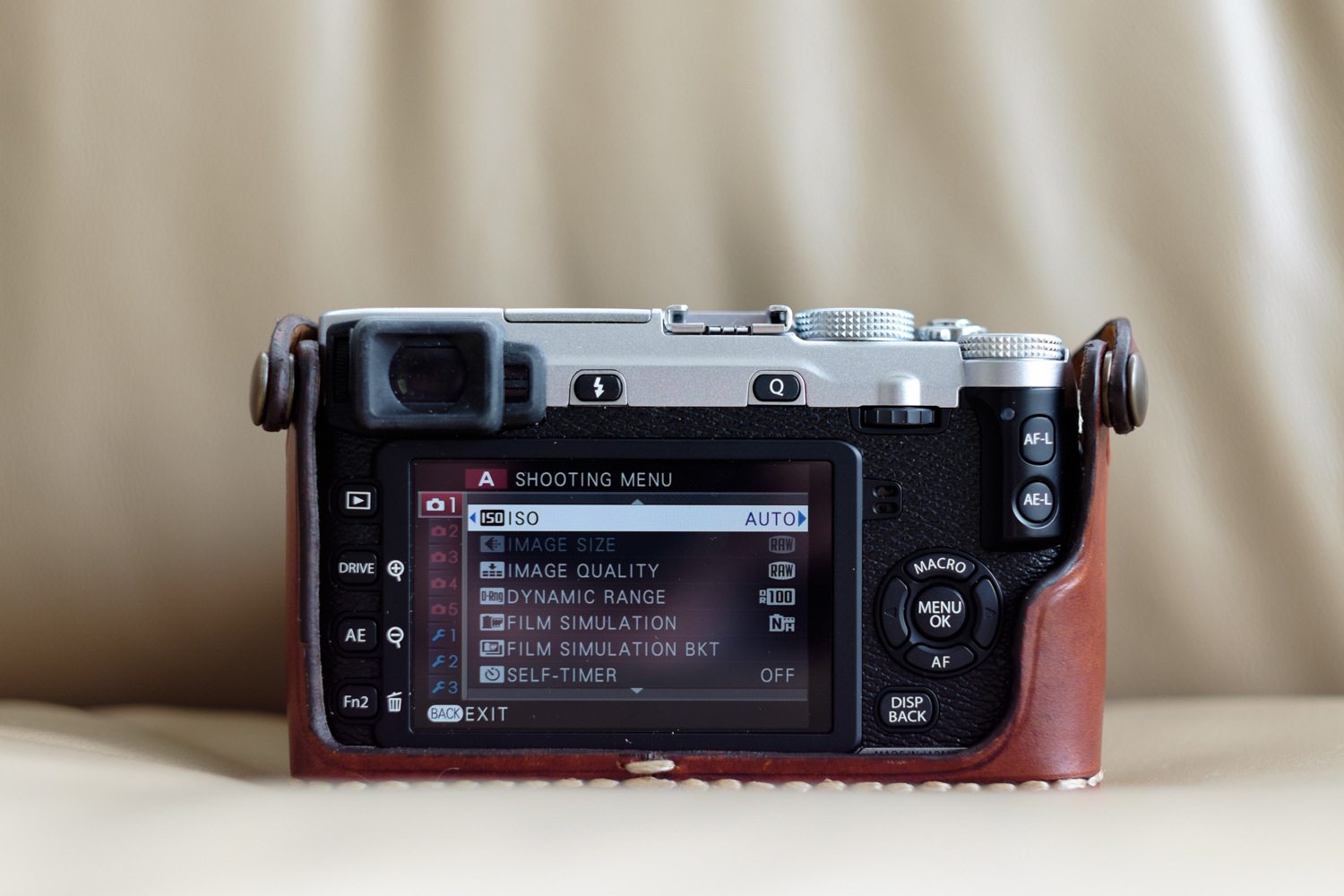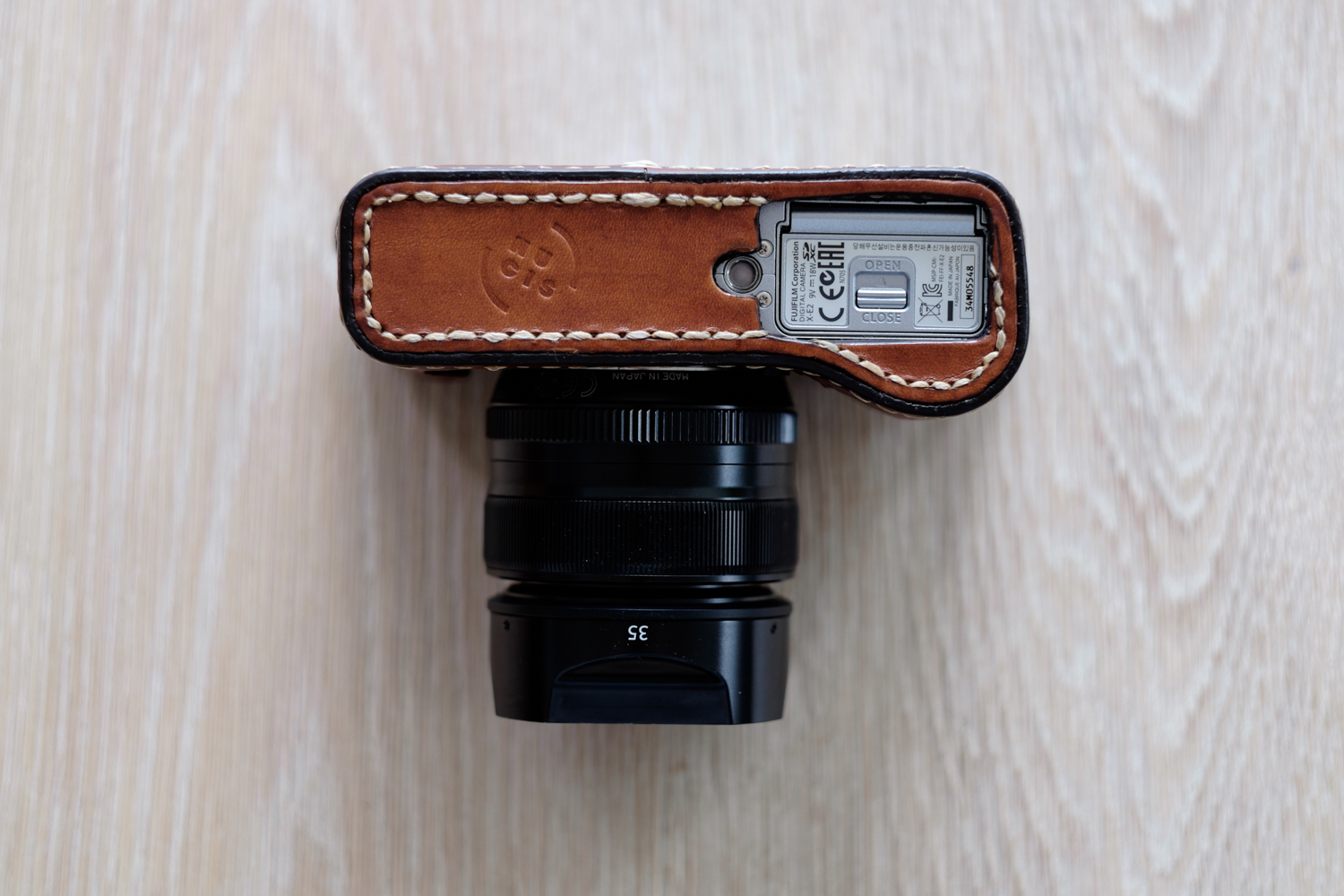 In order to attach a tripod plate you will need a separate Tripod Screw Adapter, which you can order directly from Nucis Leather for additional 6.00 EUR.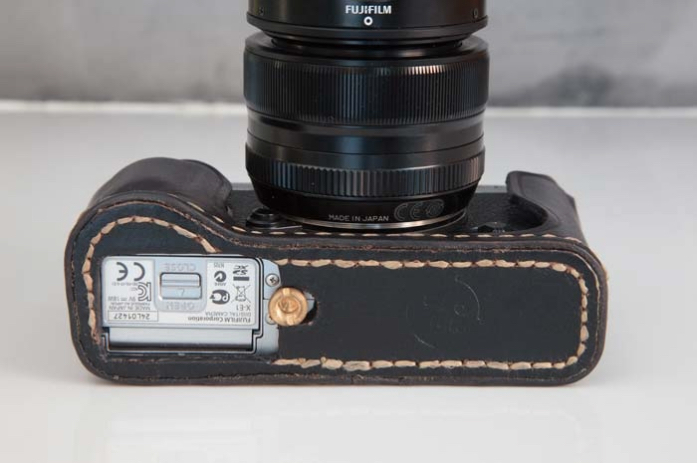 Holding the camera while it's sitting in the case is really comfortable, it fits my hands even better than when I am not using it. It also feels more safe when I am holding the camera just with one hand. On the front right side of the camera the case has an articulated, bulged grip, which really adds a firm, reassuring feeling of having the camera "under control".
On top of everything else: this half case really looks lovely. It nicely fits the retro design of X-E1 and X-E2. It happened more than once that people, even those not into photography, complemented its looks.
I was supposed to send the case back to Fernando after reviewing it. But I guess he has just won another customer! I am buying this case. My X-E2 feels too good in it.
You can order the Nucis Leather X-E1/X-E2 leather half case directly from the Nucis Leather online store HERE. Use a special coupon code FUJILOVE and you will receive a 10% discount!
The case comes in a couple of color variations (black with red stitches, black with white stitches, brown with white stitches and hazelnut brown with white stitches) and costs 142.00 EUR.
About Author