A few years ago, around the time I was starting to get more interested in photography, a friend gave me a lens which she had found on the street, set out next to the recycling bin for someone to take. It said "CANON LENS 50mm 1 : 0.95". Green as I was, I knew that ƒ/0.95 was out of the ordinary. I looked into using it on my old Nikon D70 but the options seemed to be either to get an original Canon rangefinder or to have it adapted to a Leica M mount and buy a Leica – all more money and hassle than I was willing to go through at the time. So it sat in a drawer.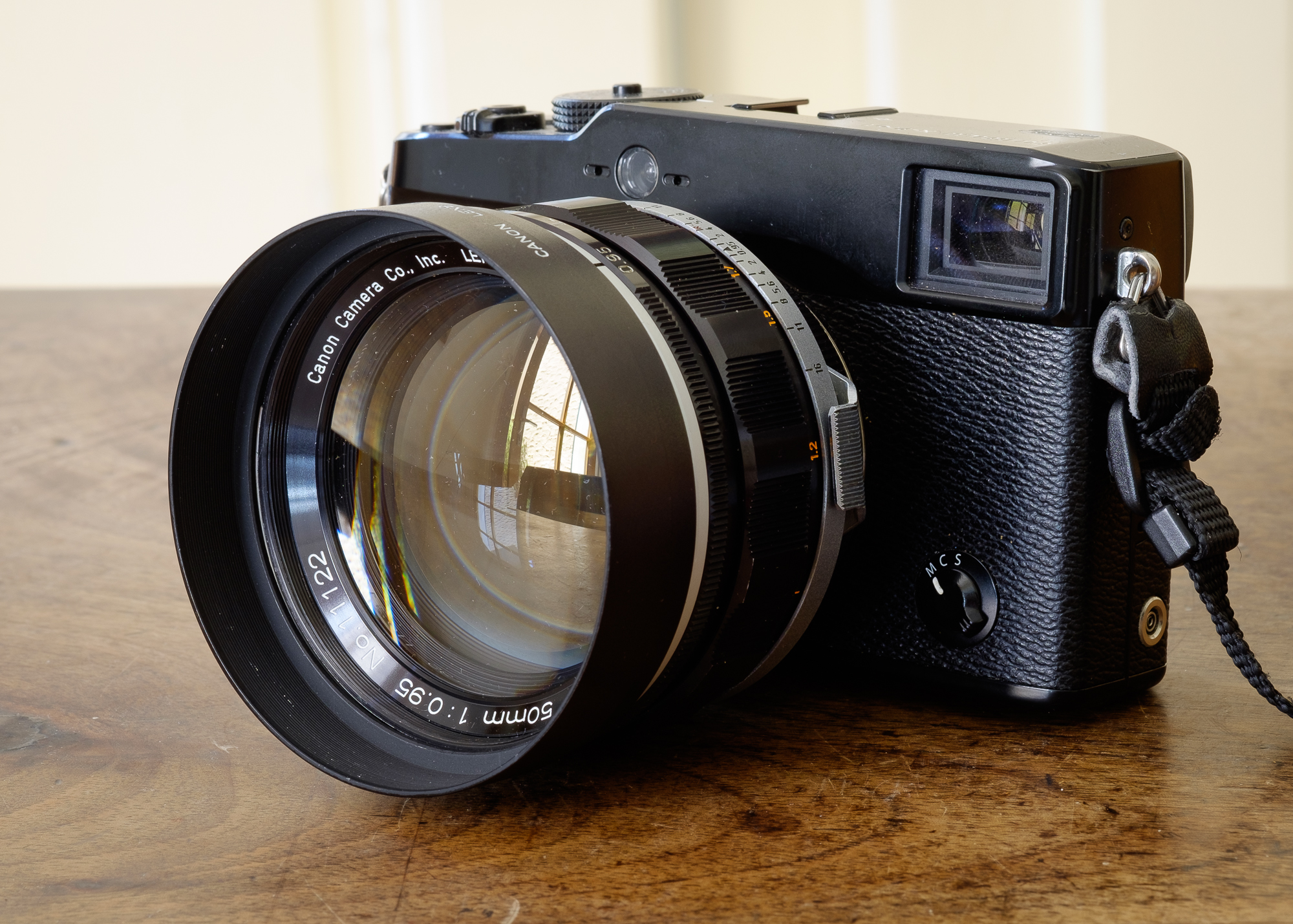 Recently, I was showing a friend the FUJINON 56mm ƒ/1.2 — having switched to a Fuji X-Pro1 and then an X-T1 a few years ago — when he started telling me about a fabled Canon "Dream Lens". "Oh," I said, "I have one of those," and pulled it out from the back of the drawer it had been sitting in. Inspired to see about using it again, a quick search through some forums led me to a Fujifilm X mount adapter on Ebay and 98 dollars later I finally had a usable "Dream Lens" in my hands.
THE LENS
My lens is in great shape considering it was left out on the street without either cap, although the original lens hood was with it. It weighs a ton and still surprises me when I pick it up. Like the gingko tree, it could probably survive an atomic blast. It focuses smoothly except one small area where it chokes up a little.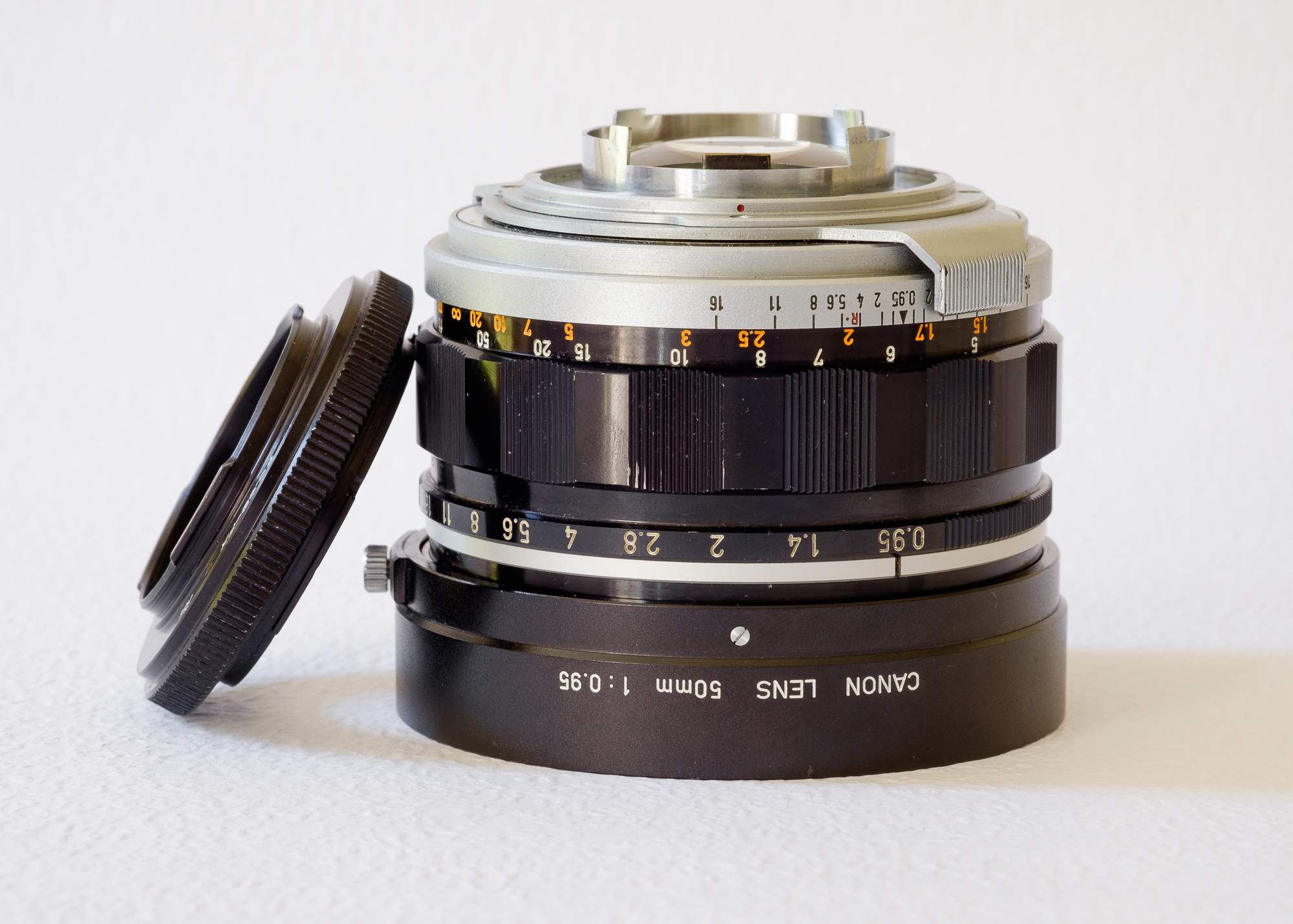 Using it on the Fujis (both the X-T1 and X-Pro1), the crop factor of the sensor makes the field of view approximately that of a 75mm lens, turning it into a short telephoto.
I had been going to dedicate my X-Pro1 to it for a while, but have ended up using it more often on the X-T1, as its fast electronic shutter avoids having to use an ND filter when it's shot wide open in bright light.
The lens has taken some getting used to. Focussing at ƒ/0.95 can be tricky given its shallow depth of field and softness (or "glow") wide open. But using peak focussing, and with practice over the last few weeks, I've started to get it a little under control.
These days, it's one of my favorites.
RESULTS
It can be quite sharp when you get the focus right.
Of course, sharp detail isn't necessarily what you're looking for.
Or necessarily any real detail at all.
If you want flare and ghosting, it can certainly do that.
But you can also get a nice clean image.
It is sharp stopped down, although no one is buying them for that of course.
Bokeh circles, however…
COMPARED TO THE FUJINON 56MM f/1.2
As the focal length and maximum aperture are similar to the FUJINON 56mm ƒ/1.2, they make an interesting comparison. Here are two pictures which give an idea of the different characters of the lenses.
THE ADAPTER
I bought the adaptor from Ramir73 on Ebay and I'm grateful someone is filling that niche. It's well made, solid aluminum as best I can tell, with a black finish. The fit to the lens is good (and it apparently works with both the TV and RF versions which Canon made). There is a little play on the camera end. More than I'd like, but not enough to really get in the way of using it.
PROCESSING
All of the photos here have had some processing in Lightroom, generally the Astia profile and increased contrast (Contrast, Blacks, and Dehaze adjustments).
IN SHORT
If you're not lucky enough to be gifted one of these or to find one in the street, they sell for a few thousand dollars on Ebay. Whether it's worth it depends entirely on your taste of course. You could buy several FUJINON lenses for the same price. All of the Fujinons I have are excellent and I use them daily, but this lens occupies quite a different niche with its beautiful impressionistic softness and idiosyncratic character.
About Author