In search of something fast and different for after dark fun, I took a ride or three out with the new Sirui Nightwalker T1.2 cine lens. Here's how our late-night dating panned out.
Was I out of my depth? Or was I just out of my depth of field? Dark, dreary and wet, and probably not what you'd expect in the tropics, but it's a regular occurrence during the rainy season. I had braced the comparative chill and gloom for good reason, and I was on a mission. There I was standing out like a big, tall white thumb in the back of a dimly lit Asian village marketplace, fumbling and trying to figure it all out. How was I going to get to grips with this ultra-fast Sirui cine lens despite the frustration that was fast setting in? Could I break it in? Or would it break me?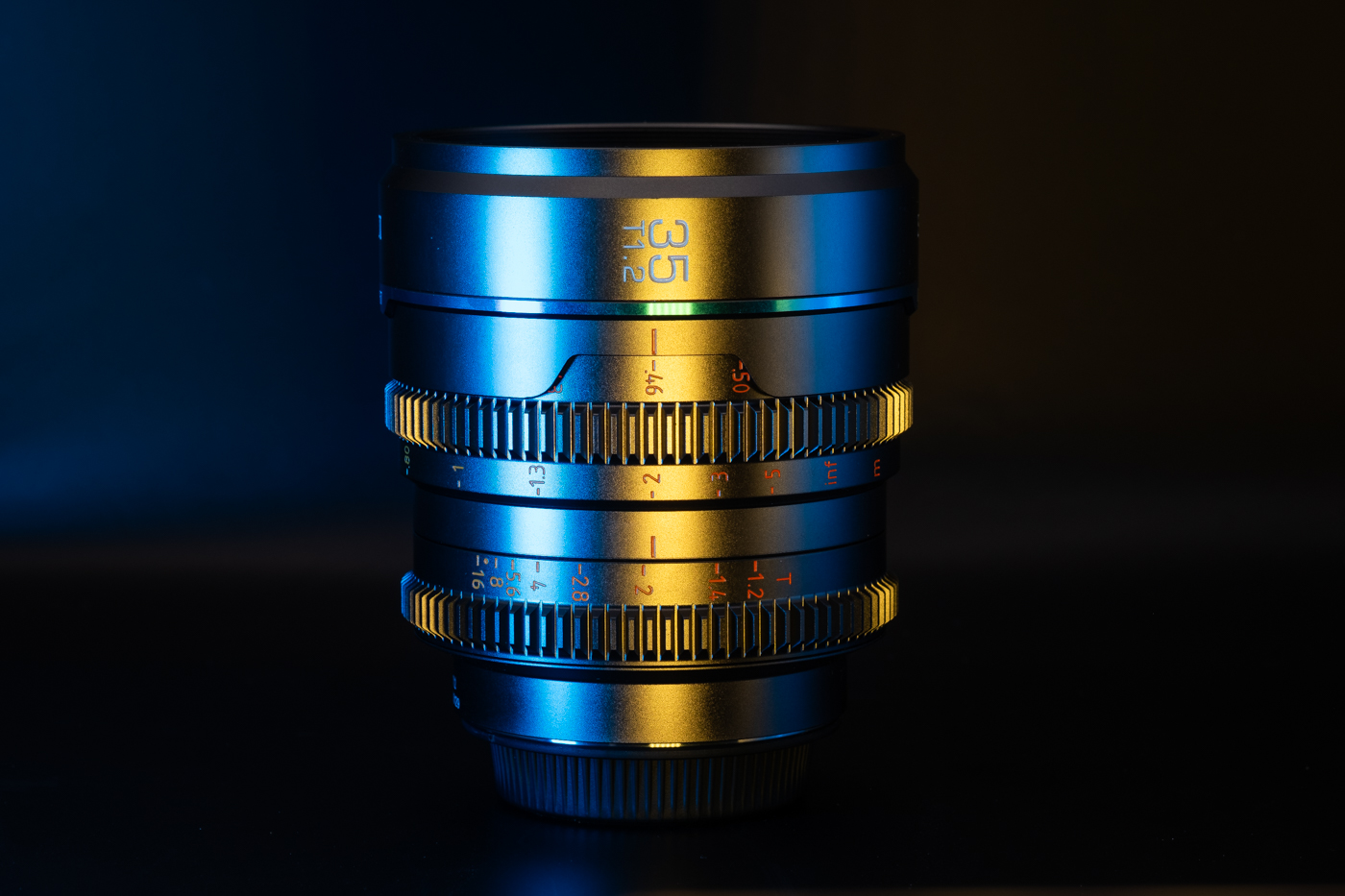 So, there I was just about to write my FujiLove column for July about my experiences of a month of shooting after dark in Cappadocia, Turkey and on skipping through the images in close detail, I checked the file metadata and remembered that I'd left my beloved XF60mmF2.4 macro lens at home, and in doing so I also reminding myself that I still hadn't quite got the taste for my XF35mmF2, although it does now live on  my IR camera most of the time.
During this process I got to thinking how much I'd like to get back on the local streets again after dark but I also wanted to do things differently somehow. Yes, I do know that Fujifilm have some lovely new fast primes that are ideal for night shooting but I cannot really justify that expense. There are also a whole bunch of fast, cheap (and potentially cheerful yet also potentially cheerless) third-party primes out there, too, but I just couldn't get myself to go that route, at least not yet.
Somewhere during this pondering, I guess I must have been looking online at affordable fast lens options, and thus good old intrusive Google/YouTube and it's unwelcomed AI spies had rapidly picked this up on this and passed my personal thoughts on to Instagram, wherein within minutes an ad for the (then) soon-to-be-released Sirui Nightwalker series of cine lenses came up. I have to admit, it was the Nightwalker name that grabbed my attention and the T1.2 added to that, although I didn't fully understand T stops and cine lenses at the time (and still don't fully), at least not beyond the premise of being fast. Could this be the unholy grail I was seeking out on a whim?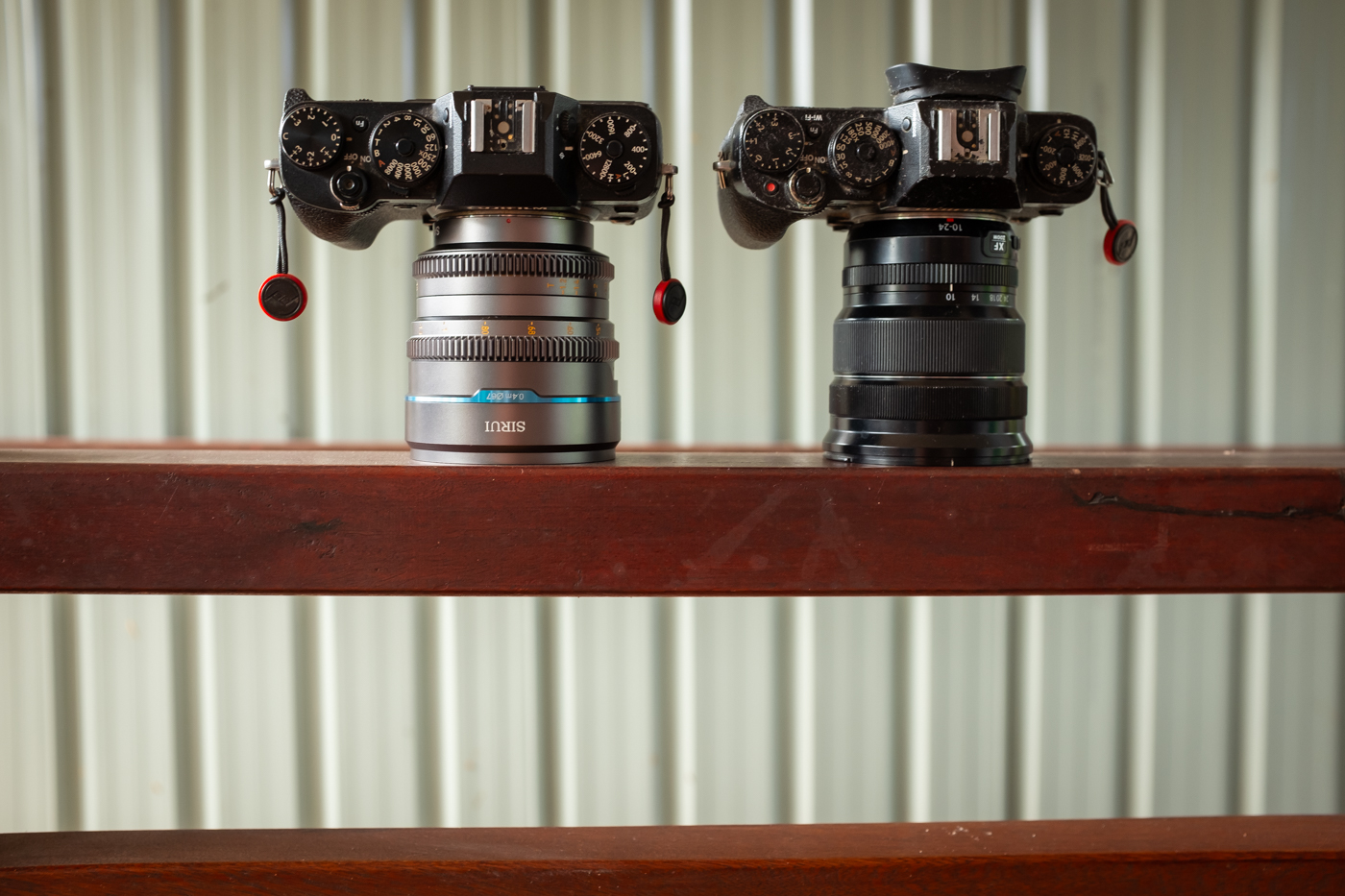 For some time, I'd had an inkling towards the Sirui anamorphic lenses, which seemed to be unusually good value, and so was well aware of the brand and their ever-increasing range of lenses. After seeing the Nightwalker ad, I got in touch with them and managed to get a sample of their 35mm Nightwalker for my after dark project. The cine lens research and learning curve came a little further down the line – and it certainly was fast, steep and quite enlightening. With openly being no expert when it comes to cine lenses, I will do my best to give a brief overview of them and their relevance to stills photography, as well as running through my own experiences with the Sirui lens.
Cine lenses and stills
Needless to say, by being labelled as 'cine' lenses, that is what they are primarily designed for. Though, in my very limited experience, that certainly does not mean that's all they can do – far from it. Cine lenses and their speed are measured in T stops, which is basically a very accurate aperture rating, as opposed the closely estimated aperture values we get on a regular photographic lens (which can differ slightly from lens-lens), meaning that you can be very precise with their DOF. This is very important with quality video/film production, where you may well swich between different lenes and need to be sure your DOF and the look are uniform, which is why many manufacturers tend to make their cine lenes in sets, such as this new Nightwakler series, which has 24mm, 35mm & 55mm T.1.2 lenses, which are all virtually identical in size and spec, thus meaning they handle the same and are intended to produce the same aesthetic. This is, of course, less important to stills photographers.
Cine lenses are often (but definitely not always) primes with manual focus and by their nature are often designed to produce characterful images as opposed to optically perfect photographs that many of us seem to strive for these days. They also usually have smooth and click-less aperture rings, and very long throw and smooth focus rings (ring rotation is 270° in this case). These rings enable you to pull focus smoothl, but they can take a little getting used to as a stills photographer, especially if you are not used to manual focus and using the aperture dial.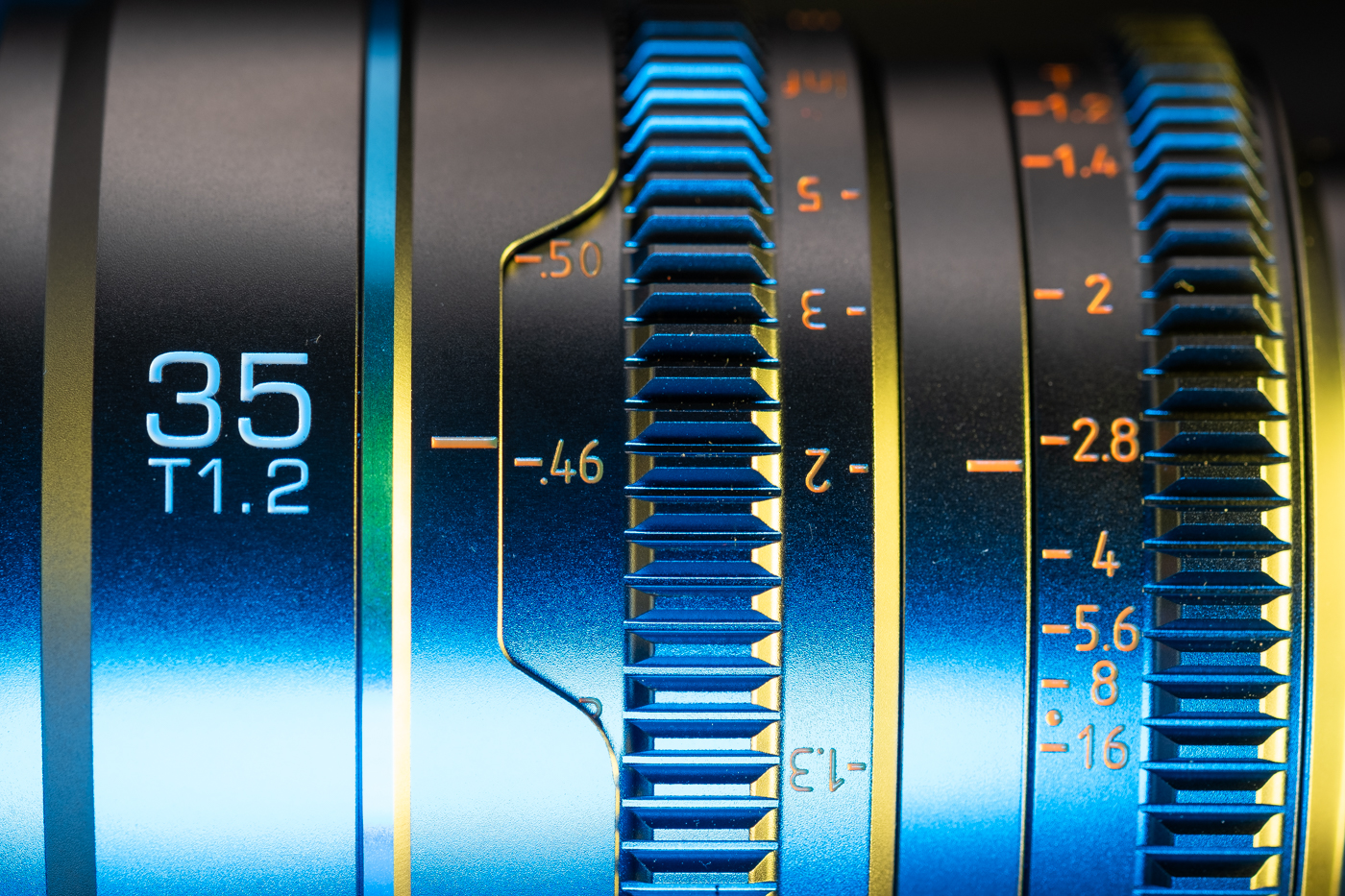 This particular Sirui lens has a T1.2-T16 aperture range, although I would estimate (after using it) that this would be closer to a relative aperture of f/1 on many fast primes out there. Weighing in at a snip over 500g, standing 83.7mm proud and with a filter size of 67mm, this lens is similar in stature to the original XF10-24mmF4 lens and is only around 20% beefier in weight. The lens has a very durable mental/aluminium based construction and ED glass (designed to reduce light refraction), and comes in black and gunmetal grey. The build quality really is excellent, far beyond what you might expect of a $349 lens of such spec.
The learning curve
After committing to giving this beast a rumble I had read that cine lenses were tricky things – slippery customers when it came to snaring focus and not really made for stills photography, which was my intent and was perhaps an even bigger pull towards this newly released lens over a regular photo lens. If any of you do follow my work or my rambles here, you will know that I do like to wander out after dark and shoot on the streets, sometimes all ride and gun from the seat of a motorbike and other times run and gun of foot, depending on where I am and what the circumstances are. Although I don't actually consider this is classic street photography, I do always prefer to remain candid and fast with what I capture, which is not always possible in Asia where people do tend to give you that classic reverse V sign and grin when they see me – a true photographic passion killer.
Stepping back to that minor moment of market panic, and ironically it wasn't actually focus that was proving the issue, it was nailing the exposure without being able to see anything beyond the in-camera data on the EVF, which is the case with most third-party lenses. For a split second I thought of heading home and spending some quiet time alone with the lens to see if we had any future together, but it had stopped raining and the roads were slightly wet (which I'd been waiting for), so I drove down the road and stopped beneath a streetlamp to see if we could start our evening out afresh.
By starting with more tranquil scenes and then building up, I soon got to grips with the lens and the whole process was somewhat involved but in a good way. This old dog was indeed learning new tricks and the night went on for much longer than planned, veering off on my usual tangents. such as pushing it to f/16 for a bridge-propped long exposure. Naturally, the bridge vibrated and the boats do move, of course, during a 30-second exposure (and I can do nothing about the power lines) so I wasn't expecting much, but I was pleasantly surprised with the results. Over the course of the following week, I went out every night, rain or shine, just to push this lens and its fast T stop and to get to grips with it, which I think I did, at least in nighttime photographic terms. The daytime has still to dawn on the lens for me.
Results and learnings
This lens is designed for affordable run-and-gun filmmaking and, despite not being a red button pusher, I can fully see how it would fit very well into that slot and it may even lure me into cracking my video phobia in the near future; it has certainly given me ideas. It's not the smallest or lightest fast prime lens out there in still photographic terms, although in cine terms it is small and nimble, and for the quality and versatility it could offer a hybrid user, there is great reward to be had, both in video and still capture terms, although it is fiddley to initially get to grips with for a stills-only shooter.
As for the focus 'thing', personally (as a regular back-button and manual focus user) I had few issues when using the red focus peaking as a guide and then with the zoom focus aid if I was shooting wide open. Do remember that when shooting T/f1.2 on any lens, the focus plane is extremely narrow and so can be hard to nail to perfection. Exposure took me a while to grasp and I ended up setting a manual ISO (which I always do) and then shifting the shutter speed according to the shot and controlling the final exposure with the aperture ring, which may seem strange to some, yet it worked a treat.
The thing that did really take some getting used to was the huge twist between T1.2-T2.8, which is followed by a comparatively short twist between T4-T16, but that was just a matter of getting used to it when compared to a regular photo lens. I did run through the various apertures in many situations but as I usually do with my photography lenses, I shot many of the night images wide open depending on the scene. Doing this  enabled me to keep the ISO lower than I would with the other lenses I own, which may not be important to some but it is to me.
Using a manual cine lens is certainly not the fastest way to go about run-and-gun night street photography and for most pure night stills-only situations I would still choose a fast prime. There's also no quibbling that when it comes to still photography, a cine lens demands more involvement at first but I found the experience and the results well worth that short but steep learning curve and quirky compromises along the way.
I really don't want to dip into the clichés of flaunting those hot words of 'cinematic' and 'bokeh', but what I will say is that this lens does and can do things that you would struggle to or be unable to do with a regular photographic lens. It may not give edge to edge sharpness perfection at T1.2 but, really, does any fast lens when wide open, unless it's one of the really top-end lenses? Plus, that's something that I rarely, if ever, look for and after flipping through a few of my film images lately, I do often wonder if digital sharpness has become a little too much in recent years.
From amazing and dreamy 'sun stars' at below T4 to that distinct film-like character, I really appreciated the feel and look of the images I got out of this lens, and even more so the involved learning experience we took on together. By its very nature this lens does seem to unintentionally lend itself to Fujifilm cameras, especially the older models. It has charisma and personality – a rare commodity in modern digital times – and it will surely find unique slot in my work on those special occasions.
Do check out these lenses here and use discount code FUJILOVE for 5% off.
Please note that the images from the lens were cropped to 16×9, as it seemed appropriate, and metadata is limited to that from the camera body only.
About Author