As I am a nature- and landscape photographer, I chose Northern Germany's largest bird migration area for the first outdoor shooting with my new Fuji  XT-1. For realizing my photographic vision in black & white, I needed bad weather creating a homogeneous background, plus high shutter speeds, as the subject of my choice, namely goose, is constantly in motion.
To bring my vision perfectly on the picture, I used Macphun's b&w tool Tonality Pro. I wanted to create a strong High Key effect, with the challenge of having many bright white areas – without increasing the contrast. This would cause blur, what is part of the photographic idea.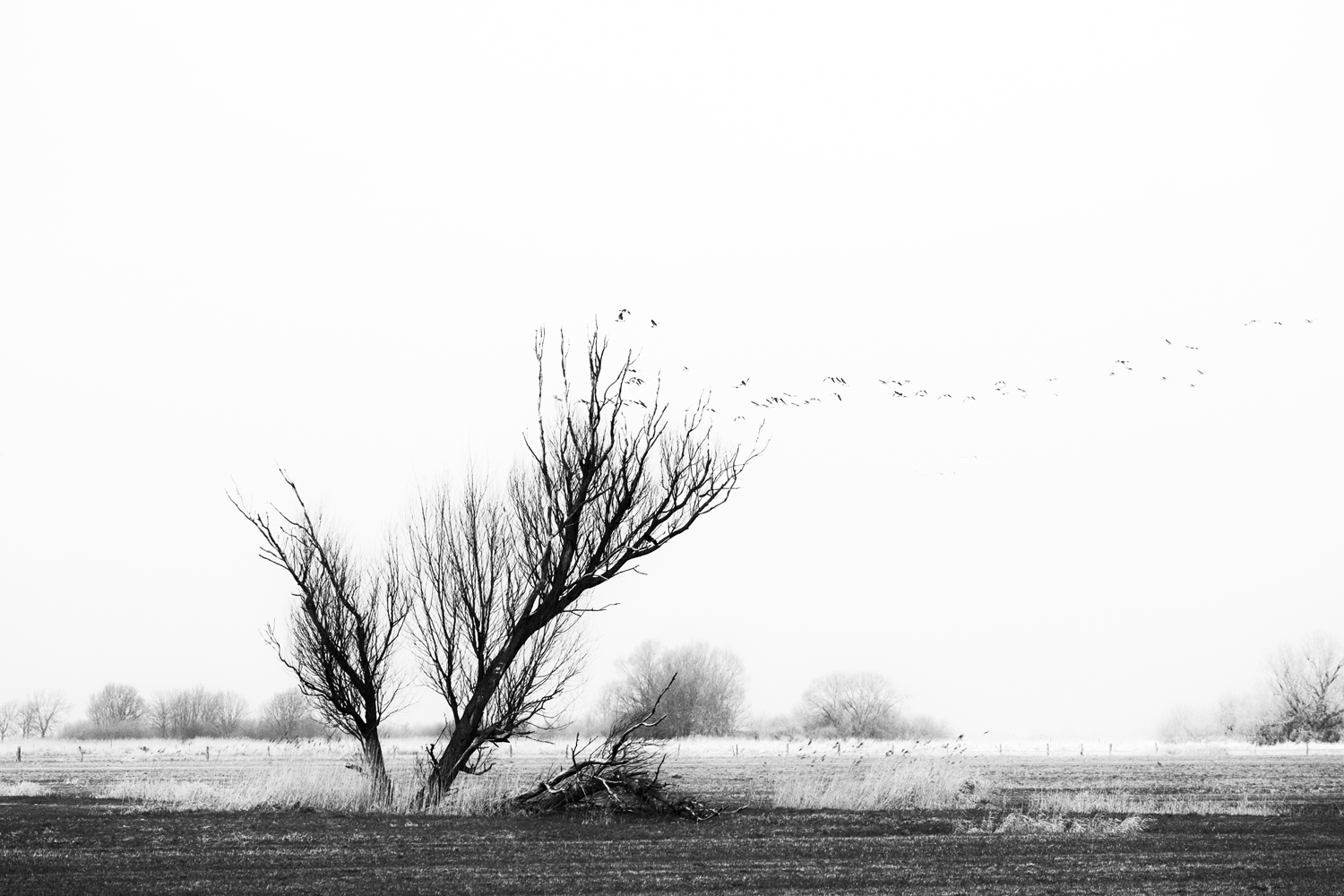 Early March, FUJIFILM School workshop "Migratory Birds Photography" took place, and I had the honor of being the trainer. To my pleasure the weather conditions were just perfect for my project: Rain, fog, no contrast – all grey in grey. No need to say the participants were a little disappointed at first – but in the end, they all had great pictures, as the conditions turned out to be ideally for creating something "never done before".
For being able to check the photo in b&w directly after shooting, I activate Black & White via the handy Quick Menu of Fuji XT-1. Furthermore I activate Red Filter (BR), leave the setting Auto Dynamic Range, and increase Sharpness to +1, to capture more feather details.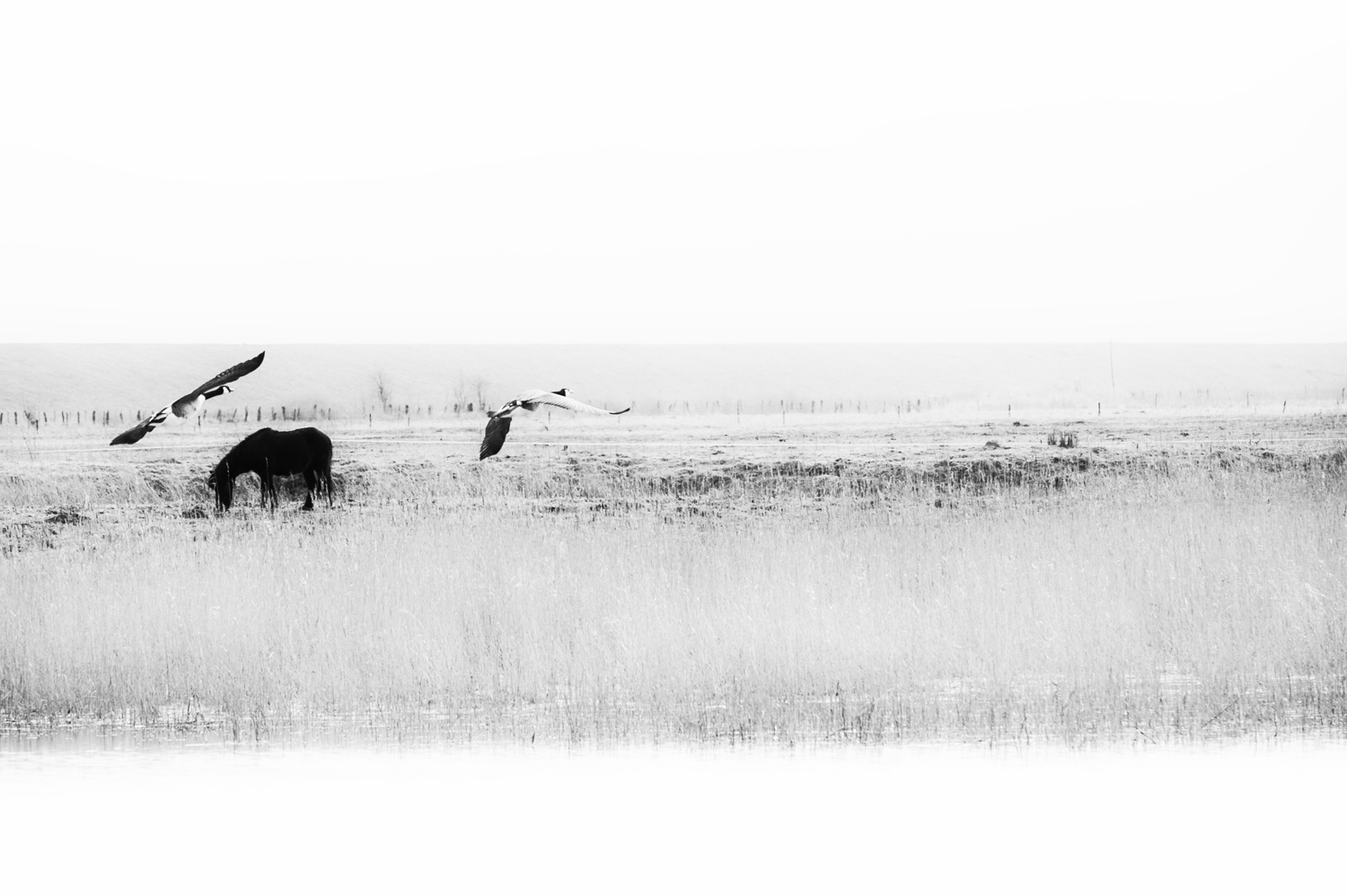 After locating the flock of geese (their chatter is revealing;)), I started with some test shots of a goose in flight. This revealed that the Continuous Autofocus does not apply 100%, due to the low contrast situation. So I switched to Single Shot AF and was very satisfied with the results. Around noon we came that close to a grazing flock of 2000-4000 geese, that we decide to wait till they fly high. Finally, as the flock took off with big uproar, I was very glad to have autofocus deactivated. AF would cause an uncontrolled pumping under these conditions, so that it was impossible to take decent photos. Of course it was a huge advantage we had enough time to measure the distance and take some trial shots of the grazing geese earlier.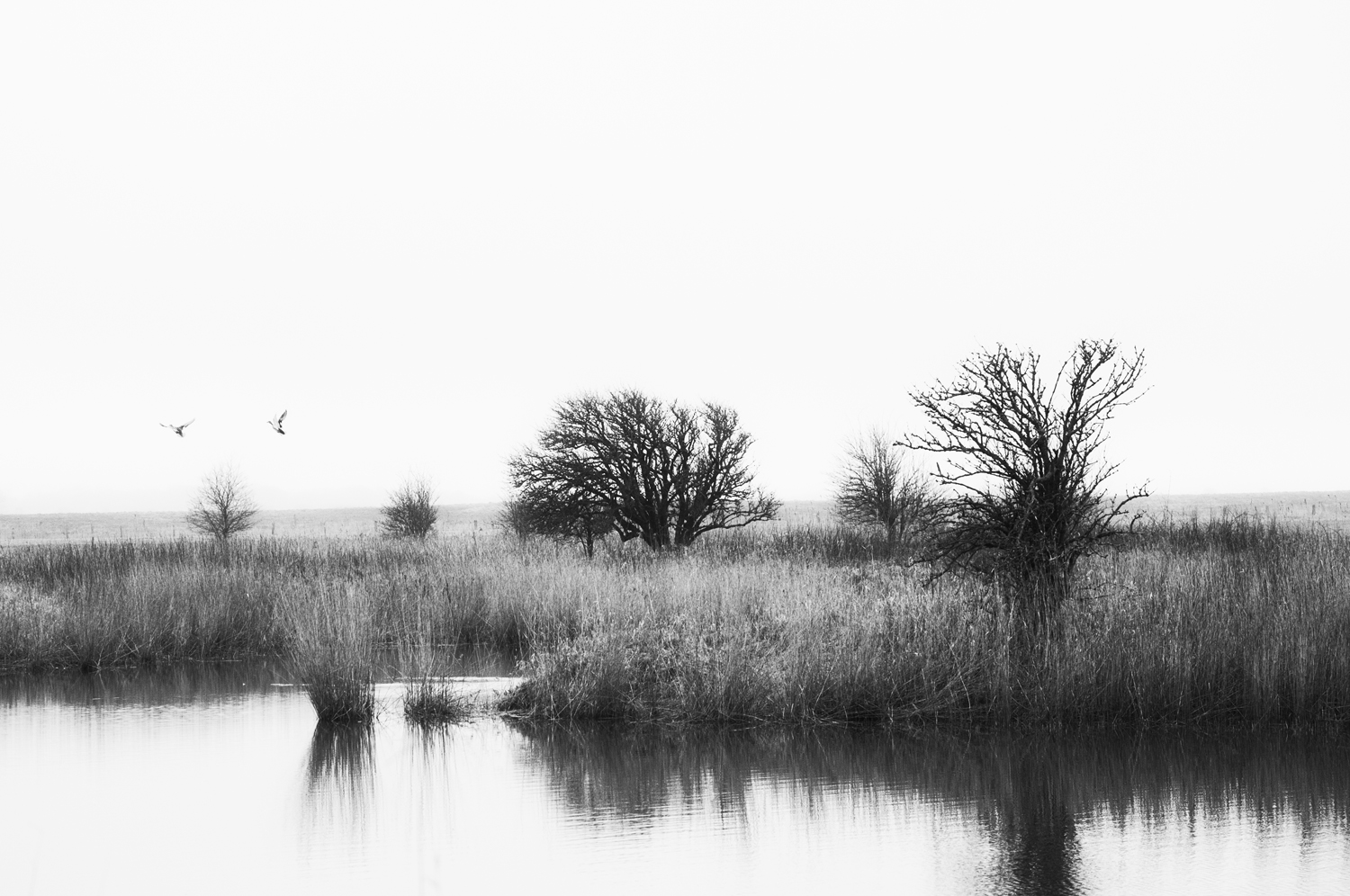 An important tip: If you have ever been among a flock of five thousand or even more birds, you'll appreciate a good camera as much as a rain cape: No need to say birds excrete feaces, and by the way, they always take off against the wind.
Depending on the speed of the motif and the light conditions, ISO varies from 800 to 6400. I usually use Aperture Priority even when shooting fast moving nature subjects. The lens of my choice is splashproof 55-200mm F3.5-4.8. For sure a higher luminous intensity would have been helpful, but you can't always get what you want…  I am satisfied even with ISO 6400 photos. The picture with the flock taking flight was enlarged to 120cm side length, and especially the light grain gives that certain look.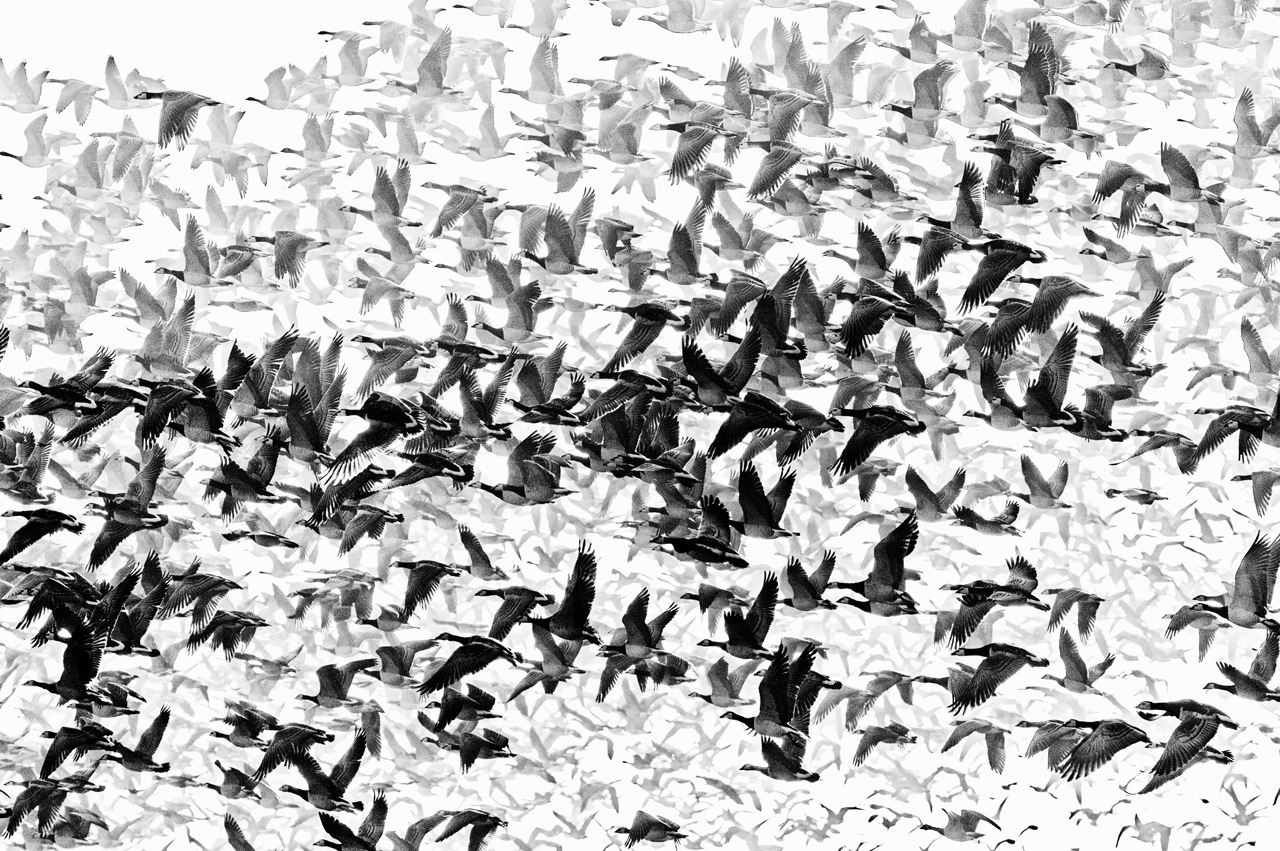 After a whole day in the rain, the splashproof camera and lens truly paid off and we left the field with a bunch of promising shots. Our next step was to review the results & realize the initial photographic vision with the help of b&w image editing tool Tonality Pro.
According to my personal workflow, I start Tonality Pro as plug-in in Photoshop CC. After optimizing the RAW data with Adobe Raw Converter regarding scale, contrast and exposure compensation, I start image editing with Tonality Pro. A big advantage of Tonality comparing to e.g. Nik Software is it's flexibility, as it works as standalone software as well. Tonality offers inspiring presets and proceeds extremely fast, so you can just click through the presets and stop when you found one that comes close to your idea. Then you can precisely adjust structure, clarity and contrast, to receive exactly the results you wanted to achieve. As I had the idea to compile a series of pictures with the same look, I created an own presets with my optimum settings. I'd like to share this preset with you – every user of Tonality Pro can download and use it for free (follow this link). So you can easily comprehend my settings and reproduce the look.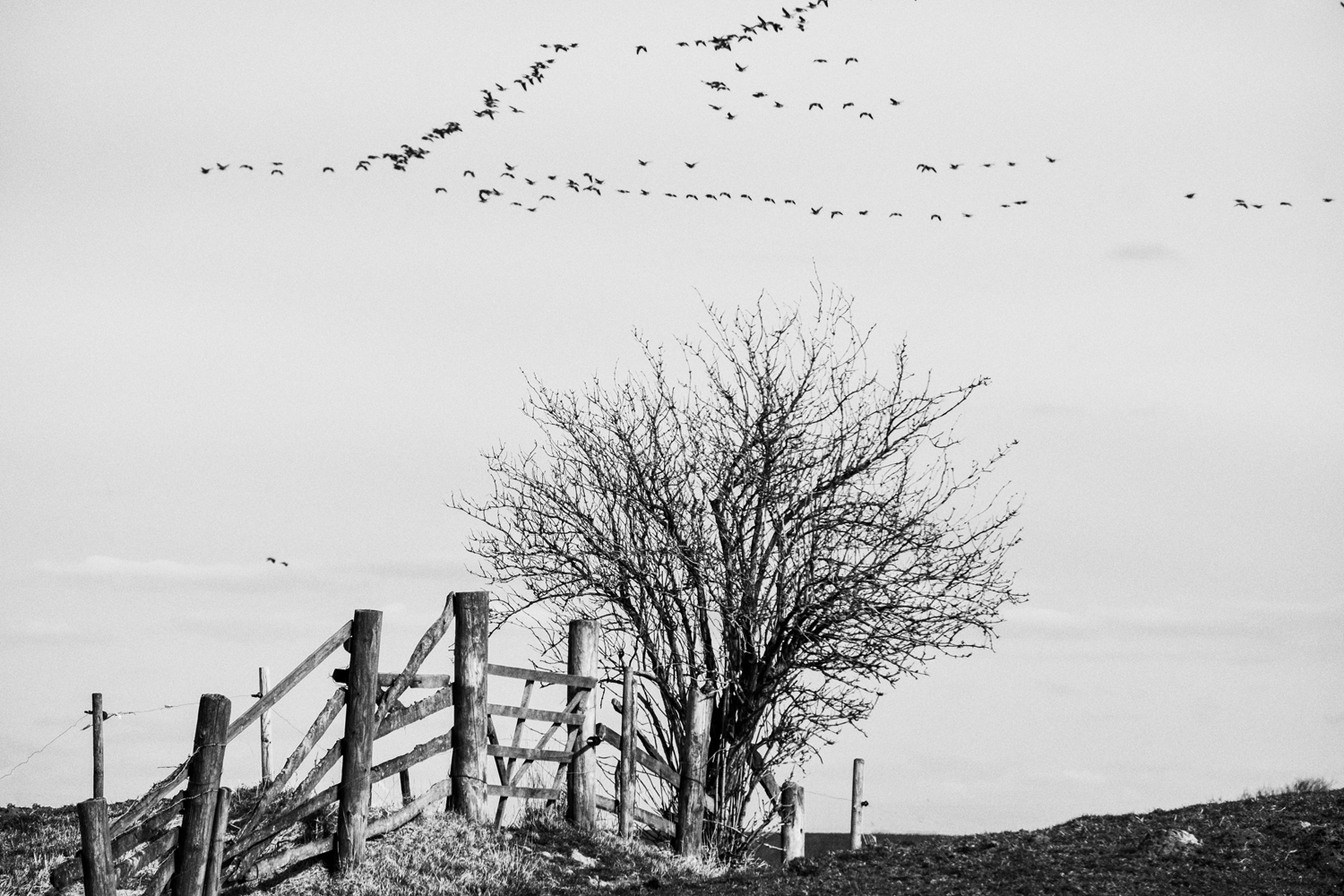 The final result of shooting with Fujifilm XT-1 and Macphun Tonality Pro is High Key Photography with strong black and white gradient. Optimization on your Mac is very eficient and only takes some minutes. Don't forget to download my preset and have lots of fun reproducing!