Greetings, FujiLove readers! In my career as a Fujifilm photographer spanning almost six years, I have travelled and documented several social events and religious festivals both within India and abroad. Usually, these events have an underlying narrative story beginning to end. But have you ever come across a social event with an underlying purpose, something that unites two individuals for the rest of their lives? I'm guessing probably not!
Well, I was fortunate enough to witness and document one such event for which I did not even have to travel. This social extravaganza was discovered right in my very own city of Kolkata. By now you must all be very eager to know about it. Right? So, brace yourself as I narrate to you the story behind an NGO that has been organising mass marriages for the past decade. What's more inspiring is that they arrange this event free of cost for underprivileged couples irrespective of their caste, religion and social status. Read on to find out what makes this a very unique event.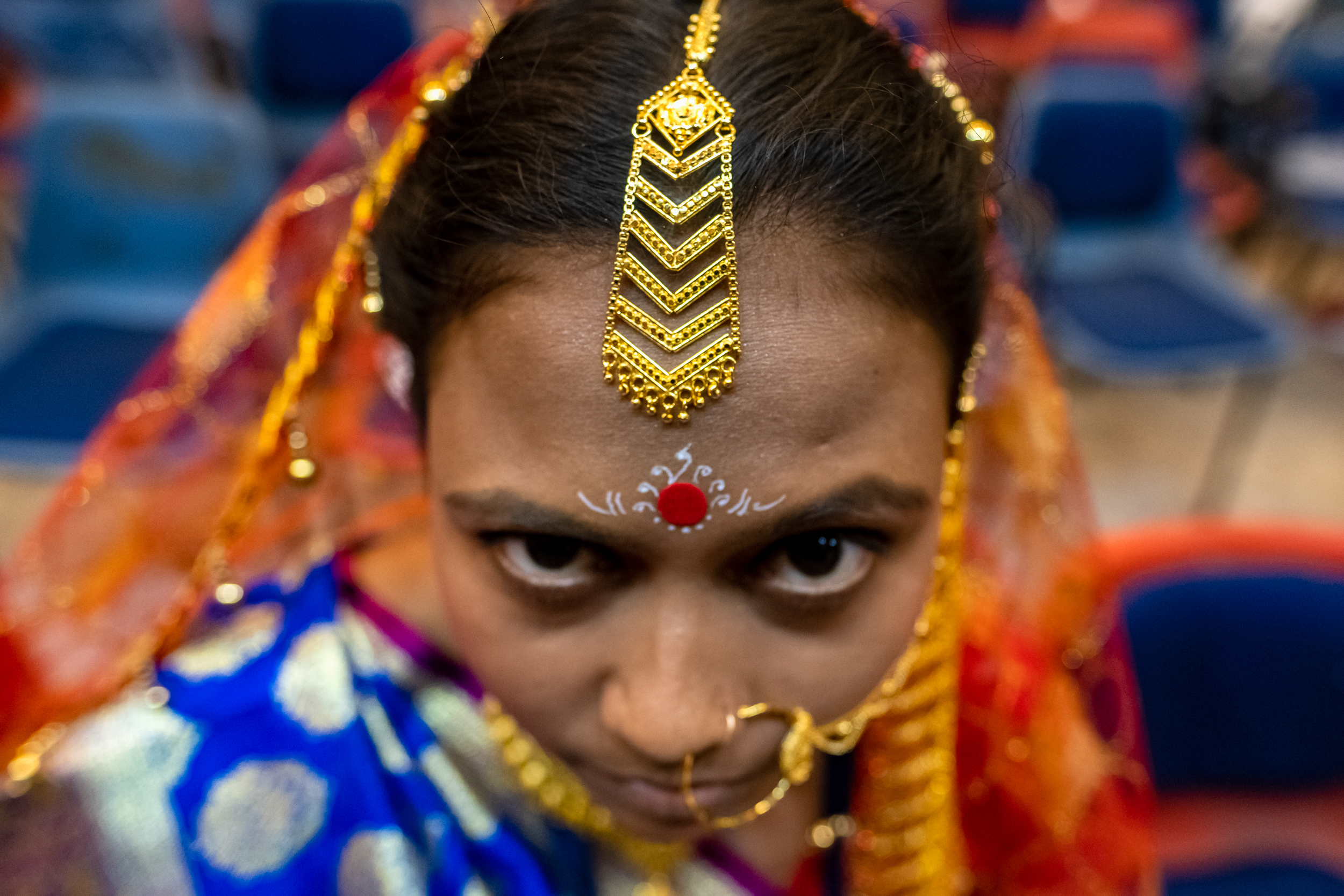 Marriages are said to be made in heaven and arranged here on Earth. An NGO by the name Aloy Fera has taken up this noble cause of arranging marriages here in our very own 'City of Joy'. Aloy Fera has been relentlessly organising mass marriages for Hindus, Muslims, Christians and Tribals alike since 2011. This year was no exception. A hundred religiously diverse couples from exchanged nuptials on Valentine's Day at the Matri Sadan Maidan at Paikpara. All necessary arrangements, starting with wedding attire for the bride and groom, jewellery, makeup, etc., were in place just as it would be if their parents would have arranged the same had they been financially able.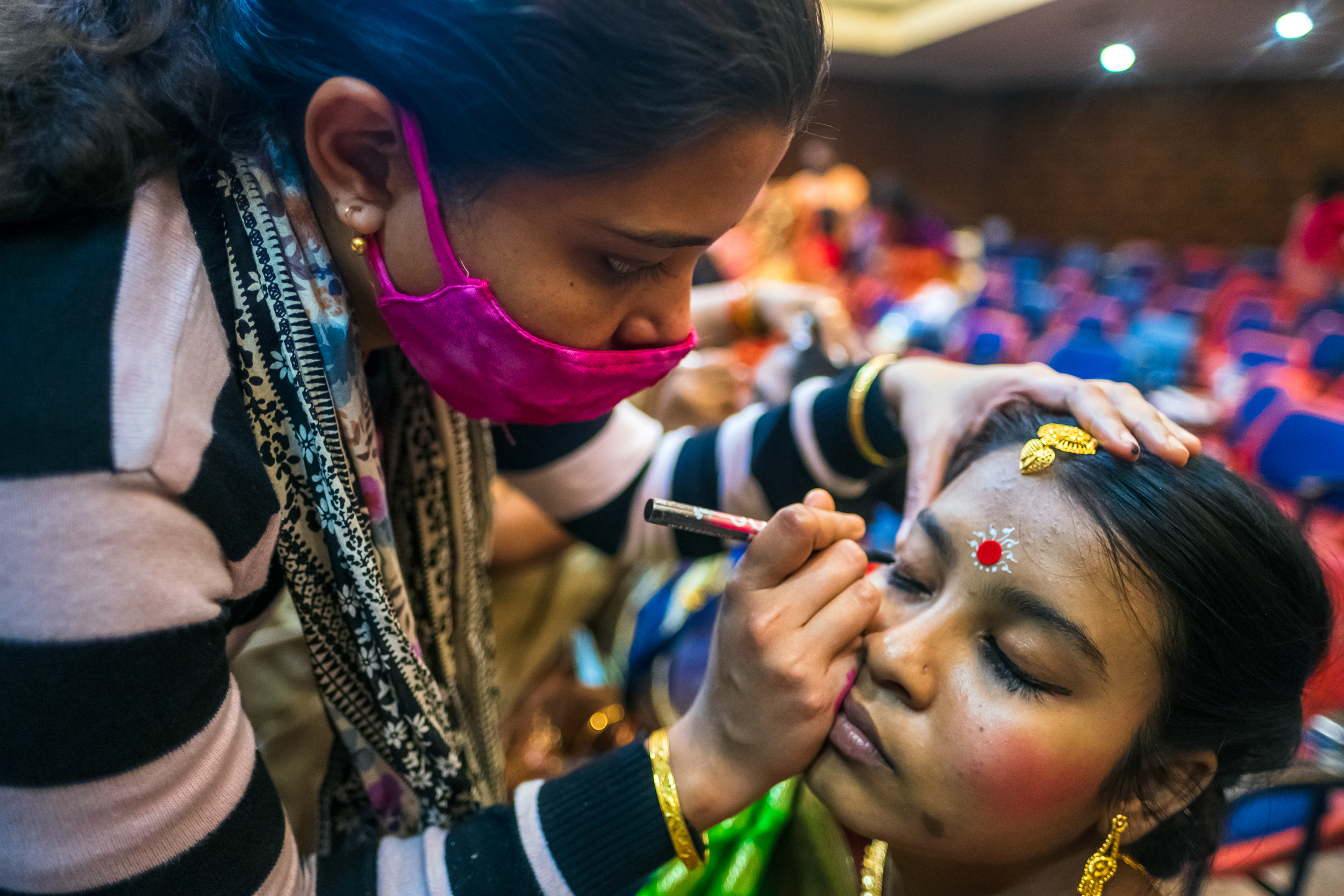 The auditorium adjacent to the maidan was where the would-be couples got dressed. The women were transformed into beautiful brides by a makeup artist while the men, dressed in golden Punjabi kurta, waited anxiously to see their brides. Meanwhile, a group of tribal musicians and dancers played on in the courtyard outside as the family of the couples joined them in celebration. After that, the couples were seated next to each other inside the auditorium hall with a Hindu priest, a Muslim maulana and a Christian pastor seated in the front row. It was a beautiful sight to see the excited brides and grooms waiting to be united in holy matrimony. Some brides were happily clicking selfies to document the most important day of their lives.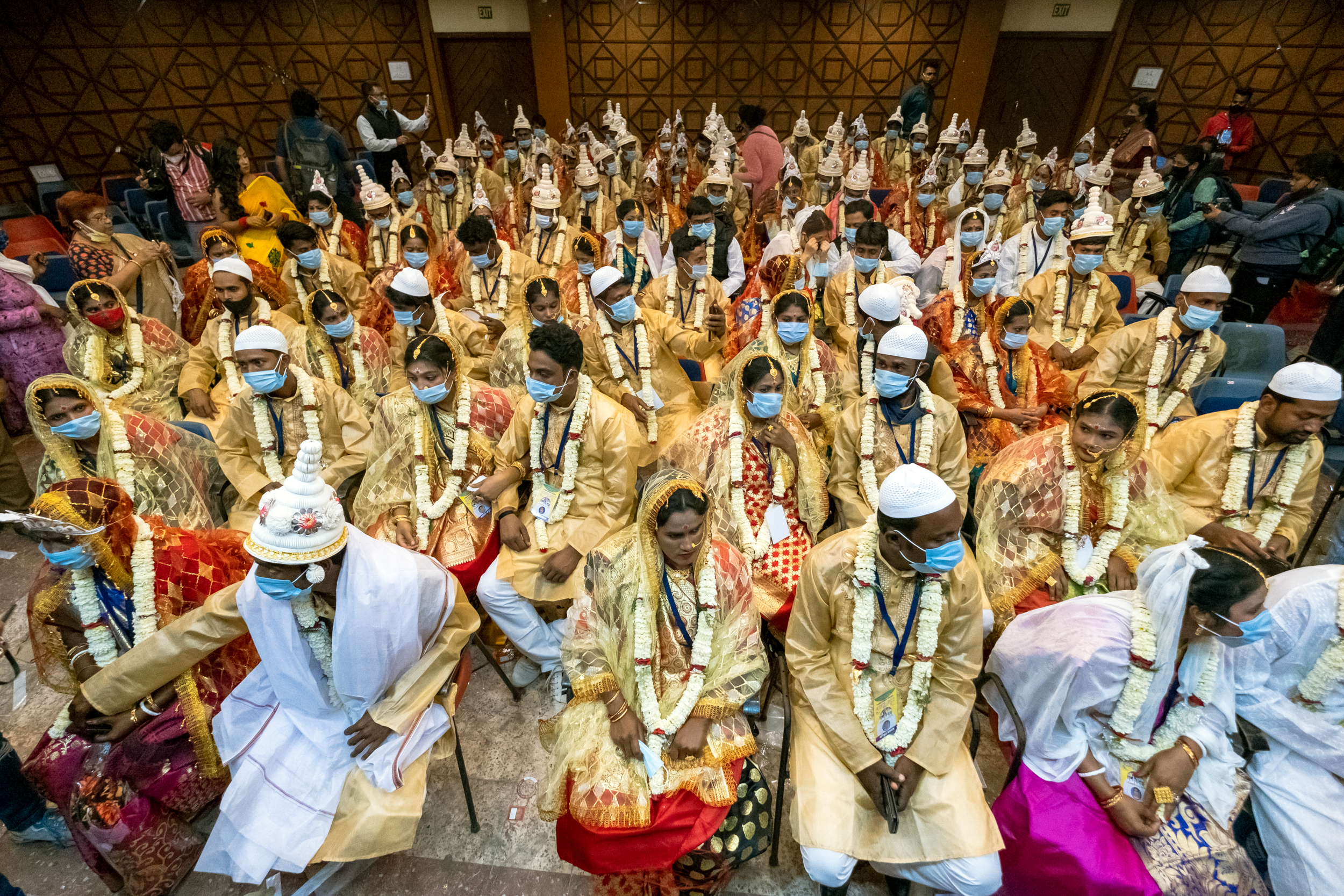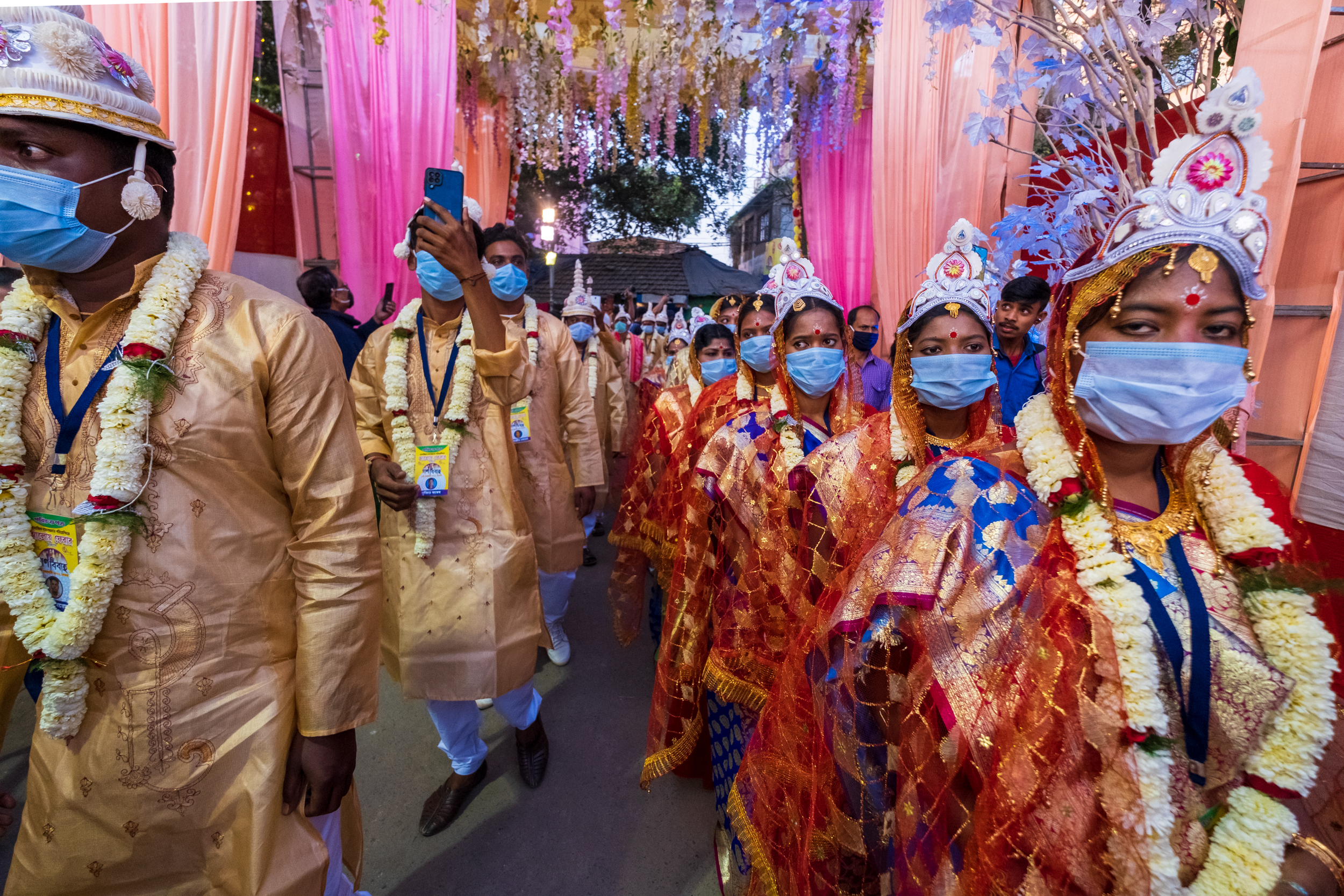 Soon after, the 100 couples walked out of the auditorium in a procession all the way to the marriage venue. The maidan had beautifully decorated enclosures, a separate one each for the Hindu, Muslim and Christian fraternity. Right in the centre was a dais where dignitaries and guests were seated. The couples were made to sit at the base of the stage before moving into their respective enclosures. The Christian and Muslim couples were married prior to the Hindus. Each of the Hindu couple had a priest to guide them through the rituals. The jamai baron, kanya daan, mala bodol and sindur daan was followed by the fire ritual to conclude the holy ceremony.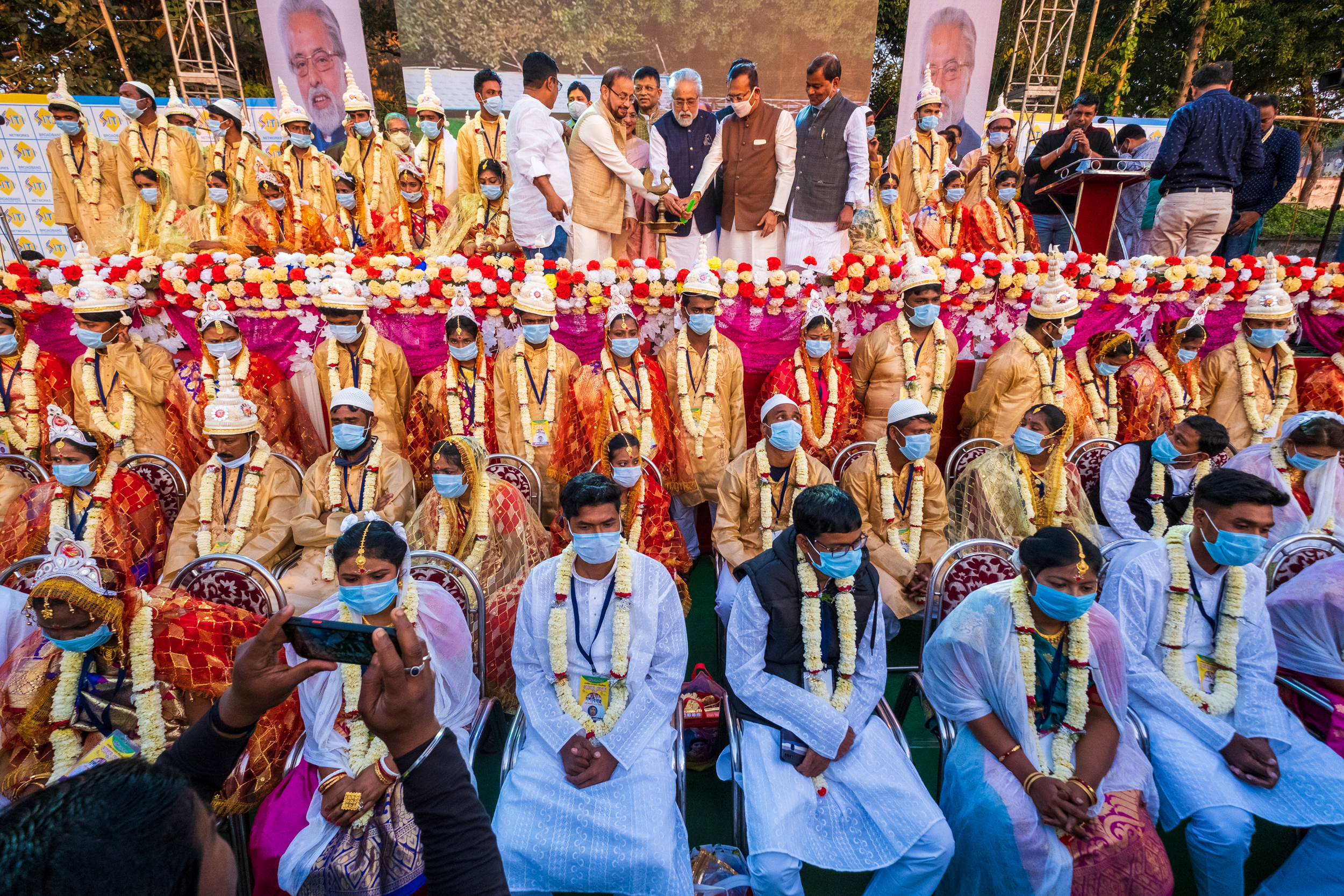 NGO's have always extended a helping hand for a social cause and Aloy Fera has set an example to the rest by proving that all you need to unite two loving people in the bond of marriage is good intent. This Valentine's Day will always be etched in the hearts of the 100 men and women who were united in marriage, along with myself as I had never witnessed such a spectacular social event before.
I am sure that by now many of you are feeling inspired just as much I was while documenting the entire process. The NGO conducted the event this year as well with some minor changes. The couples who got married this year were drastically reduced in number and all COVID protocols were followed to ensure the safety of everyone attending the function. Relatives of the bride and groom were also restricted in number to enable social distancing.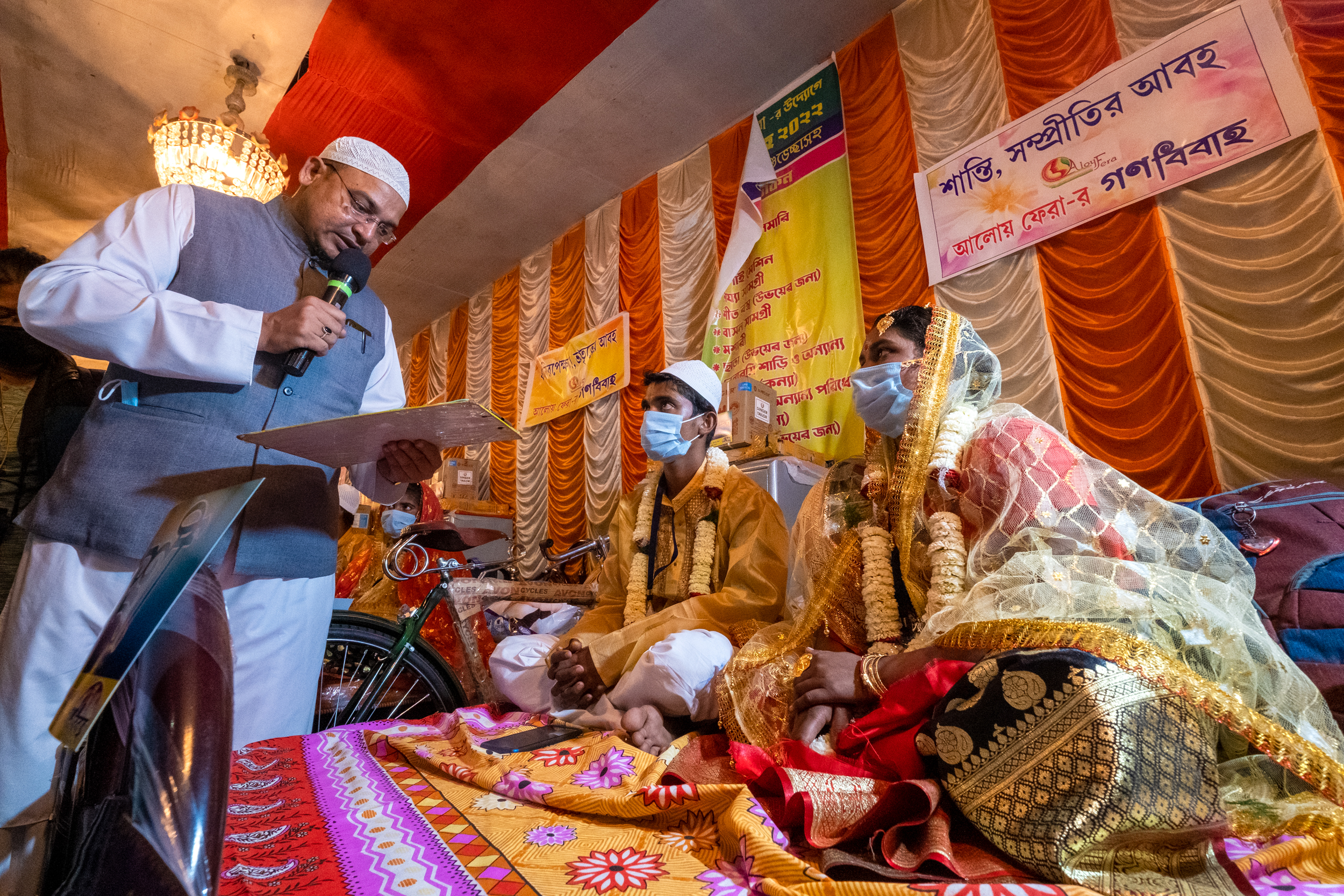 As a Fujifilm photographer, I covered the entire event using the X-T3 and the XF10-24mmF4. The selection of lens came to me naturally as the ultra-wide zoom gave me the freedom to shoot wide in tight spaces and move in closer where required, affording me some unique perspectives with close-up shots. (The same would not have been possible had I been there this year, however.) The 10mm focal length gave me the opportunity to capture the subjects in their environment, which made the images visually enticing. While some of the couples had smart phones and were busy saving the memories, others felt quite happy when they saw photographers like us take their images on the most important day of their lives.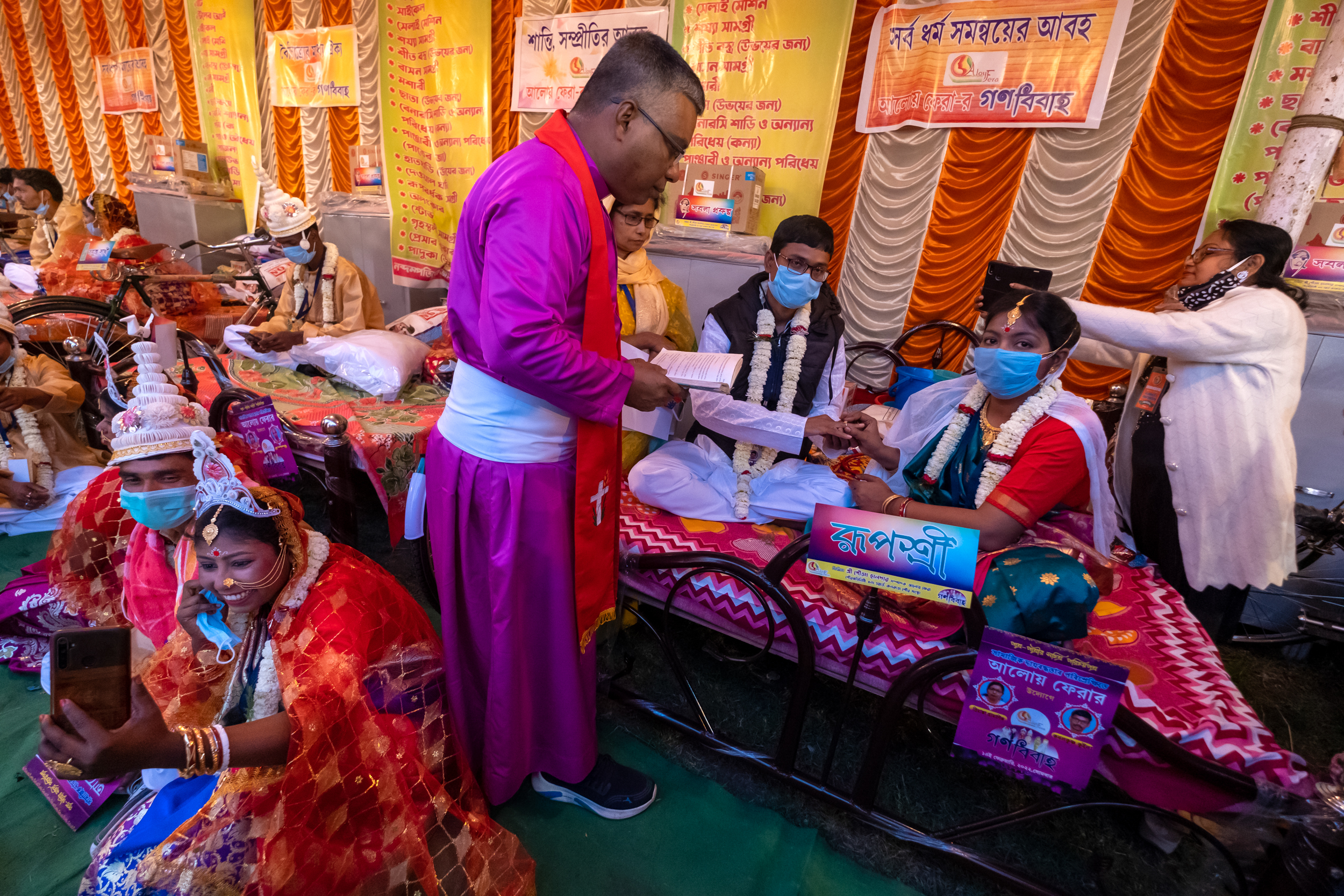 For the very first time I felt happy. It's not that I am not usually otherwise. But this time the feeling was different – something which can't be explained in words. I sincerely wish the entire work force behind NGO Aloy Fera the very best for their continued effort uniting souls in the holy bond of matrimony. As a photographer it was indeed a very fulfilling experience for me to have documented such an amazing event. I hope more people around the world can draw inspiration and contribute to such noble causes. After all, being human is what matters most.
About Author