After almost a year of being teased, Godox has finally made significant steps to a fully-featured flash system for Fujifilm X Series cameras. The month of July saw the release of both the Godox TT350F, as well as the Godox X1-F.
The TT350F is a smaller-than-average speedlight designed to balance well on Fujifilm cameras such as the X-T2 and X-Pro2. To save size, the Godox TT350F gets it's power from 2 AA batteries. This does restrict the power a bit. The maximum power of the TT350F is about 1.4 stops less than the V860II (which is on par with other full-size speedlights). The recycle time at full power is about 3 seconds. Personally I've become spoiled by the recycle time of the Li-On Godox products, so 3 seconds for this level of power is quite slow, but if you are used to a AA battery flash, the Godox TT350F will give a similar experience.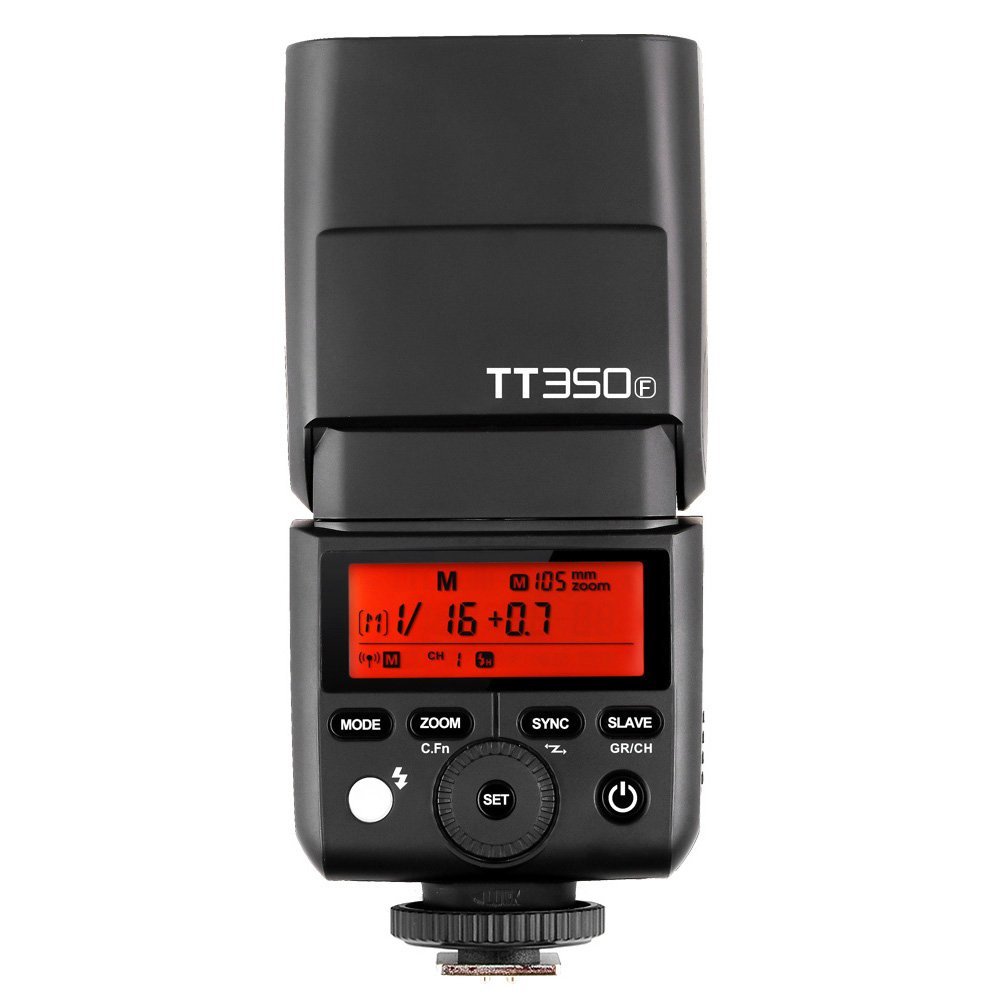 Beyond its mini size, you'll find a fully-featured speedlight. The TT350F has an articulating head as well as a bounce card and wide-angle diffuser. In addition to manual you'll also find stroboscopic, ttl, and high speed sync (with applicable fuji models). The head can zoom to a maximum of 69mm, and is designed to correlate with the APS-C sensor on Fujifilm X Series cameras.
What it lacks in power and speed it makes up for in functionality. The TT350 can act as a master flash to up to 3 other Fuji TT350's. This gives control of manual power, TTL, and HSS all from the flash menu using 2.4Ghz radio connection.  Even the far more expensive Fujifilm EF-X500 uses line-of-sight, which is far less reliable than the radio connection found on the TT350.
Godox also released firmware updates to their other X-Series (yes, their lighting lineup is also called the X-Series). The Godox TT350F is now capable of controlling all functions of the Godox X series. This includes the Godox AD600 monolight, AD360ii barebulb flash, AD200 pocket flash, V860ii li-on speedlight, and TT685 AA speedlight. This update marks the first time Fujifilm users will be able to use more powerful strobes with TTL and HSS at least without the use of additional radio equipment. The firmware update allows for cross-TTL and cross-HSS by converting the receiving flashes to accept the signal from the master of a different brand. While the AD200 and AD600 are not brand specific, this allows Fuji users to use the V860II, AD360II, and TT685 of any model (Nikon, Sony, Canon) as an off-camera flash. If you prefer to have no flash on-camera, then you can trigger all these products using the new X1T-F flash controller. Lastly, Godox has announced a TT685F for those wishing to have more power from their on camera master speedlight.
If you are curious about these new flash options, feel free to browse my Youtube channel for more information on the different strobes.
About Author