"To awaken quite alone in a strange town is one of the pleasantest sensations in the world." Freya Stark.
The above quote sums up so much of why I love to travel. Exploring new places and cultures, meeting different people are all wonderful aspects of travel. Having a major element of not quite knowing where you're going or what you'll find there just adds to the mystery.
Along with my passport, one of the most important things that I take with me is my camera. I've spoken in the last article about travelling with the XT-1 and I want to share about my recent trip to Morocco and how the Fuji helped me to capture some memorable images.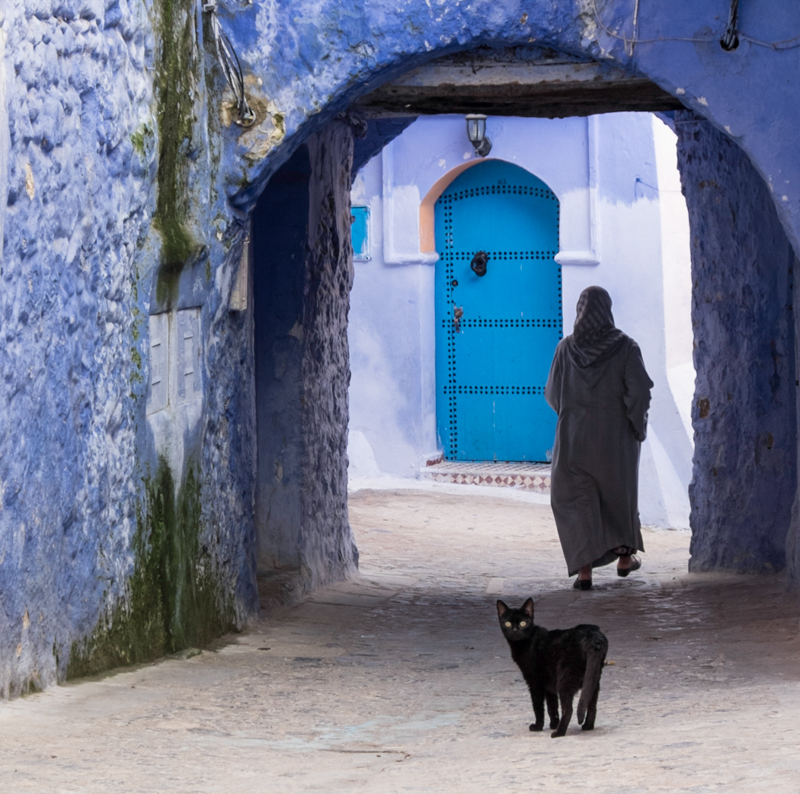 Having first arrived in Tarifa on the south coast of Spain, I took the opportunity to travel across the straits of Gibraltar to Tangiersin Morocco on the fast ferry, a short one hour journey. The plan was to visit Chefchaouen, nestled in Morocco's Rif Mountains, a few hours drive inland from Tangiers.
It was easy to get a taxi to take me from the ferry terminal at Tangiers and after some negotiation, an essential requirement, paid around €50 for the two hour journey to Chefchaouen in a very old and well travelled Mercedes.
Chefchaouen was founded in 1471 by Moulay Ali Ben Moussa Ben Rached El Alami, Chefchaouen, it is probably most famous these days for it's powder-blue buildings and it's a rich cultural tapestry of Berber tribes people, Muslims and Jews, along with descendants of the Moorish exiles from Spain who first lived there in the 1400s.
It's a large town with both an old part (the Medina) and a modern area, which is much like any other Moroccan town. It was the Medina that was most interesting from a photographic perspective, where the men wander around the streets in long robes with pointed hoods known as jellabas. These jellabas are made from heavy wool and the locals wear them no matter what the weather. In fact, the temperature was in the high 20's when I was there and yet, they were still wearing these heavy wool jellabas.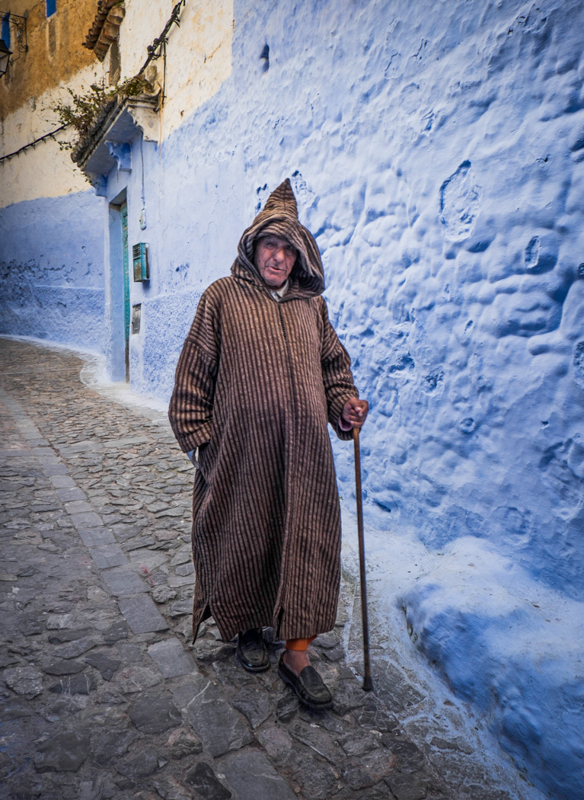 The whole town is built on a hill, where the narrow streets wind steeply upwards. It was interesting that the many tourists seemed to stay around the main square, the Plaza Uta el-Hamman that is lined with various cafes and restaurants, and along it's side streets in what was a shopping area largely serving the tourist trade. Once you walked a short distance, there were very few tourists and largely just the locals who lived there. This was ideal from a street photography point of view.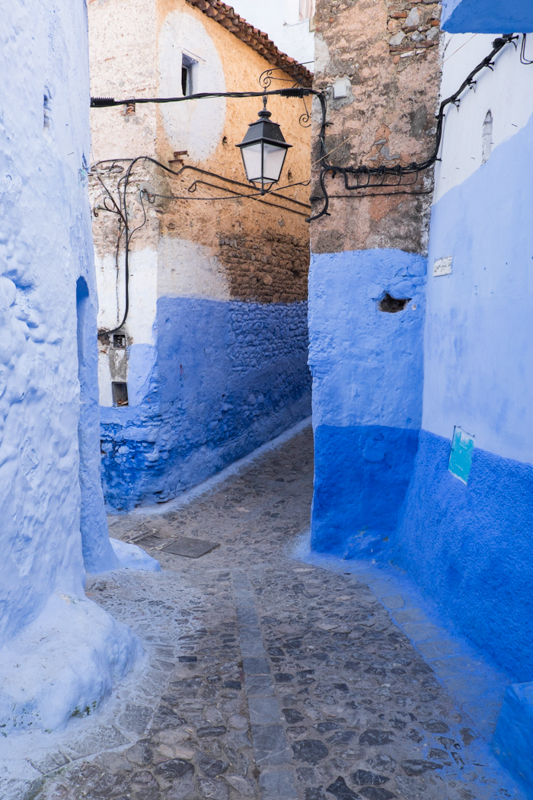 I spent many hours just wandering around exploring and taking time to soak in the wonderful atmosphere of Chefchaouen. However, as I wandered around with my camera, I did notice that the locals were often very reluctant to have their photographs taken, to the point where, even if you were just walking along with a camera at your side, some would turn away from you and go down a different street.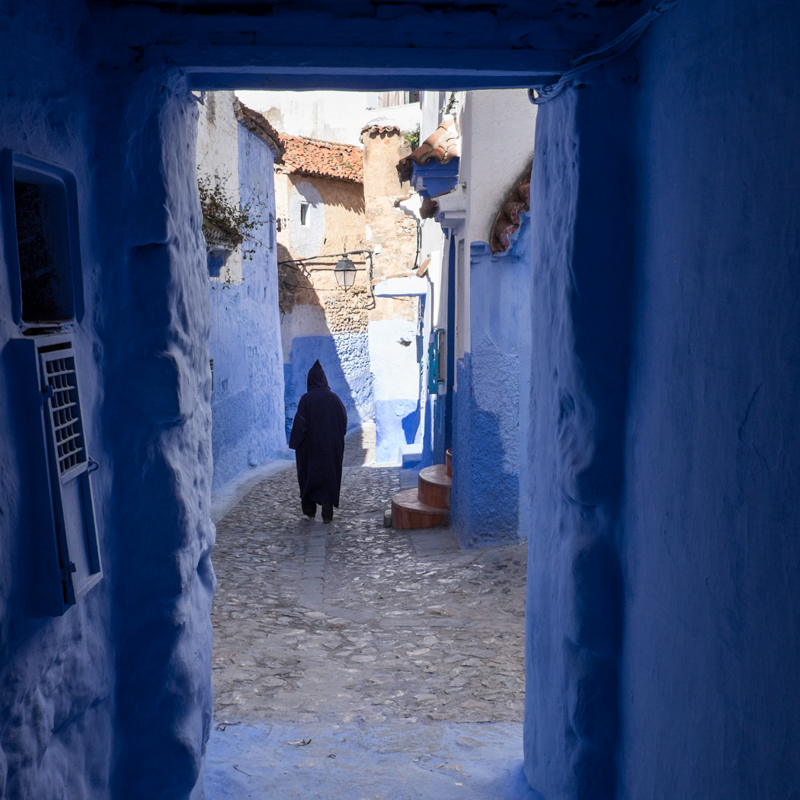 This brings up the often asked question of people photography. That is do you ask your potential subject if they're happy to have their picture taken or do you just try and take the image.
My own personal viewpoint on this is that I would usually ask people whether I may take their picture if it's a specific portrait of them. However, if I'm taking a street scene where there may well be something interesting going on, you don't want to interrupt that dynamic to ask permission.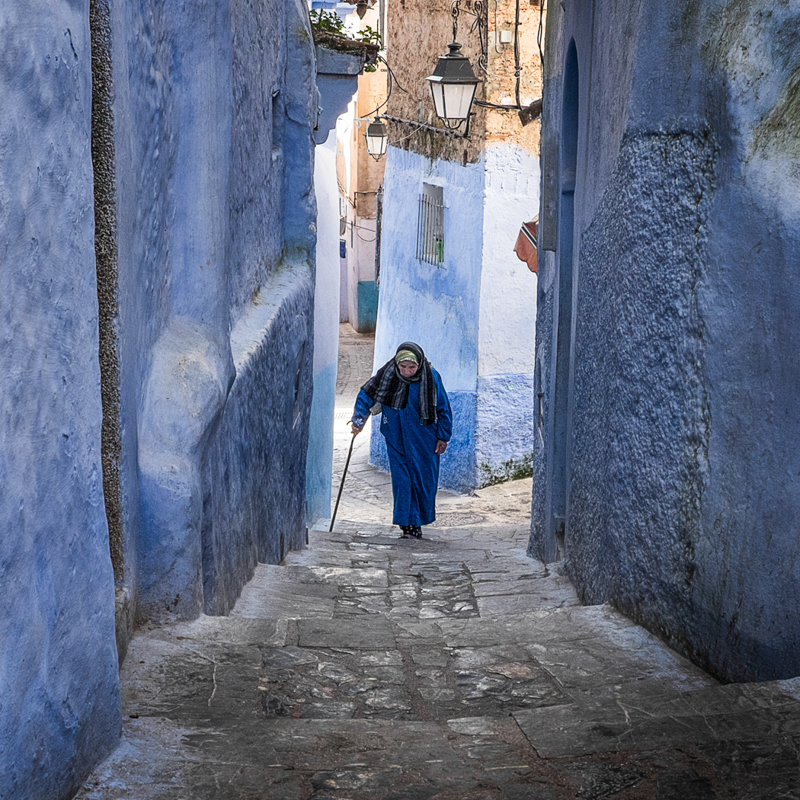 So when the locals made it clear they didn't want their picture taken, I didn't do so as it's simply a matter of respect. There were other occasions where I just sat at the side of a street, sometimes for an hour or more until people stopped taking notice of me and I was then relatively free to capture some images of the people going about their daily business. This was most certainly made easier with the unobtrusive Fuji XT-1 and the 18-55mm lens. It certainly didn't shout 'professional photographer', which would most likely be the case with a DSLR and large lens.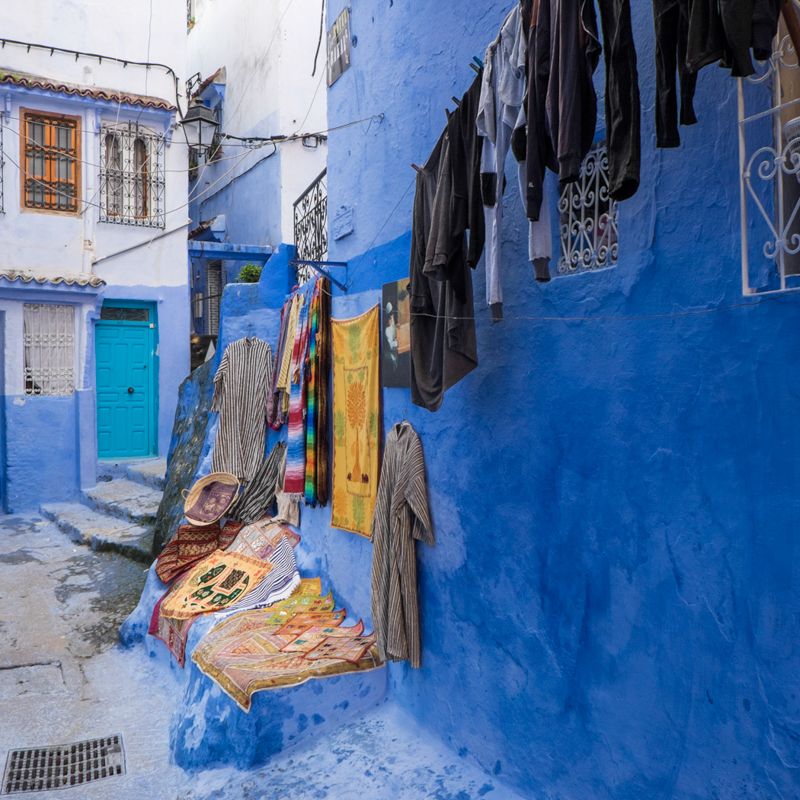 While I only stayed in Chefchaouen for two days, it was indeed a memorable experience from the point of view of being a beautiful place with endless photo opportunities. I also found the people to be friendly and hospitable, even if somewhat camera shy on occasions. All in all, I would highly recommend visiting Chefchaouen if the opportunity should arise, but leave the large DSLR at home and take a Fuji X series camera!
About Author