There is a constant temptation these days with every camera brand, Fujifilm being no exception, to purchase dirt cheap third party batteries. These are under various brands and names on sites like Amazon and generally cost many times less than OEM/Brand name batteries. Today I wanted to talk about two third-party batteries that I have used with my Fujifilm cameras, one that I am happy with, and one that I am not.
First, though, it is important to note that it is not recommended that you use third-party batteries with your camera. They are not held up to the high standards that OEM batteries are and they CAN damage your camera – even kill it. So it goes without saying, if you use them, you use them at your own risk.
I have used two of the readily accessible third-party brands here in the USA, Wasabi and Dot-01. As far as working, up until about 2 months ago, I was equally happy with both brands, but that is when the cheaper Dot-01 brand started to scare me. To the point that now I don't use them in my X-Pro2 anymore. The Dot-01 batteries started overheating, and they no longer go in or out of the camera like the Fujifilm or Wasabi batteries do.
In short, I don't trust them. That said. I wanted to share my experience with these two third-party batteries compared to each other as well as to my original NP-W126 battery from Fujifilm.
Run Time
A common complaint against third-party batteries in general is that they die much quicker than they should. That is still the case with these Wasabi and Dot-01, I honestly did not notice much difference between the Wasabi and the Dot-01 in terms of runtime, and I did not measure exact minutes nor number of shots fired. But to put it into perspective for you, on average I will shoot anywhere from 400-700 images over the course of a 2-3 hour shoot. Most of the time I can do this on one Fujifulm NP-W126 battery if I make sure it is fully charged ahead of the shoot. However, I can never complete the full shoot on one battery if I start with one of the third party batteries, many times I will have to stop to change out the battery at 1.5 or so hours.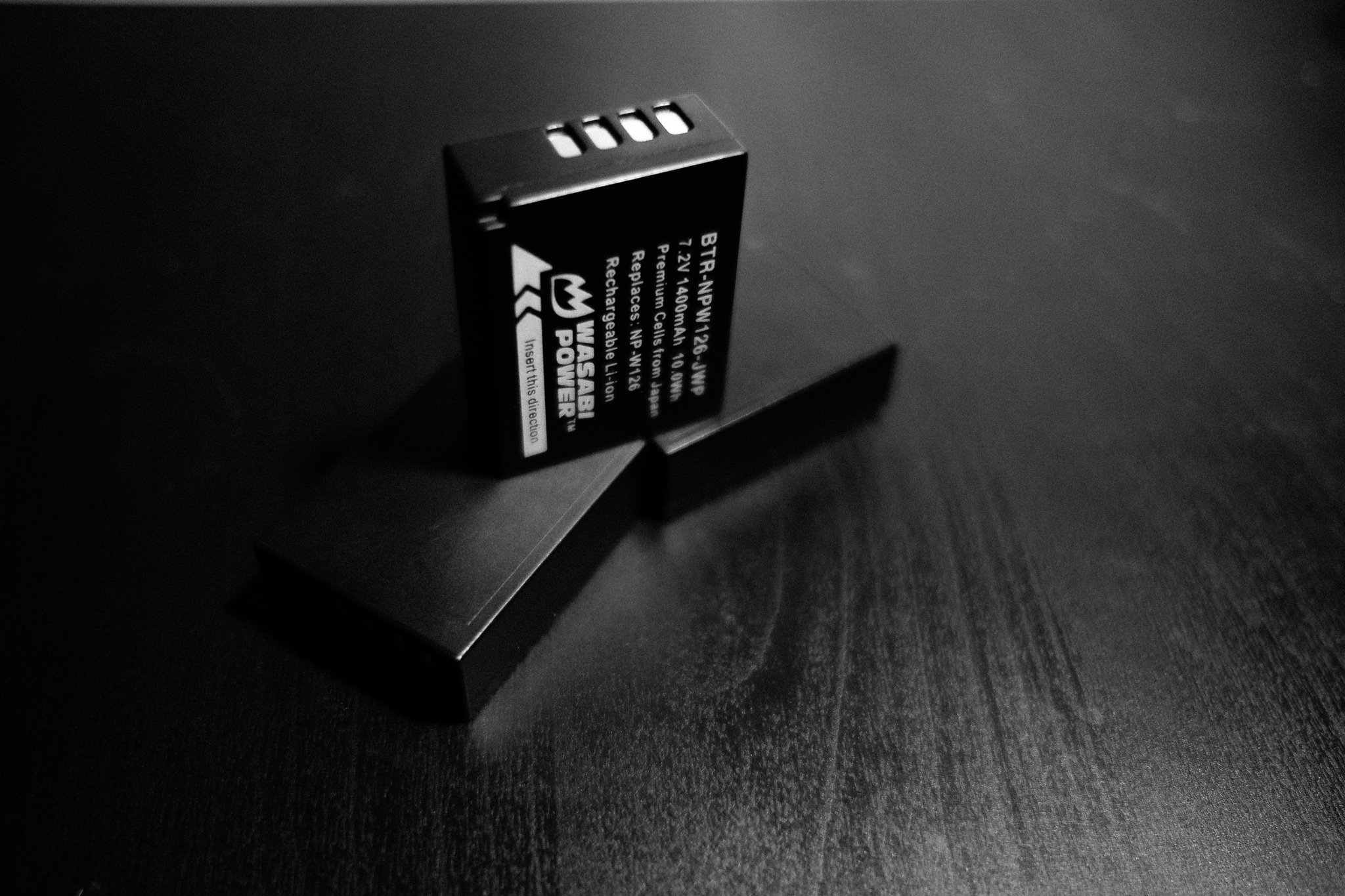 Heat/Safety
In terms of safety, I have no complaints at all with the Wasabi branded batteries. They don't last as long as the Fujifilm, but they are consistent and the camera functions perfectly with them. The Dot-01 brand though, I do have concerns with and would not recommend. They get excessively hot when used for a whole shoot, and as I noted above, they (or at least the few that I have) have ceased to go in and out of the camera as smoothly as they should. It could be the two that I have, but they are the newest batteries in my kit, and they should not be doing this.
I had one fully charged, put it into my X-Pro2, shot for maybe 10 minutes, and then the camera shut down. I was so confused. I popped the battery out, it was hot, and popped in a Wasabi battery and let the camera sit for a minute to cool. Turned it on and all was well – thank goodness. But needless to say, I won't be buying anymore dirt cheap Dot-01 batteries.
I honestly doubt I will be buying anymore third-party ones as it is. The two Wasabi I have are fine for an emergency if I forgot to charge my Fujifilm battery, and I need to purchase a few of the newer NP-W126s batteries anyway, so my next power purchases will likely be brand name. If you want to pick up a few, I would say Wasabi is ok to go with, but  I would be very careful going with the Dot-01.
About Author