I moved with my wife to Austin, Texas in 1989 to attend graduate school at the University of Texas at Austin. That was how I and probably numerous others got to Austin to begin with. I arrived with a Masters in English from a college in Ohio and the self-anointed aplomb that comes from having taught myself to program in C. I intended to study a hybrid of linguistics and computer science. As someone who had never taken a computer science course, I was admittedly naive about how much of it would be required to bridge the sizable gap between the self-taught sliver that I knew and the much larger slice that would be required to pull language apart computationally. I was also not so eager to have my self-confidence pulled down a notch.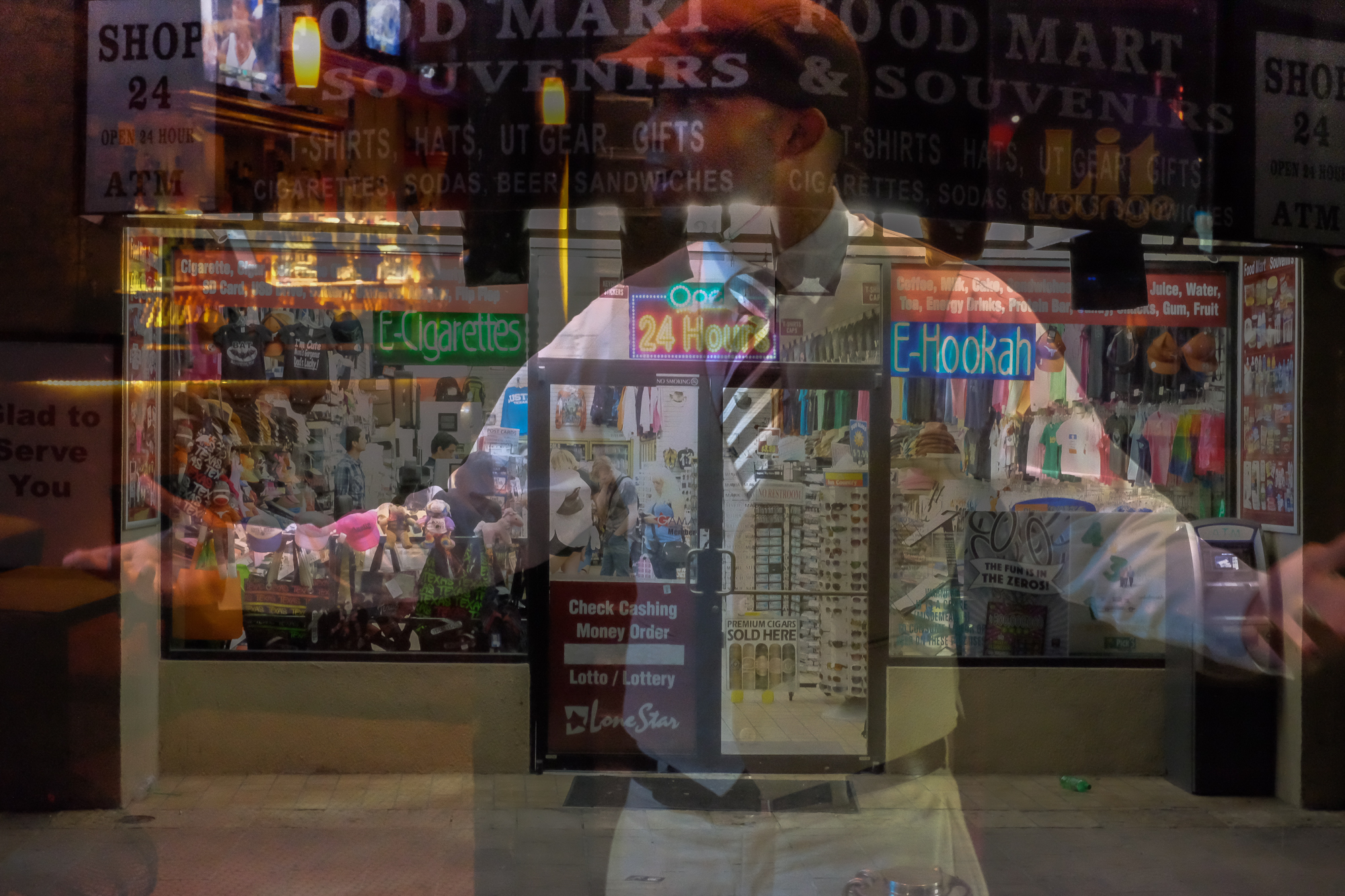 At the start I was in way over my head. In order to do the more advanced language processing classes I needed quickly to learn the computer language LISP. So very early in my academic journey in Texas I took a freshman level LISP class, and that was where this story really starts because it was in that class that I had the unbelievably good fortune of meeting Jamshid. Jam, as most call him, would turn out to be one of my closest friends and the lure that brings me back to Austin — not to mention also being consistently companionable even during those times when all I want to do is take pictures.
He was a freshman and one of the smartest people I have ever known. He tutored me through LISP, then he dragged me by the collar kicking and screaming through much of the programming challenge of the dissertation work, then he was there when both of our kids were born in St. David's in Austin, and he was there when my head finally popped up out of the books and I had a good look around at the city I was living in.
Jam has been in my life for decades and he has lived in Austin all this time, and while our family moved to Ohio following my studies, I go back to visit frequently. Jam is the embodiment of kindness. Even though he doesn't do photography, we definitely do it together sometimes, and so together we have taken many photo-specific trips in, around, and from Austin over the years. To my delight, Jam has hung the results of several of our adventures on his walls.
A favorite trip of ours is to leave by foot directly from his condo onto the footpath that takes us over to Auditorium Shores during the wee hours to shoot the colorfully-lit city reflecting on midnight-black Lady Bird Lake. In 2013 we tried our hand light painting the giant palms in Palmetto State Park. We also took a two-hour drive away from Austin deep into the emptiness of the Texas hill country to shoot the Milky Way in a nearly completely dark sky at South Llano River State Park. Jam lay on a picnic table in awe — he had never seen the night sky ablaze with stars.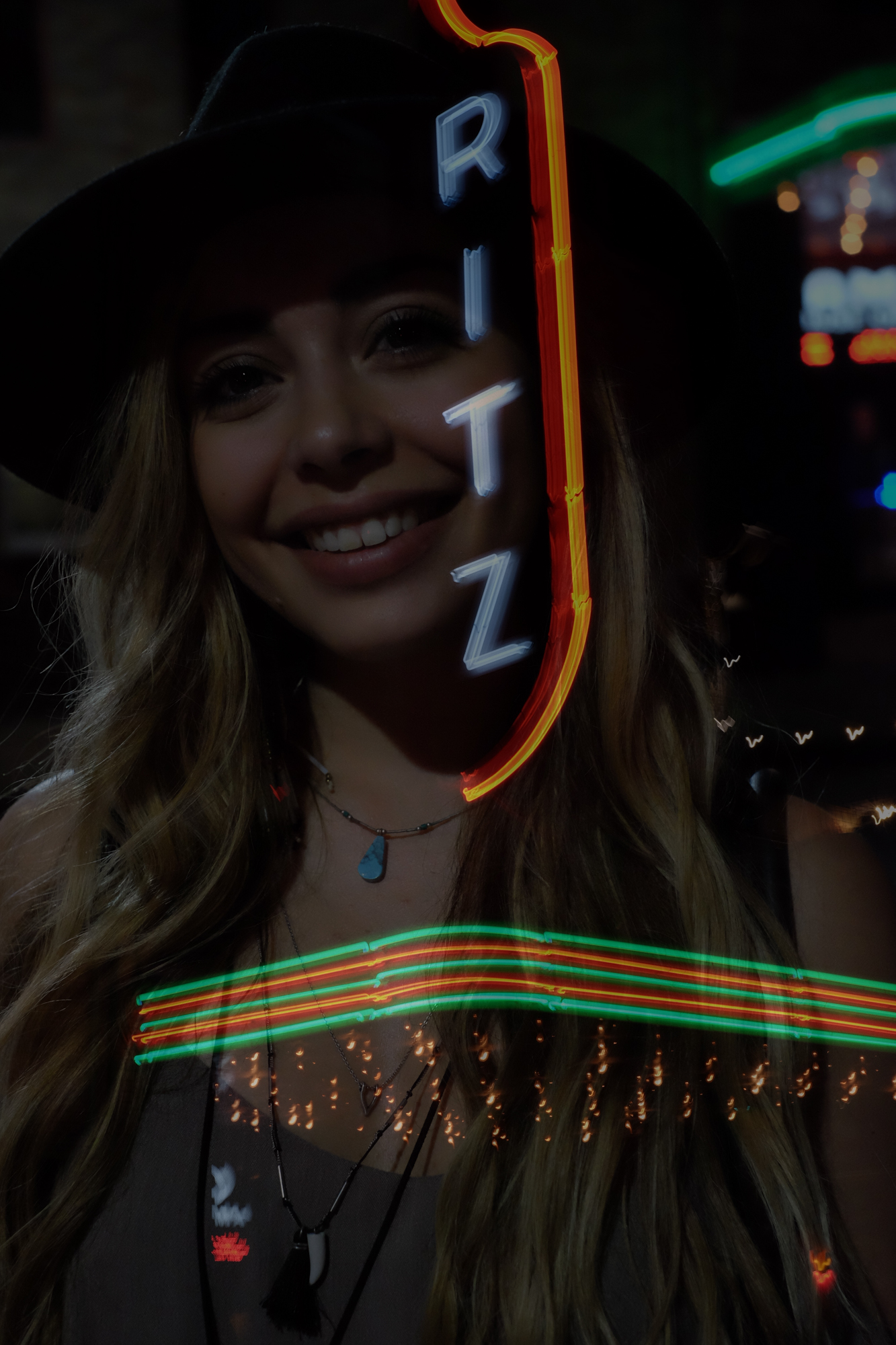 An ongoing project is a collage of shots panning the runners, bikers, and stroller pushers on the city's hike and bike trail. But all this time Austin has been growing, its girth expanding, and Jam's condo at the edge of it right at the end of Red River Street has been close enough to allow us to be part of the city and peripheral enough to let us step beyond it at a moment's notice. When I was in school there, the downtown skyline was a petulant child aware that change was coming, and now it is a full-throttle virile twenty-one year old flexing its muscles and charging ahead. I shudder to imagine the gridlocked city when it reaches maturity. The Villas on Red River where Jam lived for close to two decades have been swallowed up in the rush of development.
Earlier, when the gentrification of the Rainey Street area started in the mid 2000s, Jam and I snuck just after nightfall under the twenty-foot-tall chain-link security fence that surrounded the 40-story shell of Shore Condominiums under construction, and climbed every one of the grimy and internal cement stairs to the top because the elevator shaft was an empty black chasm down which dangled electrical power cables. On the tar-papered western edge of the roof we planted the legs of the Gitzo GT2540 tripod between bolted rebar and construction-grade plastic ties, and shot a late sunset panorama down what was then called Town Lake. The resulting print hangs on Jam's wall, one plastic tie showing on the rusty steel bar in a corner of the image like a badge of honor proclaiming the riskiness of our adventure.
Forever young, Austin is a place where you do not need to grow up. Night life starts well after 10pm, and when Jam and I take it in I always try to bring a camera. I do not think of myself as a street photographer, and consequently it is refreshingly exciting to walk among the thronging carnival of youth on Sixth Street and intentionally let one's photographic mind run freely.
Almost all of my work up until 2015 has been done with Nikon gear, but by 2015 I had started using Fujifilm cameras and was of an experimental mind regarding my X-E2 as we walked through downtown. I began trying out the double exposure feature, and the combination of the LED view finder on the back of the body and auto-exposure made it possible to gauge the results of an overlay in real time.
This was a game changer for me. I'd tried in-camera double exposures with my Nikon bodies, and for the most part had a lukewarm reaction to the results because it was so hit or miss, and because you didn't know if you hit it until after taking both frames and then chimping. But with the X-E2 I was able to see every step, frame by frame, live on the back of the camera, and the impact of this on my approach to double exposures was revolutionary. Like viewing the world in color but learning to imagine it in black and white, there is a period of trial and error, seeing what kinds of combinations work and what don't, before gaining a level of success. Also, because the images are JPEGs, and there is not as much wiggle room for bringing back shadows or toning down highlights as there would be if they were raw files, so being able to see the process evolve step by step with complete awareness of exposure really makes it possible to do the process under artistic control.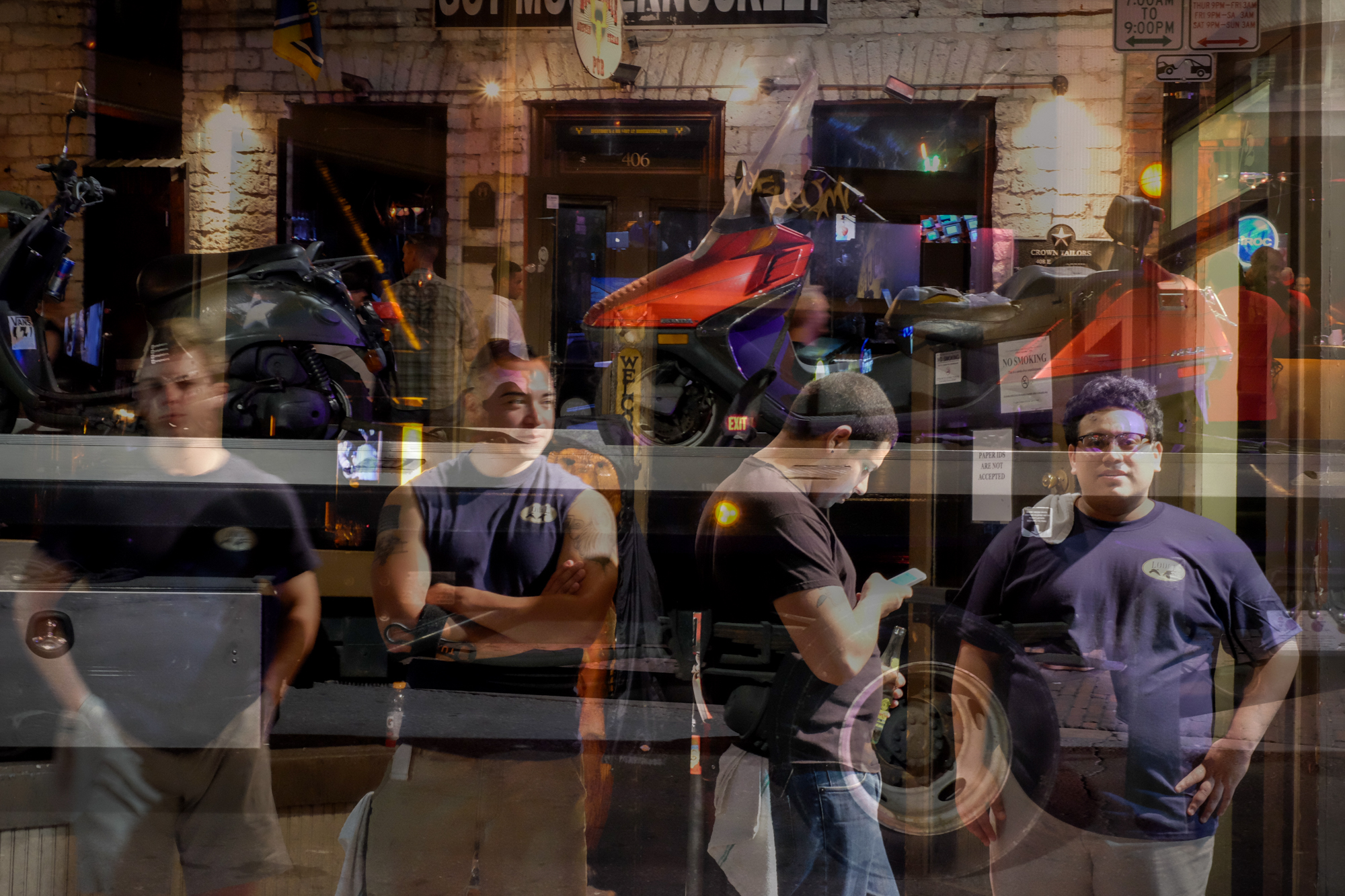 One approach I came to was that of combining one frame thought of as subject and one of background. I was going around asking complete strangers to cooperate by letting me shoot them fairly close, placing them in frame number one against a store front or marquee for the second frame, and then instantly showing them the double exposure results.
I found it was fantastic fun to operate entirely handheld at night, relying on ISOs in the very high range of 25600 so I could shoot from f/5 to f/8 with shutter speeds in the range of 1/30th to 1/60th. I always exposed both frames by spot metering off something that generated an exposure that would work well in combination, and always letting the shutter float at or above 1/30th. Spot metering was key because it allowed me to have very fine control over exposure. I could control not only where in the compositional frame the subject fell when combined with the background frame, but how both frames combined along the exposure scale using this technique.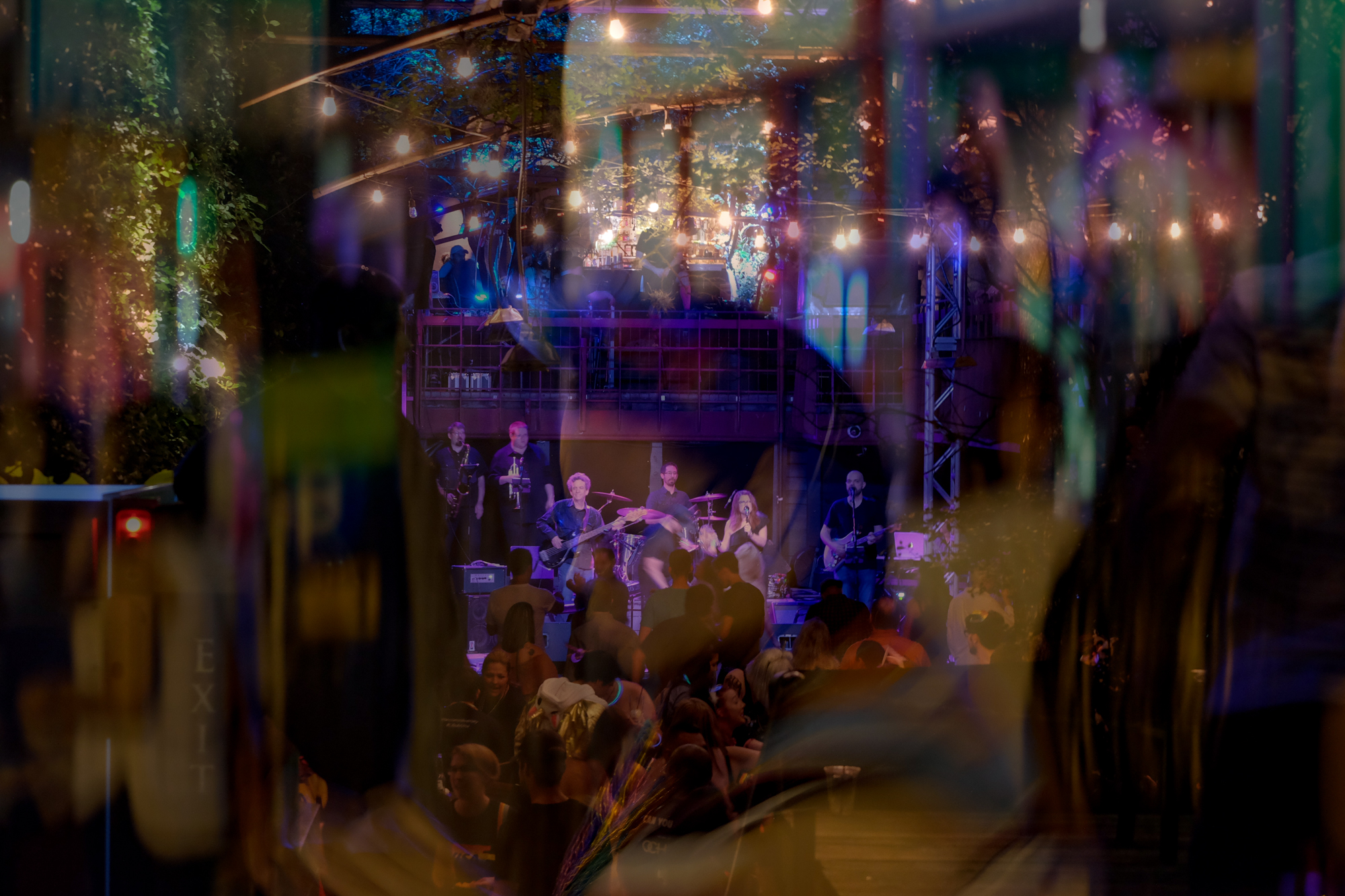 Last year I visited Jam just when Austin held its 27th Gay Pride Parade, and it just so happened that it took place the very night I arrived at the end of September, having been rescheduled due to hurricane Harvey. It was one of those serendipitous opportunities that street photographers enjoy making the most of, in this case full of promise that I just stumbled onto with my friends as we were out for a walk in the central part of the city.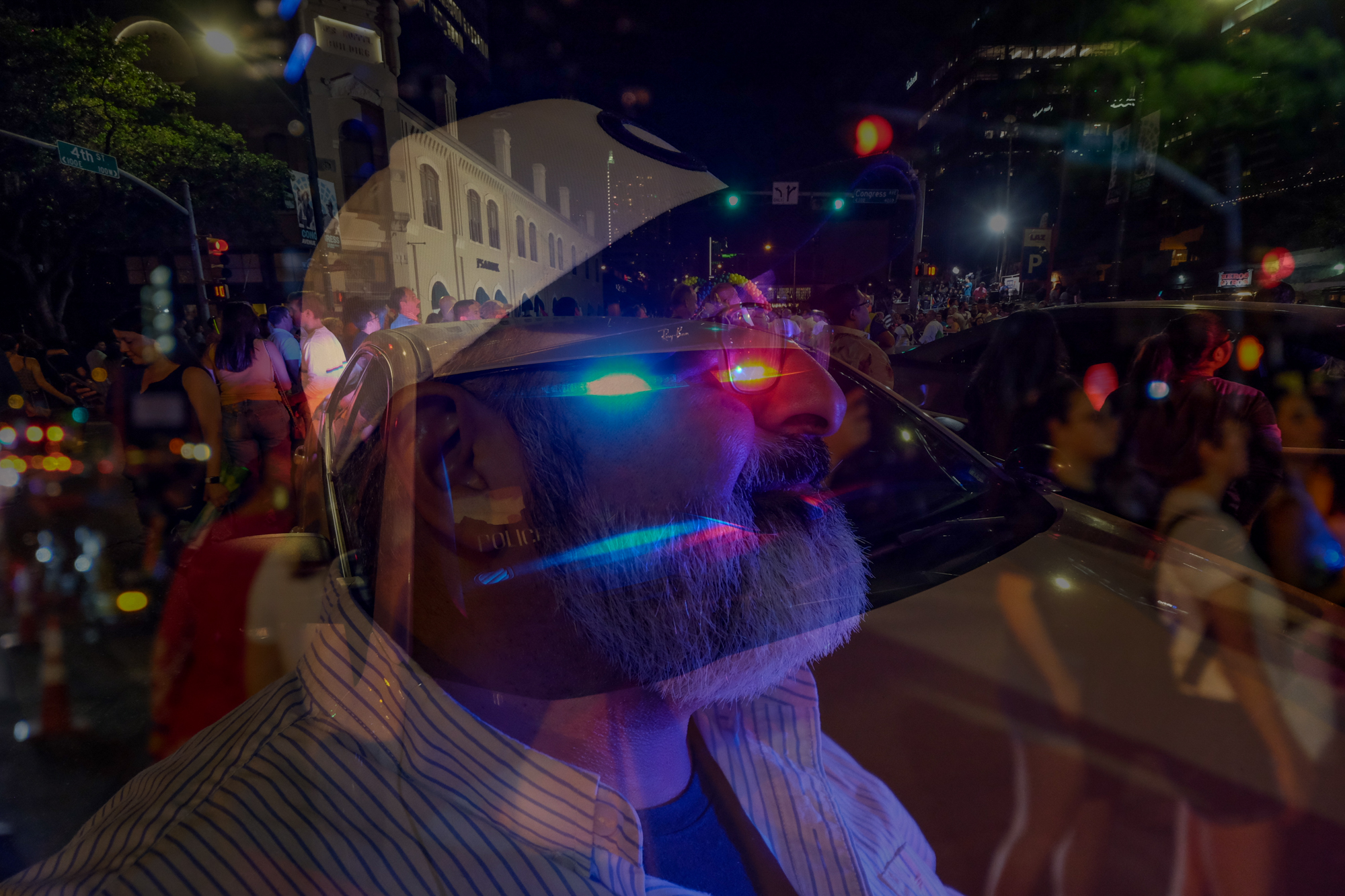 The parade came south down Congress Avenue which fortunately put the state's chalk grey capital building in the background of the parade as it moved eight blocks south on Congress. With this in the background, you could imagine images where the parade appeared to emanate from the heart of the state with the blessing of the capital of Texas itself. Shooting with the 18-135mm racked out to 135, and being steady-handed, I was able to place much of the capital building some eight blocks away in one of the frames as if it were the subject.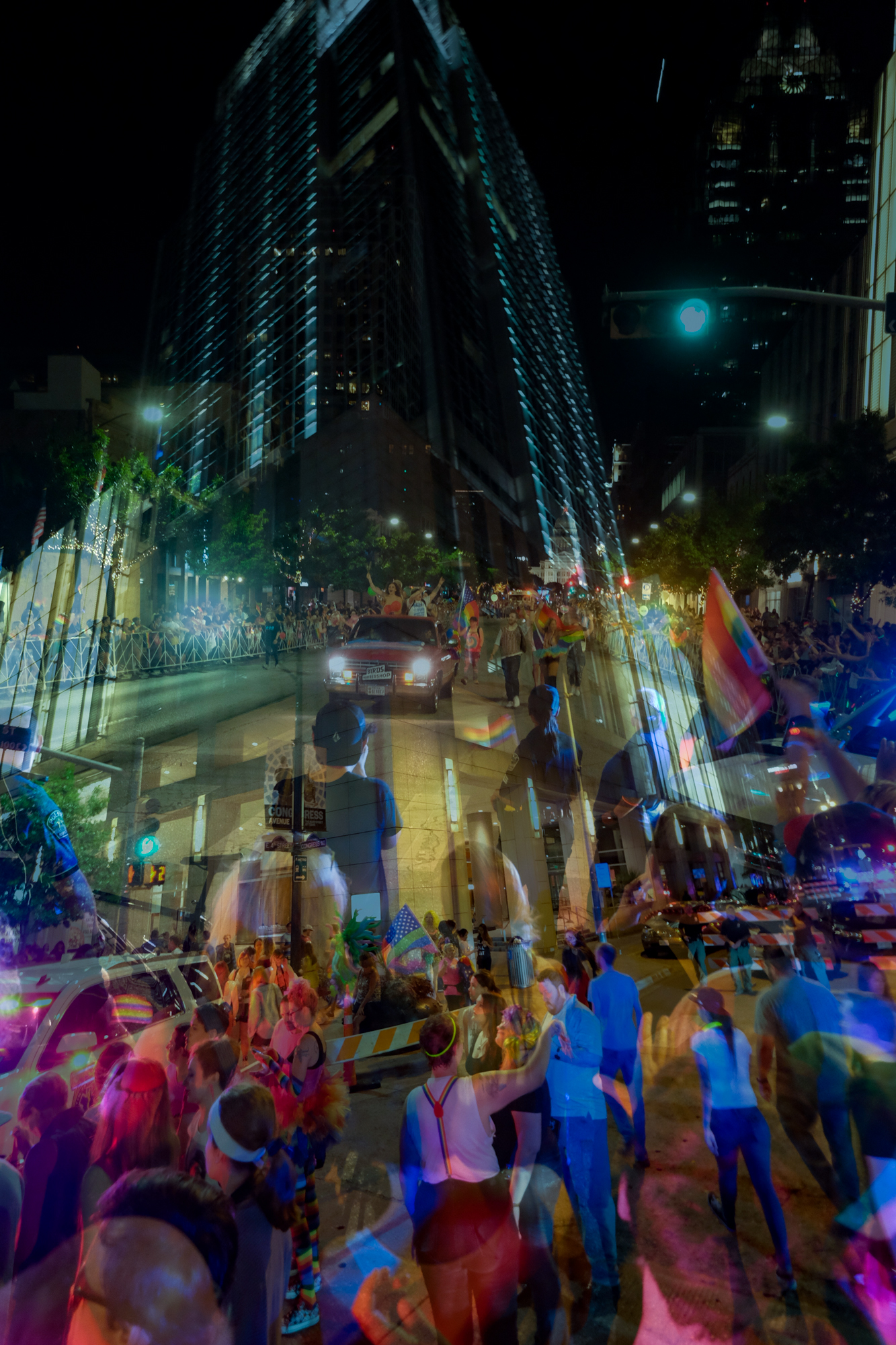 We found a spot to observe where the parade turned west off of Congress onto 4th Street, where we blended into the crowd which was a mix of all genders, ages and sexual orientations mostly as couples or small groups, seemingly every man, woman, or transgender draped in rainbow patterns and painted in rainbow colors, waving rainbow emblems. Every spectator's face alternated between eager anticipation of the next float and a mix of gleeful participation with and appreciation of the current float.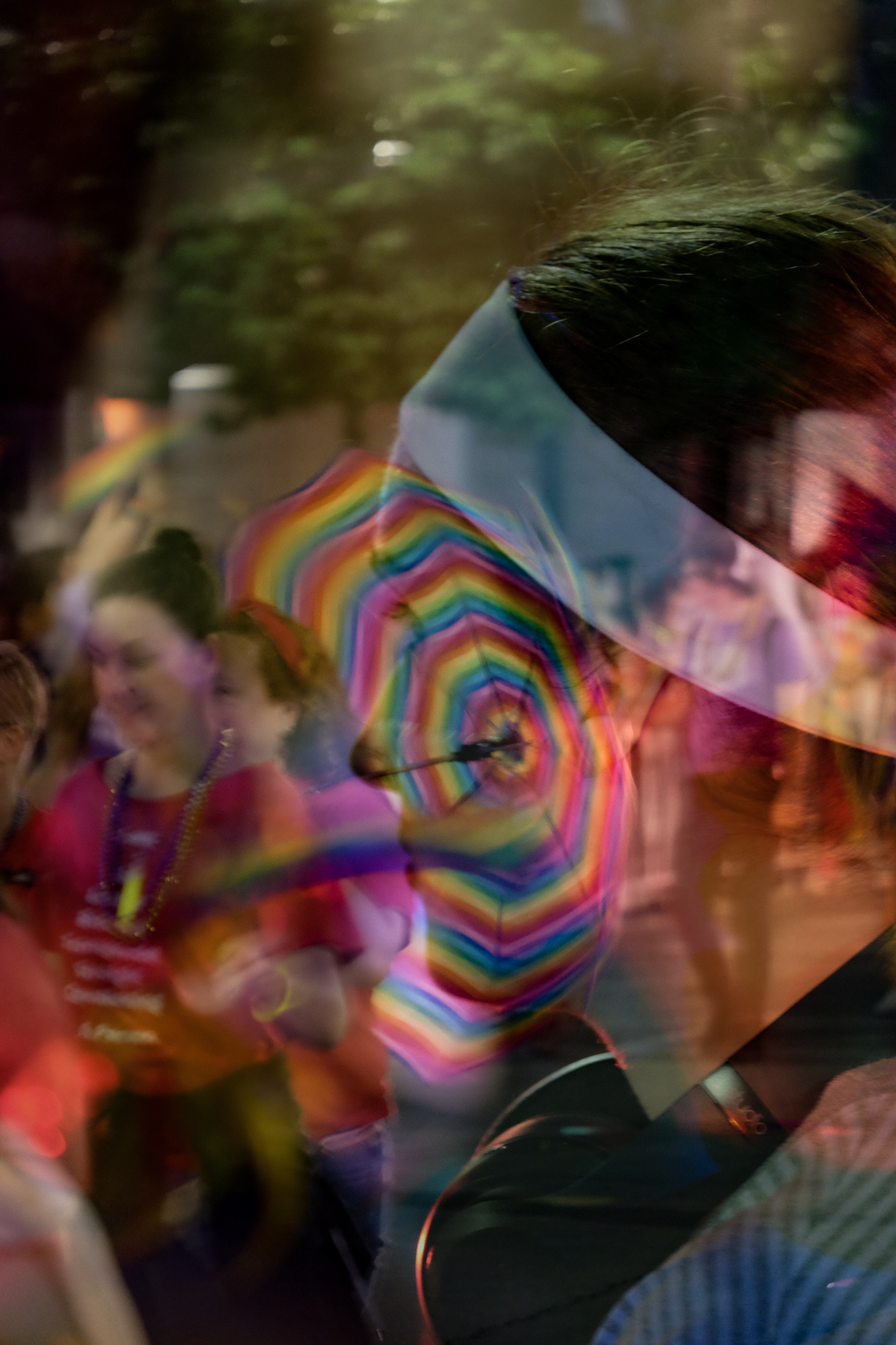 As you can imagine, it was a spectacle that was photographed from every angle by many people. I immediately took the approach that it would be shot as double exposures with the X-E2 because the X-E2 was what I had slung around my neck when we were heading out for our stroll. The challenge was that the well-behaved crowd voluntarily did not stray into the street so the parade was if not actually then in effect roped-off, patrolled by highly civil and reasonably well-liked police on bicycles, and resultingly somewhat farther away than I wanted for double exposures.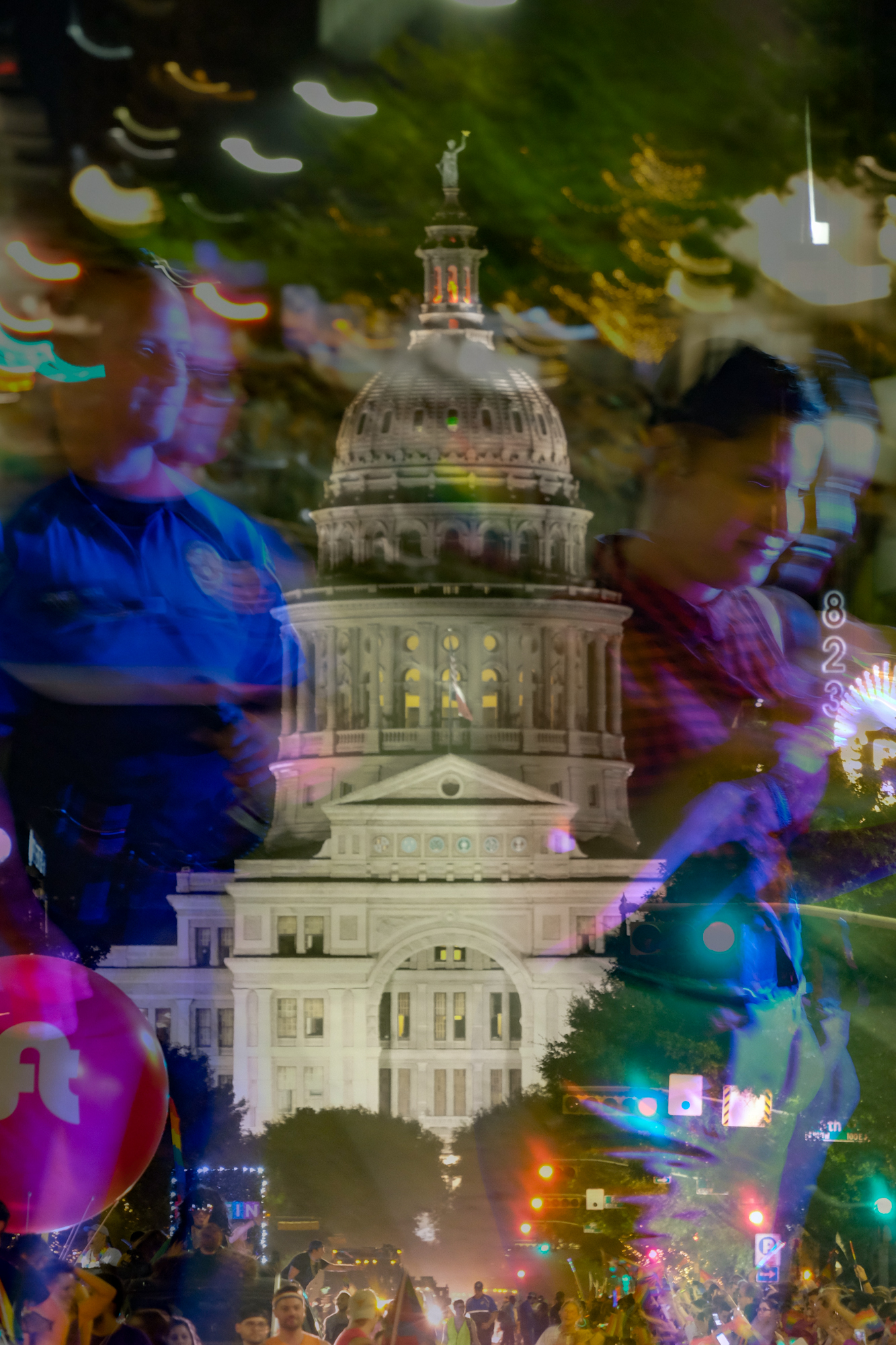 This meant that I could not easily get the kind of close portraits of individuals in the parade that I had been used to getting as one of my double exposure frames. And shutter speeds in the dimness of streetlights were not high enough to reliably reach for further subjects. Both frames of each final shot often were full of detail, thwarting my usual approach. Well, what would life be if everything was always the same all the time? In the end we stayed rooted at the junction of 4th and Congress, and it began to feel that the broader angle taken for many of the images gave them the right context to convey a sense of parade. In the final analysis, even though the images are very active and contain ambiguous subjects, I think they capture the scene and especially the
mood.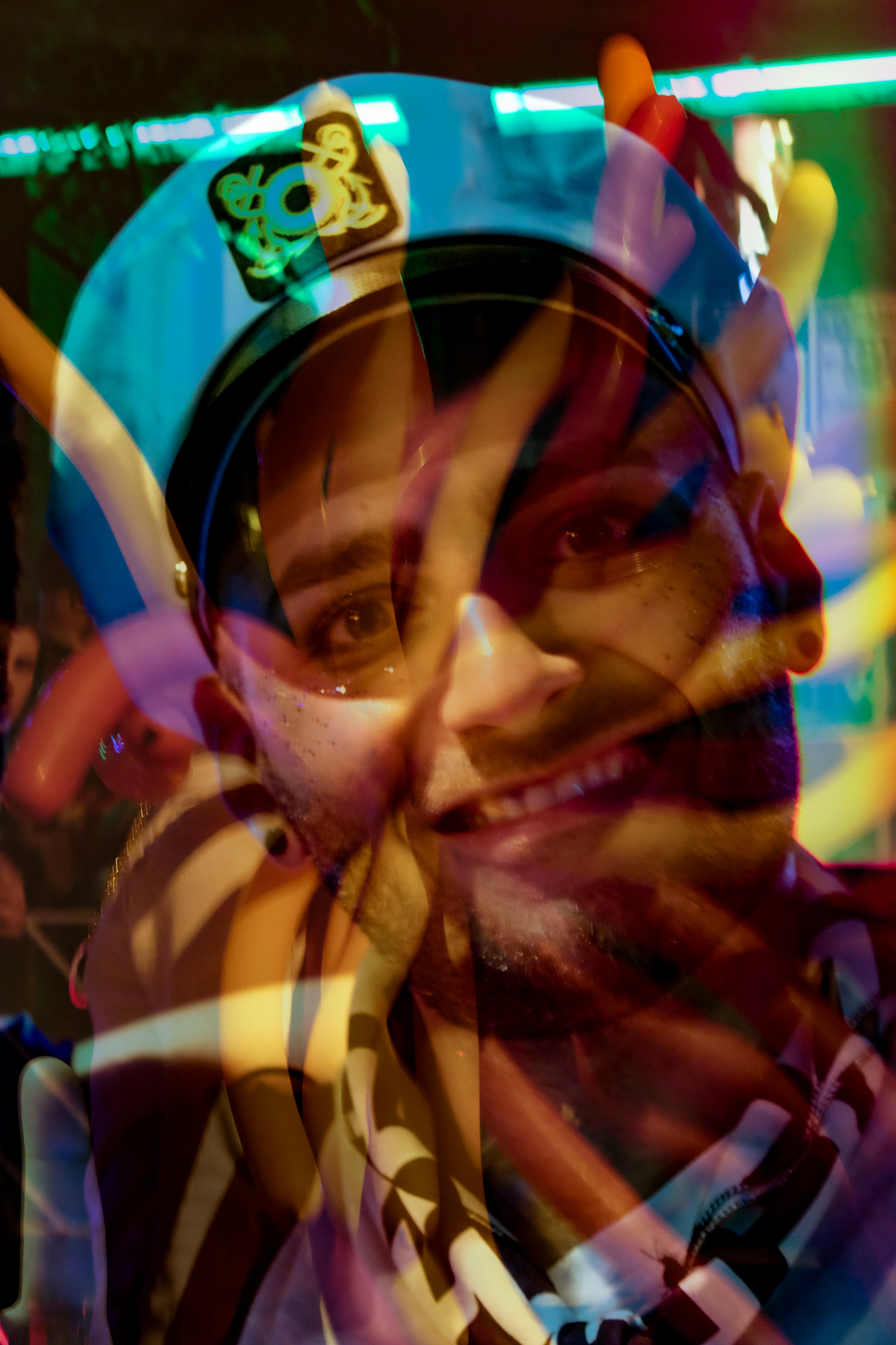 About Author