In the past few years, we have seen an influx of manual focus third party lenses come to the Fujifilm X Mount. I've had the opportunity to review some of them but I have yet to review Chinese manufacturer TTArtisan. This manufacturer is mostly known for their NOCT. versions of Leica M Mount lenses, for instance the TTArtisan 50mm f/0.95 ASPH. However, they also have a decent line-up of APS-C lenses, including a 50mm f/1.2 and 7.5mm f/2 fisheye lens. When TTArtisan reached out and asked if I wanted to review any of their lenses, I asked if they could send over the unique-looking 17mm f/1.4 lens. As many of you know, I'm a huge fan of the 28mm equivalent (in 35mm), so any lens in the 17-18mm range in APS-C is of interest to me. Let us begin by looking over the specifications:
25.5mm equivalent in 35mm ( 81° angle of view)
f/1.4-16 in half stop increments with click aperture dial
9 elements in 8 groups with 10 diaphragm blades
20cm minimum focus distance
40.5mm front filter thread, 248g
includes front metal threaded lens cap and rear plastic lens cap
$118-139 USD price range (as of April 2022)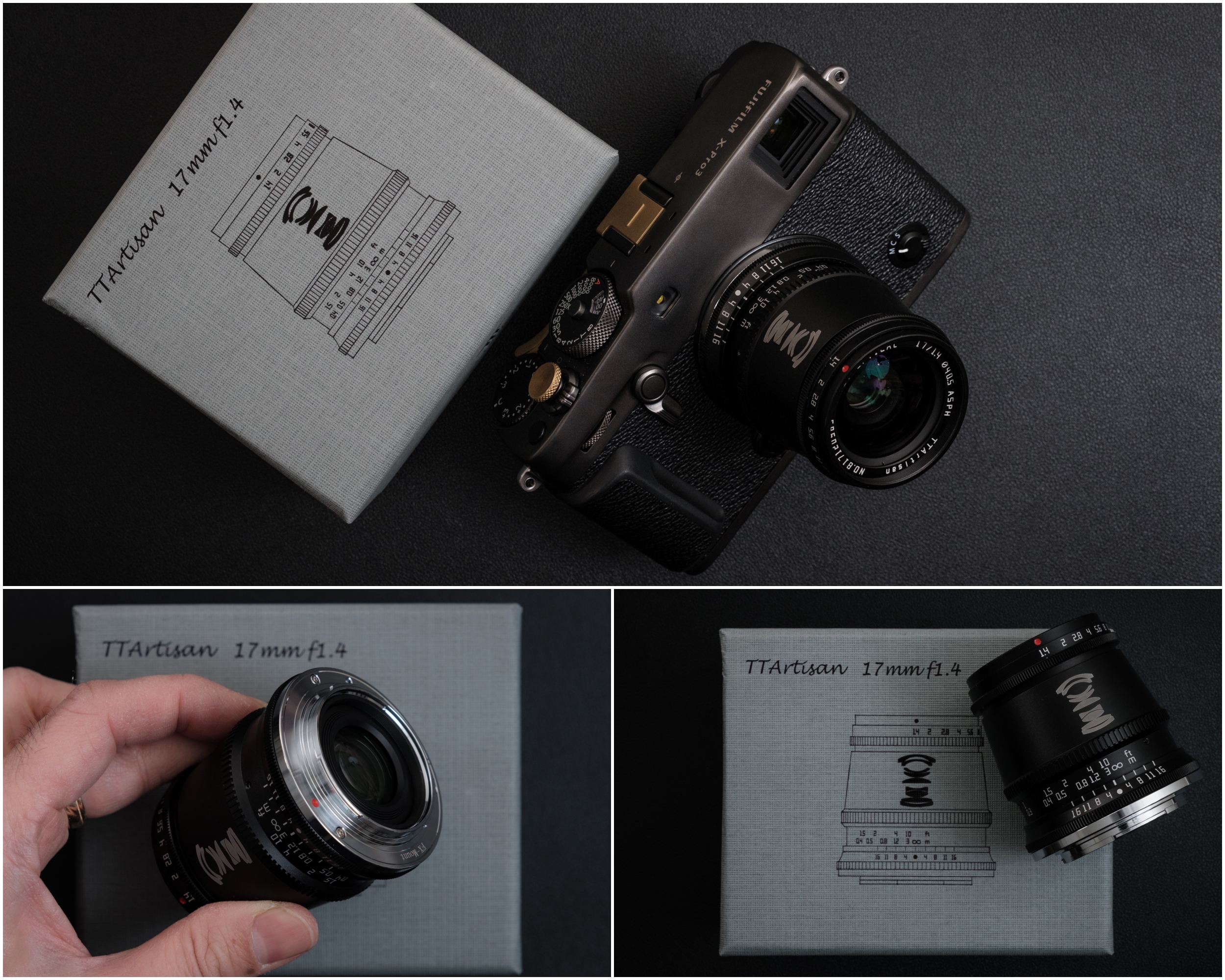 Pros
Unique design shape
Clicked half stop lens (I hate third stops!)
Economically priced
Decent build quality, metal lens cap, nice packaging-presentation
Optically sound when stopped down
Good control of chromatic aberration (very little purple or green fringing wide open)
Consistent barrel distortion (easy to fix in post)
Cons
Unique shape makes this a long lens, although it's diameter is small for f/1.4 lens
Not easy to manually focus wide-angle lens (turn off focus peak)
Focus throw is 95% below 10ft/3M.
No electronic contacts with body, so no lens or aperture information in EXIF
Strong vignetting wide open (not necessarily bad for subject isolation)
Centre is sharp but even 30% out from centre is soft until f/4 (centre subject)
Edge to edge sharpness is only achieved by f/8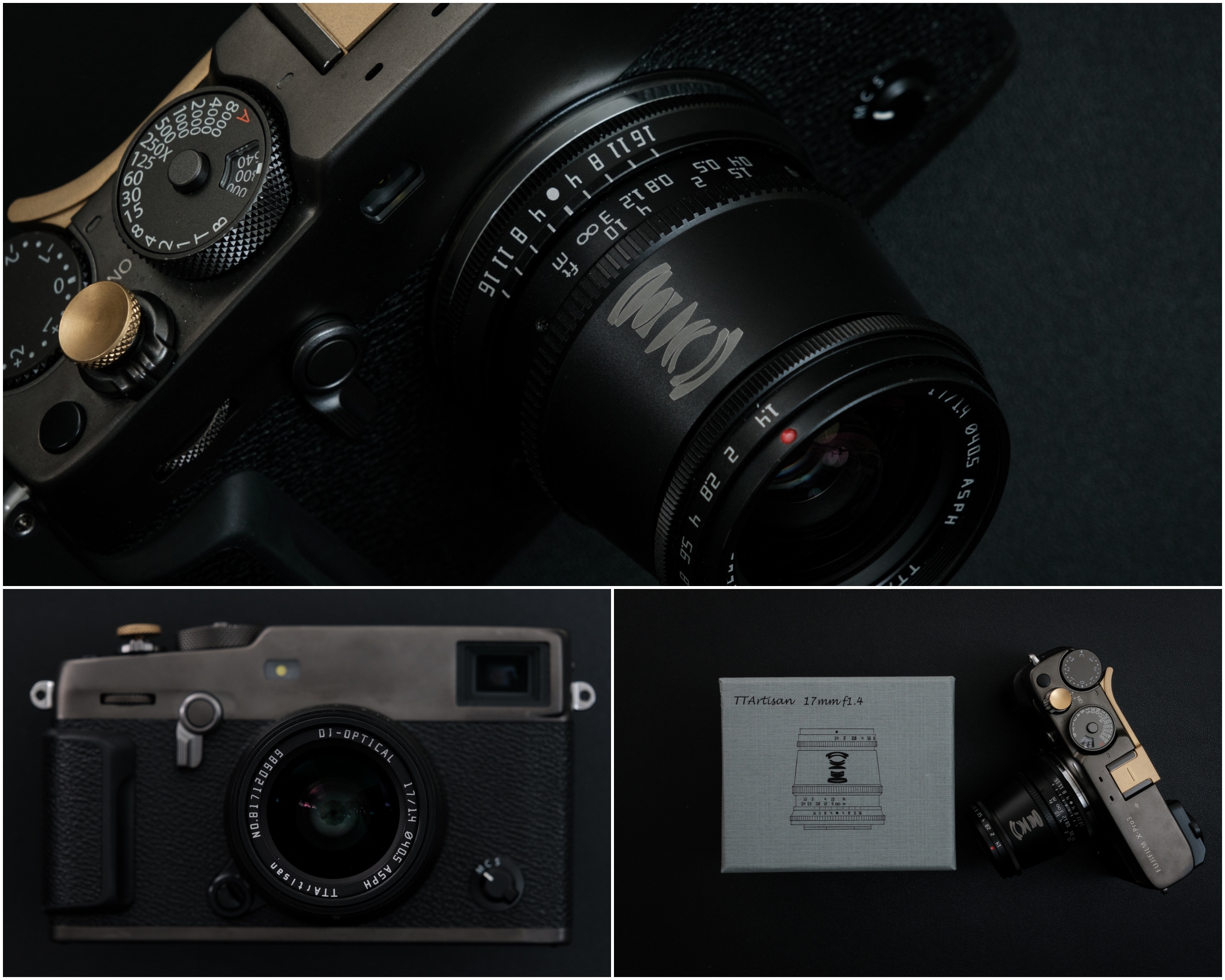 Shooting impressions
As previously mentioned, the 28mm focal length (in full-frame) is my favourite field-of-view, so shooting with this TTArtisan 17mm with a 25.5mm equivalent FOV was natural for me. I used the lens on my days off with my wife when I was walking around, as well as for my portrait and street photography work. Focusing with a wide-angle lens was more difficult than I anticipated. I found that Fujifilm's focus peaking wasn't very effective for this lens. Instead, I recommend using the regular manual focus mode and keep the aperture wide open at f/1.4. It's easier to see what is in focus when the lens is wide open. When you're ready to shoot, stop the lens down to your preferred aperture. This is where I appreciate the 1/2 stops and the clicked aperture ring. Going from f/1.4 to f/2.8 is four clicks away and f/1.4 to f/4 is six clicks away. I also noticed that most of the focus throw is between minimum 0.20M to 3.0M (0.7'-10'). This makes sense for a wide-angle lens.
In terms of sharpness, this lens is all over the place. Wide open, the very centre is sharp, but even 30 percent from the centre is blurry. For some reason, my copy was more blurry on the left side of the image compared to the right. However, once I stopped down to f/2.8-4.0, most of the centre was sharp. To have reasonable edge to edge sharpness, I had to stop down to f/8.0, which is usually what I expect from a zoom lens, not a prime. However, since I typically shoot outdoors and usually stop down to f/5.6-8.0, this wasn't a huge problem for me. In addition, I took a few portraits of my wife at f/1.4-2.8, and in real world use, I didn't really notice the lack of edge sharpness. Moreover, if you were planning on shooting landscape or architectural images with this lens, you'll need to stop down for maximum image sharpness.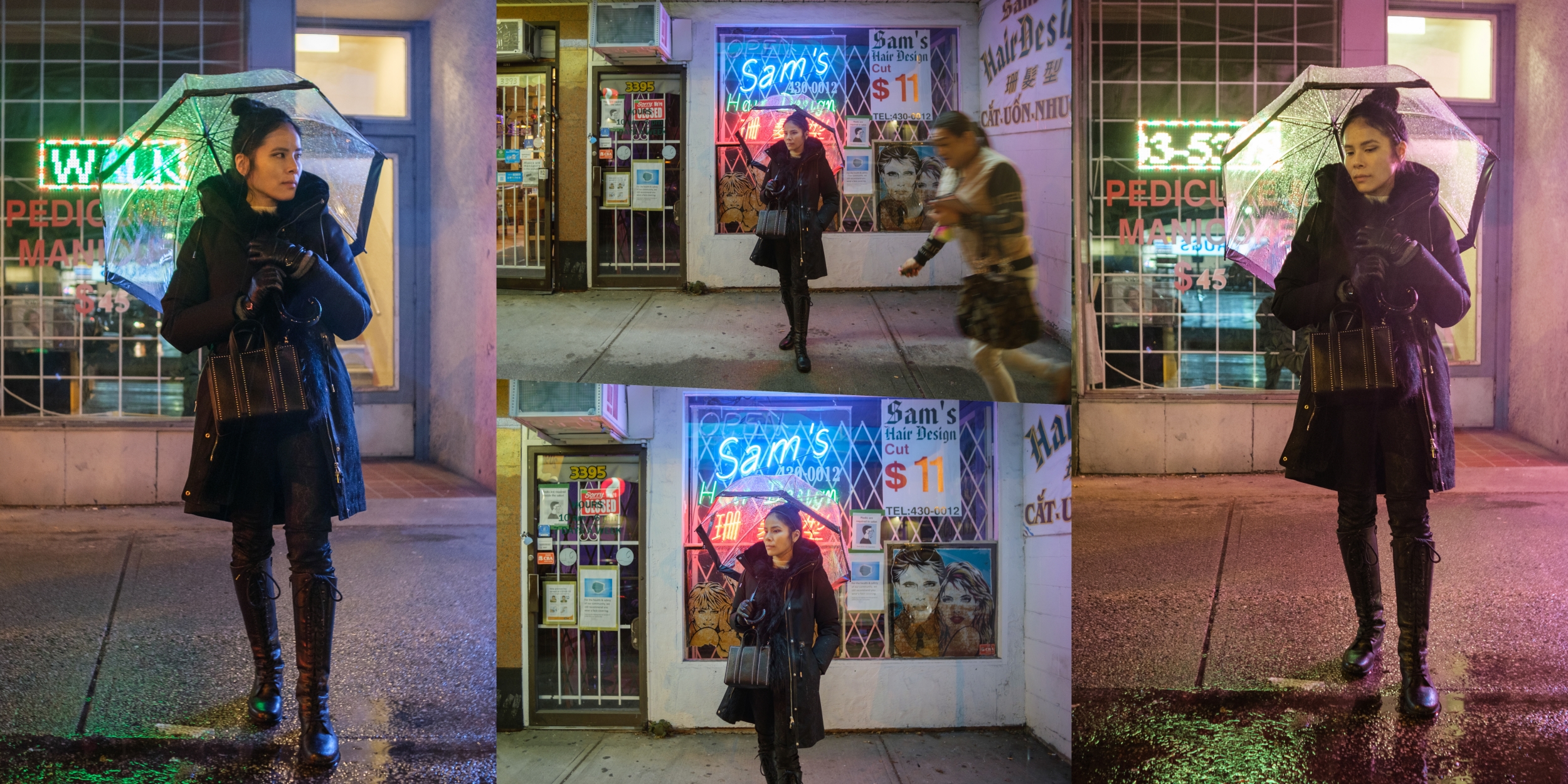 I decided to include my sharpness test, which I rarely do. Please look at f/1.4 carefully, and then compare it to real world images where I shot at f/1.4. The camera was 60cm from the image plane, and image sharpness can shift when shooting at different distances. I noticed that image sharpness was more even the further away the subject was, even when shooting at f/1.4. Most of the images captured of my wife were captured between f/1.4-2.8. On the portrait orientation images where my wife's face was not centred, I could see her face was a bit soft (which my wife actually preferred!). When the face was perfectly centred, her face was nice and sharp. Once you know the characteristics of the lens when it's wide open, you can figure out where you want to place your subject.
Besides image sharpness, this lens handled chromatic aberration very well. I only noticed slight green and purple fringing at f/1.4 but it was almost completely gone by f/4.0. I didn't even bother removing it in Lightroom, it was so slight. Referring back to my sharpness test shots, you can see barrel distortion, which is normal for a wide-angle lens. In addition, since this lens does not communicate with the body, no digital optical correction is applied. However, if you're super picky, you can create your own distortion profile in Lightroom and fix it in post. The barrel distortion is reasonably consistent so it wouldn't be that difficult to correct.
Conclusion
As I asked in the title of this article, is this TTArtisan lens just a toy lens, or can it be used as a serious photographic tool? Even at $118 USD, I would say that this lens can be used as a serious tool, with some caveats. This lens is no replacement for Fujifilm's XF18mmF1.4 R LM WR. However, the TTArtisan 17mm f/1.4 is more than $800 cheaper than the Fujifilm lens. If you don't mind manually focusing and you are okay to stop the lens down, you can definitely use this lens for some serious photography. If you're a street photographer and typically stop down, I don't think this lens will be a problem at all. I enjoyed shooting with this lens with both my X-Pro3 and X-T4 for street portraiture, nature, landscape and street photography. I also enjoyed the quirky design of the lens, reminding me of vintage Voigtlander lenses. Having the aperture ring at the very front and the focusing ring behind, I could shoot more intuitively, reminding me of the ergonomics of my Leica lenses.
Moreover, would I recommend this lens for someone as their primary wide angle prime lens? No, I would recommend the XF18mmF2 R if you can't afford the size/weight/price of the XF18mmF1.4 R LM WR. You have the benefit of an autofocus lens and communication between lens and body with full EXIF data. However, as a secondary lens, I would highly recommend this lens if you're looking for something different. Instead of adapting a vintage rangefinder or SLR lens, it makes more sense to buy these decently priced and well-built third party lenses with a native X Mount. I look forward to testing other lenses from TTArtisan in the near future. Which lens would you like to see tested next on FujiLove? In addition, let me know in the comments which third party lenses you're currently using and think I should review. I'm curious to know what's out there and which lenses you are all enjoying. Thanks for reading and happy shooting!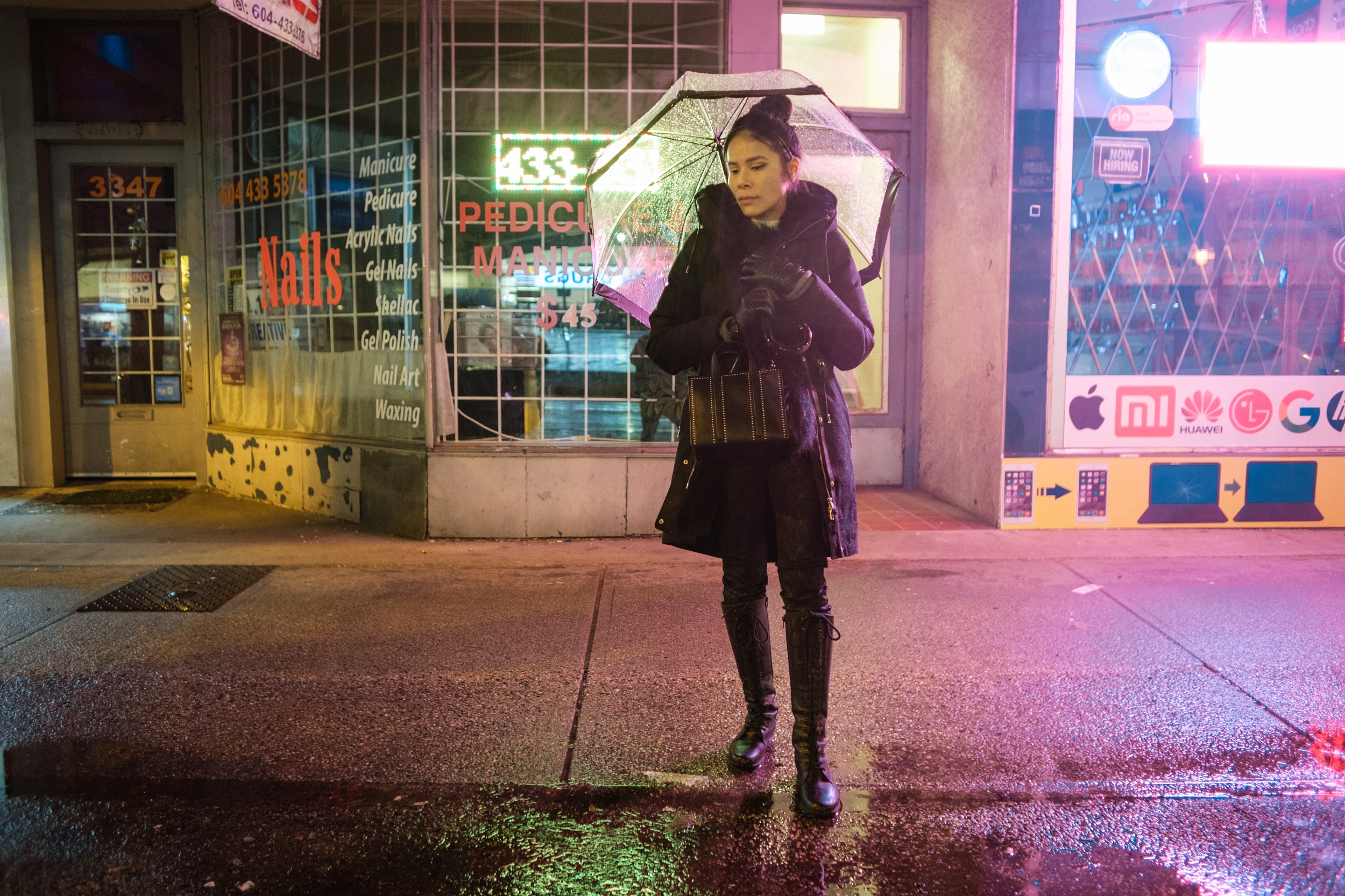 About Author