There have been rumours of a mark II version of the mighty XF35mm f/1.4 R for years. Being one of the first three lenses launched back in 2012 for the new X Series, many felt that one of the most popular lenses in the entire line-up deserved to be updated with a modern focusing motor and weather-sealing. Since the lens rendered beautifully with its 8 elements in 6 group-arrangement, most wanted to keep the original optical design. However, Fujifilm had different thoughts about this popular lens. In 2020 Fujifilm released a promotional video on XF35mm f/1.4 R, which was odd since it was one of their oldest lenses. Why promote an old lens, right? It appeared Fujifilm felt that there was no need to change a modern classic, even nick-naming it 'The Original'. If they weren't going to make a new version of the XF35mm f/1.4 R, what would Fujifilm do? Introducing the new XF33mm f/1.4 R LM WR.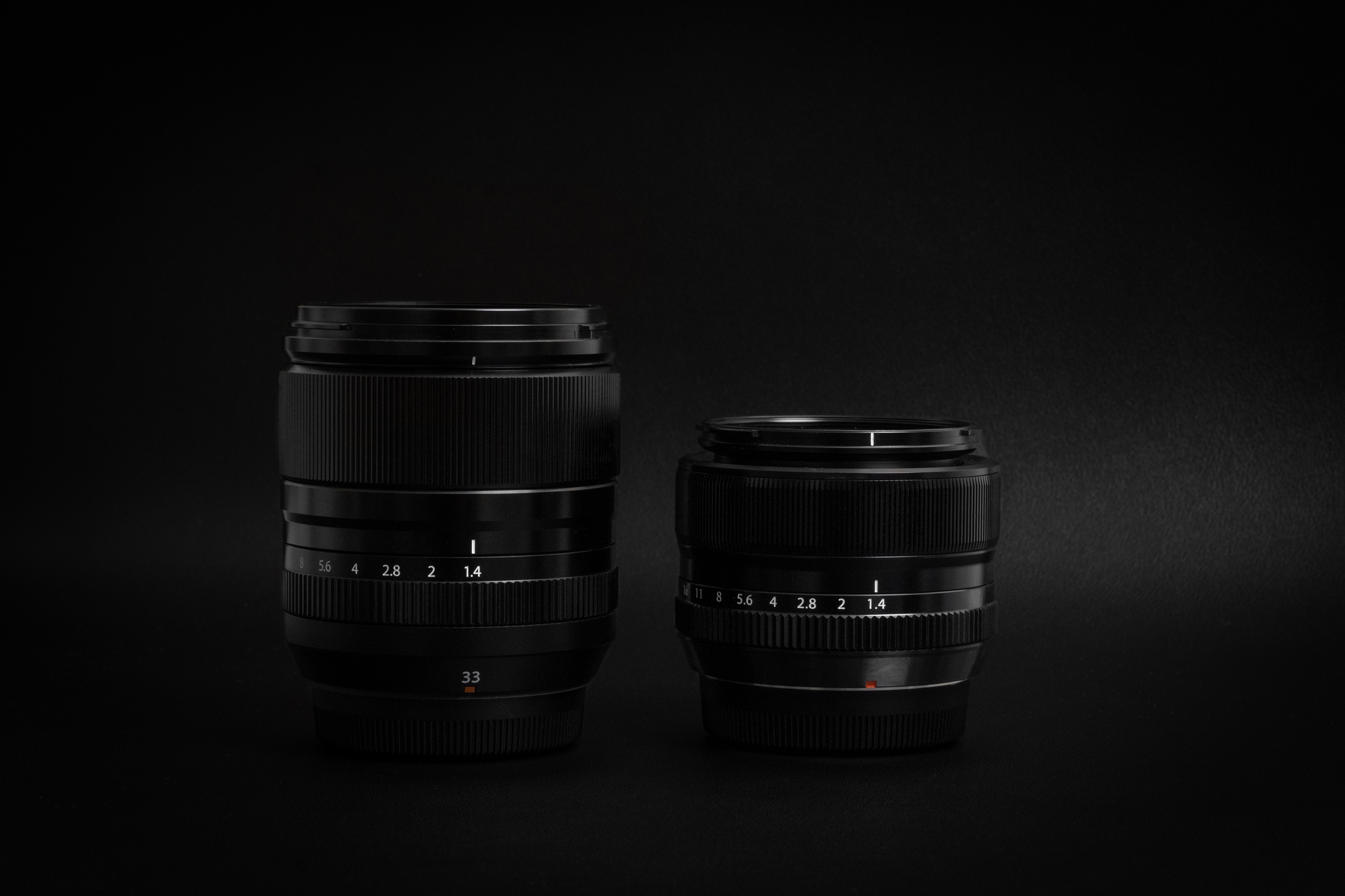 From an outsider's perspective, making a new lens that is similar in focal length to an existing lens seems nonsensical. However, from Fujifilm's prospect, it makes complete sense. It would have been difficult for Fujifilm to build a mark II version of the original XF35mm f/1.4 R without making some changes to the optical design, thereby changing the original character of the lens. It would have also made the lens bigger and heavier, something that the diehards would have complained about since the compact size and weight was one of its selling features. In addition, the XF33mm focal length in APS-C is closer to a 50mm equivalent, versus a 53mm equivalent with the XF35mm. When we see the final results of an all-new design of the XF33mm f/1.4 R LM WR, there is a huge contrast in aesthetics as well as engineering philosophy between these two lenses. Let's begin with the specs of the new Fujilux lens:
XF33mm f/1.4 R LM WR
50mm equivalent field-of-view
15 optical elements in 10 groups, including 2 aspherical and 3 ED elements
weather-sealing design
linear motor for quick and silent focusing
9 blade rounded aperture
58mm filter thread, 'A' position lock
360g weight
30cm min focus (0.15x mag)
made in the Philippines
$799 USD with optional $69 USD square metal lens hood
From an optical perspective, this new XF33mm f/1.4 R LM WR lens behaves similarly to the XF18mm f/1.4 R LM WR. Fujifilm stated that the upcoming XF23mm f/1.4 R LM WR also has a similar optical formula as the other two, creating a new family of high-caliber lenses for the X-Series. In fact, both the new XF23mm and XF33mm lenses have 15 elements in 10 groups with 2 aspherical + 3 ED elements and 58mm front filter threads. They will also share the same optional square lens hood ($69 USD). I recently reviewed the XF18mm f/1.4 and loved it, so I was glad to see similar results with the new XF33mm. The autofocus is quick, quiet, and accurate. The lens is very sharp and uniform wide open, and reaches optimum sharpness by f/2.8. There is very low chromatic aberration wide open except in very harsh situations and mostly gone by f/2. I have attached a few examples comparing both the older XF35mm f/1.4 R with the new XF33mm f/1.4 R LM WR.


When comparing the original XF35mm with the newer XF33mm, I was surprised how well the older 8 element design performed in many situations. During daylight and shooting wide open, I actually preferred the overall rendering of the XF35mm over the more technically superior XF33mm. When I magnified my images 100-200% I could see that the micro-contrast on the new XF33mm was slightly better, but when zoomed out, it was hard to see the difference. The XF33mm tended to overexpose about 1/3 to 2/3 stops versus the XF35mm, although this could be a matter of software or the fact I had a pre-production model. I also noticed that certain film simulations rendered differently on each lens. I preferred the film-like look of the Classic Neg on the older XF35mm, while Provia really popped with the new XF33mm.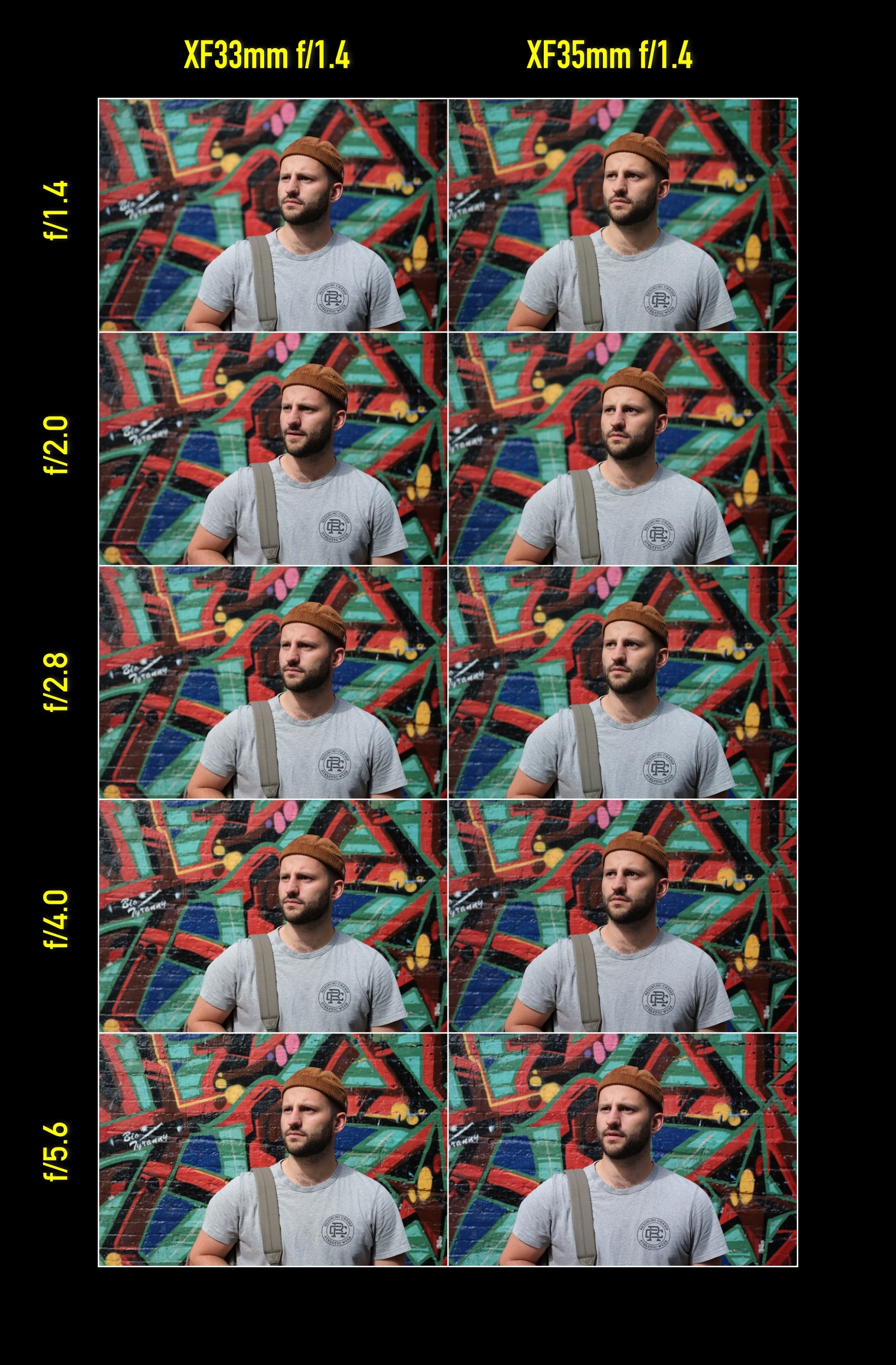 One test I've been doing recently with lenses is checking for its starburst effect quality. I usually conduct the test at night, but you can do it during the day as well, using a strong light source to create the effect. When stopping a lens down while having a strong light source in the image, a star-shaped effect appears. The XF18mm f/1.4 R LM WR did it beautifully starting at f/4 and peaked at f/5.6-8, so I was curious to see if the similarly designed XF33mm f/1.4 would behave comparably. I'm happy to say it does, and even better at f/8. There is less ghosting and internal flares, and the starburst 'arms' are thinner and longer. However, the old XF35mm f/1.4 R does not create starbursts very well. Even stopped down to f/8, it still looks very muddy in the middle of the starburst. Although this is an obscure test, it does show that the new lens design is more versatile in extreme lighting situations.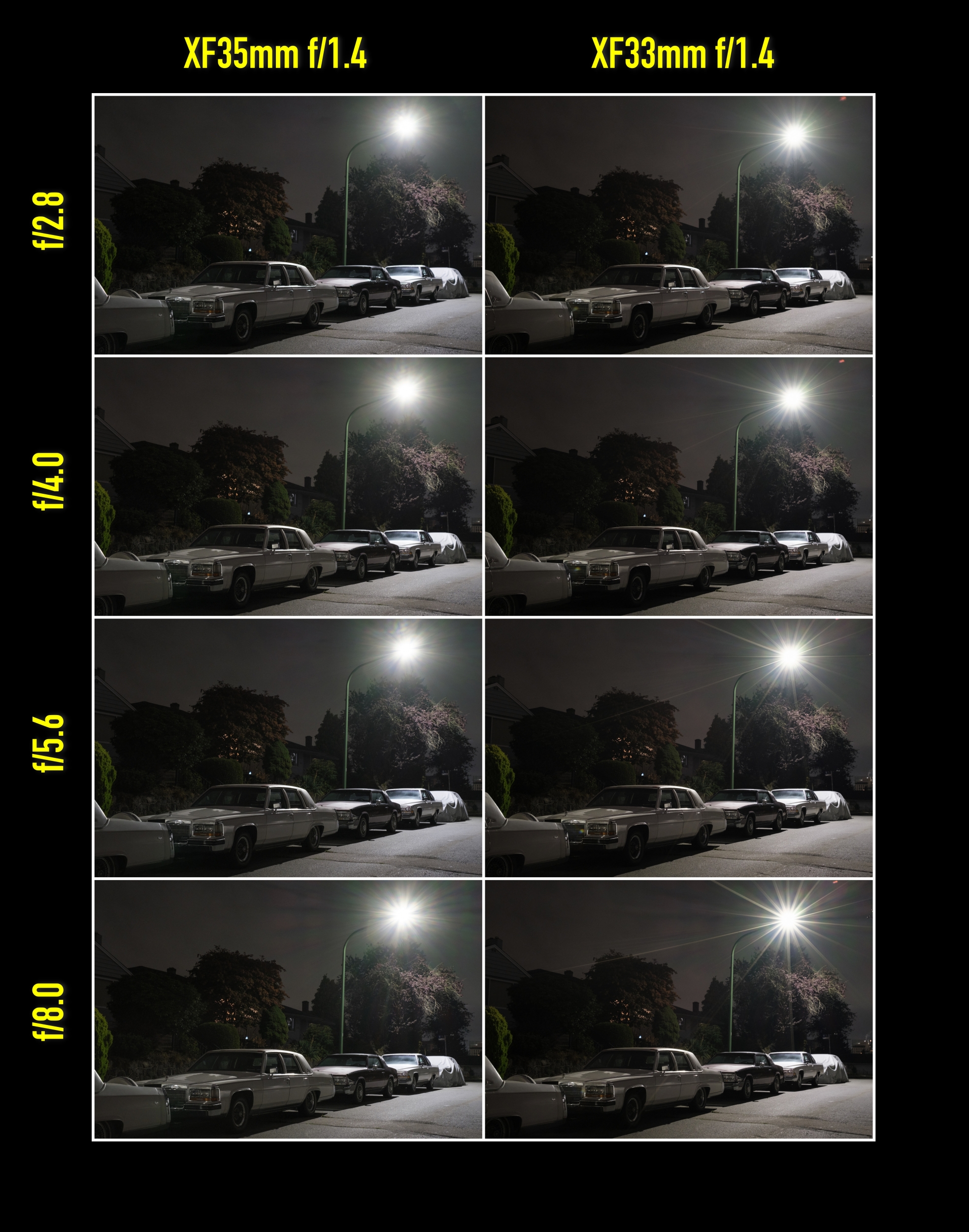 I know many of you who are reading this review currently own or are considering the older XF35mm f/1.4 R. Many of us have been waiting for a weather-sealed version of 'The Original' with faster and quieter autofocus, while still maintaining its diminutive size and weight for a professional level lens. Fujifilm has decided to leave the classic lens alone and create an all-new lens with very different characteristics and specifications. Technically it's a 'better' lens in terms of specifications and performance. However, you pay for it in size, weight and price. Both lenses are great as an all-around 'standard' lens for our X Series cameras. The new XF33mm f/1.4 balances nicely on the larger bodies, such as the X-T4 and X-H1, while the older XF35mm f/1.4 balances nicely on the X-Pro3 and smaller bodies.
I don't think it's weird to own both lenses, each for a specific use. As a daytime street photographer, I say to stick to the older XF35mm f/1.4, especially with one of the newer bodies that allow for decent autofocus speeds. If you want the latest and greatest, then get the XF33mm. You won't be disappointed. Stay tuned for my full review of the XF33mm f/1.4 R LM WR. For now, I can say I am impressed with the performance of this new fast prime lens from Fujifilm. I look forward to reviewing the new XF23mm f/1.4 R LM WR and compare all three newly designed Fujilux lenses at the same time. Thanks for reading and happy shooting!