In early 2022 SIGMA Corporation Japan announced their prime lens trio (16mm, 30mm, 56mm) for Fujifilm X Mount, with more lenses to come in the near future. That future is now as SIGMA announces the popular 18-50mm F2.8 DC DN Contemporary now available for the X Mount. Initially launched last fall in both Sony E-Mount and Leica L-Mount, releasing this fast standard zoom lens in Fujifilm X Mount will surely find great success amongst Fujilovers wanting an alternative to the very capable (but ageing) XF18-55mmF2.8-4 R OIS. I was given a production copy for review last week. These are my initial thoughts on this lens. Let's start with the specifications.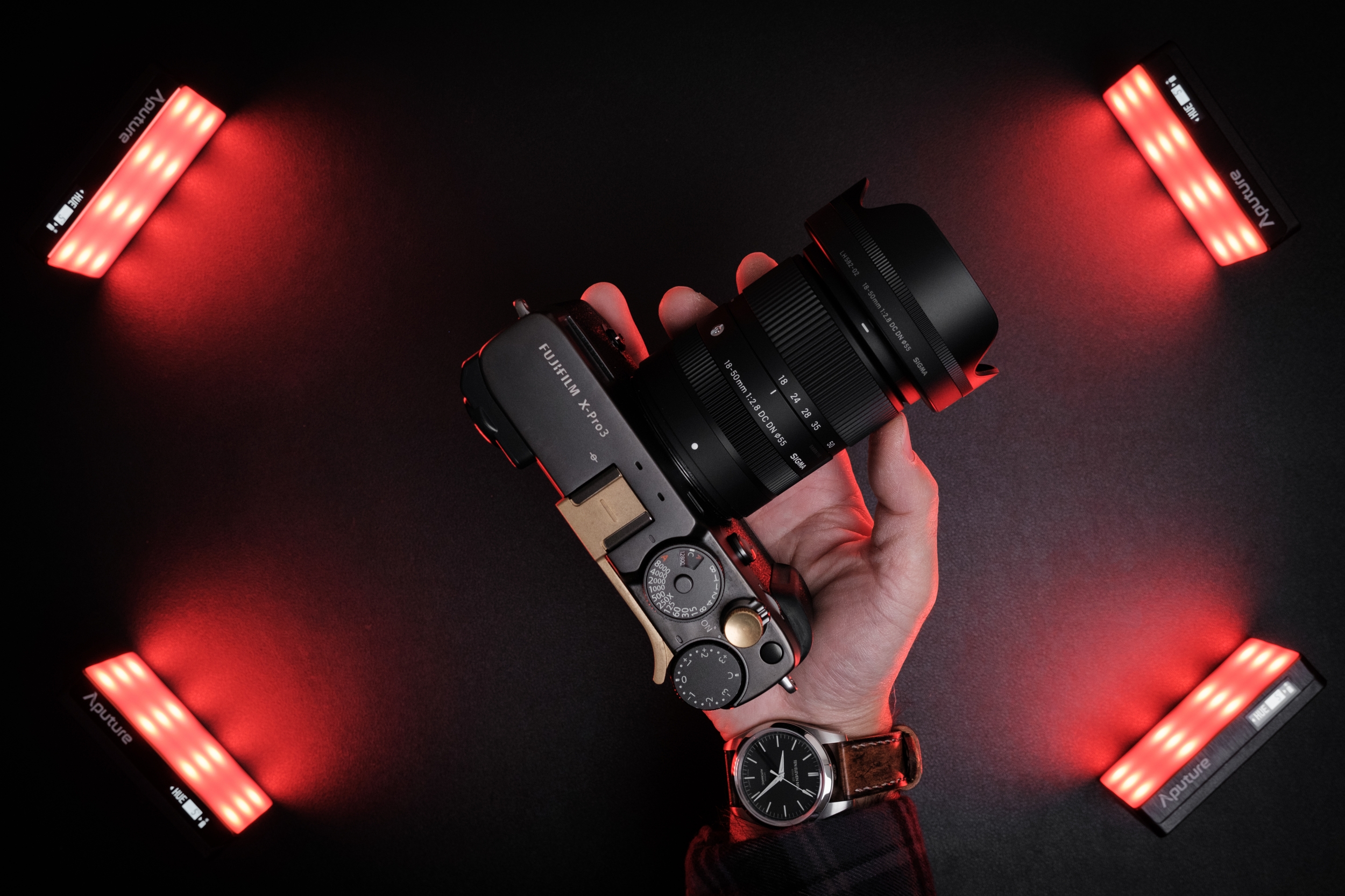 Sigma 18-50mm F2.8 DC DN | Contemporary
27-75mm zoom range in 35mm equivalent format
constant f/2.8 aperture from f/2.8-f/22 with 7 rounded diaphragm blades
13 elements in 10 groups with 3 aspherical and 1 SLD lens elements
stepping motor for autofocus
Ø61.6mm x 76.8mm 55mm front filter thread
285g / 10.1 oz
brass bayonet mount with dust and splash-resistant structure
12.1cm min focus distance (to sensor plane) at 18mm for 1:2.8 magnification ratio
30cm min focus distance (to sensor plane) at 50mm for 1:5 magnification ratio
AF algorithms made specifically for Fujifilm X Mount
In-camera aberration correction
sales embargo December 2nd, 2022 for N.America
$549 USD
Made in Japan
The first thing I noticed when I first unboxed this lens is how small it is, considering its constant f/2.8 aperture. It's basically the same size as the XF18-55mmF2.8 R OIS ( Ø65mm x 70mm with 58mm filter thread 310g), which is already a decently compact standard zoom lens. Sigma was able to accomplish this in part by using more plastic than the Fujifilm lens, albeit with a solid construction feel. According to Sigma, the materials used to construct this lens uses "Thermally Stable Composite (polycarbonate with thermal characteristics similar to aluminum) barrel construction, with slim internal metal parts, offer lightweight and functional strength." The build quality feels solid in the hand and the pedal-styled lens hood looks handsome on the minimalist-designed lens. Please note that Sigma's zoom ring turns counter-clockwise (the opposite from what we're used to) and is located at the front of the lens, while the focus ring sits where we're accustomed to seeing the aperture ring, and aperture control must be done via one of the dials on the camera body and not on the lens barrel.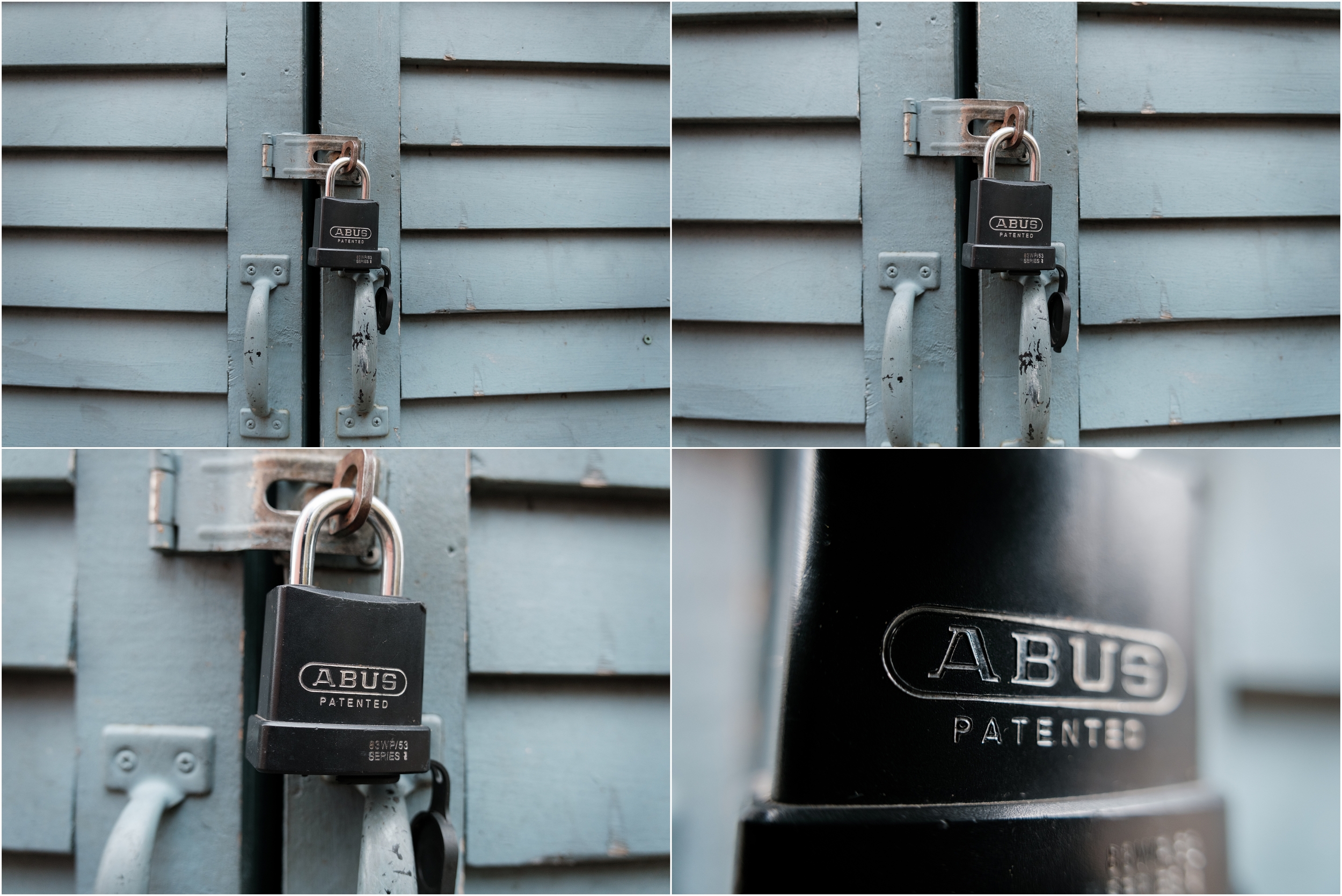 Besides the compact size and weight, the next outstanding feature of this lens is its macro capabilities. At 18mm wide, the lens can focus to 12.1cm to the sensor plane or basically 2.7cm to the front of the lens! The actual magnification ratio is 1:2.8, which makes this lens pretty much a macro lens when shooting at 18mm. In fact, Sigma recommends removing the lens hood if you want to achieve minimum focus. At 50mm, you still get a decent 30cm minimum focus or 1:5 magnification ratio. In real-world use, I found 2.7cm to the front of the lens is impractical as the lens creates a shadow on your subject when shooting at 18mm wide. However, having the ability to focus so close can be useful since you never have to worry about hitting minimum focus in most scenarios.
The stepping motor in the Sigma 18-50mm f/2.8 allows for quick, quiet and accurate autofocus with minimum hunting. In addition, face detection, focus point selection, continuous AF, focus limiter and manual focus override all work with this Sigma lens. According to Sigma, the 18-50mm lens has autofocus algorithms made specifically for Fujifilm X Mount. I hope to test it on the new X-H2S, X-H2, and X-T5 to see how this lens handles subject detect autofocus. According to my tests, the Sigma lens focuses as quickly as Fujifilm's own native zoom lenses. I wouldn't hesitate to use this lens for both videos and stills.
The image quality of this Sigma lens is overall very good. It is definitely sharper than either the XF18-55mmF2.8-4 or the XF16-80mmF4. The lens is sharp in the centre at all focal lengths, with slight softness along the edges at f/2.8. It quickly sharpens up when stopped down, with optimum sharpness at f/5.6. However, for me, I wouldn't hesitate to shoot wide open most of the time unless I'm trying to achieve a deep depth of field. There is noticeable vignetting at f/2.8 but is gone by f/5.6, as well as slight barrel distortion when shooting at 18mm. Pin-cushion distortion is noticeable starting around 30mm to 50mm. Longitudinal chromatic aberration (purple and green fringing) is noticeable when shooting wide open at f/2.8, but disappears when stopped down. Moreover, all these optical issues are normal and I would consider them well within acceptable levels, especially for such a compact lens with such a fast constant aperture.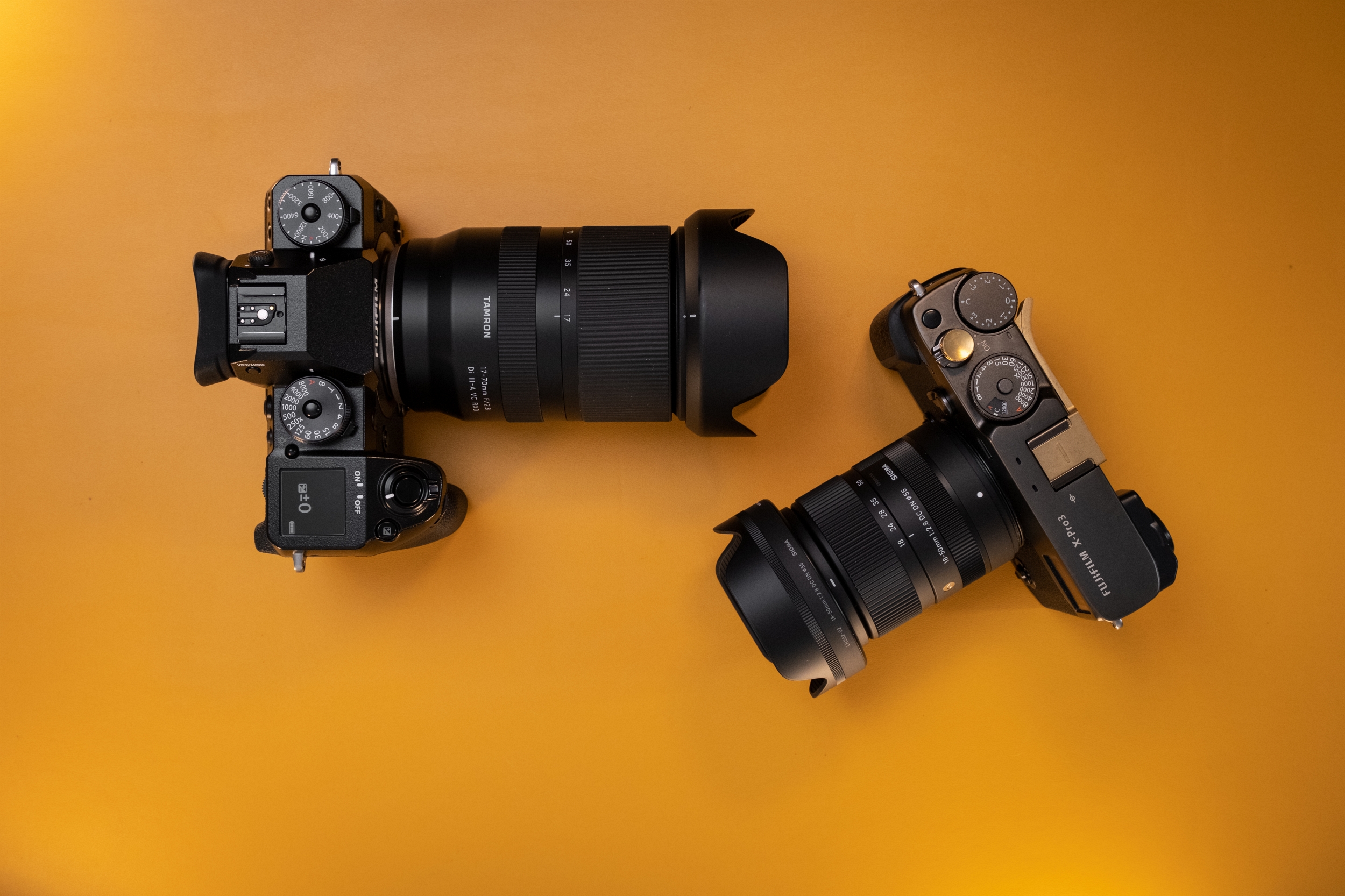 Many will compare the Sigma 18-50mm F2.8 with the Tamron 17-70mm F2.8 since these are both well-known Japanese third-party lens manufacturers and both have a reputation for making good lenses at solid price points. From my perspective, these are two very different lenses targeting different types of photographers. The Tamron is bigger and heavier, it has OIS (Optical Image Stabilization) and is $250 more expensive. The Sigma lens is targeting those who want to upgrade from the standard kit lens but want to maintain a small and light footprint. The Tamron is targeting someone who wants one lens that can do everything, but with the size and weight of a professional lens. For my needs, I want a lens that is small and compact if I want to use it out on the streets or as an everyday carry lens. I ended up using the Sigma 18-50mm F2.8  like it was five medium speed prime lenses: 18mm, 23mm, 27mm, 33mm, and 50mm. This lens works equally well for street, event, documentary-reportage and everyday photography.
These are my first impressions of the new Sigma 18-50mm F2.8 DC DN Contemporary lens. Overall this lens is a solid performer and will satisfy the needs of many Fujifilm X photographers who are looking for an alternative to the XF18-55mmF2.8 R OIS or XF16-80mmF4 R OIS WR. The Sigma will sell for $549 USD, cheaper than either Fujifilm lens, yet will have a faster constant f/2.8 aperture and improved optical performance. The Sigma does not have OIS but this strategic compromise allows the lens to be as compact and light as possible. Mounted to any IBIS-equipped body (X-H1, X-T4, X-S10, X-H2, X-H2S, X-T5), the Sigma will match perfectly for both still and video. For any non-IBIS equipped body, the Sigma still has the advantage of a fast constant f/2.8 aperture, allowing for hand-held images even as the light levels drop. I wouldn't hesitate to use this lens on my X-Pro3 as an everyday lens, as it's smaller and lighter than most Fujilux prime lenses (XF18mmF1.4, XF23mmF1.4, XF33mmF1.4, XF56mmF1.2). With the addition of Tamron's 17-70mm F2.8 and now Sigma's compact 18-50mm F2.8, Fujilovers have more options when it comes to their standard zoom lens selection. Thanks for reading and happy shooting!
For more on this lens, check out Take's first impressions video on YouTube.
About Author