To support my photography endeavours I have been also shooting weddings for several years. It has always been a very enjoyable experience and to a big extend I have been always treating it in a very similar way as my fine art photography. I always strive to produce the most beautiful images, search for light, for mood. My clients have always appreciated this approach. But there have always been one thing that was really disturbing me: the pain in the neck (no pun intended). Carrying two (or sometimes three) camera bodies for several hours has never been the most pleasant experience. Fortunately things changed very recently – I discovered the Premium Leather Multicamera "74street" Strap offered by AF Shoot.
AF Shoot is a UK based online shop ran by a wedding photographer Angelo Fernandes (I am sure many of you have heard about Angelo by now, he is a great photographer himself and has been always pretty active on Fujifilm related social media platforms; I met Angelo on our own FujiLove Facebook Readers' Group). Angelo is offering a whole range of camera accessories: camera straps, soft release buttons, hot shoe covers, leather cases and – last but not least – Angelo's fine art prints.
Here is Angelo Fernandes himself wearing the Multicamera "74street" Strap.
Two weeks ago I shot the first wedding using the AF Shoot Premium Leather Multicamera "74street" Strap and… believe me or not, it basically changed my life. It was exactly what I was looking for. I was shooting that particular wedding with my X-T1 and the X-E2. I had the XF 56mm f/1.2 on the X-T1 and the XF 35mm f/1.4 on the X-E2. And the 74street strap "handled" this setup just perfectly.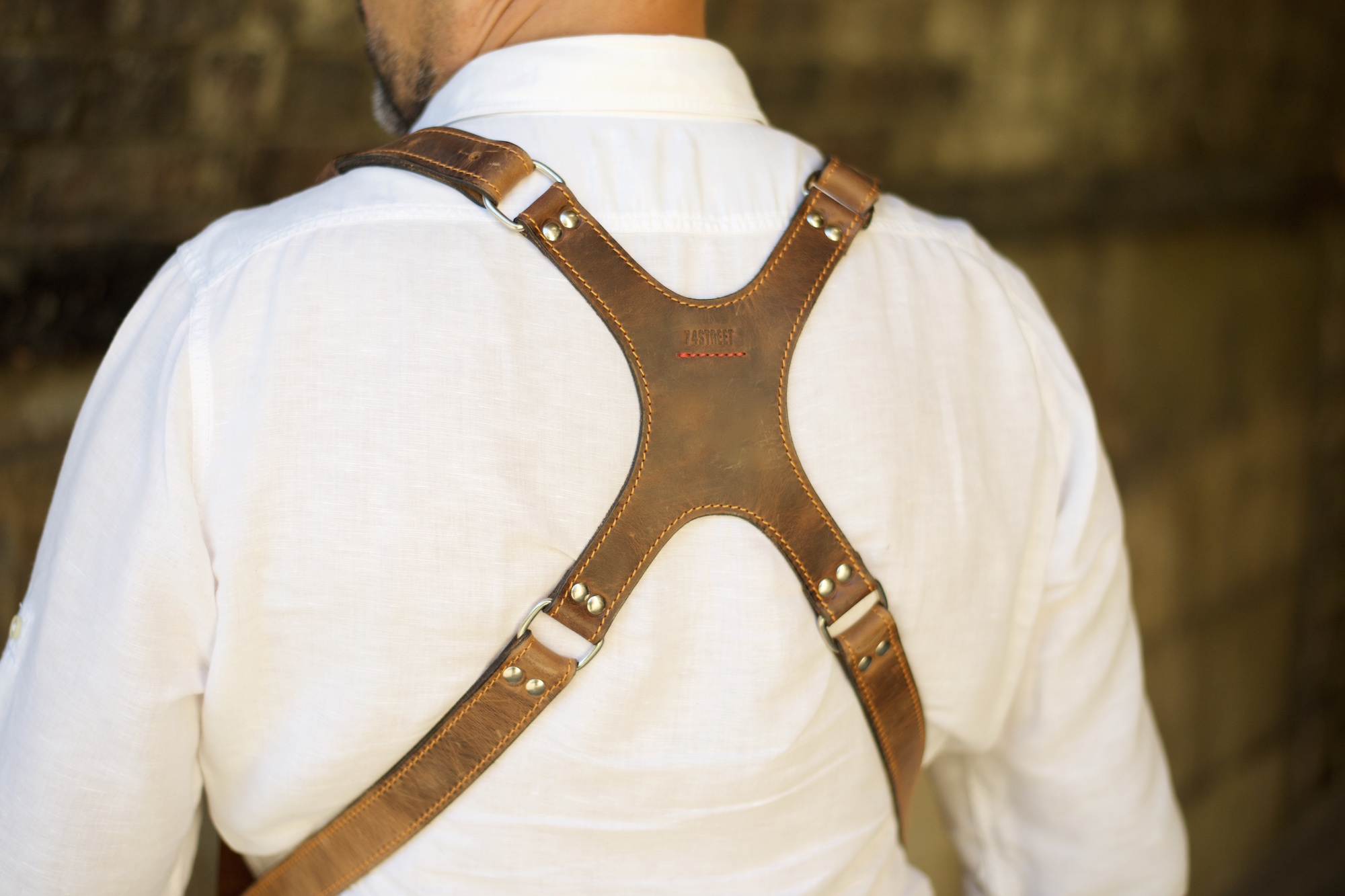 When wearing the 74street strap I was not noticing the weight of the cameras and lenses at all. We all know that Fujifilm equipment is definitely on the lighter side of things, but still – carrying two cameras with lenses attached for 10 hours long is not something you wouldn't notice. To attach the cameras to the strap you use the camera plate screws, which are being delivered when you order the strap. When not being used the cameras are hanging on your sides upside down. The entire strap has a very comfortable x shape on the back and you can adjust the length of it, using the easy metal pin / holes system.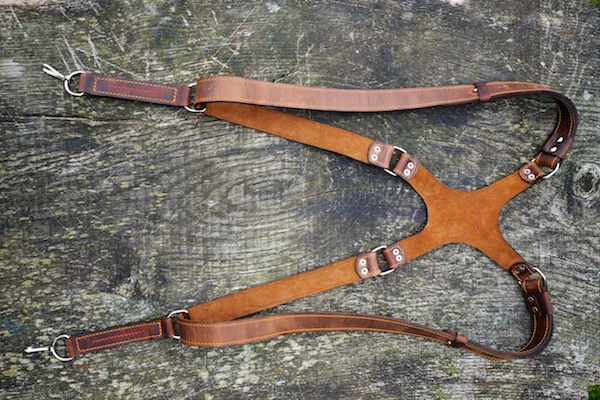 The cameras themselves are hanging on special additional hangers, which are attached to the main part of the strap using metal D rings. When you are ready to shoot, you grab one of the cameras and very easily slide it up to your eye and click. The entire system is so comfortable and intuitive to use, that I basically stopped noticing it after a couple of minutes.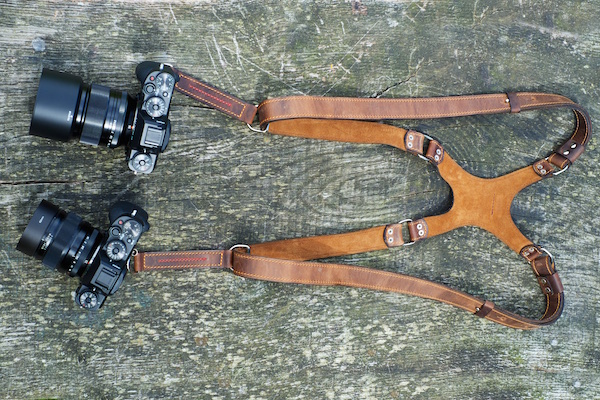 The Premium Leather Multicamera "74street" Strap is made of a genuine double-layered leather and that is why it will not stretch and keep its original length. You can have it in brown or in black.
It costs 180 GBP. It may sound like a lot of money, but trust me, if you are a wedding or event shooter, it will be one of the better purchases you will ever made.
I am really pleased with the quality and usability of this strap. Next week I will be reviewing the AF Shoot Premium Handcrafted Leather Wrist Strap and the good news is, you will be able to win one of those here at FujiLove!
Make sure you visit Angelo's AF Shoot Shop to browse through all his offerings. I am sure you will find something what suits your needs and the quality of the products he offers is outstanding.
About Author