As photographers, we all know that it is not the camera that is the most important part of our arsenal, it's our lenses. We always lust after that latest fast aperture lens, whether it be from Fuji, Canon or Nikon. When I started out in the photography world, I was constantly aiming to own the best gear that I could afford. Once my career had reached a point where I could afford to buy the best camera (in my opinion), along with the best lenses, which would cover all aspects of my photography, I ended up buying a Canon 5D mark III. During my mission to own the latest and greatest, I went through almost every "professional" L lens that Canon offered.
I made some poor choices and some great ones, but was never fully satisfied with the look that I got from f/2.8 lenses. With this I started to invest in prime lenses. My first true love came when I bought a 35mm f/1.4. The lens, the focal length, the look and versatility I fell in love with almost instantly. The 35mm focal length became my all time favourite focal length to use for almost everything. After putting almost 30,000 images through my bodies, using the 35mm focal length, I decided that I "needed" a personal camera, as my shutters were raking in some serious numbers on jobs as well as in my personal life. A personal camera needed to be small, but also light weight, yet not sacrificing image quality. Enter the Fujifilm X100S.
The X100S was the first camera I had ever owned that made me want to take photographs for the sake of making an image. The X100S was the first camera I had owned that already had my favourite focal length built in, with a fast aperture also. The quality of images that the X100S produced astounded me, especially when I compared them to my "professional" Canon 5D mark III, with equivalent lens. This is where my obsession with Fujifilm came from. Shortly after realising my obsession, I decided to drop almost my entire Canon setup and invest in this tiny, lightweight camera system. Enter the Fujifilm X-E2.
Before buying one of the "big dogs", I wanted to test out the Fuji system, to see if it could replace my beloved 5D mark III and 35mm f/1.4 combination. Naturally the first lens that I bought to pair with the X-E2 was the XF 23mm f/1.4. After taking my first few shots, I noticed that shooting f/1.4 didn't give the same effect as full frame (bokeh) but that look that I loved, the immense sharpness and lightweight was there. That was the moment I knew Fujifilm was the one for me. I hunted around and bought myself an X-T1.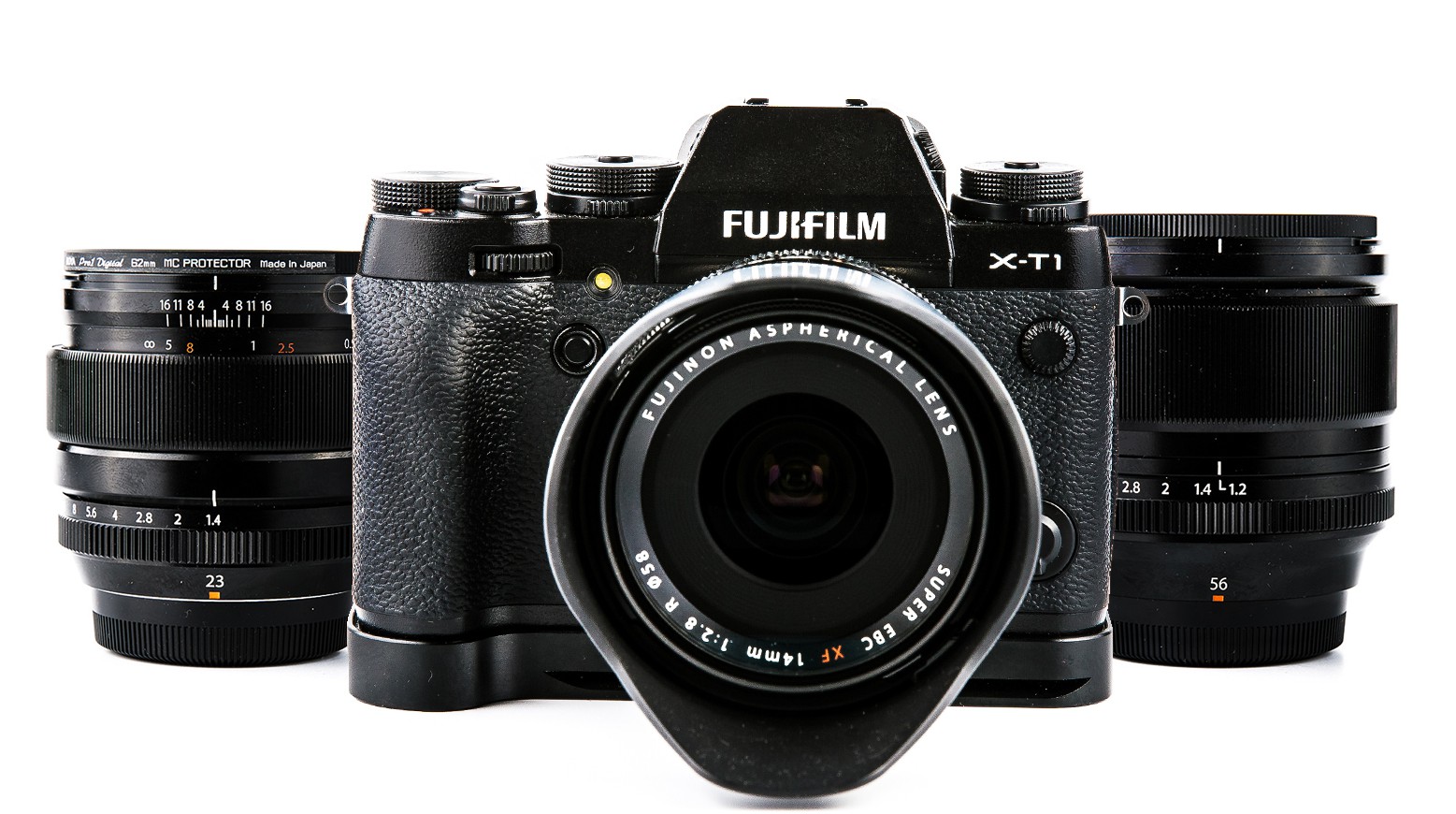 Now this is where I didn't want to make the same mistakes that I had made with Canon. I didn't want to go through all of the lenses, later to find out 3 or 4 of them was all I needed. So I browsed my Lightroom library, ignored all my personal folders and checked the meta data on all my professional work. 35mm was my most used focal length, with f/1.4 to f/3.2 being my most used apertures. I was covered with 35mm as the Fuji 23mm is the equivalent to 35mm on a full frame sensor. The 2 areas that I was not covered for was a shot telephoto for portraits and candids, also a wide angle for group shots, interiors, landscapes. As I checked my meta data, my most common telephoto length for portraits was between 70mm and 100mm. To cover this area I bought the XF 56mm f/1.2 R, which in full frame terms is the equivalent to a 84mm focal length. Now my wide angle. My most used focal lengths whilst using Canon was between 16mm and 22mm. This is where I struggled with a choice. Do I go for the amazing Fuji 14mm f/2.8, the very versatile Fuji 10-24mm with OIS or wait for the release (now released) of the 16mm f/1.4. After a couple of months, researching, waiting for a few Canon lenses to sell, I finally decided on the XF 14mm f/2.8. I went with the 14mm over the 10-24mm because I already had a 35mm equivalent with a faster aperture, so half of that lenses focal length would become useless, or my 23mm would become redundant. I decided against the 16mm, as when shooting Canon, my main focal length was 35mm, then the occasions that I needed wider, 24mm was never enough, so I felt this may be the case with the 16mm f/1.4 with it being the equivalent full frame focal length of 24mm.
That's it! I now have my 3 lenses for every situation. 3 lenses that can cope with all of my needs, perform as expected and produce amazing results.
As a side note to my Fuji Holy Trinity, I also bought a "play" lens, a Samyang 8mm f/2.8 fisheye. I'll cover this towards the end as I don't include this in my 3 lenses for every situation.
Fujifilm Fujinon XF 23mm F1.4 R (35mm full frame equivalent focal length)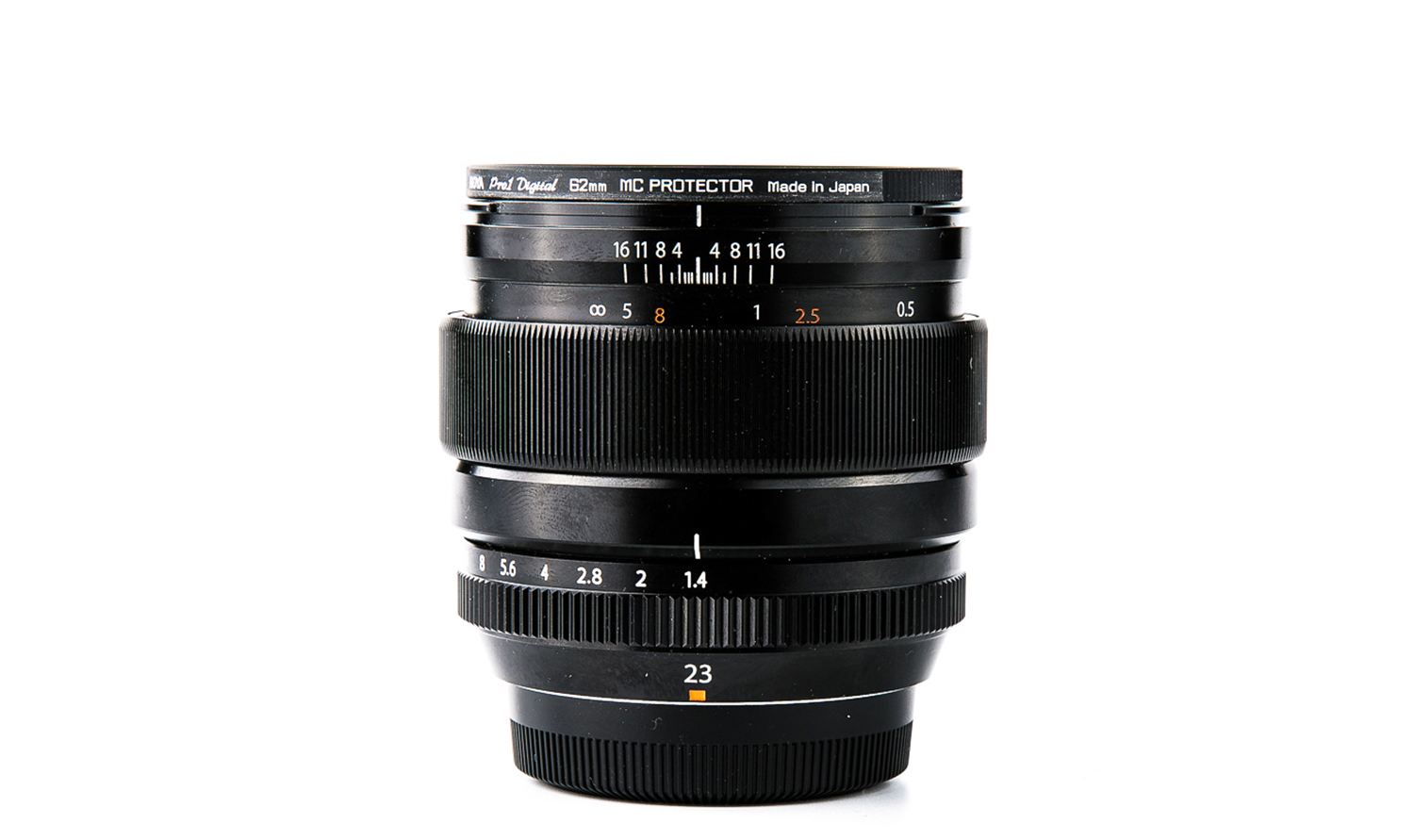 If I could only ever have 1 lens, and 1 body, it would be the X-T1 with the 23mm lens. This lens is beyond brilliant. It is quick at focusing (not lightning quick, but still very quick). It is very sharp wide open at f/1.4. It is light, solid metal construction. It produces amazing contrast and colours, minimal distortion (unless you frame your shot intentionally to distort), and just works as expected. Being a small lens (compared to full frame equivalents), it is not intrusive. I am yet to use this lens and my subject feel intimidated. For me it is the perfect lens. I find that the 35mm equivalent focal length produces the most natural images. The background isn't compressed as a 50mm, and background distance is reflected naturally in the image as I saw it with my own eyes. For me, this is the "do everything lens", and a lens that I always recommend to anyone about to invest in a Fujifilm mirrorless system. I can't say exact areas this lens shines, as it shines in all areas. For those wanting a "do everything lens", highly consider  the XF 23mm F1.4 R.
Specs:
11 elements in 8 groups (includes 1 aspherical element)

Max. aperture: F1.4

Min. aperture: F16

Number of blades: 7(rounded diaphragm opening)

Step size: 1/3EV (22 steps)

Focus range: Normal 0.6m – ∞

Focus range: Macro 28cm – ∞

Max. magnification 0.1x

Filter size: 62mm

Weight: 300g
---
Fujifilm Fujinon XF 56mm F1.2 R (84mm full frame equivalent focal length)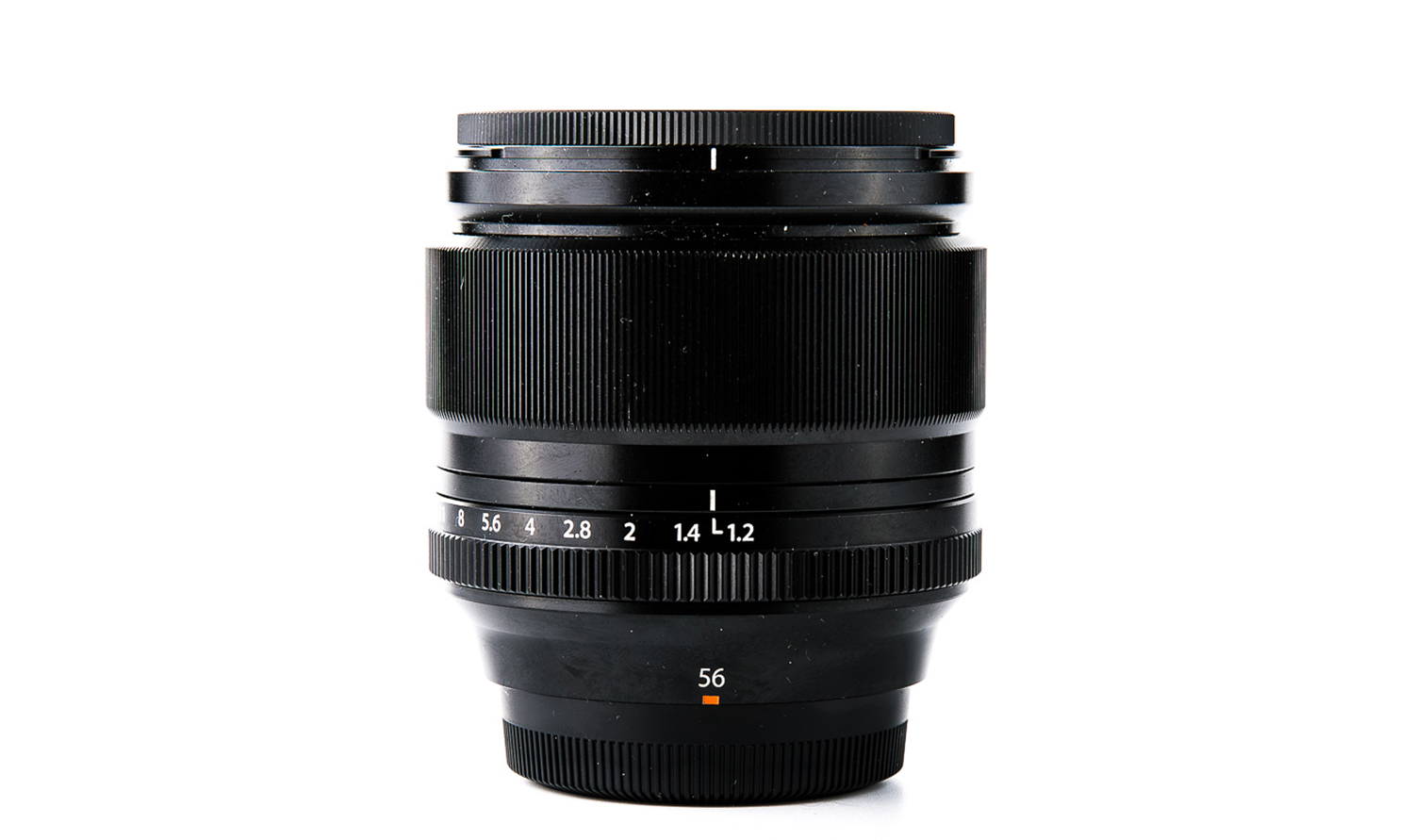 Once I had bought this lens, I was surprised to see how light it was compared to Canons 85mm f/1.2. This lens is just beautiful. The bokeh it delivers is not something I ever expected to see through such a small lightweight system. Colours are perfect, contrast is just right, distortion free, and sharp! This lens is beautifully sharp wide open. It's not as quick to focus as the 23mm f/1.4, but it focuses quick enough for my needs. I am always questioned when using it, especially after clients see the results as I use this primarily for studio work. Some clients are slightly nervous that I don't turn up with a huge DSLR, with a tank of a lens, but when they see the results that this amazing little lens produces, they are more than happy. As far as versatility, I wouldn't use this lens for fast action (I tested it at a professional football game, image is below). The focus isn't as snappy as even some of the cheaper kit lenses out there, but at the same time I wouldn't expect it to be. Canon's 85mm f/1.2 is notoriously slow at focusing, which in my opinion makes it more of a specific lens. For me the 56mm f/1.2 was primarily for portraiture, weddings, candid event shots, and for those shots where I needed to really separate my subject from the background.
Specs:
11 elements in 8 groups (includes 1 aspherical and 2 extra low dispersion elements)

Max. aperture: F1.2

Min. aperture: F16

Number of blades: 7 (rounded diaphragm opening)

Step size: 1/3 EV (23 steps)

Focus range: Normal 0.7m – ∞ Macro 0.7m – 3m

Max. magnification: 0.09x

Filter size: 62mm

Weight: 405g
---
Fujifilm Fujinon XF 14mm F2.8 R (21mm full frame equivalent focal length)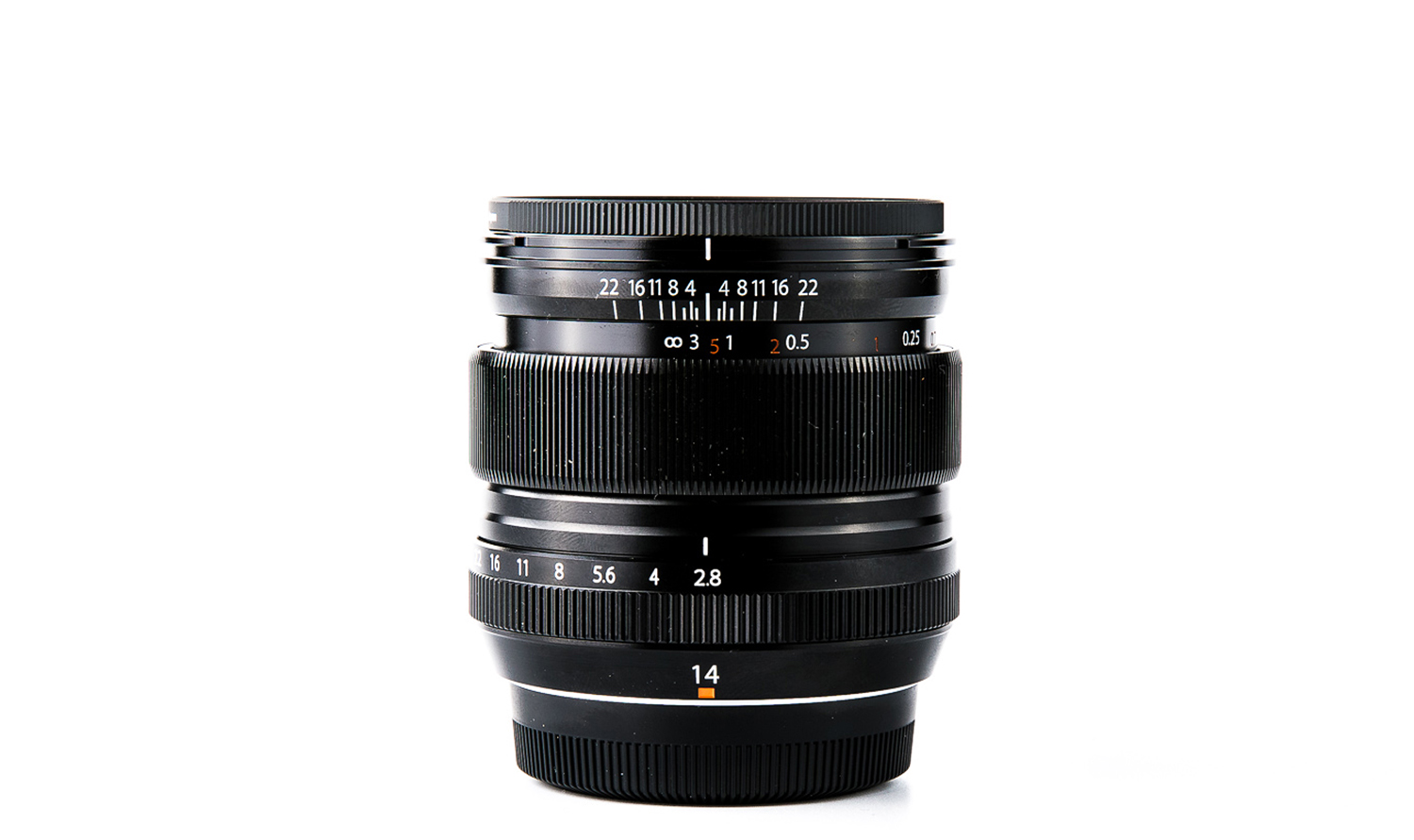 The 14mm f/2.8, is not close to my most used lens yet. This is a lens that I keep in my bag for when the 23mm f/1.4 is not wide enough. With an ultra wide not being a want, but more of a must, it was my last purchase, so I am yet to fully put it through it's paces in the same extent that I have the 23mm and 56mm. Having said that it was a need rather than a want, last week I took it out with the X-T1 and I was MAJORLY impressed. Out of the 3 Fuji lenses that I own, this tiny 14mm f/2.8 focuses the fastest, it is the most responsive when manual focusing, it is just as sharp as the 23mm f/1.4, it's colours and contrast are just perfect also. For my first full day out with it, the shots were primarily nature shots. All colours were represented perfectly, and no low light focusing issues either. This is wider than the standard wide angle (24mm), so distortion was expected, but I was proved wrong. This 21mm equivalent lens has less distortion (next to none, unless deliberately framed to distort) than my 24-70mm f/2.8 L II does at 24mm on my Canon 5D mark III. I believe I made the right choice choosing this lens for my ultra wide, rather than the 10-24mm that Fuji offers, and look forward to working with it.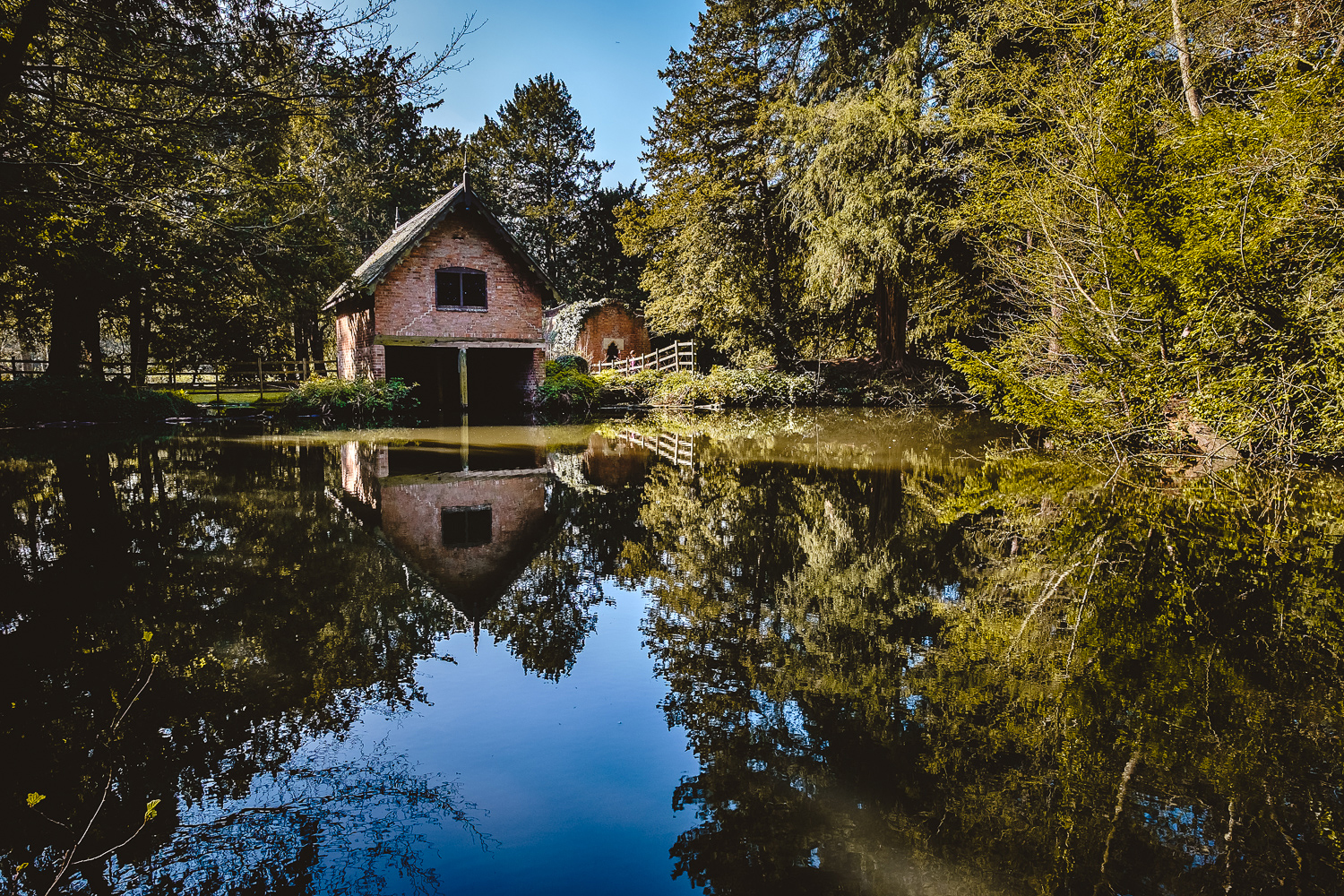 10 elements in 7 groups (includes 2 aspherical and 3 extra low dispersion elements)

Max. aperture: F2.8

Min. aperture: F22

Number of of blades : 7 (rounded diaphragm opening)

Max. magnification: 0.12x

Filter size: 58mm

Weight: 235g
For fun purposes, also for those rare occasions that I need a fisheye to get a specific shot, I bought the Samyang 8mm f2.8 Aspherical ED UMC Fisheye Lens. This is a 100% fully manual lens. I will be covering this lens with a full review on fujilove.com at a later date, with RAW and JPEG images for you to download.
If you have any questions regarding any of the lenses, feel free to ask away in the comment section. Links to purchase either of the lenses mentioned from amazon are below.
Fujifilm Fujinon XF 14mm F2.8 R – http://amzn.to/1bky6Zh
Fujifilm Fujinon XF 23mm F1.4 R – http://amzn.to/1FfKea1
Fujifilm Fujinon XF 56mm F1.2 R – http://amzn.to/1FfKg1R
Samyang 8mm f2.8 Aspherical ED UMC Fisheye – http://amzn.to/1FfKeXx
About Author