The newly announced XF10 comes equipped with an APS-C 24.2MP CMOS sensor and a 18.5mm f2.8 fixed lens.
Fujifilm has tagged this camera as an ultraportable, pocket-sized premium compact. Such features as USB charging, Bluetooth, Digital Teleconverter,  "SNAPSHOT" mode,  a single UHS-I SD card slot, 2.5mm Audio-in Jack would make this a great travel camera for people wanting to shoot a little video as well as capture stunning stills.
(All product images in this article: courtesy Jonas Rask)
The camera comes in two colors: Champagne Gold and Black. Both come with the normal simulation modes but not the extra film modes found in the X-Trans series of cameras.
In high-performance mode, the camera startup time is approx 0.7 secs.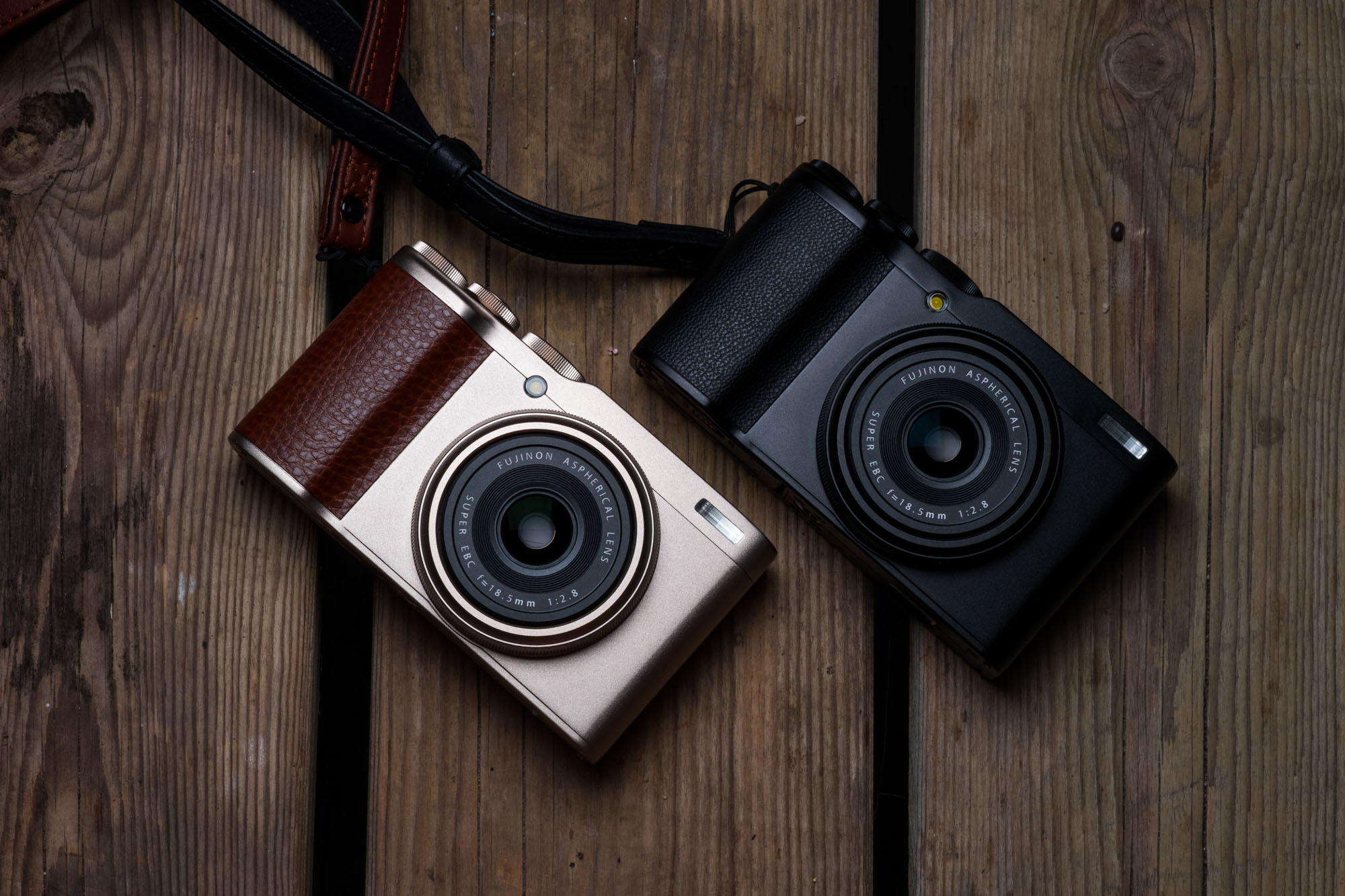 The Lens
The XF10 comes with a fixed 18.5mm lens with a maximum aperture of f/2.8 stoppable down to f/16  (1/3EV step). The lens is constructed with 5 groups of 7 lenses, 2 aspherical glass moulded lens included and controlled with 9-blade aperture diaphragm. Focus distance is approx. 10cm – Infinity / 3.9in. – Infinity.
The camera ships with the NP-95 Lithium Ion battery, the same used for the X100 series of cameras, giving us approximately 330 frames or 70 mins of full HD video.
The FUJIFILM XF10 is the first X Series camera to feature a number of new functions. It has an updated way to automatically transfer images to a smartphone and the "SNAPSHOT" mode, which presets the focus and aperture to 2m/F8 or 5m/F5.6.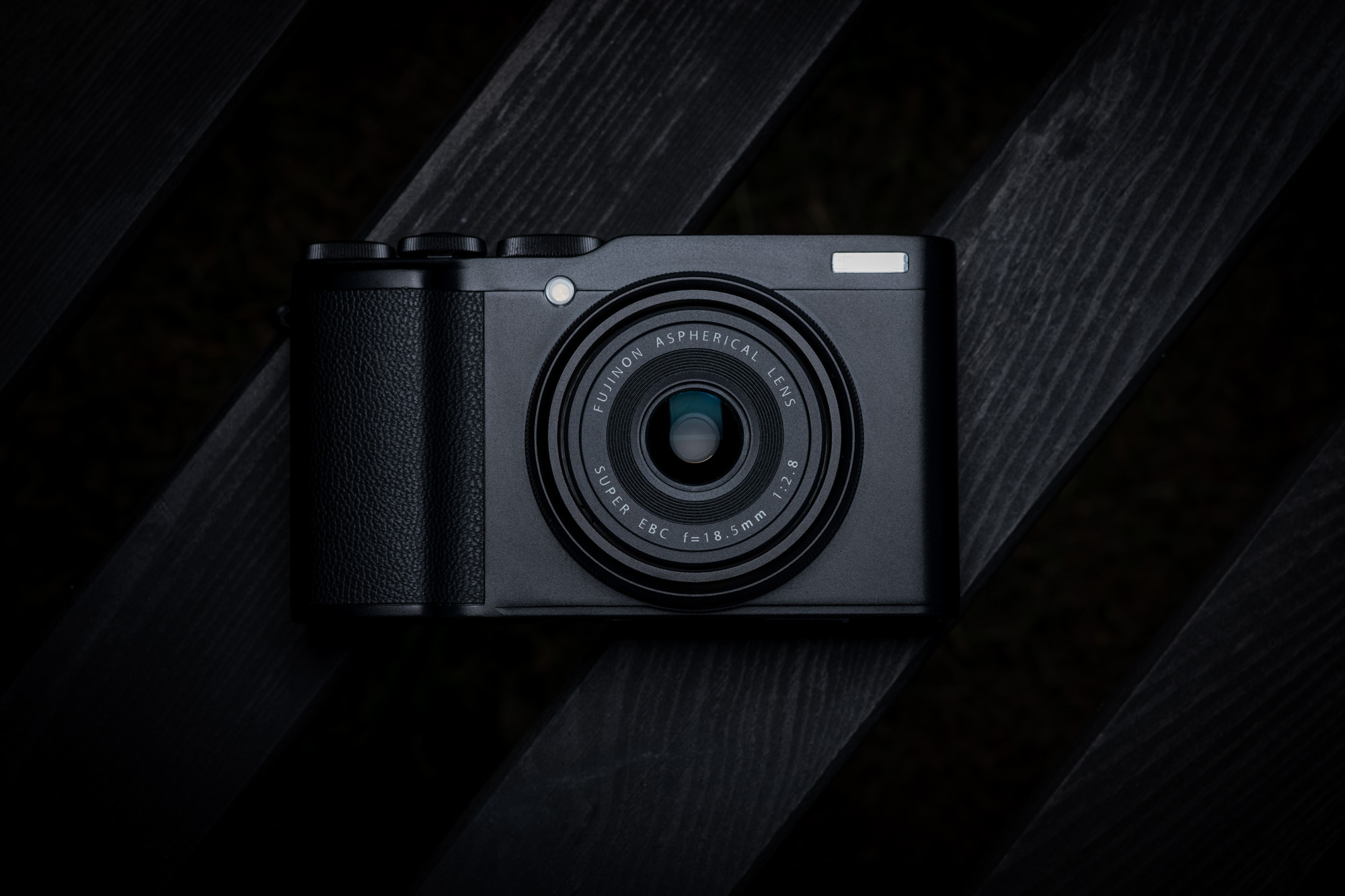 XF10 – Specifications
Sensor: APS-C 24.2mp
Effective Pixels in RAW:  4000×6000
Movie recording: Full HD 1920 x 1080 59.94p / 50p / 24p / 23.98p. 4k @ 15p
Touchscreen: Yes, shooting & display control
Wireless: Bluetooth & WiFi.
Mechanical Shutter:  30 sec. to 1/4000 sec. Blub mode 60mins
Electronic Shutter: 30 sec. to 1/16000 sec. Bulb mode: 1 sec
Battery: NP-95
Continuous shooting: with a UHS I card, approx. 6.0 fps
Built-in Flash: Yes
Shutter type: Leaf Shutter
Exposure control: TTL 256-zone metering, Multi / Spot / Average
Exposure mode: P/A/S/M
Face detection: Yes
Eye detection: Yes
Dimensions: 112.5 (W) mm x 64.4 (H) mm x 41.0 (D) mm / 4.4 in.(W) x 2.5 in. (H) x 1.6 in. (D)
(Minimum depth: 25.9 mm/ 1.0 in.)
Weight: Approx. 278.9g / 9.8 oz. (including battery and memory card)
'FUJIFILM Corporation (President: Kenji Sukeno) is proud to announce the launch of the FUJIFILM XF10, a premium compact digital camera with a high-quality FUJINON 18.5mm* F2.8 fixed lens. The camera features an APS-C sized sensor which is 14 times larger than the sensor in a standard smartphone. The XF10, which will be available in August 2018, includes all the hallmarks of the X Series system, combining simple manual operation with superior image quality and versatile picture-taking options.
The 24.2 megapixel APS-C sized sensor combined with FUJIFILM's proprietary color reproduction technology allows the XF10 to produce high-quality images that will suit a wide variety of needs.
In addition, the XF10 is the first X Series camera to feature a number of new functions. It has an updated way to automatically transfer images to a smartphone and the "SQUARE MODE" which allows you to switch to 1:1 format with a single flick on the touchscreen, to name just two.
Despite its pocketable size and minimal weight of only 280g, thanks to the high-quality components and new functionality, the XF10 is the perfect companion for smartphone users and photo enthusiasts alike.'
For the full FUJIFILM info about this camera – click here.
About Author