It's the dead of midnight and I am in northern France surrounded by thousands of pissed off refugees from Afghanistan, Syria, Eritrea, Ethiopia, Sudan and others, all shrieking and watching as dozen portable plastic toilets are being burnt on an open field in protest. The night is lit by the blue and red sirens of the the French anti-riot police, some lost in the smoke of the rising flames, as they take aim with their rubber bullets. In the distance, I hear someone shout something, which catches on like a terrifying mexican sound-sound wave. I only realise what they're shouting when it's too late as a biblical sea of smoke engulfs me, instantly attacking my lungs. They were shouting "Tear Gas". This isn't a nightmare. It's the last night of The Jungle, the biggest illegal refugee camp in mainlad Europe, situated in Calais, northern France. And I'm right in the middle of it, with my Fuji X100S.
Two years ago, I was invited to accompany a BBC documentary crew on the refugee migration trail that started in the belly of Turkey, following Afghan refugees up through Greece, into Macedonia, then Bulgaria, across Serbia and ending in northern France where they would wait every night to jump inside unsuspecting lorries that would eventually take them into the promised land, England.
We started our trip in the colourful bazaars of Turkey, where beyond the scented spices and the aromatic mint tea cafes lay a makeshift refugee squat, where families were camping out to wait for their chance to go up north and find Dingies (small boats) that would carry them through the Aegean sea into Greece. Here we met our characters, the Latifi family; a husband and wife, with two young toddlers and one on the way. They weren't the only family camping rough here, there were probably a dozen or so other couples with young children all waiting for their ticket out of the country.
Our hero was Nazifa, the pregnant wife who would go on to give birth to her baby daughter in a refugee camp in northern Greece. Nazifa's husband would spend his days walking around the Turkish city of Bodrum, trying to make an affordable deal with local smugglers who can take him and his family up north and provide safe passage through the Aegean.
We followed Nazifa through their journey up into Greece, and found other interesting characters along the way; including a silversmith who wanted to make Afghan jewellery when he arrived in London and two friends who had left Kabul together and vowed to reach Germany together.
At the time of my travels, and even now, Greece was suffering from a major economic collapse which had left the currently largely unemployed and at the mercy of the terms of international bail out from the like of IMF, who carried punishing conditions on the country. On top of that, Greece was one of the main entry points for refugees hoping to come into Europe. In 2016, 173,000 refugees had entered the country from Turkey and all of them had to find temporary accommodation. One of the 173,000 was Nazifa and her family.
Refugees would hope to stay a while in Greece until they can raise some money to get smuggled into Macedonia and onwards to Serbia. It was in Serbia that I took my most striking shots, in my opinion, of the refugee crisis. Here, around 800 or so refugees had settled into an abandoned railway platform in the middle of winter, biding their time before going into Austria.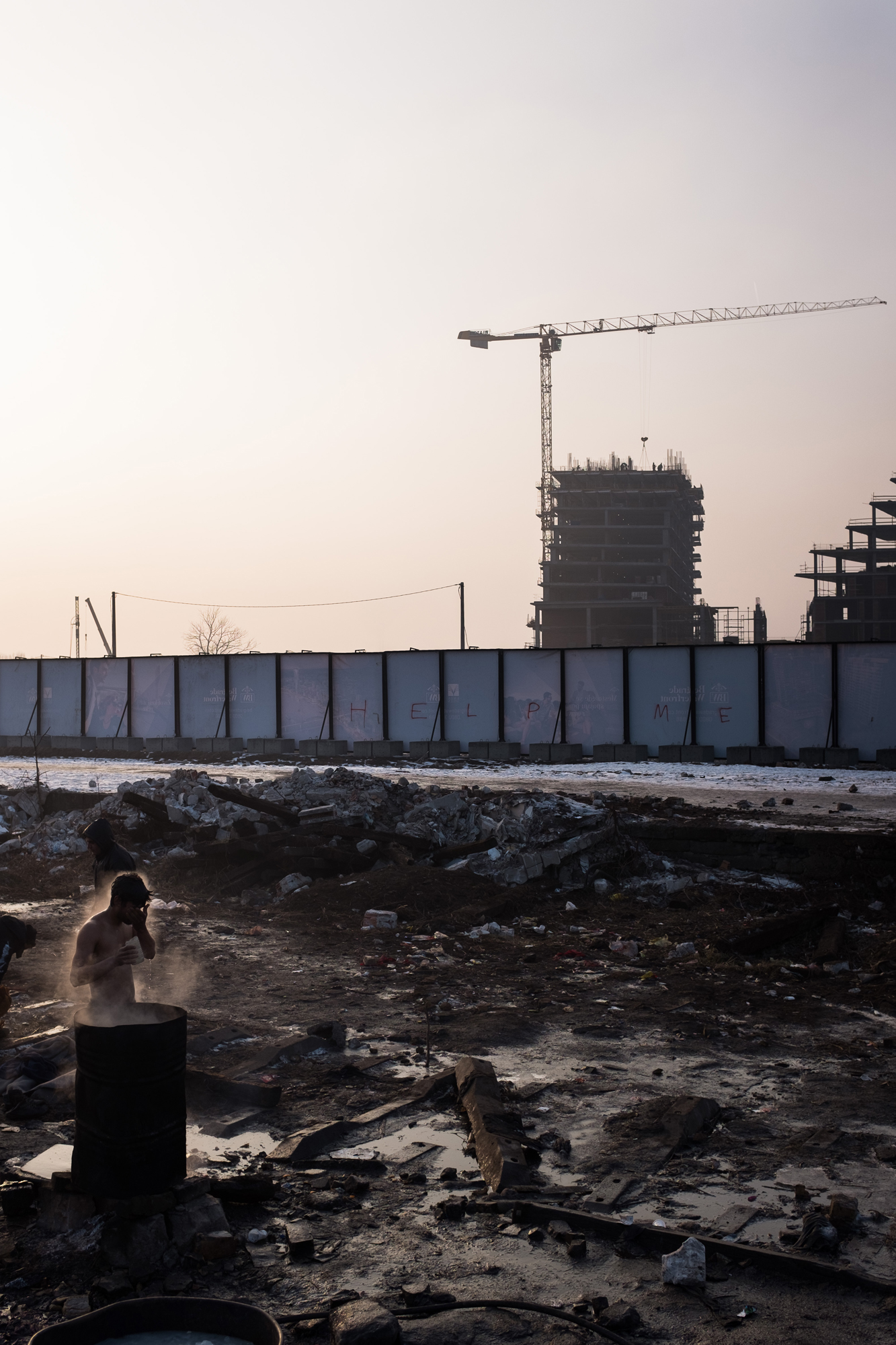 The refugees, mainly Afghans, would bring in pieces of lumber they found in the vicinity and burn it while they sleep, in order to survive the Belgrade nights that would see temperatures plummeting to -7 degrees. Here I saw the spirit of the body, and the strength with which it confronted the elements simply because… it had no choice. The refugees had to push themselves or admit defeat and turn around. Many of the young boys would strip in the searing cold and snow to have a bath outside, under the shadow of the newly developing Belgrade Waterfront, a multibillion dollar investment by Abu Dhabi.
All of these moments of brave resilience were caught by my little Fujifilm X100S, which would snugly hide in my coat pocket as I bought bread in the bakery in the Jungle and snuck a shot when the light was good (I had to take pictures in secret most of the time as anyone seen taking pictures would be confronted and could end up having their camera broken for breaking the code of No Pictures in the refugee camp). It travelled with me in the sun of Turkey, the rains of Greece, the snow of Serbia and the smoke of The Jungle without an iota of complaint (well sometimes the battery complained).
It helped me capture my little moments with the flooding masses of people seeking a better life and was a friend and a quiet companion on my adventuring through a historical period and made me a slightly better photographer on the way.
The documentary, "Exodus: Our Journey to Europe", was released on BBC 1 and went on to win a BAFTA for its contribution to shedding light on the biggest migration of our time.
If you like my work, you can check me out on my Instagram account @zoradzo.