Yangon, known as Rangoon during the colonial period, is the city that holds my heart. The people are hard-working, friendly, and open. Most flights into the country will take you into Yangon International, and I urge you not to fly directly on to the other stunning parts of the city, but to take a few days to explore the nooks and crannies of this beautiful place.
Like any city, Yangon is re-developing piece by piece, but the downtown area maintains a lot of character that no other city has. Its colonial buildings are gradually being knocked down in favour of modern high-rise, but there are groups fighting for restoration over replacement. The area maintains traditional street markets, businesses spill out onto the street from their storefronts, and life of all kinds fills the alleys and side-streets. Modern tea-houses and bars are also springing up in between the more traditional street offerings, making for very interesting diversity. It is a wonderful city to experience and, thus, photograph. Let me run you through why I love the place so much, especially with a camera in hand.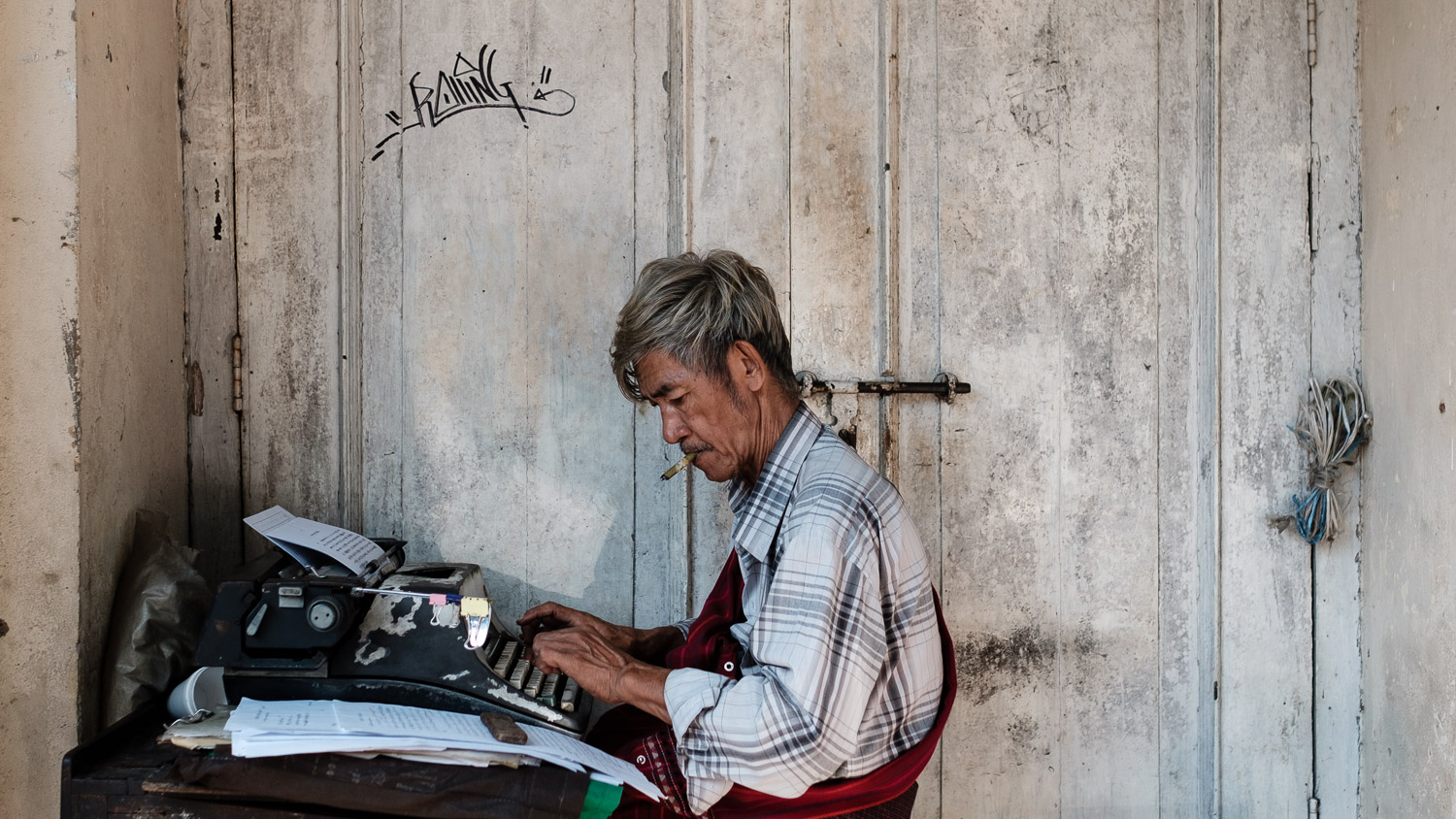 The People
Yangon is a city where Muslims, Christians, Hindus, Buddhists, and Atheists all live together. It is also a city where the rich and the poor occupy the same space. The people have also been to Hell and back through years of military oppression. But, as visitors will observe, life goes on. 
A great way to observe the city is to do it as the locals do, with a cup of tea in hand. Tea shops can be found on most streets, and can be a great way to observe local life, and also find yourself caught up in it.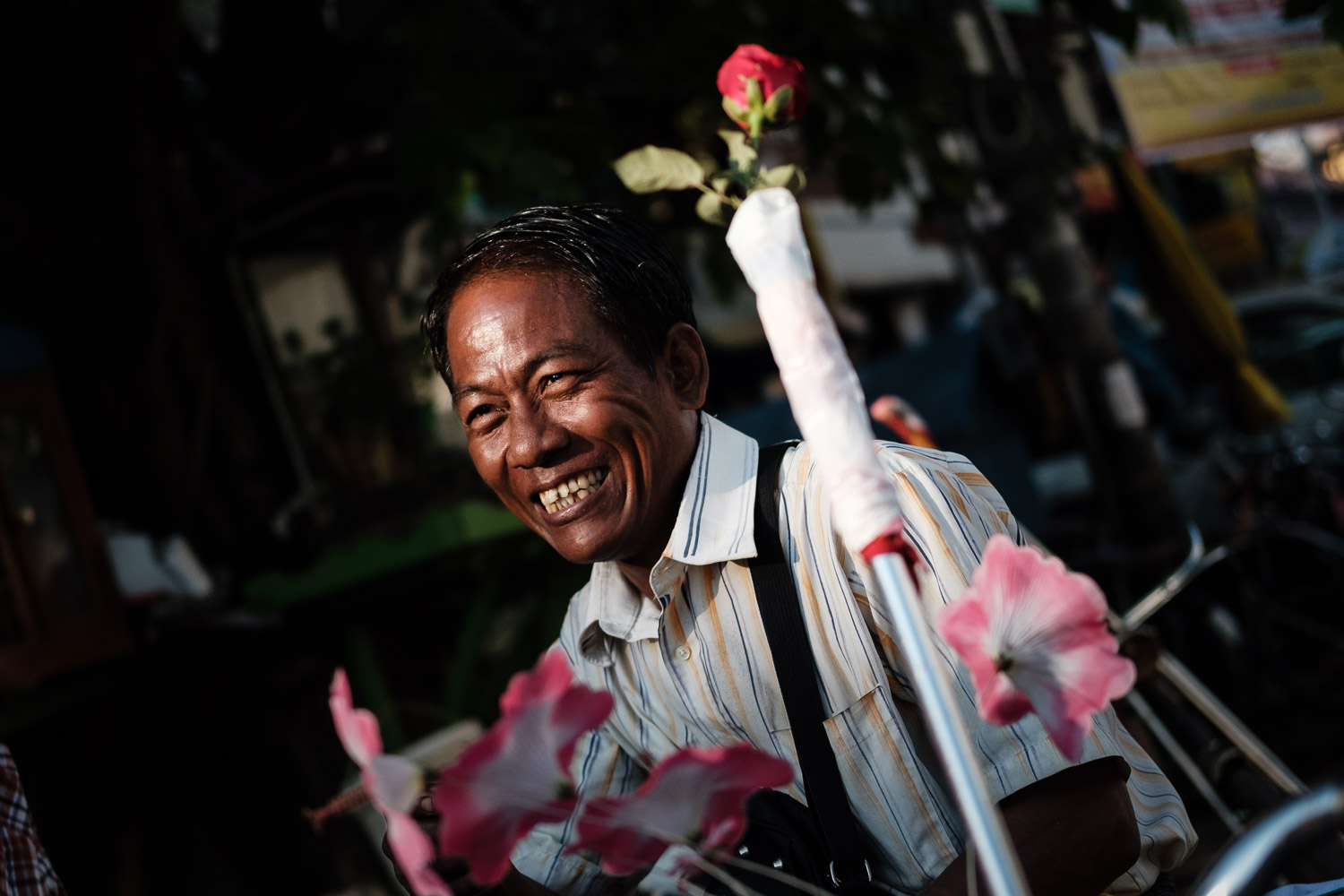 The Light
Being so close the equator, Yangon has very long portions of the day where the sun is hot and high. These can be brutal on the body, but even up that high, the sun bounces around with a character found nowhere else. Even so, I recommend using the fringes of day. For about an hour after sunrise and an hour before sunset, Yangon comes alive. The warmth of the light, the long shadows, and the action that ensues once the heat of the day is no longer present make this city into a hive of activity.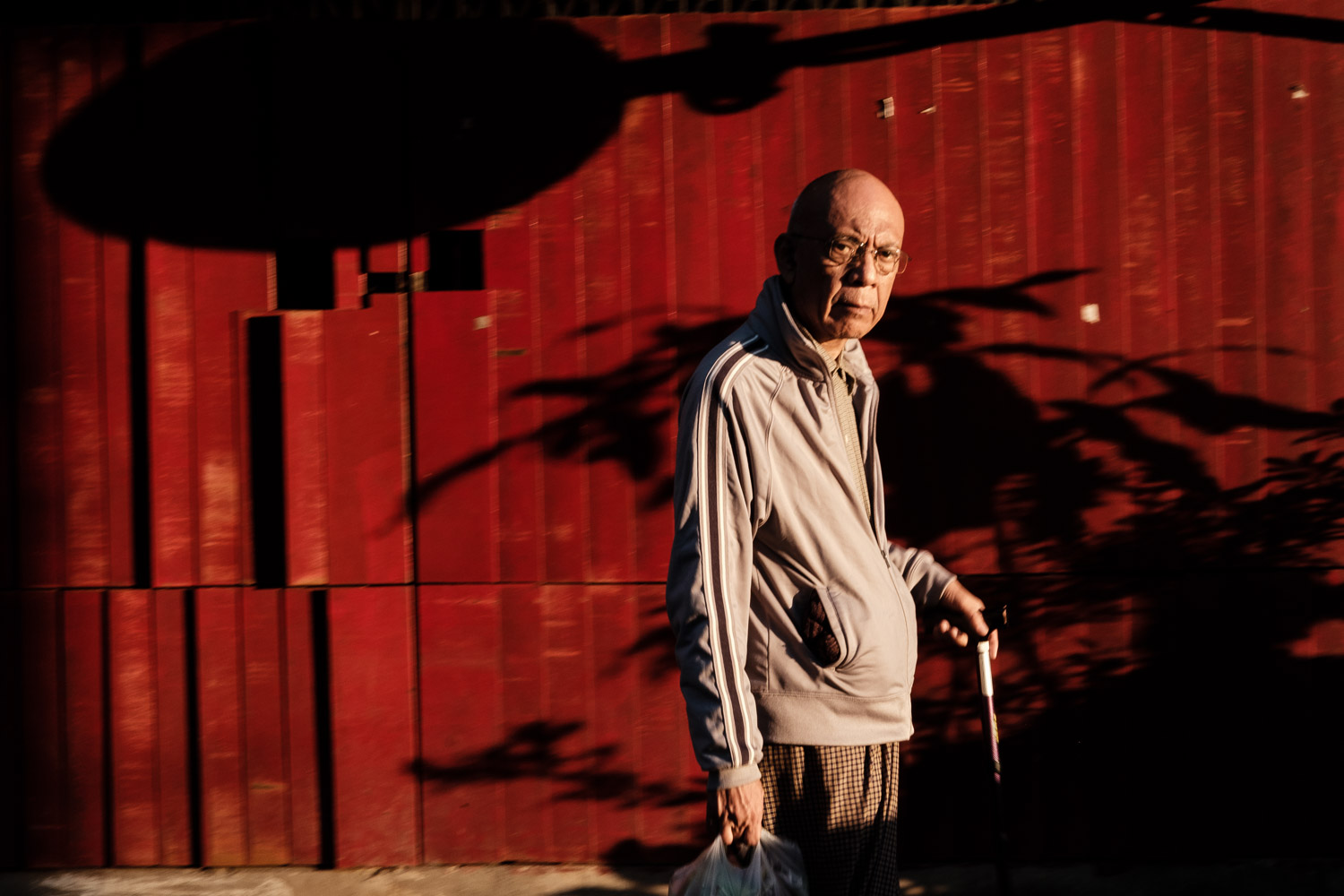 Walkability
Yangon is very much a walking city, especially since private car ownership became more common. Traffic jams can be quite horrific these days, but thankfully downtown is very pedestrian friendly. Just remain alert as not all of the footpaths are built as well as they could be. 
Where the Fuji Shines
Fujifilm cameras are discreet and classic in style. Unless you're toting one of the wildly large zoom lenses like the 50-140mm, your camera package will be tiny and un-intimidating. This is great when you're out documenting life in a city. Not only can you carry it all day without strain, but people are more open to you when you carry minimal equipment like this. 
Even when people notice me shooting, they typically go back to what they were doing or become inquisitive about the camera I am using, especially older subjects. The retro feel of the X-T2 throws them off at first. There have been quite a few times when I've been shooting with the X-T2 in Yangon and people have asked to see the camera, not their photo! They're quite surprised when I'm able to show them the photo as well. 
The weather in Yangon is also quite something. It can go from extremely hot and dusty to pouring monsoon rain in the space of minutes. The weather sealing in the X-T2 and the f/2 series of lenses gives some extra peace of mind when out and about. 
Typically, my kit as I walk around Yangon is the X-T2 with the 16mm f/1.4, 23mm f/1.4
(
to be replaced this time with the 23mm f/2), 35mm f/2, and the 56mm f/1.2. This allows me to shoot anything that comes my way with ease and get a variety of different looks in my images. It also keeps things small and light so I can focus on what's important. 
With a couple of extra batteries, a lens wipe, and a blower in my bag, I will set off into the streets for the about two hours in the morning while it's cool, then I'll head indoors for lunch and an A/C fix before heading back out in the afternoon.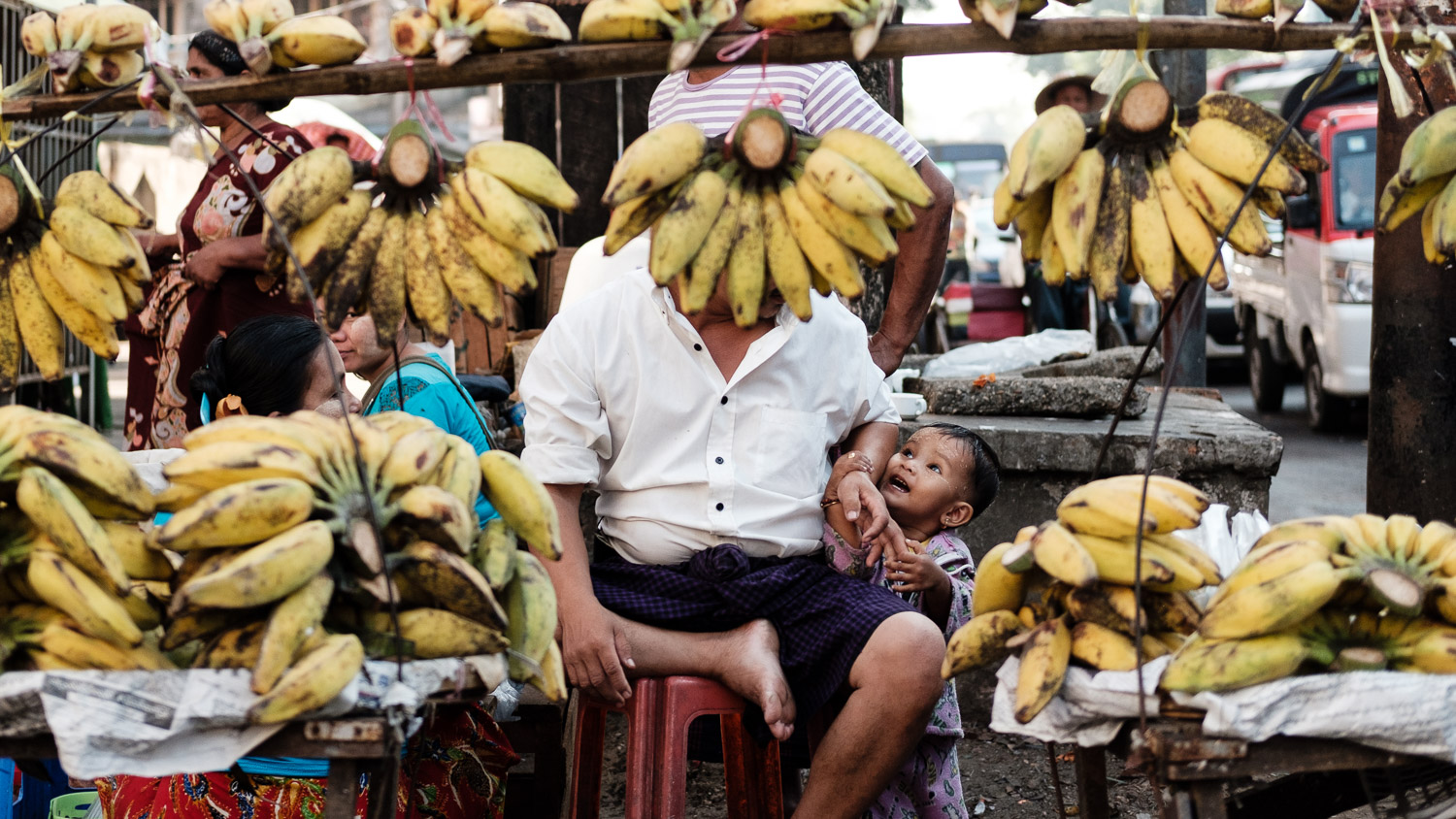 Settings
As with almost all of my natural light work with the X-T2, I'm working in aperture priority mode when I walk the streets of Yangon. The EVF gives me a perfect preview, which is extremely useful in the changing morning light. I might be shooting in a dark corner of a side street one moment and in a blazing beam of morning sunlight the next. The combination of aperture priority, the EVF, and the M+E shutter means that I never miss an exposure and can focus on what's necessary
–
finding and reacting to moments. 
Up until recently, I have always shot on AF-S mode, but I have come to trust the AF-C modes on the X-T2 and will certainly be using them more when I visit this December. I'll often engage AF-C when I'm panning or shooting run and gun as I pass people. Coupled with face-detect AF, this has become a real asset and one I feel everyone should at least become comfortable with. 
If there's one more thing I'll always set, it's Classic Chrome as my film simulation. Yangon is filled with a variety of skin tones and beautiful subdued colours of paint. These two lend themselves so well to the muted tones and subtle contrast of Classic Chrome. Of course, I'm shooting raw files, but CC really does help me to visualise my scenes as I'm walking through the streets.
No matter how often I venture out into the streets of downtown, it never gets dull. There's always a new face or some new light to photograph and a new experience to be had. If you're in Yangon, I cannot recommend enough that you get up before the sun and head out. This is when life happens in the downtown area, and it is a part of the country not to be missed.
About Author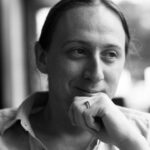 Dylan is an Aussie photographer based out of Seoul. He cut his teeth working in the editorial industry in Korea, and then moved into working on personal projects for the preservation of culture all around Asia. His work has been seen in global publications, as well as featured by Nikon Asia. His desire to connect with and document the cultures of Asia led him to self fund a 128 page book about the lives of the Lai Tu Chin people of Myanmar. The successful completion of this project has only fueled his desire to do more work on the peoples of the region.